Report Summary
The global lightweight materials market size was valued at USD 131.0 billion in 2018 and is anticipated to grow at a CAGR of 7.9% during the forecast period. Lightweight materials include magnesium, carbon fiber, aluminum/ Al composites, titanium, glass fiber, and high strength steel among others. The use of lightweight materials in automotive and aerospace significantly reduce weight, thereby increasing fuel economy and overall range of hybrids, plug-ins and all-electric cars.
Application of lightweight structural materials enables integration of additional advanced emission control systems, safety devices, and integrated electronic systems without increasing the overall weight of the vehicle and improving efficiency. Titanium is a high temperature metal used in powertrain systems to reduce weight by up to 55 percent. It offers high strength to weight ratio along with the ability to withstand high temperatures. Advanced High Strength Steel has the potential to reduce component weight by up to 25 percent, particularly in strength-limited designs such as pillars and door rings. It offers high strength, stiffness and formability, corrosion performance, low cost.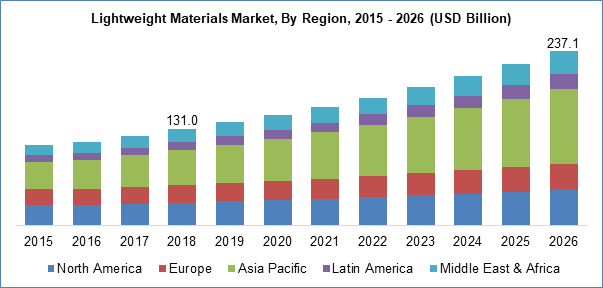 Know more about this report:request for sample pages
The major driving factors of the lightweight materials market include growing automotive industry and increasing modernization of vehicles. The introduction of government regulations regarding efficiency, and road & vehicular safety supports the growth of the lightweight materials industry. Increasing application in windmill projects, and growing penetration of lightweight components boosts the adoption of lightweight materials.
The growing demand for aircraft modules and increasing penetration of electric vehicles has accelerated the growth of the overall market. The rising development of autonomous vehicles and self-driving vehicles, rising demand from aviation industry, and investment in R&D boosts the market growth. The increasing demand of emerging economies such as China, Japan, and India, and technological advancements are factors expected to provide growth opportunities during the forecast period.
Lightweight Materials Market Scope
Product Type

End-User

Region

Metal Alloys


High Strength Steel
Aluminum
Titanium
Magnesium

Composites


Carbon-fiber reinforced plastic (CFRP)
Glass-fiber reinforced plastic (GFRP)

Polymers


Polycarbonate
Polypropylene

Aerospace
Automotive
Marine
Energy
Construction
Others

North America (   U.S., Canada)
Europe (Germany, UK, France, Italy)
Asia-Pacific (China, India, Japan)
Latin America (Brazil, Mexico)
Middle East & Africa
Know more about this report:request for sample pages
Product Analysis
On the basis of product, the overall market is bifurcated into metal alloys, composites and polymers. The metal alloys section is further segmented into high strength steel, aluminum, titanium and magnesium. The composites section is segmented into Carbon-fiber reinforced plastic (CFRP) and Glass-fiber reinforced plastic (GFRP). The polymers section is further segmented into polycarbonate and polypropylene. Polymers and composites segments dominated the overall market and is projected to prolong its growth tendency during the forecast period. The requirement for polymers and composites is estimated to grow at a sustainable rate since they will have the capability to reduce the weight of the vehicles by more than 45% thus enhance fuel efficiency by approximately 30%.
High strength steel is used as an immediate replacement to the traditional steel used in different applications which require light weight material. This is majorly due to its high tensile strength. It is essentially preferred by the automotive industry and it has got the capability to lose the overall vehicular weight by approximately 25.0 percent.
Aluminum is also another material which has been used in different applications which require light-weight materials. Aluminum alloys have the property of age hardening and are equally stronger. These properties have accelerated their demand in aviation and automotive sectors. Aluminum is a significant material in aircrafts and are used for manufacturing structural parts. Such properties of this material and its usage in many different end-use businesses is very likely to induce segment development.
Magnesium alloys deliver light weight advantage up to 25%, together with progress in fuel efficiency up to 1%. They have been used in applications such as mobile electronic equipment. Titanium on the other hand offers durability and is utilized in various applications which require high strength. It is majorly used in niche applications and is costlier as compared to the other materials available in the market.
End-use Analysis
The end-user segment in the lightweight materials industry is categorized into aerospace, automotive, marine, construction, and others. The automotive segment dominated the global lightweight materials market in 2018 owing to modernization of vehicles, and growing penetration of electric vehicles. Rising awareness about gas emissions has led to manufacturers to use lighter components in vehicles to improve mileage. Significant products used within this application include aluminum, polymers and composites, and high strength steel. The use of these materials directly affects driving agility, dynamics, and fuel consumption. Moreover, requirement for reduction in carbon dioxide emission is compelling OEMs to go for lighter parts to manufacture cars.
Regional Analysis
This lightweight materials market report comprises a detailed geographic distribution of the market across North America, Europe, Asia-Pacific, Latin America, and MEA. North America is further segmented into U.S., Canada, and Mexico. Europe is divided into Germany, UK, Italy, France, and Rest of Europe. Asia-Pacific is bifurcated into China, India, Japan, and Rest of Asia-Pacific.
Asia-Pacific accounted for the largest share in the global Lightweight Materials industry in 2018. The growing disposable income and improving living standards have increased the demand for vehicles in the region, boosting the market growth in Asia-Pacific. The introduction of stringent government regulations regarding vehicular safety and development of autonomous vehicles are factors expected to provide growth opportunities in the Asia-Pacific market during the forecast period.
The market demand in North America focuses on high strength steel as it has similar properties as traditional steel. However, composites and polymers are expected to grow at a fast pace in the region on account of widespread acceptance in the energy and automotive sectors. Titanium and magnesium are used in specialized applications. Growing application in the aviation and automotive sectors drives aluminum consumption in this area.
Competitive Landscape
The vendors in this market are launching new products to meet the growing customer needs. In addition, the leaders in the market are acquiring and collaborating with top companies in the market to enhance their offerings in the market and expand their customer base. The market is highly competitive with the presence of a large number of small and large vendors. The leading players in the Lightweight Materials industry include Evonik Industries, Toray Industries Inc., Aleris International, PPG Industries, Inc., Thyssenkrupp AG, ArcelorMittal SA, Hexcel Corporation, Titanium Metals Corporation, Formosa Plastics Group, Bayer AG, SABIC, Cytec Solvay Group, Alcoa Inc., Precision Castparts Corp., Allegheny Technologies Incorporated, and Novelis Inc. among others.