The global location analytics market size is expected to value at USD 10,813.6 million in 2019 and is anticipated to grow at a CAGR of 15.8% during the forecast period. Globally, there is increasing realization that by accumulating geographical location to business data and mapping it, organizations can intensely improve their insights into tabular data. The geographic data and spatial analytics has helped the progressive organizations to achieve powerful results and enhance their business capabilities. Based on this, several industry analysts suggest that demand for mapping and geographic intelligence is emerging as an important segment of the location analytics solution. Furthermore, increasing penetration of Internet of Things (IoT) and growing volume of spatial data across several industrial sectors are largely enhancing the adoption of location analytics worldwide.
Growing usage and application of spatial data and analytical tools, increasing necessity for predictive analytics in business applications, increasing adoption of location-based applications and tools among users, increasing adoption of innovative technologies, and rising penetration of social media for customer engagement are the crucial factors driving the growth of the industry across the globe. However, high initial cost of deployment, concerns with data privacy and legal worries, and deficiency of uniform regulatory norms, are some of the factors likely to hamper the growth of the market during the forecast period.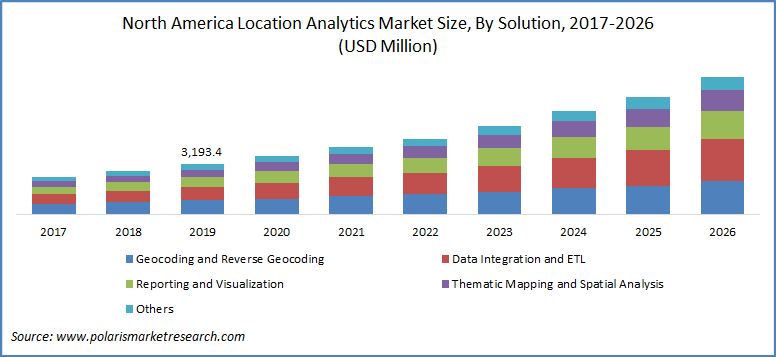 Know more about this report: request for sample pages
Location analytics not only helps in business development but also plays an important role in several other industry verticals namely; military and defense, transportation, energy and utilities and so on. In the military and defense sector, abundant inventions and advancements in the drone technology are used to gather location data. Furthermore, the deployment of unmanned aerial vehicles (UAVs) has increased since past few years for gathering a huge amount of location data and remote monitoring with minimal human intervention. These and many such application are projected to open new avenues of opportunities in the market.
Globally, the technologies including analytics, robotics and blockchain, connected devices, cloud computing, mobile, have been available for some time now. Adoption of these technologies has been necessary for the success and survival of organizations. Within many companies, the IT departments have been focusing on rapidly adopting disruptive technologies to increase efficiency and expand the customer experience. As companies develop to be progressively data-centric, speed and agility are becoming critical capabilities for them. This enables the companies in product and services development, the process of decision making, and their general understanding of the industry. This also enabled the organizations to enhance the adoption of data analytics and artificial intelligence tools, thus enhances the growth of the industry.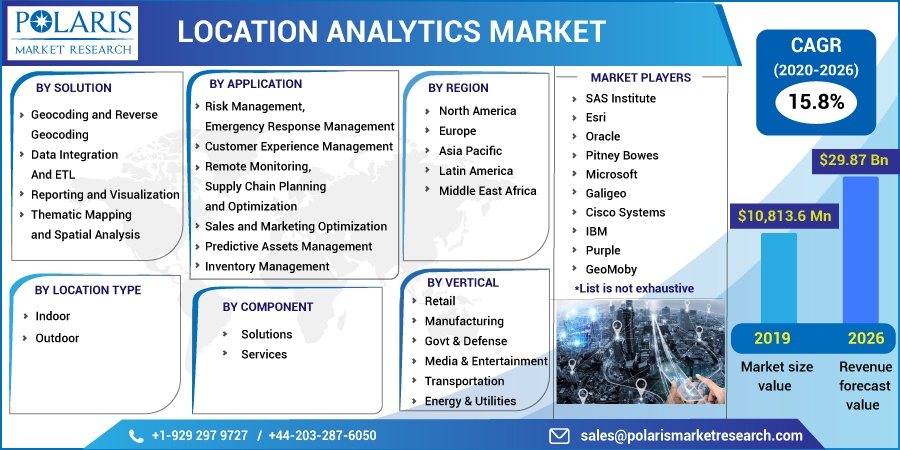 Know more about this report: request for sample pages
Location Analytics Market Report Scope
The market is primarily segmented on the basis of solution, component, location type, application, vertical, and geographic region.
By Component

By Solution

By Location Type

By Application

By Vertical

By Region

Geocoding and Reverse Geocoding
Data Integration And ETL
Reporting and Visualization
Thematic Mapping and Spatial Analysis
Others

Risk Management, Emergency Response Management
Customer Experience Management
Remote Monitoring, Supply Chain Planning and Optimization
Sales and Marketing Optimization
Predictive Assets Management
Inventory Management

· Others

Retail
Manufacturing
Govt & Defense
Media & Entertainment
Transportation
Energy & Utilities
Others

North America (U.S., Canada)
Europe (France, Germany, UK, RoE)
Asia Pacific (India, Japan, China, RoAPAC)
Latin America (Mexico, Brazil)
MEA
Know more about this report: request for sample pages
Solution Outlook
Based on solution, the market is segmented into geocoding and reverse geocoding, data integration and ETL, reporting and visualization, thematic mapping and spatial analysis, and others. The geocoding and reverse geocoding segment is expected to dominate the global industry in 2019 however, the data integration and ETL segment is projected to grow at a highest CAGR during the forecast period. The growth of this segment is primarily attributed to increasing amount of data generated in various industry verticals and growing need for data integration in order to derive required conclusions. Furthermore, large number of companies are focusing on developing and launching new and improved analytic tools for reporting and visualization purposes. For instance,
In October 2018, Hexagon's Safety & Infrastructure division launched Intergraph InSight, a new suite of public safety data visualization and analytics software that supports evidence-based reporting, analysis and decision making.
Location Type Outlook
Based on location type, the market is segmented into indoor and outdoor locations. The indoor location analytics held a largest share in the global industry based on increasing adoption of connected devices, and increasing demand for the indoor location analytics to enhance the lean automation and robotics processes. Rise in smartphones users and ineffective GPS (Global Positioning System) technology in indoor premises are the factors driving the market growth. In September 2017, MOCA launched Dynamic Heatmap for Indoor Location Analytics using Wi-Fi devices.
Application Outlook
On the basis of application, the global location analytics market is segmented into risk management, emergency response management, customer experience management, remote monitoring, supply chain planning and optimization, sales and marketing optimization, predictive assets management, inventory management, and others. The sales and marketing optimization segment is expected to dominate the global industry in 2019 and is also projected to maintain its dominant position during the forecast period. This growth is highly driven as analytics and big data, in general, can be helpful when it comes to deploying a more sophisticated marketing and sales strategy.
Regional Outlook
North America is expected to dominate the industry due to consistent growth in the retail market, increasing adoption of analytical business intelligence and geographic information systems technology and also, the increasing focus on the needs of customers and customer satisfaction. The smartphone industry is very mature in North American region. Many of the new smartphones are launched in this region before anywhere else in the world. Both Canada and the USA have more than 50% penetration of smartphones in their population. Furthermore, Europe is one of the major regions that focuses on R&D in the location analytics market. Most of the individual customers or enterprises in Europe extensively use location-based mapping services, which majorly contribute to the region's revenue. Some of the mobile operators in Europe use location analytics techniques and have collected the location-based information of their subscribers to strengthen the performance of their mobile networks and internal marketing campaigns.
However, Asia-Pacific is expected to witness a fastest growth owing to growing number of smartphone and social media users, service providers and enhancement of networking technologies. The boom in Asia-Pacific markets has been enormous and is a huge market for every company that makes smartphones. There is a huge demand in both low-cost smartphone segment and the high-end segment. The combination of growth in both has helped the market in this region.
Competitive Landscape
Companies are expanding their presence across various geographies and entering new markets in developing regions to expand their customer base and strengthen presence in the market. The companies are also introducing new innovative products in the market to cater to the growing consumer demands. The key leading players in the market include SAS Institute, Esri, Oracle, Pitney Bowes, Microsoft, Galigeo, Cisco Systems, IBM, Purple, GeoMoby, Alteryx, Inc., CleverAnalytics, IndoorAtlas, Lepton Software, and Quuppa among others.