The global m-commerce market was valued at USD 267.84 billion in 2021 and is expected to grow at a CAGR of 27.0% during the forecast period. The advancements in mobile technology for banking payments and the benefits of cellphones, which have led to an increase in mobile usage, are propelling the m-commerce market growth during the forecast period.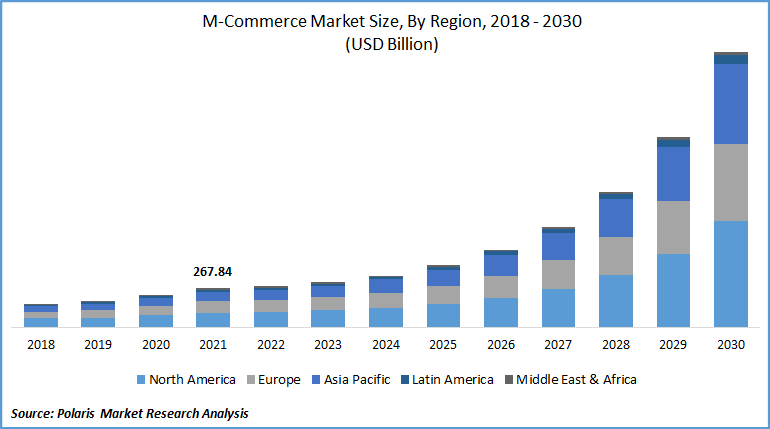 Know more about this report: request for sample pages
The number of mobile device users has increased over the years as a result of developments in mobile technology. M-commerce, which is the form of transactions completed via mobile devices, has seen a considerable increase due to the adoption of these mobile devices. Mobile devices are now at the center of a plethora of technologies and applications developed for customers and organizations all around the world.
Mobile Commerce is considered a cost-effective method of delivering e-commerce to customers regardless of time or location. The basic properties of mobile, such as personalization, mobility, and prevalence, demonstrate the m-commerce market's enormous potential, tremendous fruitfulness, and high profitability. Furthermore, the proliferation of media-rich mobile communication devices (smartphones and tablets), the growing group of internet users, higher broadband speeds, and increase in internet consumption is likely to fuel the expansion of the m-commerce market in lockstep along with the rise in the number of mobile devices.
There is numerous mobile commerce software in the market from which one can benefit in various ways. End customers frequently use applications such as mobile retailing, location maps, news, mobile purchasing, and ticketing. The majority of online retailers now have mobile websites or apps, resulting in a significant increase in company revenue and consumer base. Moreover, while cell phones are becoming increasingly safe, some people are still hesitant to conduct business on them.
Mobile phone networks are more vulnerable to criminal activity than traditional PC internet connections. The current technology for starting an m-commerce business is quite expensive, and it necessitates a large initial investment. Due to the emergence of mobile apps and the requirement for clients to use cellular data, m-commerce is more expensive than E-commerce. One of the key challenges impeding the m-commerce market's development is location management concerns in rural areas.
Know more about this report: request for sample pages
Industry Dynamics
Growth Drivers
Rise in penetration of smartphones and the internet and the adoption of smartphones for online shopping. The rising demand and high penetration of smartphones around the world have prompted users to place a greater emphasis on mobile-based payments and transactions using mobile wallets, which are predicted to have a positive effect on m-commerce market growth. Due to the obvious massive move toward smartphones, customers increasingly use mobile phones or computers for online monetary transactions.
Today, the increase in online shopping of various products is popular due to the outbreak of the COVID-19 pandemic. Online shopping is more convenient as compared to going to m-commerce market at any store. The people are involved more in online shopping due to comparative pricing, website availability, low pricing & discount offers, time-saving, no crowd, and safe payment. Therefore, buying products online is not an exception.
On 8th October 2020, the UNCTAD & Netcomm Suisse eCommerce Association report shows that online shopping has increased by 6% to 10% across most product categories, including cosmetics, personal care, agro-food, and electronics goods education, online courses, and others. Therefore, offline companies should have to start to deliver their products online. The global crisis has driven shoppers to shift their shopping habits online, and today, online shopping is growing at a very fast speed for essentials.
Moreover, internet penetration is growing rapidly across the globe due to the availability of smartphones at an affordable price and shifting towards the new technology development, which includes 4G and 5G networks. As per the ministry of electronics and information technology report in January 2018, the number of internet users will reach 900 million by 2025.
As per the ITU report, individual internet users at the end of 2019 were more than 51% of the global population. According to Internet Stats, around half a billion unique users were connected through the internet in 2014, and in June 2020, the internet users were 4,833 million, which is 62.0% of the world population. Mobile technology has increased Internet adoption, strengthening the m-commerce business by making it available from anywhere on the earth. This will help improve m-commerce, which will have a favorable impact on m-commerce market growth.
Report Segmentation
The market is primarily segmented based on transactions, payment modes, end-use, and region.
By Transactions

By Payment Modes

By End-Use

By Region

M Retailing
M ticketing/booking
M billing
Others

Near-field Communication (NFC)
Premium SMS
Wireless Application Protocol (WAP)
Direct Carrier Billing
Others

Smart device users
Feature phone users

North America (U.S., Canada)
Europe (France, Germany, UK, Italy, Spain, Netherlands, Austria)
Asia Pacific (Japan, China, India, Malaysia, Indonesia, South Korea)
Latin America (Brazil, Mexico, Argentina)
Middle East & Africa (Saudi Arabia, UAE, Israel, South Africa)
Know more about this report: request for sample pages
Insight by Payment Modes
Based on the payment modes segment, the Near-field Communication (NFC) segment is expected to be the most significant revenue contributor in the global m-commerce market in 2021 and is expected to retain its dominance in the foreseen period. It's nothing new to have NFC chips embedded in credit cards for contactless payments.
However, the customer's smartphone can digitize their entire wallet, a more current and admittedly more appealing use case for NFC. Almost every mobile OS manufacturer offers its app with unique NFC features. Android users have the broadest range of options. To begin, users in the United States can download Google Wallet, allowing individuals to access payment facilities through contactless payments.
Samsung Pay, which works similarly, will be available this summer for its owners in the United States and Korea. Looking ahead, it's likely that NFC chips will eventually be adopted to replace all individuals' cards in their wallets. That means that the unique information on their frequent shopper loyalty cards, business cards, and other similar items can be stored and communicated using NFC.
Geographic Overview
North America had the largest revenue share in 2021. In comparison to other areas, the United States has a higher acceptance rate of new emerging technologies, which is expected to promote market growth. Due to substantial funding and investments, major firms such as MasterCard, Google, and many more are headquartered in the North American region, which is expected to fuel the m-commerce business.
Amazon, headquartered in the U.S., combined its m-commerce and e-commerce businesses. This could increase mobile conversions by providing a better customer experience than a company's mobile site. The adoption of new business tactics by big firms is expected to open up a plethora of prospects for the m-commerce market.
Moreover, Asia Pacific is expected to witness a high CAGR in the global market in 2021. The Asia-Pacific market for IT and semiconductors is well-known. The region already boasts the world's most mobile phone users (China and India) and some of the world's fastest network providers (Japan and South Korea). As a result, it is safe to predict that the region will have the fastest m-commerce growth rate in the future years. Furthermore, Alibaba and other such behemoths are projected to boost market growth significantly. Digital wallets are expected to boost the m-commerce market growth in app-based purchases considerably.
Competitive Insight
Some of the major players operating in the global market include Boku Inc., Ericsson, Gemalto, Google Inc., IBM Corp., Mastercard Inc., Oxygen8 Solutions, Inc., Paypal, SAP AG, and Visa Inc., among others.
M-Commerce Market Report Scope
| | |
| --- | --- |
| Report Attributes | Details |
| Market size value in 2021 | USD 267.84 billion |
| Revenue forecast in 2030 | USD 1,901.18 billion |
| CAGR | 27.0% from 2022 - 2030 |
| Base year | 2021 |
| Historical data | 2018 - 2020 |
| Forecast period | 2022 - 2030 |
| Quantitative units | Revenue in USD million/billion and CAGR from 2022 to 2030 |
| Segments covered | By Transactions, By Payment Modes, By End-Use, By Region |
| Regional scope | North America, Europe, Asia Pacific, Latin America, Middle East & Africa |
| Key companies | Boku Inc., Ericsson, Gemalto, Google Inc., IBM Corp., Mastercard Inc., Oxygen8 Solutions, Inc., Paypal, SAP AG, and Visa Inc. |