The global maleic anhydride market was valued at USD 2.55 billion in 2021 and is expected to grow at a CAGR of 4.2% during the forecast period. The rising utilization of composite materials in the automotive, aerospace, and construction sectors has increased the consumption of unsaturated polyester resins used to make composite materials.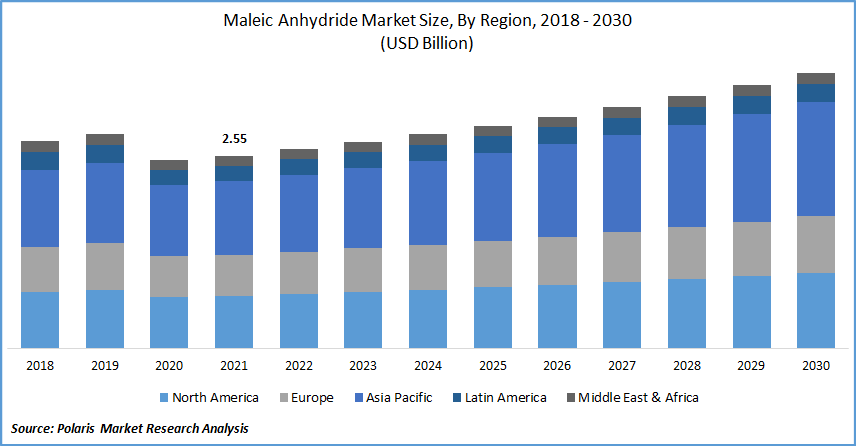 Know more about this report: Request for sample pages
The development of the building and construction industry due to enhanced global population and lifestyle changes brought about by urbanization may significantly contribute to the global market for unsaturated polyester resins. For instance, as per the US Census Bureau, the total housing construction units authorized by building permits in March 2020 grew at an average annual rate of 1,353,000, representing a 5% increase over the March 2019 rate of 1,288,000.
In March 2020, the overall number of privately operated housing starts was growing at an average annual rate of 1,216,000, representing a 1.4 percent increase over the March 2019 rate of 1,199,000. In terms of sales revenue, the building and construction industry accounts for a significant portion of the global unsaturated polyester resin market, which may boost sales for maleic anhydride.
Further, increased disposable income and increased use of spandex in compression garments, sportswear, and medical textiles have increased demand for 1,4-butanediol. The expanding construction industries in the BRIC countries and other emerging economies are anticipated to propel the growth of the maleic anhydride market.
Additionally, lenient regulatory requirements, easy availability of land and raw materials, low labor and transportation costs, and low labor and transportation costs are key factors designed to encourage key players to shift their production process to developing economies such as China, India, Indonesia, and Brazil.
However, the factors hindering maleic anhydride market growth during the forecast period are rising demand for hybrid vehicles and battery price parity. The increasing number of hybrid vehicles is supposed to cut the requirement for engine oil, properly functioning fluid, and transmission fluid by nearly half. This factor, along with rising battery parity, is expected to impact the quantity of the maleic anhydride market. The amount of electric vehicles is projected to increase, reducing overall engine fossil fuel consumption and, as a result, the usage of maleic anhydride in lubricating oil additives.
Industry Dynamics
Growth Drivers
Rising demand for unsaturated polyester resin across various verticals due to its benefits has increased the adoption of maleic anhydride. Maleic anhydride is the raw material used to produce unsaturated polyester resins. Unsaturated Polyester Resins (UPR) are used to make lighter, stronger fiberglass composites for boats, construction, wind turbine blades, automobiles, and various consumer goods.
It is a key component in producing copolymers, which allow for more sustainable raw materials, such as binding wood fibers into plastic, inhibiting corrosion, creating protective coatings for wire, and repelling water in sunscreens. Moreover, un-saturated poly-ester resins are widely used in various applications, making them an important thermoplastics system. These resins are mixed with various fillers and re-enforcement materials and cured with free-radical innovators to produce thermoset articles with various chemical and mechanical characteristics depending on the diacids, diols, and cross-linking agents, initiators, and other ingredients used.
The growth for UPR is increasing rapidly, and the biggest market for reinforced polyester resin is in building structures and sanitary ware. Even though unsaturated polyester resin (UPR) is a main raw material for fiberglass composites, the requirement for the maleic anhydride is projected to rise. All of the mentioned factors are anticipated to enhance maleic anhydride demand over the forecast period.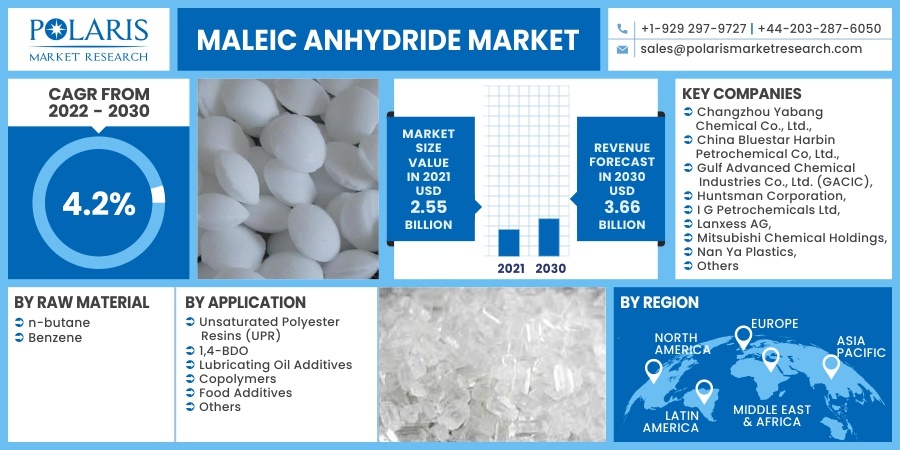 Know more about this report: Request for sample pages
Report Segmentation
The market is primarily segmented based on raw material, application, and region.
By Raw Material

By Application

By Region

Unsaturated Polyester Resins (UPR)
1,4-BDO
Lubricating Oil Additives
Copolymers
Food Additives
Others

North America (U.S., Canada)
Europe (France, Germany, UK, Italy, Spain, Netherlands, Russia)
Asia Pacific (Japan, China, India, Malaysia, Indonesia, South Korea)
Latin America (Brazil, Mexico, Argentina)
Middle East & Africa (Saudi Arabia, UAE, Israel, South Africa)
Know more about this report: Request for sample pages
Insight by Raw Material
Based on the raw material segment, the n-butane segment is expected to be the most significant revenue contributor in the global market in 2021 and is expected to retain its dominance in the foreseen period. This dominance is anticipated to remain during the forecast period, attributed to the increasing building, construction, and automotive industries.
Due to stringent policies and regulations governing the use of benzene in the manufacturing of maleic anhydride, the n-butane segment is expected to grow faster in terms of quantity and significance during the forecast period.
Geographic Overview
Asia Pacific had the largest revenue share in the global market. The emergence of automotive production has contributed to this dominance. This dominance can be driven by growing domestic industries, rising growth from end-use industries, and the expanding use of maleic anhydride in various applications such as agricultural chemicals and pharmaceuticals. Maleic anhydride demand is increasing and is anticipated to expand faster in the Asia Pacific. Maleic anhydride is a major global market in China.
One of the major factors driving maleic anhydride applications in the region is the region's growing construction industry. The development of low housing and commercial housing has driven its recent growth. Demographics in the country are supposed to drive residential construction growth in the coming years. Rising household earnings, combined with population migration from rural to urban areas, are expected to propel the market for house development in the country for the foreseeable future.
Moreover, Europe is expected to witness a high CAGR in the global market. Petrochemicals and polymers account for the vast majority of chemical sales in Europe, and their share of total sales is steadily increasing. The region's market is being driven by the demand for maleic anhydride in the manufacturing, building, and construction sectors.
Competitive Insight
Some major players operating in the global market include Changzhou Yabang Chemical Co., Ltd., China Bluestar Harbin Petrochemical Co, Ltd., Gulf Advanced Chemical Industries Co., Ltd. (GACIC), Huntsman Corporation, I G Petrochemicals Ltd, Lanxess AG, Mitsubishi Chemical Holdings, Nan Ya Plastics, Ningbo Jiangning Chemical Co., Ltd., Nippon Shokubai Co., Ltd., Polynt-Reichhold Group, Shanxi Qiaoyou Chemical Co., Ltd., Shijiazhuang Bailong Chemical Co., Ltd., Yongsan Chemical Co., Ltd., and Zibo Qixiang Tengda Chemical.
Maleic Anhydride Market Report Scope
| | |
| --- | --- |
| Report Attributes | Details |
| Market size value in 2021 | USD 2.55 Billion |
| Revenue forecast in 2030 | USD 3.66 Billion |
| CAGR | 4.2% from 2022 - 2030 |
| Base year | 2021 |
| Historical data | 2018 - 2020 |
| Forecast period | 2022 - 2030 |
| Quantitative units | Revenue in USD Billion and CAGR from 2022 to 2030 |
| Segments covered | By Raw Material, By Application, By Region |
| Regional scope | North America, Europe, Asia Pacific, Latin America, Middle East & Africa |
| Key companies | Changzhou Yabang Chemical Co., Ltd., China Bluestar Harbin Petrochemical Co, Ltd., Gulf Advanced Chemical Industries Co., Ltd. (GACIC), Huntsman Corporation, I G Petrochemicals Ltd, Lanxess AG, Mitsubishi Chemical Holdings, Nan Ya Plastics, Ningbo Jiangning Chemical Co., Ltd., Nippon Shokubai Co., Ltd., Polynt-Reichhold Group, Shanxi Qiaoyou Chemical Co., Ltd., Shijiazhuang Bailong Chemical Co., Ltd., Yongsan Chemical Co., Ltd., and Zibo Qixiang Tengda Chemical |