The global 1,4 Butanediol (BDO) market was valued at USD 10.2 billion in 2021 and is expected to grow at a CAGR of 8.4% during the forecast period. One of the key factors propelling the growth of the market is the rise in Polybutylene Terephthalate (PBT) demand on a global scale.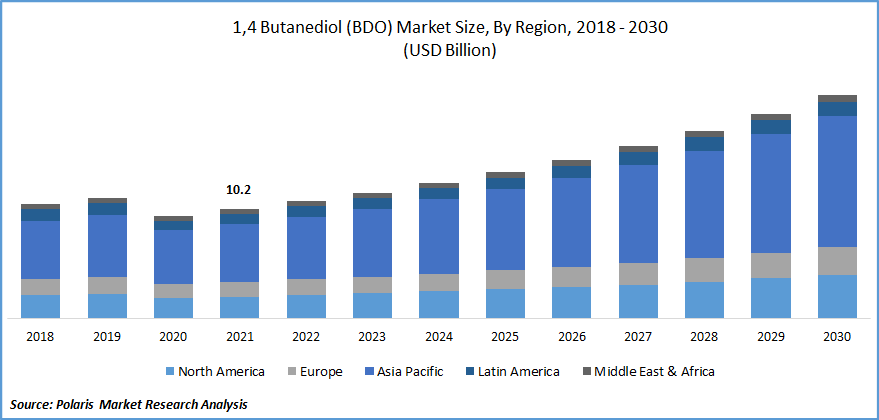 Know more about this report: Request for sample pages
The widespread use of 1,4-butanediol in many processes, such as the manufacturing of polytetramethylether glycols (PTMEG), and the growing demand for environmentally friendly goods stimulate market expansion. The 1,4 Butanediol (BDO) market is further influenced by the strong market demand from the THF sector and growing awareness of the processing and practical advantages of this chemical and other BDO derivatives.
A solvent primarily utilized in industrial cleansers and adhesive removers like tetrahydrofuran is butanediol, also known as BDO. Carboxylic alcohol with a single carbon-4 chain, BDO is saturated. At ambient temperature, it is a viscous colorless, and nearly odorless liquid. It functions as a crucial chemical intermediary for tetrahydrofuran, PTMEG, PBT, gamma-butyrolactone (GBL), polyurethane (PU), and other solvents.
These substances are widely utilized in a variety of products, including fibers, engineering plastics, pharmaceuticals, cosmetics, artificial leather, insecticides, plasticizers, hardeners, solvents, and rust removers. The major application market for BDO, occupying a sizable portion of the 1,4 Butanediol (BDO) market, is tetrahydrofuran.
The 1,4 Butanediol (BDO) market was negatively impacted by COVID-19 as a result of various countries imposing lockdowns, which caused the closure of the majority of its end-user industry's production facilities globally for a set period. Due to the drop in the automobile industry, 1,4 butanediols, which are primarily employed in the production of polybutylene terephthalate, decreased. Leather, textiles, and recreational products were some of the other significant end-user industries impacted by the pandemic.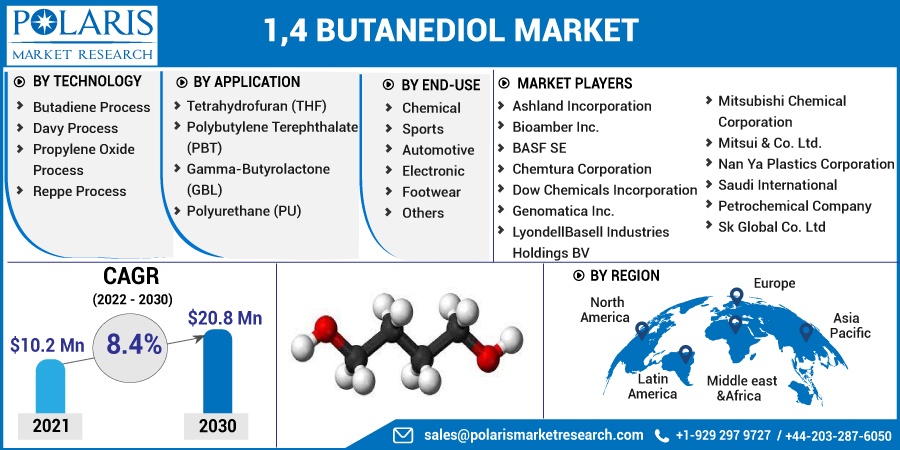 Know more about this report: Request for sample pages
Industry Dynamics
Growth Drivers
In the textile business, polybutylene terephthalate (PBT), polyurethane, polyester, and other elastin are produced predominantly using bio-based 1,4-butanediol. Due to its characteristics, including great durability, consistency, higher humidity resistance, superior softness, and antibacterial qualities, 1,4-butanediol-based textile fibers are in higher market demand.
The main factors influencing the expansion of the textile industry globally are soaring investments, new location development, and government performance related to the textile mills. For instance, in February 2021, A new sustainable textile fiber manufacturing facility was built in Sweden owing to an investment of EUR 35 million (US$ 41,4 million) by TreeToTextile AB.
Furthermore, to boost textile products in the region, the federal governments of African nations have initiated several efforts to erect new textile factories across the continent. By 2030, these initiatives hope to increase Africa's production of textiles and clothing. As a result, it is anticipated that the rapid development of new textile facilities would raise the market demand for bio-based 1,4-Butanediol used to produce the textile fibers used in those facilities. In the future years, this is expected to fuel the market for bio-based 1,4-butanediol.
Report Segmentation
The market is primarily segmented based on technology, end-use, application, and region.
By Technology

By Application

By End-Use

By Region

Butadiene Process
Davy Process
Propylene Oxide Process
Reppe Process

Tetrahydrofuran (THF)
Polybutylene Terephthalate (PBT)
Gamma-Butyrolactone (GBL)
Polyurethane (PU)
Others

Chemical
Sports
Automotive
Electronic
Footwear
Others

North America (U.S., Canada)
Europe (France, Germany, UK, Italy, Netherlands, Spain, Russia)
Asia Pacific (Japan, China, India, Malaysia, Indonesia. South Korea)
Latin America (Brazil, Mexico, Argentina)
Middle East & Africa (Saudi Arabia, UAE, Israel, South Africa)
Know more about this report: Request for sample pages
Automotive Industry is expected to witness the fastest growth
PBT, which is used to make automobile components, is frequently produced using 1,4 butanediol. PBT is used in a variety of vehicle industries, including energy absorption, reduced weight, shock resistance for bumpers, reducing the danger of gas tanks exploding, seat belts, accelerators, doorway and seat components, subsystems, cushions, under-bonnet parts, external trimmings, and more.
Most cars have polyurethane foams in the seat backs, handles, and seats, where their cushioning qualities assist lessen the tension and weariness frequently connected with driving. Additionally, door panel fabrics that stretch and attach to the fabric of the door and the car's seat are created using spandex fabric made from THF.
Because polyurethanes are durable and lightweight, cars are lighter overall, which improves both fuel economy and sustainability practices. As a result of the aforementioned reasons, the market under study is anticipated to benefit from the consumption of 1,4 BDO products in the automobile end-user industry over the forecast period.
Polyurethane (PU) accounted for the highest market share in 2021
The chemical backbone's structure has a significant impact on the qualities of polyurethane (PU), and chained extenders have a specific function in improving the material's ultimate mechanical characteristics. 1,4 Butanediol (BDO) market is utilized in PU as an intermediary for polyester polyurethanes and as an elastomer chain extender.
1,4 Butanediol (BDO) is the preferred chain extension for most microprocessors in MDI systems. In this capacity, BDO reacts with H12 MDI systems and resulting in considerable based on MDI to produce the "hard segment" domains in polyurethanes.
When microphase separated, crystalline urethane subdomains produced by 1,4 butanediol provide strong elastomeric networks. Uncrosslinked BDO-MDI domain can dissolve and flow at high temperatures in polyurethane foam compositions to manufacture thermoplastic. As the systems are cooled, they reorganize to create strong elastomer composition.
Reppe Process is expected to hold the significant revenue share
The Reppe process involves three crucial steps in the manufacture of 1,4 Butanediol (BDO), such as alkynylation of formaldehyde, methanol oxidation, acetylene, and hydrogenation. Chinese businesses have recently developed certain processes, catalysts, equipment, environmental conservation, and other associated application innovations as a result of constant optimization and exploration of these foreign technologies, which has advanced the market's technological advancement.
The segment's utilization of practical methods to generate 1,4 Butanediol (BDO) is one of the main drivers. It is regarded as being more cost-effective than others due to its high manufacturing rate and low cost when compared to processes like the butadiene process and the Davy process.
Only the Reppe process has experienced significant development in China, far outpacing that of other petrochemical feedstock technologies. This is because China has abundant natural resources (such as calcium carbide and coal), which can be used to produce butanediol at a lower cost.
The demand in Asia-Pacific is expected to witness significant growth
A large portion of the market is expected to be dominated by the Asia-Pacific region throughout the projected period because of expanding sectors, including electronics, leather, and electronics, among others, which have high 1,4 Butanediol (BDO) demand. The region's BDO-dependent businesses, such as the automotive industry, are expanding dramatically along with the economies of emerging nations.
China is the world's largest producer of automobiles and a pioneer in the development of electric vehicles. Other than EVs, the electronics industry's fastest-growing items include OLED TVs, smartphones, cables, tablets, wires, headphones, etc. The region's market demand for electronic goods has grown as a result of the middle-class population's higher disposable income.
Furthermore, the Indian government has also been promoting the development of the electronics sector through programs like the Phased Manufacturing Programme (PMP), which aims to increase the number of smartphone components included in the "Make in India" campaign and promote the domestic production of mobile phones.
Additionally, the consumption of consumer appliances, including air conditioners, refrigerators, washing machines, microwaves, etc., has visibly grown with the population's rising wealth, which is further boosting the consumer electronics market's expansion.
The market is expanding as people become more aware of the processing and practical advantages of this and other 1,4 Butanediol (BDO) derivatives. Major multinationals are adopting new technology and transferring their manufacturing capacities toward the Asia Pacific emerging economies, which is expected to spark innovation soon.
Moreover, several creative, sustainable technologies that produce goods using bio-based, natural energy have been developed as a result of increasing environmental issues and the degradation of non-renewable resources like petroleum and natural gas. Development and usage of bio-based BDO are also driven by the shift toward recycled alternatives.
Competitive Insight
Some of the major players operating in the global market include Ashland Incorporation, Bioamber Inc., BASF SE, Chemtura Corp, Feng Chemical Industry, Dow Chemicals Incorporation, Exxon Mobi Chemicals, Genomatica, LyondellBasell Industries, Mitsubishi Chemical, Mitsui & Co. Ltd., Nan Ya Plastics, Saudi International Petrochemical, Shell Chemicals, and Sk Global.
Recent Developments
In April 2021, the Coal-based Fine Chemicals Industrial Park project was started by Xinjiang Guotai to generate hydrogen using the butanol cracking procedure, 1,4 butanediol (BDO), through the acetylene aldehyde method, and ethene and formaldehyde through it with a dry acetylene facility and a formaldehyde plant. By finishing this task, 100,000 tonnes of 1,4-butanediol (BDO) and 1,200 tonnes of butanol will be produced as byproducts.
1,4 Butanediol (BDO) Market Report Scope
| | |
| --- | --- |
| Report Attributes | Details |
| Market size value in 2021 | USD 10.2 billion |
| Revenue forecast in 2030 | USD 20.8 billion |
| CAGR | 8.4% from 2022 - 2030 |
| Base year | 2021 |
| Historical data | 2018 - 2020 |
| Forecast period | 2022 - 2030 |
| Quantitative units | Revenue in USD billion and CAGR from 2022 to 2030 |
| Segments Covered | By Technology, By End-Use, By Application, By Region |
| Regional scope | North America, Europe, Asia Pacific, Latin America; Middle East & Africa |
| Key Companies | Ashland Incorporation, Bioamber Inc., BASF SE, Chemtura Corporation, Chongqing Jian Feng Chemical Industry Co. Ltd., Dow Chemicals Incorporation, Exxon Mobi Chemicals Incorporation, Genomatica Inc., LyondellBasell Industries Holdings BV, Mitsubishi Chemical Corporation, Mitsui & Co. Ltd., Nan Ya Plastics Corporation, Saudi International Petrochemical Company, Shell Chemicals Incorporation, and Sk Global Co. Ltd |