The global marine seat market was valued at USD 1.54 billion in 2021 and is expected to grow at a CAGR of 5.0% during the forecast period.
The growing popularity of cruise transportation and maritime tourism activities worldwide, particularly in industrialized countries, is a driving factor of the marine seat industry. The industry's key players are increasing awareness of safety. In recent times, such factors have propelled the sector.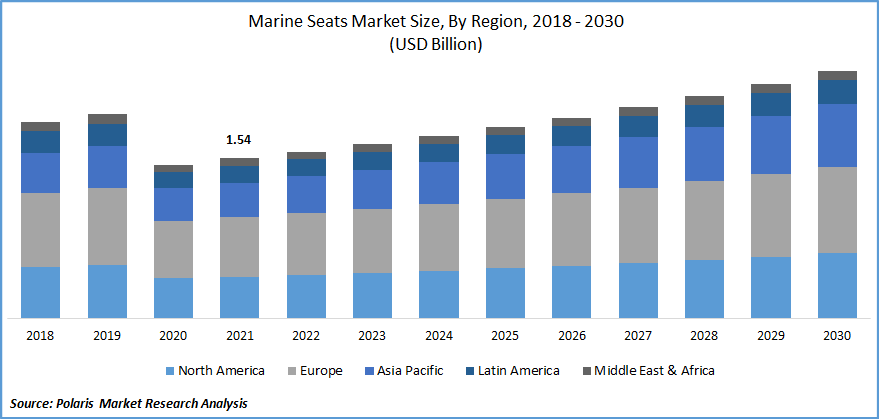 Know more about this report: Request for sample pages
Marine seats, also known as pedestals, are found in yachts, ships, boats, ports and shipping, and other merchant ships. The seats have detentions and provide additional protection for sailors and prospective passengers. Marine seats are an essential element of any sea ship and are thus used in outdoor recreation, armed services, and commercial vessels.
There has been an increase in demand for custom-built seat backs to mentioned attributes of ergonomics, convenience, and technology. Maritime seat manufacturers continue to capitalize on the growing demand for customized seat alternatives.
Boat/ship owners and managers are constantly seeking ways to replace original seats with high-quality customized seats. This increase in the demand for personalization is expected to fuel global market expansion.
However, the strategies employed by boat automakers and replacement marketplaces are also playing an important role in the growth of the marine seat sector. They obtain the components through three primary channels: immediate procurement, specialized retail stores, and internet sales. The large majority of boat automakers prefer actual procurement and place bulk orders.
Furthermore, specialty retail stores provide prospective consumers with the accessories needed for leisure activities and are thus regarded as a major driver of the maritime seats market growth.
The coronavirus has harmed marine shipbuilding and seat production facilities. The disease outbreak has also impacted new agreements, logistics, and network operators. The pandemic has hindered aftermarket supply. The downturn in commercial shipping, particularly ferries and yachts, has had a significant effect on market growth. From 2019 to 2022, a lengthy negative impact was noticed. According to UNWTO's three situations, foreign visitors statistics could drop by 60 to 80% in 2020, despite predictions of a 3% to 4% expansion at the start of 2019. It would imply a drop in international visitor numbers of 850 million to 1.1 billion, a drop in export earnings of $910 billion to $1.2 trillion, and the destruction of 100-120 million straightforward tourism jobs. However, it is expected that demand will increase after 2022.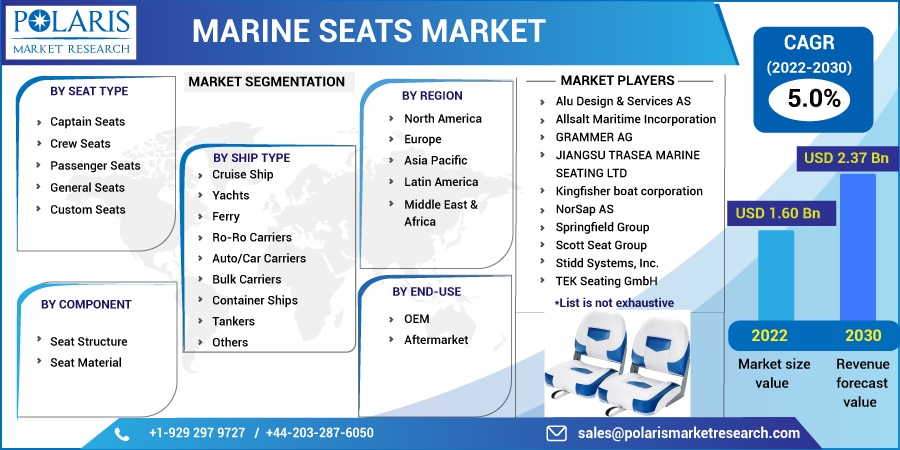 Know more about this report: Request for sample pages
Industry Dynamics
Growth Drivers
The rapidly growing marine tourism industry is the major factor boosting the market growth over the forecast period. Coastal and maritime tourism is an important industry in many countries. The continuing to improve the global economy and rising individual net value are expected to boost tourism growth. Both leisure boating, as well as tourist industry activities, are expected to increase over the forecast period, as marine and coastal areas remain the most popular tourist attractions.
According to UNWTO, tourism is a worldwide economic growth and advancement force, trying to generate US$ 1.7 trillion annually, accounting for approximately 4% of global GDP and 29% of exports of goods and services. Tourism directly supports one out of every ten positions in the world: in 2019, the tourism industry funded approximately 300 million jobs worldwide.
According to UNWTO data, international visitor numbers reached 1.5 billion in 2019, with 1.8 billion anticipated by 2030. This equates to approximately 50 million new arrivals per year, a much more than 150% rise from 1995 to 2010. Tourist arrivals are expected to rise faster in emerging markets, with Europe dominating the market with up to 780 million visitors by 2030. As a result, the expanding marine tourism sector is predicted to propel the expansion of the market.
Report Segmentation
The market is primarily segmented based on seat type, ship type, component, end-use, and region.
By Seat Type

By Ship Type

By Component

By End-Use

By Region

Captain Seats
Crew Seats
Passenger Seats
General Seats
Custom Seats

Cruise Ship
Yachts
Ferry
Ro-Ro Carriers
Auto/Car Carriers
Bulk Carriers
Container Ships
Tankers
Others

Seat Structure
Seat Material

North America (U.S., Canada)
Europe (France, Germany, UK, Italy, Netherlands, Spain, Russia)
Asia Pacific (Japan, China, India, Malaysia, Indonesia. South Korea)
Latin America (Brazil, Mexico, Argentina)
Middle East & Africa (Saudi Arabia, UAE, Israel, South Africa)
Know more about this report: Request for sample pages
Custom Seat segment is expected to witness the fastest growth in 2021
Custom-built maritime seats for commercial ships, boats, sailboats and other marine structures are in high demand as customers seek comfort, ergonomic design, and techniques. While strong-relevance seat automakers seek to capitalize on rising demand for customized solutions, boat companies and owners are constantly looking for ways to substitute their initial seating with top-quality customized marine seats. Additionally, businesses are developing new marine seat design ideas for specific activities to attract customers and increase sales.
Cruise Ship segment industry accounted for the highest market share in 2021
Because of growing demand for cruising in developing nations, the cruise segment is predicted to dominate the market. Due to an increase in the number of passengers on comfort cruises, major cruise lines such as Carnival Cruises (US), and Norwegian (US) are raising their capacity.
The situation deteriorated significantly due to COVID-19, with these cruise lines experiencing a 75% drop in onboard ticket sales and other generating revenue from 2019 to 2020. The number of passengers traveling by sea increased to 30 million in 2019 but fell to 7 million in 2020. By 2021, the figure had risen to 14 million. The global total international cruise passenger capacity at the close of 2021, according to the Cruise Market Watch 2021, has been 581,000 travelers.
Aftermarket segment is expected to hold the significant revenue share
Maintenance, repair, and overhaul (MRO) businesses, which mainly perform functions as well as boat maintenance and improvement, comprise the market's aftermarket segment. All through ship repairs, rebuild, and reworking, these companies have set up various systems and equipment. Ships' cracked components, including their hardware and software or battery systems in them, including such power management system applications, propulsion management solutions, and safety and protection systems, are taken to MRO businesses for maintenance, preservation, and upgrade. MRO or aftermarket businesses also replace the old tools and ship elements that cannot be repaired.
The demand in North America is expected to witness significant growth
North America dominates the maritime seat industry due to the existence of leading manufacturers. The economic situation and outdoor recreation preferences of Americans have increased the need for boats and water sports.
To give more importance to the recreational transport industry, the US government gave recreational handmade products to the marine industry and established the accessories sector.
Furthermore, the region's suppliers and exporting activities present tremendous opportunities for the market to expand. The US government also provides the National Export Innovation, through which US manufacturers are energizing overseas sales and connecting with international markets. Such factors are viewed as big factors of the market growth in North America.
The Asia-Pacific region is growing with the fastest CAGR over the forecast period. The rising maritime tourism in the region is the major factor boosting the growth in the Asia-Pacific region. According to the UNWTO, approximately 88% of visitors are Asian. For example, approximately 10% of China's 1.4 billion individuals traveled abroad in 2018. The percentage of passport holders is predicted to reach 300 million by 2027, accounting for 20% of the Chinese population.
Further, because of the accessibility of manpower and raw materials, China has a high potential in the Asia Pacific market. The Chinese government is encouraging yachting as a recreational activity rather than a luxury provider so that more individuals can enjoy that as well. In 2016, the China State Council issued a circular that contained a declaration to establish a yachting tourist industry development strategy.
Competitive Insight
Some of the major players operating in the global market are Alu Design & Services AS, Allsalt Maritime Incorporation, GRAMMER AG, JIANGSU TRASEA MARINE SEATING LTD, Kingfisher boat corporation, NorSap AS, Springfield Group, Scott Seat Group, Stidd Systems, Inc., TEK Seating GmbH, Triton submarines company, Thomas Scott Seating Ltd, Ullman Dynamics, and West Marine Incorporation.
Recent Developments
In February 2022, Allsalt Maritime presented the Shoxs Caster suspension seat series, which is intended to provide a more comfortable ride for offshore boaters. The new Helmcaster and Saltcaster designs are the only all-in-ones, fully showcased suspension seat systems for recreational anglers, removing the need to meet seat containers with suspension foundations such as shock absorption pedestals or components.
In May 2020, The Triton submarines company unveiled an amazing tourist channel that can transport 24 passengers, a pilot, and a co-pilot underwater to the 100-meter (328-ft) deepest part in air-conditioned convenience while providing spectacular views of the underwater world through massive 5.5-inch-thick (140-mm) epoxy windows.
In February 2019, Sunbrella Horizon aimed to improve the boating experience by offering a luxuriously soft hand resistant to bacterial discoloration, cold-cracking, excessive stretching, and disappearing.
Marine Seats Market Report Scope
| | |
| --- | --- |
| Report Attributes | Details |
| Market size value in 2022 | USD 1.60 billion |
| Revenue forecast in 2030 | USD 2.37 billion |
| CAGR | 5.0% from 2022 - 2030 |
| Base year | 2021 |
| Historical data | 2018 - 2020 |
| Forecast period | 2022 - 2030 |
| Quantitative units | Revenue in USD billion and CAGR from 2022 to 2030 |
| Segments Covered | By Ship Type, By Seat Type, By Component, By End-Use, By Region |
| Regional scope | North America, Europe, Asia Pacific, Latin America; Middle East & Africa |
| Key Companies | Alu Design & Services AS, Allsalt Maritime Incorporation, GRAMMER AG, JIANGSU TRASEA MARINE SEATING LTD, Kingfisher boat corporation, NorSap AS, Springfield Group, Scott Seat Group, Stidd Systems, Inc., TEK Seating GmbH, Triton submarines company, Thomas Scott Seating Ltd, Ullman Dynamics, and West Marine Incorporation. |