The global medical footwear market was valued at USD 8.26 billion in 2019 and is expected to grow at a CAGR of 5.85% during the forecast period. The global market growth is attributed to rising prevalence of people suffering with diabetes mellitus leading diabetic peripheral neuropathy, innovations in foot mechanics, and awareness pertaining to feet-related ailments such as ulcers, sprain, and other foot related issues. Few notable health benefits include foot support, improved blood flow, reduction in foot pain, improved mobility, and correction with the existing foot problems.
According to the statistics published by the Children's Hospital of Philadelphia (CHOP), the COVID-19 situation and lockdown had resulted in spike of home borne pediatric injuries coupled with strong decline of 60% in injuries with sports-related activities. The team gathered data of 1,735 patients and compared it with historic figures and found over 2.5% decline in daily road accidents leading to fractures; however, same study revealed 12% increase in home borne fractures caused due to trampoline injuries, high energy falls, and bicycle injuries. High cost of medical footwear and its availability mostly on the online platforms are acting as market restraints. Medical footwear prescribed by doctors are covered under Medicare and supplementary insurance in the U.S. and other developed economies. As a result, the demand for the products is expected to grow in North America and Europe.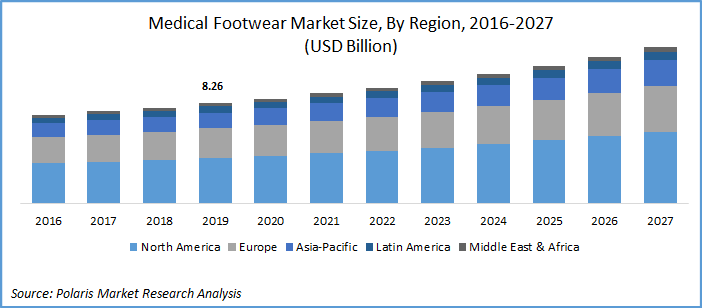 Know more about this report: request for sample pages
Industry Dynamics
Growth Drivers
The rising prevalence of foot-related issues such as bunions & hallux valgus, plantar fasciitis, Achilles tendonitis, and arthritis is another factor propelling market growth. According to the National Centre for Biotechnology Information (NCBI) report, the incidence of the acute rapture of Achilles tendonitis ranges between 7 to 40 per thousand individuals in a year and is common among adults.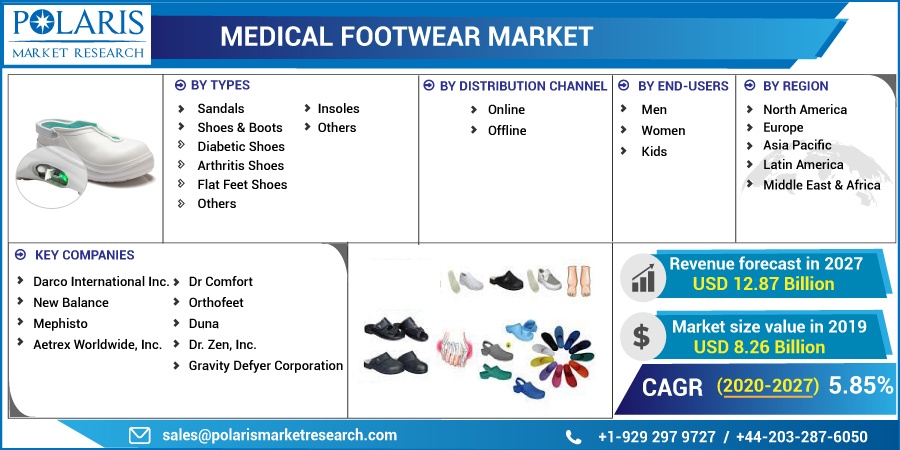 Know more about this report: request for sample pages
According to the International Diabetes Federation (IDF), about 463 million people are suffering from high blood sugar around the world in 2020. From the same source, in Southeast Asia, about 88 million people have diabetes. Out of this 88 million, 77 million people from India are diabetic. Furthermore, in January 2019, nurse practitioners as well as physicians have got permission to prescribe diabetic shoes. As a result, the demand for diabetic footwear is increasing, driving the medical footwear market growth.
Medical Footwear Market Report Scope
The market is primarily segmented on the basis of type, end-users, distribution channel, and geographic region.
By Types

By Distribution Channel

By End Users

By Regions

Sandals
Shoes & Boots

Diabetic Shoes
Arthritis Shoes
Flat Feet Shoes
Others

Insoles
Others

North America (U.S., Canada)
Europe (France, Germany, UK, Italy, Spain, Netherlands, Austria)
Asia Pacific (Japan, China, India, Malaysia, Indonesia. South Korea)
Latin America (Brazil, Mexico, Argentina)
MEA (Saudi Arabia, UAE, Israel, South Africa)
Know more about this report: request for sample pages
Insight by Type
On the basis of type, the medical footwear market is bifurcated as sandals, shoes & boots, slippers, and others. Shoes segment are expected to dominate the revenue share, as shoes are preferred by both women & men as they provide maximum comfort for diabetic patients compared to sandals and slipper. The dominance is also attributed to the fact that shoes are most preferred footwear owing to their characteristics and functionality.
Insoles segment holds the second largest revenue share as insoles are available in the market with attached technology that monitors and helps in taking preventive measures against diabetes as well as recommended by doctors. For instance, in December 2019, the U.S.-based Orpyx Medical Technologies introduced SI Sensory Insoles equipped with remote patient monitoring to avoid recurrence of diabetic foot ulcers in people with diabetic peripheral neuropathy. These insoles are available with an audio-visual alert function that helps the diabetic patients to act and resolve the high-pressure areas which may lead to tissue damage.
Insight by Distribution Channel
On the basis of distribution channel, the medical footwear market is segmented into online and offline. Online segment accounted for the largest revenue share in 2019 owing to a wide variety of footwear available across the online platforms. In addition, e-commerce websites such as Amazon, Dr Comfort, and Flipkart offer several discounts, new launches, and deals, which is one of major factors driving the segment demand.
Geographic Overview
Based on region, the global medical footwear market has been segmented into North America, Europe, Asia Pacific, Latin America, and Middle East & Africa. North America accounted for the largest revenue share in 2019 on account of increasing awareness regarding advantages of medical footwear in the U.S. and Canada. Dr Comfort is the most popular diabetic shoe brand and uses 3D printing technology for accurate fitting. Moreover, the companies in the concerned area are collaborating with technology providers to improve the performance and effectivity of the footwear.
Increasing prevalence of diabetes among people is another factor driving the market in North America. According to the American Diabetes Association (ADA), about 34.2 million people were suffering from diabetes in 2018. It also measured that 26.8 % or 14.3 million senior citizens and about 120,000 citizens below the age of 20 years are suffering from diabetes.
Asia Pacific is projected to exhibit highest market growth due to rising cases of diabetes and large population base. India and China have huge under-served population and the rising disposable income, insurance penetration, and proper healthcare infrastructure is expected to propel the adoption of medical footwear. According to the International Diabetes Federation (IDF), India ranks second after the U.S. where the prevalence of type 1 diabetes among children is the highest. Furthermore, 2% of the total deaths in India are due to diabetes, according to the World Health Organization (WHO) report.
Competitive insight
Most of the players operating in this market are involved in product development and improvement to increase the effectiveness of the footwear. Mobile Textile Companies, Dr Comfort, Hike, and Aetrex Worldwide, Inc. are major companies operating this market and involved in product development while collaborating with technology providers.
Key players operating in the medical footwear market include Darco International Inc., New Balance, Mephisto, Aetrex Worldwide, Inc., Dr Comfort, Orthofeet, Duna, Dr. Zen, Inc., and Gravity Defyer Corporation.