The global membrane filtration market size was valued at USD 14,305.5 million in 2019 and is anticipated to grow at a CAGR of 8.5% during the forecast period. Membrane filtration technology once installed does not need constant maintenance, is easy to operate and fits perfectly in the overall automated production processes. In addition, they effectively separate spores, bacteria, and fats from production streams to provide high quality end product. These factors have contributed to the growth of the market.
In addition, membrane filtration technology unlike other conventional technologies, can be enclosed inside a building thus eliminating the threat of exposure and guaranteeing additional security. This also allows taking immediate corrective action in case of any mishaps. Membrane filtration devices use low amount of chemicals in the overall filtration processes and thus are effective in adhering various rules and regulations regarding the same. Effective usage of multi-barrier filtration technology is being used to adhere to strict rules and regulations as prescribed by various regulatory agencies.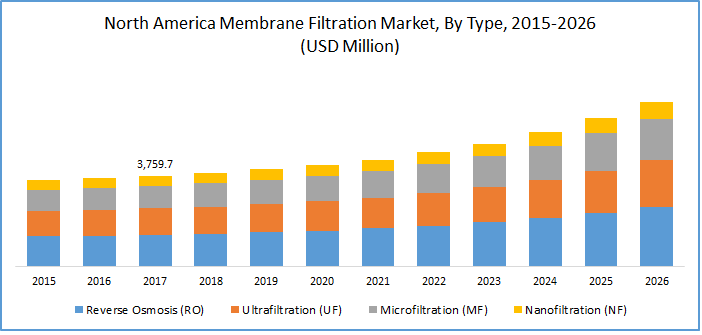 Know more about this report: Request for Sample Pages
Membrane filtration aids companies to manufacture premium products. One of the key features of a premium product is unchanged product specifications and this can be easily achieved by using filtration devices as these devices are durable under varying chemical and physical stress, and provide a high level of filtration capabilities.
As compared to other conventional filtration methods, membrane filtration in industries such as dairy, offer flexible yet high yield and optimum quality production of products such as cheese, yogurt etc. They also provide the ability to producers to manufacture premium products irrespective of change in procurement of raw materials. Membrane filtration can be used to obtain high process yield without much divergence in the quality. The global rise in demand for premium products is thus in turn expected to benefit the market growth over the next few years.
The market is primarily segmented on the basis of Product, By Application, By Distribution Channel, By Form, By Source and geographic region.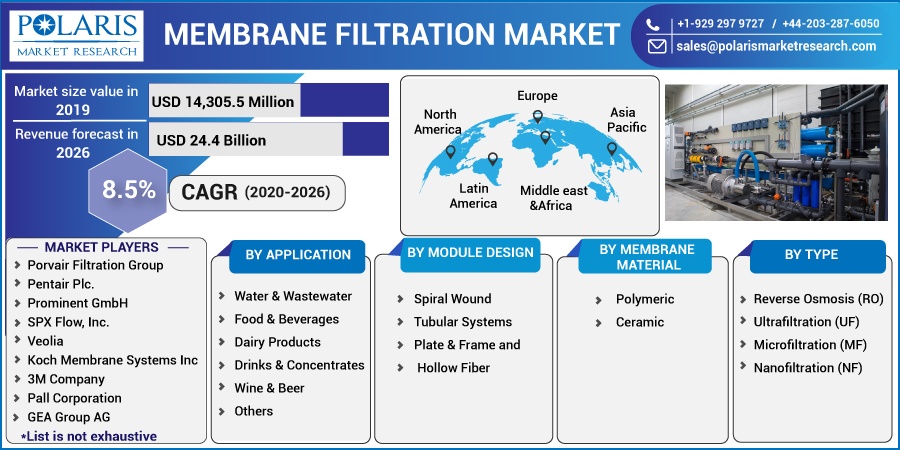 Know more about this report: Request for Sample Pages
Membrane Filtration Market Report Scope
By Application

By Module Design

By Membrane Material

By Type

By Region

Water & Wastewater
Food & Beverages

Dairy Products
Drinks & Concentrates
Wine & Beer
Others

Spiral Wound
Tubular Systems
Plate & Frame and Hollow Fiber

Reverse Osmosis (RO)
Ultrafiltration (UF)
Microfiltration (MF)
Nanofiltration (NF)

North America (U.S., Canada, Mexico)
Europe (France, Germany, UK, Italy, Spain, Netherlands)
Asia Pacific (Japan, China, India, Australia)
South America (Brazil, Chile)
MEA (Saudi Arabia, UAE, Qatar, Oman)
Know more about this report: Request for Sample Pages
Application Outlook
In the recent past, membrane filtration has emerged as a well-recognized, and viable method of water treatment that can be either utilized to produce a water quality safe for potable use as well as improving the water quality of waste streams in cases of industrial applications. The ability of membrane filters to separate a wide array of contaminants have made it a preferred choice for water treatment applications. The global growth in the water & wastewater treatment market is thus contributing to the membrane filtration industry growth.
Membrane processes are finding increasing applications in the overall food & beverage industry. They are being applied in the food & beverage industry in either batch or continuous mode of operations. They are sued in a variety of operations such liquid clarification, microparticles as well as microorganism separation and the concentration of the same, liquid cold sterilization, separation of colloids such as biopolymers, enzymes, milk fat globules, and proteins among others.
Module Design Outlook
On the basis of module, the market is segmented into spiral wound, tubular systems and Plate & Frame and Hollow Fiber. The spiral wound segment dominated the global membrane filtration market in 2019 by holding largest market share in the industry. Spiral wound system consists of permeate tube, permeate spacers, feed spacers, and membranes. The product can be utilized for various applications such as oil separation in wastewater applications, sulphate removal, dye desalting and concentration, cathodic/anodic paint recovery, lactose concentration, and whey protein concentration. The spiral wound is available in microfiltration, ultrafiltration and nanofiltration application.
Tubular membrane modules consist of porous walls with tube-like construction. These operate through tangential crossflow and particularly applicable to process difficult feed streams with fats, grease, high suspended solids, or high dissolved solids. The housing of the membrane can be ceramic or polymer based. Tubular systems offer robust cleaning methods implementing strong mechanical cleaning, backwash, and use of harsh chemicals. These may not be applicable for other design modules
Membrane Material Outlook
On the basis of membrane material, the market is segmented into polymeric and ceramic membrane. In 2019, the polymeric segment accounted for the highest market share and is expected to continue its dominance over the forecast period. Polymer membranes are low in cost, are easy to handle and have a high degree of flexibility. They are inexpensive as compared to their other counterparts such as ceramic and other inorganic types. In addition, polymer filters also provide a high degree of robustness as well as good chemical resistance when used as a pure formulation of polymer. Derived alloys of polymers do not offer the same degree of these advantages.
Ceramic segment provides distinct advantages over their other counterparts such as providing the right amount of porosity for a variety of separation processes, durable and long-lasting material, high resistance to chemicals and temperature range, and pressure tolerance. Due to all these factors the lifecycle of ceramic type is also high and hence these types are finding increasing applications in industries such as food & beverages as well as water and wastewater treatment.
Type Outlook
Reverse osmosis water purification process pushing tap water through semipermeable membrane to remove impurities with increasing pressure on the water to move through semi permeable membrane. The process offers superior efficiency removing up to 99% of most mineral contaminants, thereby resulting in superior demand for water purification process. The water can be used for drinking purpose, however owing to presence of hard elements in the water. Thus, the purified water is used in food and beverage industry. These mostly uses spiral wound module. This module contains flat sheets wrapped around a perforated permeate collection tube.
The nanofiltration are engineered to offer optimal flux. The product can be redesigned or customized according to the requirement to meet the particular requirement as per the specific process. These are available in flat sheet and spiral-wound. These are capable of rejecting large molecules and salts as per the requirement. Nanofiltration is used particularly for applications requiring high quality. The product is suitable for sanitary standards and industrial applications. These are capable of reducing hardness levels, color, moderate level of salts, nitrates, sulfates, turbidity, TDS, sulfates from the water stream.
Regional Outlook
Asia-Pacific dominated the market as the water & wastewater industry in this regional segment is growing at a rapid pace. Moreover, rapid urbanization, increasing research and development activities, expansion of international players in this region, and technological advancements are some of the additional factors attributed to the growth of this regional segment. Furthermore, North America is expected to follow Asia-Pacific and hold second highest market share in the global market. Large presence of key players operating in this industry, and rapid advancements in filtration technology are considered to the factors attributed to the huge market in this region.
North America is driven by US, Canada and Mexico and estimated to witness over 8.4% growth over the study timeframe. Reusing water to cater the increasing needs with aim to mitigate the water scarcity and reduce the draught situation has supported the usage of membrane filtration technology in the market. In addition, consistent pollution growth along with water pollution are the key factors resulting in less availability of water in the region.
Competitive Landscape
One-stop approach is being adopted by companies to guarantee customers with complete water treatment solutions. End users are benefitting from this trend as the need to carry out transactions with various suppliers is eliminated as all their filtration needs get satisfied in one place.
The leading players in the membrane filtration market include Porvair Filtration Group, Pentair Plc., Prominent GmbH, SPX Flow, Inc., Veolia, Koch Membrane Systems Inc, 3M Company, Pall Corporation, GEA Group AG, Alfa Laval AB, Suez Water Technologies and Solutions and DowDuPont. These players are expanding their presence across various geographies and entering new markets in developing regions to expand their customer base and strengthen presence in the market. The companies are also introducing new innovative products in the market to cater to the growing consumer demands.