The global metal nanoparticles market was estimated at USD 2.4 billion in 2021 and is expected to grow at a CAGR of 11.66% during the forecast period.
The primary reasons that could speed up market expansion globally include the rising number of supportive government initiatives, the increasing use of gold nanoparticles in the pharmaceutical industry, and the expanding range of nanoparticle applications. For instance, a research team at the Technion and the Helmholz-Zentrum Hereon Centre in Germany created a novel method for developing membranes that can accurately filter particular nanoparticles in November 2021. As a result, these advancements enjoy tremendous public support, increasing market demand.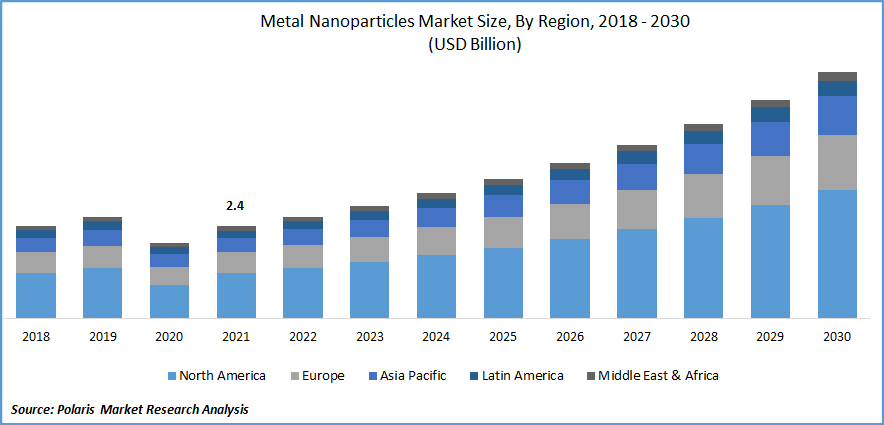 Know more about this report: Request for sample pages
Although the market is expected to expand over time, it will be limited by metals' unstable prices. Additionally, it is projected that the biological approach to lower costs and enhance the quality of nanoparticles will catalyse the market demand throughout the forecast period.
Metal nanoparticles are tiny fragments of metal that fall within the range of 1–100 nm in at least one of their dimensions (width, thickness, or length). These particles have a high surface-to-volume ratio and distinct chemical and physical characteristics. Their size, structure, and form affect their optical elements, toughness, and reactivity. Because of these characteristics, MNPs are being explored as prospective materials for various industrial uses, such as energy-related research, imaging, catalysis, biotechnology, and environmental applications.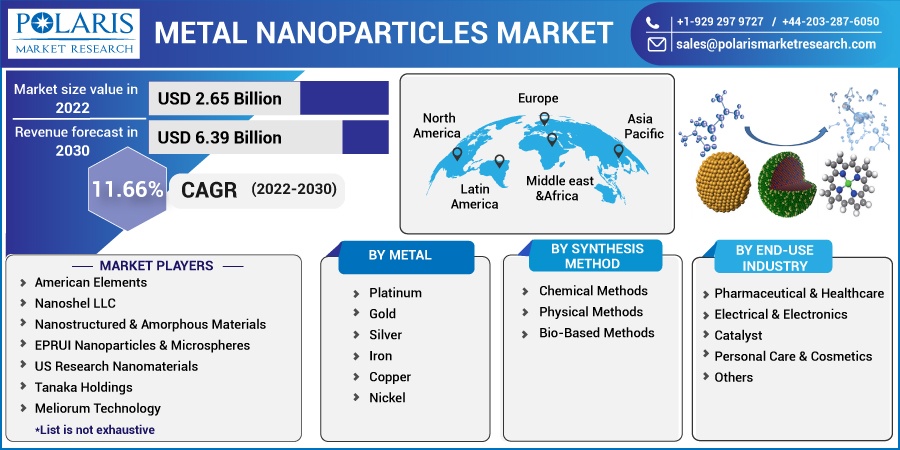 Know more about this report: Request for sample pages
Industry Dynamics
Growth Drivers
With rising spending on nanotechnology research, more products are available for nanoparticle characterization. Many nations are investing heavily in nanotechnology R&D programs. Substantial public investments were made in the business over the past ten years. The science, technology, and innovation (ST&I) policies of emerging nations have also integrated nanotechnology. Other countries are placing a lot more emphasis on nanotechnology research, including Australia, Canada, India, Israel, Malaysia, New Zealand, the Philippines, and the Caribbean.
Additionally, major players are boosting their drug test applications by acquiring and collaborating. Once, in August 2021, Bayer AG purchased the American biotech company Vividion Therapeutics, the purchase of Vividion broadened Bayer's therapeutic horizons and enhanced the company's small molecule medicinal capabilities in South Africa and Thailand.
Report Segmentation
The market is primarily segmented based on metal, synthesis method, end-use industry, and region.
By Metal

By Synthesis Method

By End-Use Industry

By Region

Platinum
Gold
Silver
Iron
Copper
Nickel

Chemical Methods
Physical Methods
Bio-Based Methods

Pharmaceutical & Healthcare
Electrical & Electronics
Catalyst
Personal Care & Cosmetics
Others

North America (U.S., Canada)
Europe (France, Germany, UK, Italy, Netherlands, Spain, Russia)
Asia Pacific (Japan, China, India, Malaysia, Indonesia, South Korea)
Latin America (Brazil, Mexico, Argentina)
Middle East & Africa (Saudi Arabia, U.A.E., Israel, South Africa)
Know more about this report: Request for sample pages
The silver segment is expected to witness the fastest growth in 2021
In 2021, the silver sub-part was anticipated to grow rapidly throughout the projected period. The market for MNPs is expected to be dominated by silver nanoparticles. Silver is a precious metal with the best electrical conductivity of any metal. It is mainly used in the electric and electronics industries and is also resistant to corrosion and oxidation. Less expensive materials cannot easily substitute since they have all metals' best thermal and electrical conductivity. Due to its superior electrical and thermal conductivity and the lowest contact resistance among all metals, silver is a crucial component of green technology.
Physical method accounted for the second-largest market share in 2021
It is anticipated that the Physical Method will account for a large portion of the market in the upcoming years. The second-largest market segment for MNPs is expected to be the physical synthesis process over the forecast period. A wide range of chemical processes is used. The simplest method for creating powdered metal nanoparticles is ball milling. The environmentally friendly aspect of this method for creating metal nanoparticles makes it a potential strategy for creating metal nanoparticles. It is a rapid and easy method that replaces hydrogen reduction at high temperatures.
The Pharmaceutical & Healthcare segment is expected to witness the fastest growth
The Pharmaceutical & Healthcare market is anticipated to increase at a significant CAGR over the forecast period. The pharmaceutical and healthcare sectors dominated the metal nanoparticle market in 2021. MNPs are increasingly used in the medical field for therapeutic agents, medication transport, bioimaging, and the detection and treatment of cancer, among other uses. Many different MNPs, such as copper, silver, gold, titanium, and platinum, are recognized for their potential therapeutic properties.
Image-based in-vivo therapies to identify abnormalities in the organ & tissues, as well as to diagnose Alzheimer's disease, and heart-related ailments, use metal nanoparticles. Due to their small size, MNPs can easily interact with the biomolecules within and outside cells. This makes it possible for diagnostics and therapy to have more precise target detection. Due to their radio-opacity and stability, gold nanoparticles are among the most popular metal nanoparticles in the life-science industry.
The demand in North America is expected to witness significant growth
North America held the highest share of the market, in 2021. Due to sophisticated nations like the US and Canada and favorable government backing for R&D operations, the region's countries investigate and create novel items. The demand for MNPs in the medical business has also increased due to medical technology improvements and more significant healthcare investments. Additionally, the region's presence of domestic and foreign metal nanoparticle businesses opened an attractive potential for the global market. Additionally, the demand for metal nanoparticles is increasing due to the rising popularity of solar cells.
For instance, UT Dallas and NovaCentrix teamed up for future solar panel manufacturing in September 2021. They are anticipated to produce thin films using a method known as photonic curing. Flexible electronics can operate a million times faster than conventional electronics, thanks to thin films. These elements are therefore anticipated to drive the metal nanoparticle market forward.
During the forecast period, the Asia-Pacific market is expected to have the highest revenue share in the metal nanoparticles market. This is due to the region's growing demand for MNPs in healthcare, electronics, and semiconductors. Because of advancements in the electronics and semiconductor industries, as well as rising expenditure on healthcare research in the region.
Competitive Insight
There are various major players in the global market, such as American Elements, Nanoshel, Shimadzu Corp., Nanostructured & Amorphous Materials, NanOsc AB., EPRUI Nanoparticles, Gilead Sciences., US Research Nanomaterials, Meliorum Technologies, Tanaka Holdings, Meliorum Technology, nanoComposix, BBI Group, Skyspring Nanomaterials, Malvern Panalytical, JEOL Ltd., Nanocs and others.
Recent Developments
In May 2022, Fortis Life Sciences purchased nanoComposix for an unknown sum. Following this acquisition, nanoComposix will be merged with other Fortis portfolio firms, resulting in improved synergies in the life science reagents sector. San Diego-based NanoCompsoix is a high-end nanomaterials company focusing on assay development and diagnosis.
Metal Nanoparticles Market Report Scope
| | |
| --- | --- |
| Report Attributes | Details |
| Market size value in 2022 | USD 2.65 billion |
| Revenue forecast in 2030 | USD 6.39 billion |
| CAGR | 11.66% from 2022 – 2030 |
| Base year | 2021 |
| Historical data | 2018 – 2020 |
| Forecast period | 2022 – 2030 |
| Quantitative units | Revenue in USD billion and CAGR from 2022 to 2030 |
| Segments Covered | By Metal, By Synthesis Method, By End-use Industry, and By Region |
| Regional scope | North America, Europe, Asia Pacific, Latin America; Middle East & Africa |
| Key Companies | American Elements, Nanoshel LLC, Nanostructured & Amorphous Materials, EPRUI Nanoparticles & Microspheres, US Research Nanomaterials, Tanaka Holdings, Meliorum Technology, NanoComposix, BBI Group, Skyspring Nanomaterials, Malvern Panalytical Ltd, Novartis AG, Gilead Sciences, Inc., Johnson & Johnson Services, Inc., Amgen, Inc., JEOL Ltd., Shimadzu Corporation, Agilent Technologies Inc., Sigma-Aldrich, NanOsc AB and others. |