The global microprocessor market size was valued at USD 69.23 Billion in 2021 and is expected to grow at a CAGR of 4.1% during the forecast period.
The ever-growing demand for smartphones, tablets, and wearable devices has created a boom in the global market. Microprocessors enhance the performance and functioning of such consumer electronic devices by increasing speed and efficiency along with seamless functioning.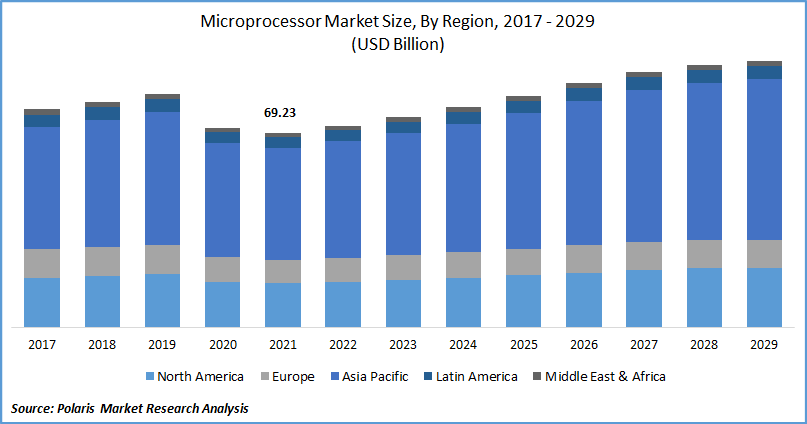 Know more about this report: request for sample pages
Additionally, the advent of smart devices across electronic appliances, television, watch, and wearable devices have further substantiated the demand for microprocessors. A microprocessor is a miniature electronic device that incorporates a computer's CPU (central processing units) in a single integrated circuit (IC). It operates on numbers and symbols or uses ALU (Arithmetic/Logic Unit) and performs various critical integral operations.
COVID-19 pandemic has created severe distress in consumers' purchasing power and spending with the heavy financial losses to various industries, widespread job losses, and pay cuts of employees' salaries across different sectors. It subsequently impacts consumer goods demand, including electronic devices and computers, creating a setback for microprocessors' demand amid the pandemic. However, with the rebound in the global economy and rise in ticket purchases of consumers worldwide, the market outlook looks resilient with attractive opportunities over the coming years.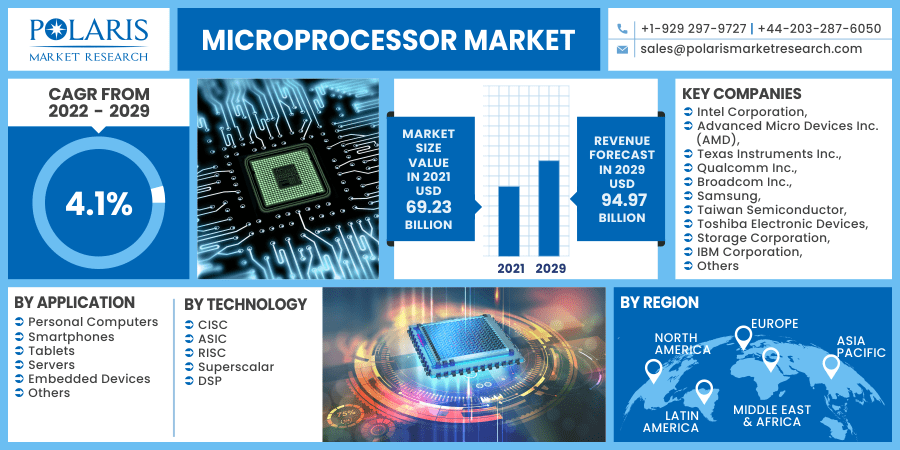 Know more about this report: request for sample pages
Industry Dynamics
Growth Drivers
An increasing number of smartphone users worldwide with the adoption of digital technologies and advancement in technologies is one of the key growth drivers of the market. The rise in industrialization and IT infrastructure across organizations substantiates the microprocessor technology adoption across economies. The rapid adoption of the internet of things (IoT) and artificial intelligence is also expected to complement the microprocessor market share growth.
As per data of GSMA Intelligence, about half of the world's population used mobile internet in 2019, which equates to 3.8 billion users, up 250 million users from the year 2018. This indicates the strong growth potential for microprocessor market trends across mobile phones and various consumer electronics applications. There is also an increase in demand for microprocessors across the mobility sector, with the automotive industry increasingly adopting ADAS (Adaptive Driver-Assistance Systems) to offer connectivity solutions and automation.
Report Segmentation
The market is segmented in the most comprehensive way based on application, technology, and region.
By Application

By Technology

By Region

Personal Computers
Smartphones
Tablets
Servers
Embedded Devices
Others

CISC
ASIC
RISC
Superscalar
DSP

North America (U.S., Canada)
Europe (Germany, France, UK, Italy, Spain, Russia, Netherlands)
Asia Pacific (Japan, China, India, South Korea, Taiwan, Thailand)
Latin America (Brazil, Mexico, Argentina)
Middle East & Africa (Israel, UAE, Saudi Arabia, South Africa)
Know more about this report: request for sample pages
Insight by Application
Personal computers accounted for the largest share in 2021 because of the growing number of transistors and the increasing usage of microprocessor chips on computers. Optimizing data storage capabilities, increasing operational speeds, improving memory, and smooth, logical functioning are key features driving high technology microprocessors and advanced process technologies.
The smartphones segment is expected to witness the fastest growth in the microprocessor market forecast period due to the increasing penetration of smartphones in the overall world population. Smartphones have become ubiquitous, and businesses worldwide are undergoing digital transformation.
Furthermore, the race to launch 5G networks continued to escalate despite the global pandemic, and as of September 2020, 113 operators across 48 countries launched the 5G spectrum as per data of GSMA Intelligence. This would continue to revolutionize integrated circuits technological advancements in the smartphone application.
Insight by Technology
Reduced Instruction Set Computer (RISC) technology holds a leading market share driven by its simple design and relatively low cost. Many simple operations performed by computers repeatedly to execute various processing operations have led to large-scale usage of RISC technology in the industry. RISC requires only one clock to execute, significantly reducing instructions and having fewer transistors for hardware space than complex instructions, providing more room for general instructions.
Application Specific Integrated Circuit (ASIC) technology is estimated to experience the fastest growth during the forecast period. Increasing complexity in electronics and the growing adoption of integrated circuits in modern computers and electronic devices are fueling the demand of the segment in the market. ASIC facilitates integrated solutions, reduces the number of components used in electronics, and improves overall efficiency with lower power consumption and increased bandwidth.
Geographic Overview
The Asia Pacific secured the highest revenue share globally and is expected to witness the fastest growth over the forecast period. Large population base, increased penetration of smartphones, rising consumer electronic products market, and advancements in technology leading to more and more usage of electronic gadgets and devices.
Moreover, there is a surge in usage of the internet and the emergence of broadband and high-spectrum internet services and cloud connectivity in the region, which gives an impetus to the microprocessor industry technology in the region. China, Japan, Taiwan, and South Korea are leading countries in the Asia Pacific, driving the growth of the chip manufacturing industry exponentially.
North America is expected to account for a significant share over the forecast period, with the U.S. leading the demand. The U.S. is the most advanced economy in terms of technology leadership in the internet of things (IoT) and electronic processor manufacturing and has always been an early adopter and advancements in the chip manufacturing industry, making it ahead of other economies in the world. Leading industry stakeholders such as Intel Corporation, Microsoft, IBM Corporation, Apple Inc., and Qualcomm Technologies are based in the U.S.
There exists a vast potential to penetrate the microprocessor technology in emerging economies such as China, India, Indonesia, and Thailand, which have low-tech infrastructure and represent huge white space opportunities to expand the growth. The surge in the number of internet users and smartphone users is also given an impetus to the demand of such emerging economies.
Competitive Insight
The market is highly consolidated, with a handful of players enjoying a substantial revenue share in their respective domains or markets. For instance, Intel Corporation and Advanced Micro Devices Inc. (AMD) are the two leading players serving the personal computer application segment with decades of legacy in microprocessors. However, there are other players such as Taiwan Semiconductor and Qualcomm Inc. that have distinct positions in other markets such as smartphones and electronic gadgets.
Some of the key players competing in the global microprocessor market are Intel Corporation, Advanced Micro Devices Inc. (AMD), Texas Instruments Inc., Qualcomm Inc., Broadcom Inc., Samsung, Taiwan Semiconductor, Toshiba Electronic Devices, and Storage Corporation, IBM Corporation, Nvidia Corporation, and Renesas Electronics Corporation.
Microprocessor Market Report Scope
| | |
| --- | --- |
| Report Attributes | Details |
| Market size value in 2021 | USD 69.23 Billion |
| Revenue forecast in 2029 | USD 94.97 Billion |
| CAGR | 4.1% from 2022 - 2029 |
| Base year | 2021 |
| Historical data | 2017 - 2020 |
| Forecast period | 2022 - 2029 |
| Quantitative units | Revenue in USD Billion and CAGR from 2022 to 2029 |
| Segments covered | By Technology, By Application, By Region |
| Regional scope | North America, Europe, Asia Pacific, Latin America, Middle East & Africa |
| Key companies | Intel Corporation, Advanced Micro Devices Inc. (AMD), Texas Instruments Inc., Qualcomm Inc., Broadcom Inc., Samsung, Taiwan Semiconductor, Toshiba Electronic Devices, and Storage Corporation, IBM Corporation, Nvidia Corporation, and Renesas Electronics Corporation. |