The global mining drill bits market was valued at USD 1,708.38 million in 2022 and is expected to grow at a CAGR of 5.1% during the forecast period. The mining Drill Bits are apparatus consisting of hard material such as steel, tungsten carbide, or diamond for withstanding greater pressure. These bits are widely used for exploration and mineral extraction.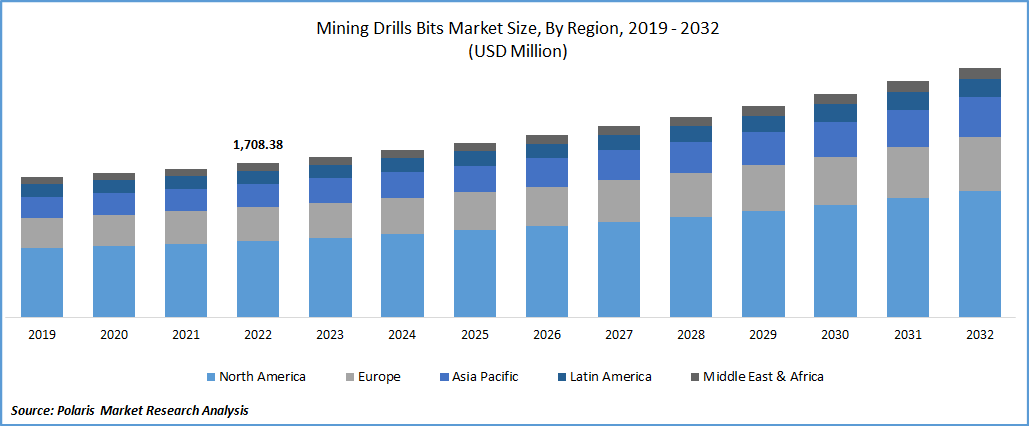 Know more about this report: Request for sample pages
The bits are used for drilling holes of varied sizes for underground as well as open-pit mining operations. The demand for mining bits has increased in the drilling of oil and gas, exploration of wells, and extraction of drinking and industrial water. The application of markets has expanded significantly in pipeline construction and drilling pits for blasting.
New product launches and acquisitions by leading players in the market coupled with technological innovation have increased the demand across the globe. The bits are designed to offer enhanced rock fragmentation, high wear resistance, and greater rates of penetration. The drill bits are available in six diameters ranging from 6.75 inches to 12.25 inches. The drill bits are developed to offer longer life through the integration of heat treatment technology and advanced air-cooled bearing design.
At depths greater than 30 feet, DTH drill bits function effectively with a more precise borehole trajectory. Thus, using DTH hammer bits is anticipated to accelerate market expansion. Also, it is predicted that the DTH drill hammers will replace drifters and other drill bits, propelling the growth of the market.
Also, technological advancements will help market expansion in the upcoming years. Mining businesses can find minerals to extract with artificial intelligence (AI) and machine learning (ML), a crucial procedure for mining operations. Similarly, artificial intelligence (AI) can enable high machine intelligence to produce precise blast holes, which is necessary for blasting. For instance, IBM began integrating AI into mining and drilling equipment. These variables will likely present profitable prospects for expanding the market in the upcoming years.
Almost every industry, including construction & mining, transportation, manufacturing, oil and gas, automobiles, etc., was significantly impacted by Covid-19. Due to restrictions on social distance and supply chain disruptions, the demand for markets has dropped over the period. In the second and third quarters of the fiscal year 2020, most regions stopped their mining drill bit production plants. The main end-users were also temporarily closed at this time, which severely impacted the demand for markets.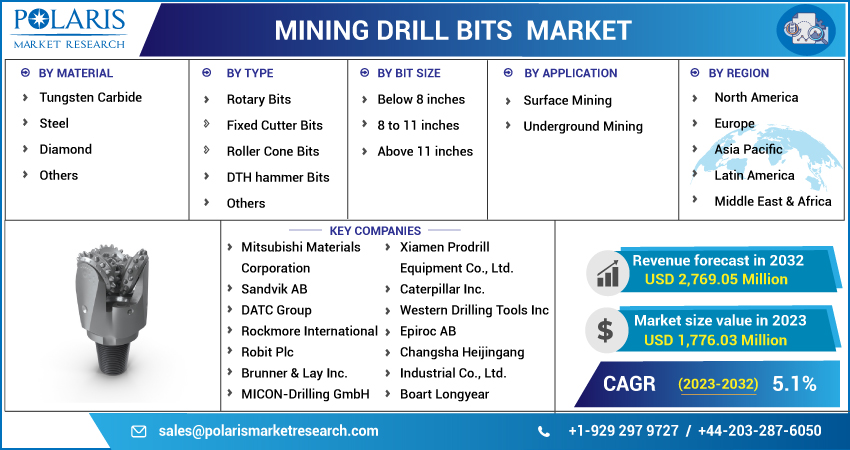 Know more about this report: Request for sample pages
Industry Dynamics
Growth Drivers
The global market is fueled by the economic growth in developing countries, rising industrialization, and growing demand for metals from the automotive and manufacturing sectors. Rising demand for natural resources, technological advancements, and significant investments in research and development further supports mining drill bits market growth.
The rising usage of mining for precious metals and acquiring coal and the greater need for underground mining would further support the growth of the market. Global players are expanding into developing countries to tap the market potential of the mining industry, further boosting market growth.
Diamond and tungsten carbide drill bits are increasingly being used in exploration mining owing to advantages such as high wear resistance, long endurance, and high rates of penetration. With the increasing demand for natural gas and crude oil across the globe, the demand has significantly increased.
The significant growth in the demand for minerals and the increasing use of resources such as petroleum and coal has increased the adoption of the product. Other factors driving the growth of this market include reducing ore grades, and technological advancements in mining machinery. Leading market players are launching products at affordable costs to offer numerous growth opportunities in the market.
Report Segmentation
The market is primarily segmented based on material, type, bit size, application, and region.
By Material

By Type

By Bit Size

By Application

By Region

Tungsten Carbide

Steel

Diamond

Others

Fixed Cutter Bits

Roller Cone Bits

Below 8 inches

8 to 11 inches

Above 11 inches

Surface Mining

Underground Mining

North America (U.S., Canada)

Europe (France, Germany, UK, Italy, Netherlands, Spain, Russia)

Asia Pacific (Japan, China, India, Malaysia, Indonesia. South Korea)

Latin America (Brazil, Mexico, Argentina)

Middle East & Africa (Saudi Arabia, UAE, Israel, South Africa)
Know more about this report: Request for sample pages
Diamond is anticipated to hold the largest market share in 2022
The material segment has been divided into tungsten carbide, steel, diamond, and others. Industrial-grade diamonds are largely increased and used for oil and geothermal good drilling. Increased efficiency, superior wear resistance, and high rates of penetration are some factors fueling the growth of this segment. Significant industrial evolution in the developing economies of India, Japan, Australia, and China and rising demand for petroleum and coal resources are expected to supplement the growth of this segment.
Rotary drilling bits accounted to witness significant market share during the forecast period
On the basis of type, the market is segmented into DTH hammer bits, rotary bits, and others. Rotary drilling bits are highly increased and used for underground mining operations. Rotary ones comprise drag, roller, and diamond bits. Drag ones are used for cutting rocks with two, three, or four wings, whereas roller ones are used for crushing through wedge-shaped teeth. Growth in mining activities and the integration of advanced technologies are expected to drive the growth of this segment.
The bit size segment accounted to witness significant market share in 2022
The bit size segment has been divided into below 5", 5" - 8", 8" - 11", 11" - 14", and above 14". Product of different sizes is used for maximizing cutting and crushing capabilities for different applications. New emerging markets, varied applications, and technological advancements encourage market players to design drill bits to cater to growing demand.
Surface Mining accounted to witness a significant market share in 2022.
On the basis of application, the mining drill bits market is segmented into surface mining and underground mining. The surface mining segment dominated the global market in 2022. The products are increasingly being used for mountaintop removal, strip, dredging, open-pit, and highwall mining. The products are used for the removal of terrain surfaces for access to minerals underground. Growing demand for minerals, growth in industrialization, and technological advancements are some factors expected to fuel the growth of this segment.
North America is projected to dominate the market in 2022
This market is a global industry that involves the production and distribution of drill bits used in mining operations worldwide. North America is one of the dominant markets in this industry, with a significant market share.
One of the primary reasons for North America's dominance in this market is the region's rich mineral resources. The United States and Canada are both major mining countries, with vast reserves of minerals such as gold, copper, iron ore, and coal. This has led to a high demand for mining equipment, including drill bits, to extract these minerals.
Moreover, the presence of several major players in the industry in North America has also contributed to the region's dominance. Companies such as Caterpillar, Sandvik AB, and Kennametal Inc. are headquartered in North America and have a strong presence in the region's mining industry. They manufacture and supply high-quality drill bits that meet the specific needs of mining operations, further boosting the market's growth.
The increasing adoption of advanced drilling technologies such as automated drilling systems and directional drilling in North America has led to the demand for specialized drill bits. These advanced technologies require specialized drill bits to optimize performance and efficiency, which has created new opportunities for market growth.
Asia Pacific dominated the global mining drill bits market in 2022. The regions is expanding due to increasing demand for oil and gas exploration, mineral exploration, and expanding infrastructure construction.
The expansion of this region is fueled by the economic development of nations like China, India, and Japan, as well as by the development of the automobile sector and the rising demand for oil recovery. Technology improvements, the expansion of foreign companies in this region, rising research & development spending, and other factors all contribute to the rise of this regional market.
Competitive Insight
The leading companies in the markets of mining drill bits include Mitsubishi Materials Corporation, Sandvik AB, DATC Group, Rockmore International, Robit Plc, Brunner & Lay Inc., MICON-Drilling GmbH, Xiamen Prodrill Equipment Co., Ltd., Caterpillar Inc., Western Drilling Tools Inc, Epiroc AB, Changsha Heijingang Industrial Co., Ltd., And Boart Longyear.
These players are expanding their presence across various geographies and entering new markets in developing regions to expand their customer base and strengthen their presence in the market. The companies are also introducing new innovative products in the market to cater to the growing consumer demands.
Recent Developments
In September 2021, Epiroc AB created an automatic bit changer for the Pit Viper 270 and 290 drill rigs. The mechanical bit changer may switch between rotary and tricone bits by pressing a button. This method of changing drill bits is quicker, more effective, and safer.

September 2021, Sandvik AB has announced a new series of heavy-duty top-hammer drill bits for production mining and quarrying. The design seeks to extend useful life, lower cost per meter, and enhance accuracy and safety.

In August 2020, Universal Drilling Technique LLC created PDC bits with synthetic diamond cutters for cutting and grinding. PDC bits made to order are specifically designed and produced with directional drilling in mind. In an incredibly competitive market, UniDrillTech has an advantage due to its steerable bit technology and excellent ROP.




In June 2021, an acquisition deal was signed between Sandvik and Tricon Drilling Solutions Pty. Ltd., a privately held Australian business with headquarters in Perth that sells rock tools to mining firms. Tricon will act as a distinct, independent business unit inside Sandvik Mining and Rock Solutions' Rock Tools division.
Mining Drill Bits Market Report Scope
| | |
| --- | --- |
| Report Attributes | Details |
| Market size value in 2023 | USD 1,776.03 million |
| Revenue forecast in 2032 | USD 2,769.05 million |
| CAGR | 5.1% from 2023 - 2032 |
| Base year | 2022 |
| Historical data | 2019 - 2021 |
| Forecast period | 2023 - 2032 |
| Quantitative units | Revenue in USD million and CAGR from 2023 to 2032 |
| Segments covered | By Material, By Type, By Bit Size, By Application, By Region |
| Regional scope | North America, Europe, Asia Pacific, Latin America; Middle East & Africa |
| Key companies | Mitsubishi Materials Corporation, Sandvik AB, DATC Group, Rockmore International, Robit Plc, Brunner & Lay Inc., MICON-Drilling GmbH, Xiamen Prodrill Equipment Co., Ltd., Caterpillar Inc., Western Drilling Tools Inc, Epiroc AB, Changsha Heijingang Industrial Co., Ltd., And Boart Longyear |