The global Moringa Products Market was valued at USD 3.06 billion in 2021 and is expected to grow at a CAGR of 9.5% during the forecast period. The primary drivers of the demand for dietary supplements are the rising prevalence of obesity and the rising propensity of people for fast food. Because it contains so many vital elements that support better health, moringa products are a common inclusion in dietary supplements.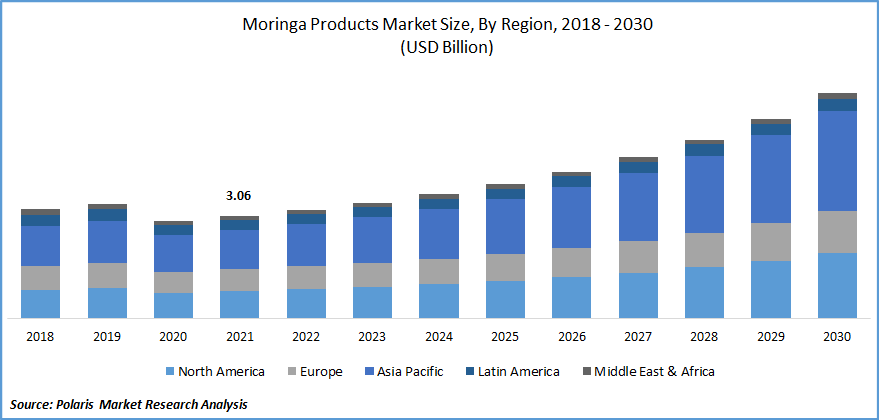 Know more about this report: Request for sample pages
The main driving forces for the rise of the Moringa Products Market include rising consumer awareness and use of dietary supplements in the United States, Canada, India, China, the UK, Germany, and Australia. Growing public knowledge of the therapeutic advantages of the Moringa Products Market is anticipated to fuel industry development.
All parts of this plant, including the flowers, seeds, pods, leaves, gum, and bark, have the ability to treat vitamin and mineral deficiencies, encourage normal blood sugar levels, support a healthy cardiovascular system, immune system, and body's anti-inflammatory mechanisms, as well as enrich anemic blood and neutralize free radicals. Malnutrition, nursing moms, overall weakness, depression, menopause, osteoporosis, and arthritis may all be treated with their help.
Customers are becoming more aware of herbal goods and their many advantages, which has inspired them to look for natural, nutritionally-balanced products. Due to its antibacterial and other qualities, this has resulted in the product's inclusion in several food items for fortification and preservation.
The tree's resistance to drought and ability to deter pests make it important for agriculture as well. Additionally, it is projected that rising desire for natural pesticides, expanding understanding of health and fitness, and rising demand for organic goods would all support industry expansion.
The COVID-19 pandemic outbreak has brought about a number of unexpected changes in the world economy, and its repercussions have been felt across all industries. To stop the virus's spread, some nations went into lockdown, and trade restrictions were put in place. The food and beverage and agriculture industries were severely impacted by delays in shipping and logistics, labor scarcity, and the temporary closing of plants.
Vegetables, fruits, nutraceuticals, and other commodities were nevertheless classified as essentials in the pandemic's later phases, which resulted in their having a negligible effect on industry performance. Additionally, the implementation of travel and trade restrictions restricted international trade, which resulted in the industry's performance is subpar.
Know more about this report: Request for sample pages
Industry Dynamics
Growth Drivers
One of the key factors influencing the market is the rising consumer awareness of the drumstick's many health benefits in addition to its historical use as a vegetable in many Asian nations. The industry has grown as a result of its widespread use in several medicinal, cosmetic, and nutritional supplement products.
The moringa products Market is rapidly gaining appeal as a food fortification element to combat hunger and malnutrition, as well as among customers who are health-conscious. Additionally, a lot of studies is being done to figure out the product's full potential in the pharmaceutical sector.
For instance, a study paper on the use of moringa products as a natural polymer for efficient drug administration was published in the International Journal of Current Pharmaceutical Research in 2018. This illustrates the market's enormous growth potential in the upcoming years.
The market for organic goods has experienced enormous development and increasing demand, which is not just restricted to the food and beverage sector. This is primarily because more people are becoming aware of the advantages of organic products over their conventional equivalents. People's attention these days is on safer and better-for-you items, which has an impact on their eating preferences.
These days, people choose natural and organic vitamins to lower their risk of illness. The market performance is aided by the growing popularity of clean-label products, particularly in developed economies like those in North America and Europe. This has compelled a number of manufacturers to create organic-based products in an effort to reach a larger customer base, which is projected to fuel the industry's expansion.
Report Segmentation
The market is primarily segmented based on source, origin, application, and region.
By Source

By Origin

By Application

By Region

Food & Beverages
Pharmaceuticals

North America (U.S., Canada)
Europe (France, Germany, UK, Italy, Netherlands, Spain, Russia)
Asia Pacific (Japan, China, India, Malaysia, Indonesia, South Korea)
Latin America (Brazil, Mexico, Argentina)
Middle East & Africa (Saudi Arabia, UAE, Israel, South Africa)
Know more about this report: Request for sample pages
The leaves segment dominated the market in 2021
The leaves category dominated the market. Due to their abundance in minerals, vitamins, and other crucial phytochemicals, including tannins, sterols, terpenoids, flavonoids, saponins, anthraquinones, and alkaloids, the leaves are widely used in a variety of end uses.
These nutritional qualities are raising awareness of the leaves and powder made from them in a variety of industries, including food and beverage, pharmaceuticals, cosmetics and personal care. The leading firms are upgrading their products offerings in the industry by utilizing these nutritional properties.
For instance, in February 2019, the "All Moringa" firm, situated in Los Angeles, introduced additional goods to its current range of beauty, health, and wellness products. It has stopped using synthetic components in its products and now uses natural extractions from the moringa plant as the major component.
The organic segment dominated the market in 2021
The market's dominant sector, organic, is anticipated to grow at the quickest rate. Because organic products are grown using non-GMO agricultural techniques, there are health advantages that encourage their growth and demand in a variety of commercial uses. Organically developed ripe fruits/pods, mature leaves, mature flowers, and organically grown roots are frequently included as the main components promoting the quickest growth of organically farmed moringa.
Due to their lack of significant environmental contamination, substances of natural and organic origin are also environmentally friendly. Due to the growing demand from consumers for environmentally friendly products, producers across all industrial sectors, including those in the food and beverage, cosmetics and personal care, and pharmaceutical sectors, are moving toward using components that are organically sourced.
By examining the changes in the end-use market, farmers may increase agricultural production by using organic fertilizers. The segmental market value is being further supported by the expanding public awareness of the health advantages of consuming organic food items, particularly among the community of health nuts.
The food & and beverage segment is accounted for the maximum revenue in 2021
In 2020, the food & beverage sector will account for a significant share. The section includes ready-to-cook products lines like moringa powder and moringa tea, as well as ready-to-eat products like moringa chocolates, cakes, juices, and lattes, which account for the largest market share. The largest revenue share of the food and beverage sector is supported by the rising demand for functional food among urban populations across the world.
The nutritious value of the elements in moringa, such as the pods/seeds, leaves, flowers, barks, honey, and roots, is assisting in the plant's expansion into the food and beverage industries. The common nutrients included in substances produced from moringas, such as protein, fat, carbohydrate, and fiber, as well as vitamins B1, B2, B3, C, and E, calcium, magnesium, phosphorus, potassium, copper, iron, and sulfur, among others, are assisting in the expansion of the application market.
Asia Pacific accounted for the largest revenue in 2021
The greatest revenue share belonged to the Asia Pacific, which dominated the market. Due to its ideal conditions for growing moringa, India is the main nation cultivating and distributing the plant on the international market. The regional market worth is being bolstered by farmers' increasing learning habits and technical advancements in agricultural techniques.
Demand for functional foods is rising as a result of the rapid urbanization of developing nations like China and India. The urban population's rising understanding of the health advantages of moringa components is helping to drive revenue growth and ongoing development.
The aforementioned nations are going through a number of apparent changes in terms of agricultural methods and related technological developments. The capacity to provide and distribute ingredients in the local as well as regional markets are boosted by the expanded agricultural methods used for moringa growing. This, in turn, promotes the regional market's highest revenue share.
Additionally, it is predicted that the Asia Pacific will expand at the quickest rate between 2020 and 2028. Due to the continually rising demand in the region's emerging economies and the rising spending power of the populace, the industry is expanding. Additionally, the Asia Pacific region contains high potential markets, like China and India, where the need for new goods is growing.
Competitive Insight
Ancient GreenFields, Moringa Agro, Aayuritz Phytonutrients Pvt.Ltd, Santan India, Green Virgin Products, Kuli Kuli, Sattva Veda, Moringa Oleifera GmbH, and Organic Veda are a few of the major producers of moringa leaf powder worldwide. In terms of revenue in 2021, the top five players worldwide held a about % share.
Recent Developments
Vasu Healthcare Pvt. Ltd., a manufacturer of Ayurvedic and herbal medicines, debuted a new line of herbal supplements in June 2021 under the name Vasu Safe Herbs. The product line includes vegetarian single-herb capsules made from holy basil, moringa, turmeric, and other herbs.
A U.K.-based tea maker in India, Typhoo Tea Limited, introduced three new organic herbal teas in March 2020: Purifying Super Greens, Digestive Power Seeds, and Immunity-boosting Three Tulsi. The organic moringa and a combination of other elements make up the purifying super greens, which provide all-around purifying effects.
Moringa Products Market Report Scope
| | |
| --- | --- |
| Report Attributes | Details |
| Market size value in 2021 | USD 3.06 billion |
| Revenue forecast in 2030 | USD 6.70 billion |
| CAGR | 9.5% from 2022 - 2030 |
| Base year | 2021 |
| Historical data | 2019 - 2021 |
| Forecast period | 2022 - 2030 |
| Quantitative units | Revenue in USD billion and CAGR from 2022 to 2030 |
| Segments covered | By Source, By Origin, By Application, By Region |
| Regional scope | North America, Europe, Asia Pacific, Latin America; Middle East & Africa |
| Key companies | Ancient GreenFields, Moringa Agro, Aayuritz Phytonutrients Pvt.Ltd, Santan India, Green Virgin Products, Kuli Kuli, Sattva Veda, Moringa Oleifera GmbH, and Organic Veda |