The global motor lamination market was valued at USD 20.44 billion in 2022 and is expected to grow at a CAGR of 8.3% during the forecast period. When fossil fuels like gasoline, diesel, and natural gas are used for transportation, carbon dioxide (CO2) is released into the atmosphere, endangering both human and environmental health. Global warming is caused by an increase in CO2 concentrations as well as other GHGs released by human activity. The depletion of this priceless resource and regular variations in the price of crude oil on a global scale are further effects of using fossil fuels to power human activities.
Know more about this report: Request for sample pages
Magnetic metal sheets called lamination sheets have characteristics that make them more operationally effective in a variety of settings. The output of an electric motor affects the quality of lamination sheets. Lamination sheet production technology has experienced numerous improvements throughout time to lower production costs and turnaround times. Lamination sheets are typically produced using processes like bonding, stamping, and welding. Precision manufacturing processes enable the rotor and stator to be constructed from the same material. The full bond technique, dots technology, and glulock are anticipated to have a substantial impact on the lamination business. During the projected period, the demand for motor laminations would be driven by advancements in lamination technologies with greater performance.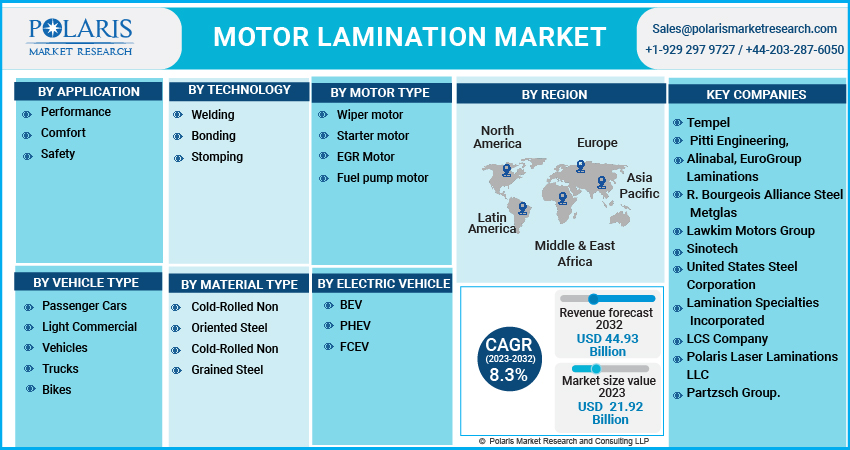 Know more about this report: Request for sample pages
Industry Dynamics
Growth Drivers
The motor lamination market is expanding primarily as a result of the rising global demand for luxury vehicle sales. Global demand for motors and lamination stacks is also rising due to rising safety standards and rising need for comfort applications. The main issues facing the world now are air pollution and environmental deterioration. Growing public awareness of the negative impacts of automobile emissions has compelled automakers to design cars that adhere to local regulatory regulations. Sales of electric vehicles including BEVS, HEVs, and PHEVS have surged as a result of more stringent emission regulations.
The Federation of Automobile Dealers Associations' data shows that retail sales of electric vehicles (EVs) climbed threefold in 2021–22 (April–March) (FADA). The ongoing Covid-19 epidemic and supply chain constraints didn't stop electric car sales from reaching a record high in 2022, however. In comparison to 2020, sales more than doubled to 6.6 million, representing a sales share of about 9%, increasing the total number of electric vehicles on the road to 16.5 million.
The demand for specific stacks will increase in combination with the demand for EVs due to the rising demand for the performance motors made of cutting-edge silicon-based materials & high-performance electrical steels for the motor laminations. These factors all contribute to the growing need for motors, which in turn supports such technologies that will drive market growth.
Report Segmentation
The market is primarily segmented based on technology, motor type, vehicle type, material type, electric vehicle type, application, and region.
By Application

By Technology Type

By Motor Type

By Vehicle Type

By Material Type

By Electric Vehicle Type

By Region

Performance

Comfort

Safety

Wiper motor

Starter motor

EGR Motor

Fuel pump motor

Passenger Cars

Light Commercial Vehicles

Trucks

Bikes

Cold-Rolled Non Oriented Steel

Cold-Rolled Non Grained Steel

North America (U.S., Canada)

Europe (France, Germany, UK, Italy, Netherlands, Spain, Russia)

Asia Pacific (Japan, China, India, Malaysia, Indonesia, South Korea)

Latin America (Brazil, Mexico, Argentina)

Middle East & Africa (Saudi Arabia, UAE, Israel, South Africa)
Know more about this report: Request for sample pages
Comfort and safety segments are expected to witness fastest growth during forecast period
The demand for motors for comfort and safety applications is anticipated to increase due to major automotive firms are increasing investments in R&D and manufacturing capacity in various countries. ABS and electronic stability controls must be used in order to comply with strict safety regulations, which will ultimately increase demand for motors. During the projected period, the market for motor lamination is expected to be driven by an increase in demand for premium and luxury vehicles with enhanced comfort applications motors.
Welding is expected to hold the significant revenue share during projected timeframe
Welding is a manufacturing process that is used in the production of motor laminations. It is used to join the laminations together, creating a strong and durable motor. The use of welding in the production of motor laminations can positively influence the growth of the motor lamination market in several ways due to its efficiency, cost effectiveness, high quality production and increased demand for electric motors. The manufacturing processes of welding, bonding, and stamping are essential in the production of motor laminations and have been playing a crucial role in the growth of the market, as the demand for electric motors in automobiles, industrial and other sectors is increasing.
Passenger Car Segment accounted for the largest market share in 2022
The demand for passenger cars has a direct impact on the growth of the market. As the number of passenger cars on the road increases, so does the demand for motors to power them. Motor laminations are a key component of electric motors, which are commonly used in passenger cars. As the demand for electric cars increases, the demand for motor laminations also increases. Additionally, as the automotive industry continues to focus on fuel efficiency and reducing emissions, the use of electric motors in passenger cars is likely to increase, further driving growth in the market.
BEV sector is expected to hold the significant revenue share during forecast period
Despite the COVID-19 epidemic, global BEV sales have grown dramatically in recent years and are still growing strongly. In the first half of 2022, there were around 4.3 million new battery-powered electric cars (BEVs) and plug-in hybrid electric vehicles (PHEVs) marketed globally. Sales of BEVs increased by 75% between January and June 2022. The spread of BEV models into new market sectors, ongoing purchasing incentives, and strict emission rules are mostly to blame for the rise. According to the World Economic Forum, a ban on the sale of gasoline and diesel vehicles across the EU will go into effect by 2035, while the UK has moved up its phase-out date from 2035 to 2030. By 2030, 40% of cars sold in China, the largest auto market in the world, are expected to be electric.
Additionally, compared to PHEVS and HEVs, BEVS are anticipated to see a wider penetration of sophisticated automotive solutions with the better performance & comfort application motors. BEV segment for lamination stacks is anticipated to expand in light of the advancements in advanced systems for improved performance & safety.
The demand in Asia Pacific is expected to witness significant growth during projected period
In recent years, Asia Pacific has become a center for the manufacture of automobiles. The government's enabling regulatory initiatives like "Make in India" are principally responsible for the region's rising automobile production. Due to the availability of inexpensive capital, raw materials, and skilled labor force to meet the needs of other regions, countries like China have become the top export center for the manufacture of vehicles. Since motors are the primary source of power for nearly all significant automation and improvements for performance, safety, and comfort in automobiles, it follows that demand for motor lamination will increase in tandem with that of motors. In light of the aforementioned considerations, it is clear that the market is anticipated to expand rapidly over the next few years.
Competitive Insight
Some of the major players operating in the global market include Tempel, Pitti Engineering, Alinabal, EuroGroup Laminations, Bourgeois Alliance Steel, Metglas, Lawkim Motors, Sinotech, United States Steel, Lamination Specialties, LCS Company, Polaris Laser Laminations & Partzsch Group.
Recent Developments
In January 2023, According to United States Steel Corporation , the warranty policy for the "GALVALUME coils used in the commercial & residential building construction is doubled. These new warranties offered to the U. S. customers will last between 40 and 60 years, which is a significant improvement over the previous 20 to 25-year warranties.

In August 2022, Akoya Capital Partners and PNC Mezzanine Capital acquired Alinabal. With access to executive leadership expertise and financial resources, the acquisition enabled the company's long-time owners to hand over ownership to the next generation, enabling the company to grow heading forward.
Motor Lamination Market Report Scope
| | |
| --- | --- |
| Report Attributes | Details |
| Market size value in 2023 | USD 21.92 billion |
| Revenue forecast in 2032 | USD 44.93 billion |
| CAGR | 8.3% from 2023 - 2032 |
| Base year | 2022 |
| Historical data | 2019 - 2022 |
| Forecast period | 2023 - 2032 |
| Quantitative units | Revenue in USD billion and CAGR from 2023 to 2032 |
| Segments covered | By Application, By Technology Type, By Motor Type, By Material Type, By Vehicle Type, By Electric Vehicle Type |
| Regional scope | North America, Europe, Asia Pacific, Latin America; Middle East & Africa |
| Key companies | Tempel, Pitti Engineering, Alinabal, EuroGroup Laminations, R. Bourgeois Alliance Steel, Metglas, Lawkim Motors Group, Sinotech, United States Steel Corporation, Lamination Specialties Incorporated, LCS Company, Polaris Laser Laminations LLC and Partzsch Group. |