The global mycelium market was valued at USD 2.88 billion in 2022 and is expected to grow at a CAGR of 7.4% during the forecast period.
A mycelium is a network of fungi filaments that resemble hyphae. In addition to growing on rotting tree trunks, mycelia can also be found growing underground. A single spore can produce mycelium. The fruiting bodies of fungi, such as mushrooms, can grow on a mycelium. Building materials that are stronger, lighter, and fire-resistant can be produced using mycelium. It can be used to mimic the appearance, feel, and practicality of leather in the fashion industry. In some circumstances, it is also used as a bonding agent for construction materials like brick.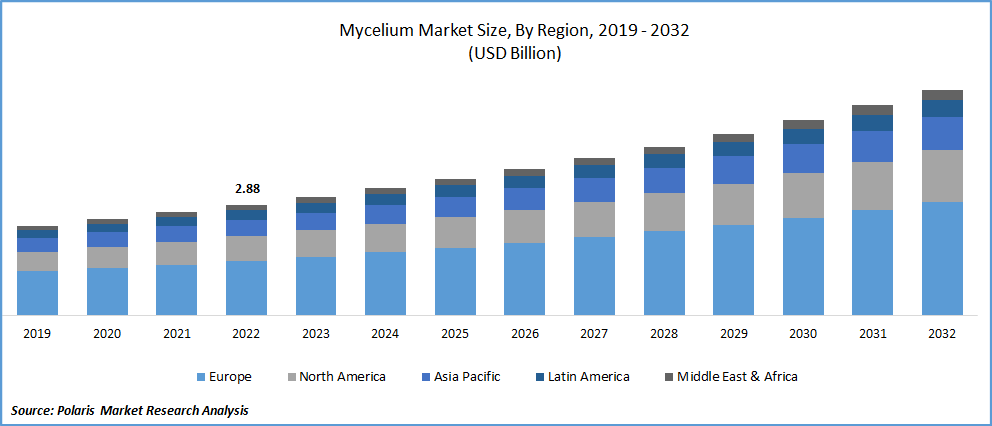 Know more about this report: Request for sample pages
The mycelium market is still very young. The decomposition of organic compounds is one of the main functions of fungi in an ecosystem. Therefore, unless the chemicals turn out to be toxic to the fungus, fungi can eliminate such pollutants from their environment. Bioremediation is the process by which this biological degradation occurs.
Mycelium-based products are currently the subject of increased research and development efforts; these products are expected to gain popularity as consumers shift their preferences toward veganism and plant-based meat. Increasing mycelium R&D spending is one of the biggest opportunities in the global market. Consumers have adopted mycelium-based products in the medical, construction, electrical, and skin care industries as a result of the properties of mycelium that enable it to be tailored for a variety of uses.
To replace plastic and polystyrene, mycelium can be utilized to create conventional and custom-molded packaging that is 100% compostable. Mycelium is being used more and more by clothing producers to develop eco-friendly substitutes for leather and synthetic materials. Mycelium composites, which are manufactured by cultivating mycelium on agricultural waste, might produce affordable and environmentally friendly building materials, potentially reducing the need for fossil fuel-based products in the construction sector.
According to the World Economic Forum, The mass of branched fibers that makes up a fungus' vegetative portion is called mycelium. With the aid of the chemical, robust, compostable materials in a variety of shapes can be grown. Everything from construction bricks to meat substitutes may be produced using it. The development of a circular economy might be greatly aided by mushroom mycelium. These more environmentally friendly commodities may also contribute to the development of a circular economy, which strives to reduce waste and alter the way we make and use goods. According to estimates, the circular economy could benefit the world economy by up to $4.5 trillion by 2030, in addition to providing environmental advantages including reduced emissions and better land usage.
Due to the limited commercialization of mycelium products, the COVID-19 pandemic's impact on the world's mycelium market has been minimal. Furthermore, the market is anticipated to grow favorably over the next ten years as the trend toward veganism gains traction. This is because mycelium is low in calories and has medicinal benefits that boost immunity. As a result, it is anticipated that the use and consumption of other mycelium-based products will increase both during and after the COVID-19 pandemic.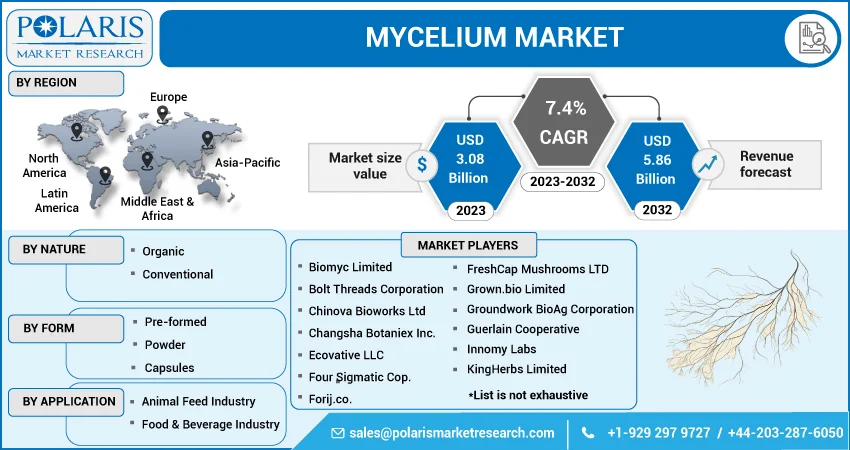 Know more about this report: Request for sample pages
Industry Dynamics
Growth Drivers
Mycelium, the vegetative part of fungi, is made up of branch masses and hyphae, that exhibit a structure resembling that of threads. The colonies of fungi that make up mycelium can be found in a variety of substrates, including soil. Growing demand for organic and natural substances and flavorings in the food industry is anticipated to increase demand for mycelium, which will benefit the overall market. Massive investments are being made in appealing technological solutions for the quick production of flavored mycelium as opposed to fermenting using traditional, labor-intensive, and time-consuming methods. These methods make it possible to grow mycelium without using fermentation.
Mycelium is an organism that resembles a fungus and provides a variety of advantages to the ecosystem as a whole. Mycelium is frequently found in both multicellular organisms like mushrooms and single-celled organisms like yeast. Multicellular organisms include yeast. The contribution of this mycelium to the degradation process is essential. Mycelium and its byproducts can be used to make leather, a material that is used to make a wide range of products. fermentation is necessary.
Major players are focusing on increasing manufacturing facilities which is driving the market growth. For instance, in November 2022, to raise the company's annual production capacity to about 6 million units, Magical Mushroom established manufacturing plants in Bulgaria & Italy.
Report Segmentation
The market is primarily segmented based on nature, form, application, and region.
By Nature

By Form

By Application

By Region

Pre-formed

Powder

Capsules

Animal Feed Industry

Food & Beverage Industry

North America (U.S., Canada)

Europe (France, Germany, UK, Italy, Netherlands, Spain, Russia)

Asia Pacific (Japan, China, India, Malaysia, Indonesia, South Korea)

Latin America (Brazil, Mexico, Argentina)

Middle East & Africa (Saudi Arabia, UAE, Israel, South Africa)
Know more about this report: Request for sample pages
The Food & Beverage segment is expected to witness the fastest growth
The food & beverage industry segment takes into account how the household uses both fresh and processed forms. Mycelium is used for mushrooming applications. Mycelium is nutritious and can alter various food items. Thus, the growing adoption of mycelium for mushrooming is driving segment growth. Also, customers are choosing to buy healthier drinks and food items that contain nutrients that have been extracted from pure or natural sources. Food and beverage businesses are introducing foods and beverages made with mushrooms to cash in on this trend. For instance, in February 2021, Mushroom-infused functional beverages were introduced by the American company FreshCap Mushrooms.
Pre-formed is expected to hold the significant revenue share
Even though pre-formed products are more widely used in products like food and drink, clothing, and packaging, the pre-formed product segment dominates the global mycelium market. Due to the prolonged shelf life & durability of the composition mix, the powder form takes second place. This is a result of the rising demand for goods like food and drink, apparel and accessories, and packaging, among other things, which are products derived from pre-formed products. Due to the component mix's longer shelf life and higher quality, the powdered version is expected to grow significantly.
The demand in North America is expected to witness significant growth
Important factors influencing the increase in mycelium consumption in North America include the rising demand for products made from natural sources and the growth of the food and beverage industry. Mycelium demand is also rising as a result of consumers' increased concern for their health. Clean labeling and the benefits it provides are receiving a lot of attention in the North American Market, which supports the development of naturally occurring food flavors like mycelium.
Europe dominates the global market share. Europe is a popular location for the mycelium industry because there are so many different market segments there. At a time when achieving net-zero emissions is of utmost importance, the shift to environmentally friendly and sustainable products offers significant prospects for sales and financing. The food and beverage industry in Europe is where the transition is most obvious, followed by North America and Asia Pacific, in that order. Mycelium is a fantastic replacement for conventional dietary products made from animals.
Additionally, the introduction of mycelium-based packaging has had a moderate to substantial impact on the plastic & styrofoam packaging industries in European nations. Companies like IKEA have already started using mycelium-based packaging materials. Mycelium-based packaging is becoming more and more common in the cosmetics sector due to its strength and capacity to stop leaks. Mycelium has become a top contender for use in several industrial applications in Europe due to the adaptability of its features.
Competitive Insight
Some of the major players operating in the global market include Biomyc Limited, Bolt Threads Corporation, Chinova Bioworks Ltd, Changsha Botaniex Inc., Ecovative LLC, and Four Sigmatic Cop. , Forij.co., FreshCap Mushrooms LTD, Grown.bio Limited, Groundwork BioAg Corporation, Guerlain Cooperative, Innomy Labs, KingHerbs Limited, Life Cykel, Mushlabs GmbH, Mycelia NV Inc., Meati Inc., Monaghan Group, MycoTechnology Inc., Mycotech Lab, MycoWorks MOGU, Magical Mushroom Company, Mushroom Material, Norwegian Mycelium, Nature's Fynd PRIME ROOTS, Paradise Packaging Co., and Scelta Mushrooms.
Recent Developments
In July 2022, The goal of Meati Inc.'s production facility, which it leased, is to produce alternative meat by 2022, using less than 1 percent of the water needed by the animal meat industries.

In March 2021, MycoWorks partnered with luxury label Hermes to create a new Victoria bag. This product will be a market innovator because it is created from mycelium based leather, known as "Sylvania".
Mycelium Market Report Scope
| | |
| --- | --- |
| Report Attributes | Details |
| Market size value in 2023 | USD 3.08 billion |
| Revenue forecast in 2032 | USD 5.86 billion |
| CAGR | 7.4% from 2023 – 2032 |
| Base year | 2022 |
| Historical data | 2019 – 2021 |
| Forecast period | 2023 - 2032 |
| Quantitative units | Revenue in USD billion and CAGR from 2023 to 2032 |
| Segments Covered | By Nature, By Form, By Application, By Region |
| Regional scope | North America, Europe, Asia Pacific, Latin America; Middle East & Africa |
| Key Companies | Biomyc Limited, Bolt Threads Corporation, Chinova Bioworks Ltd, Changsha Botaniex Inc., Ecovative LLC, Four Sigmatic Cop. , Forij.co., FreshCap Mushrooms LTD, Grown.bio Limited, Groundwork BioAg Corporation, Guerlain Cooperative, Innomy Labs, KingHerbs Limited, Life Cykel, Mushlabs GmbH, Mycelia NV Inc., Meati Inc., Monaghan Group, MycoTechnology Inc., Mycotech Lab, MycoWorks MOGU, Magical Mushroom Company, Mushroom Material, Norwegian Mycelium, Nature's Fynd PRIME ROOTS, and Paradise Packaging Co.Scelta Mushrooms. |