The global myrrh gum market was valued at USD 201.23 million in 2022 and is expected to grow at a CAGR of 4.3% during the forecast period.
Myrrh is administered topically to the mouth for discomfort & swelling, swollen gums (gingivitis), loose teeth, canker sores, foul breath, & chapped lips. Additionally, it is applied topically for boils, wounds, abrasions, hemorrhoids, bedsores, and wounds. Myrrh is employed as a flavoring agent in both food & drink. This is produced and utilised in the incense, cosmetics, and fragrance industries. Furthermore, myrrh gum is effective in treating colds, coughs, indigestion, ulcers, leprosy, lung congestion, arthritis pain, spasms, & syphilis due to its higher nutritional profile. Companies are funding research and development activities to test the applications of myrrh gum to innovate effective products to solve consumer health issues effectively.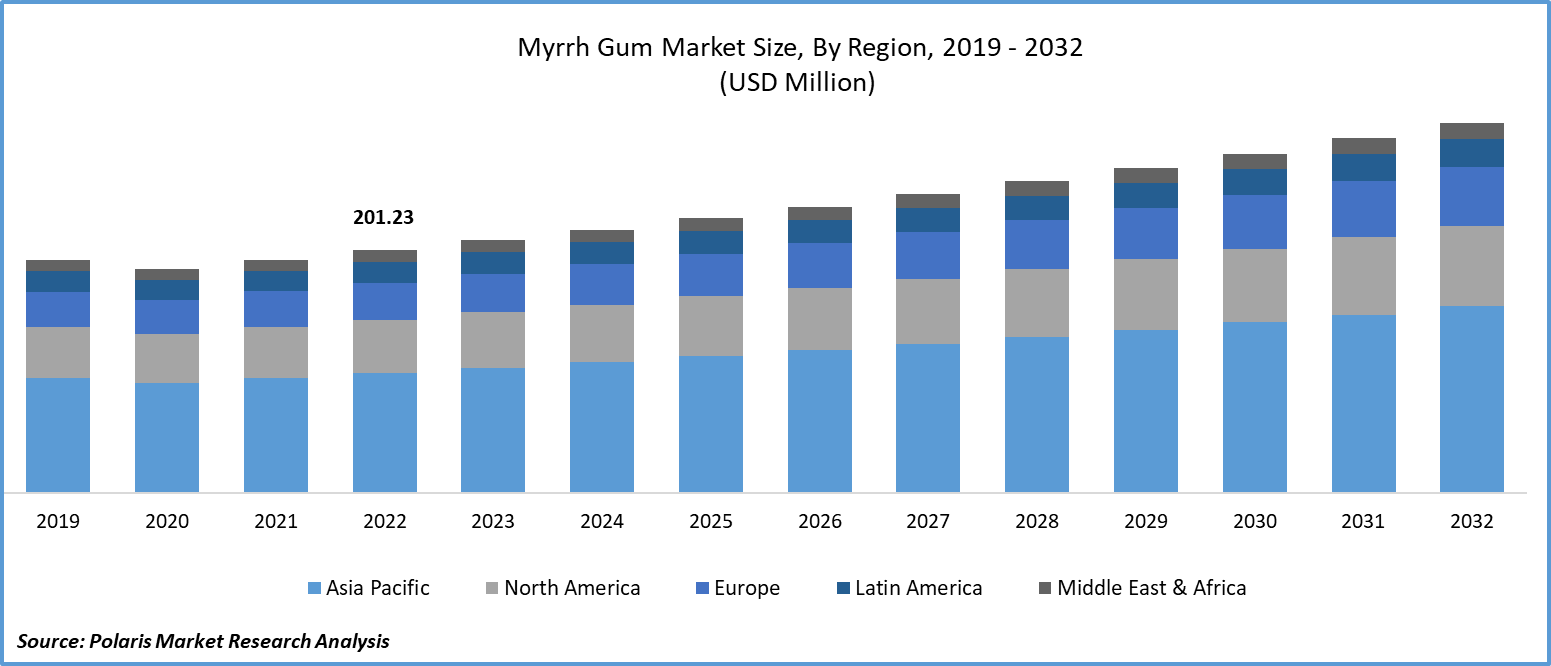 To Understand More About this Research: Request a Free Sample Report
For instance, in February 2022, a study published in the World Journal of Gastrointestinal Oncology revealed the application of myrrh in treating a type of liver cancer, primarily hepatocellular carcinoma, by regulating tumor blood vessels through multiple epidermal growth factor receptor (EGFR)-mediated signaling pathways.
Moreover, the growing popularity of healthcare supplements is driving the demand for myrrh gum, which is exceptionally used by pharmaceuticals due to its capability to promote good health in individuals. Furthermore, traditional religious use widened the consumer base, which is further boosting demand for myrrh gum in the market. In the ancient Israelite temple ritual, myrrh was a component of the sacred anointing oil used to dedicate priests, the tabernacle, and kings. It was employed in both the purifying of Queen Esther and the embalming processes. This is driving its popularity in Christianity and fueling its demand in the coming years.
However, the low level of scientific research is hampering the future demand for myrrh gum by educational consumers, who prefer to use products with effective research outcomes for applications. Supply chain disruptions due to unsuitable climate conditions led to higher prices for myrrh gum, restraining demand from poor and middle-class households.
Growth Drivers
Growing awareness about myrrh gum among a wider audience.
Myrrh is used to reduce inflammation and kill bacteria in the mouth. This was used by ancient Egyptians due to its ability to give off a pleasant aroma and slow down the decay process. Essential oils like myrrh work effectively to kill bacteria and other microbes. A study published in PubMed revealed that burning myrrh and frankincense incense decreased the number of microorganisms in the air by 68%. This demonstrates myrrh gum's effectiveness in various applications. Based on the preliminary animal research, myrrh may be able to directly kill germs, and it may also boost the immune system's production of white blood cells, which are another bacteria-killing factor.
Further research and development activities on the applications of myrrh gum are creating new growth opportunities for the market in the coming years. In addition, The global focus on health and wellness, along with the increasing interest in alternative and traditional medicine, has contributed to the growth of myrrh gum in dietary supplements and herbal remedies.
Report Segmentation
The market is primarily segmented based on form, application, end-use industries and region.
By Form

By Application

By End-Use Industries

By Region

Pharmaceuticals

Food & Beverages

Dietary Supplements

Personal Care and Cosmetics

Other End-Use Industries

North America (U.S., Canada)

Europe (France, Germany, UK, Italy, Netherlands, Spain, Russia)

Asia Pacific (Japan, China, India, Malaysia, Indonesia. South Korea)

Latin America (Brazil, Mexico, Argentina)

Middle East & Africa (Saudi Arabia, UAE, Israel, South Africa)
To Understand the Scope of this Report: Speak to Analyst
By Form Analysis
Powder segment is expected to have the highest growth during the study period
The powder segment is projected to grow at a CAGR during the projected period, mainly driven by its wide range of applications in the pharmaceutical, food, and beverage industries. This form is known to be preferable due to its higher shelf life. This powdered form of myrrh gum is highly used in cosmetic product preparation due to its convenience in formulation and the development of new products for the consumer.
The liquid segment led the market with a substantial revenue share in 2022, largely attributable to its traditional usage in preparing medicines. One of the primary factors fueling the demand for myrrh gum is its ease of use in liquids like herbal shampoos and teas, as it is a water-soluble ingredient that assists industrialists in their product manufacturing without time constraints. Furthermore, myrrh gum application in aromatherapy is growing due to its soothing aroma, which assists in stress relief for consumers.
By Application Analysis
Organic segment witnessed the largest market share in 2022
The organic segment accounted for the largest market share. Growing consumer interest in organic and natural products is, in a way, creating new growth potential for the global market. Organic myrrh gum is expected to have a higher demand among consumers, as the people who are willing to consume this product will be health-conscious people, so they are likely to adopt organic products rather than conventional ones.
The conventional segment is projected to grow at the fastest rate over the next few years on account of the availability of conventional myrrh gum in the market at lower prices. Conventional products are used by customers from earlier years, signifying greater adoptability and accessibility. Low awareness about the benefits of organic products is also fueling the demand for these products, like myrrh gum, in the coming years.
By End-Use Industries Analysis
Pharmaceuticals segment held a significant market revenue share in 2022
The pharmaceuticals segment held a significant market share in revenue in 2022, which is highly growing due to the rising application of myrrh gum in product formulations by companies due to its effectiveness in treating health problems, especially mouth-related ones. The presence of antioxidant, antimicrobial, and anti-inflammatory properties in myrrh gum is driving its use in the pharmaceutical industry. Growing research activities in the pharmaceutical industry are expected to leverage growth opportunities in the myrrh gum market.
The personal care and cosmetics segment is expected to have stable growth owing to the rising usage of cosmetics products. Most of the companies specializing in the manufacturing of soaps, shampoos, perfumes, and lotions are adopting natural and organic ingredients like myrrh gum owing to the rising concerns among consumers about the ingredients used in their daily personal care products. This is due to the availability of the internet, as it is becoming easier to learn about the potential benefits and effects of ingredients used in products.
Regional Insights
Asia Pacific region registered the largest global market in 2022
The Asia Pacific region dominated the global market with the largest market share. This region has known about the applications and benefits associated with it for a long time. The traditional Indian Ayurvedic medical system has been using myrrh for over three thousand years. In addition to treating inflammatory and infectious diseases, it was also used to treat obesity and lipid abnormalities. It was also frequently given as a treatment for bone fractures, wounds, and ulcers. Growing awareness about the benefits associated with myrrh gum is driving demand in this region in the coming few years.
The Europe region is expected to be the fastest growing region with higher growth during the study period, owing to the growing consumption of organic and herbal products in line with health and wellness trends among the consumers in the region. Stringent regulations in the region on herbal products by the Herbal Medicinal Products Committee (HMPC) are signaling quality and trust among consumers, like myrrh gum-infused products.
Key Market Players & Competitive Insights
The myrrh gum market is witnessing higher competition due to the existence of larger market players engaged in continuous research and development activities to innovate or formulate new products to cater to a wider customer base. In line with innovations, companies are stepping forward for collaborations, mergers, and acquisitions to capture larger market shares.
Some of the major players operating in the global market include:
A.G. Industries

Best Botanicals

Elixarome

Herbal Terra LLC

Mansukhlal & Company

Marudhar Impex

Mountain Rose Herbs

Nature's Way

Other prominent players

Plant Therapy Essential Oils

Scents of Earth

Shaanxi Fujie Pharmaceutical

Swanson Health Products

Terravita Corporation

The Good Scent Company
Recent Developments
In January 2022, a study published in Frontiers focused on the effectiveness of myrrh and frankincense in treating cardiovascular diseases with in vivo and in vitro pharmacology experiments. In rats with middle cerebral artery occlusion (MCAO), frankincense-myrrh dramatically reduced infarct volume, lessened histological damage, suppressed microglial expression, and increased the expression of neurons.
Myrrh Gum Market Report Scope
| | |
| --- | --- |
| Report Attributes | Details |
| Market size value in 2023 | USD 201.23 million |
| Revenue forecast in 2032 | USD 307.02 million |
| CAGR | 4.3% from 2022 – 2030 |
| Base year | 2022 |
| Historical data | 2019 – 2021 |
| Forecast period | 2023 – 2032 |
| Quantitative units | Revenue in USD million/billion and CAGR from 2023 to 2032 |
| Segments covered | By Form, By Application, By End-Use Industries, By Region |
| Regional scope | North America, Europe, Asia Pacific, Latin America, Middle East & Africa |
| Customization | Report customization as per your requirements with respect to countries, region and segmentation. |