The global net-zero energy buildings market size was valued at USD 18.37 billion in 2020 and is expected to grow at a CAGR of 29.5% during the forecast period. Net-zero power buildings are efficient structures that generate on-site renewable power equal to or greater than the total energy consumed on-site.
Net-zero power buildings consume only as much power as can be produced onsite through renewable resources over a specified time period by focusing on efficiency and renewable power generation. These structures are feasible for offices, educational facilities, laboratories, and other building types. The adoption of net-zero energy buildings is increasing in the commercial sector to reduce emissions and power use.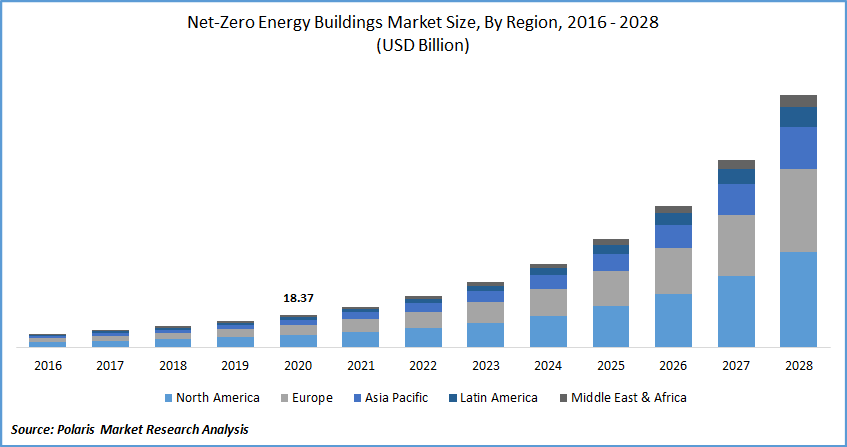 Know more about this report: request for sample pages
The growing need for energy efficiency, increasing power costs, and rising use of renewable power sources drive the growth of the market. There has been increasing awareness among consumers regarding environmental protection, which further supports market growth. Stringent government regulations regarding power use, and reduction in operation costs also boost the adoption of net-zero energy buildings.
Other factors driving the market include supportive government regulations, increasing awareness, and technological advancements. Growing demand from emerging economies and increasing consumer awareness are factors expected to provide numerous growth opportunities in the coming years.
Segment Analysis
The global net-zero energy buildings market is segmented on the basis of type, equipment, and region. Based on type, the market is segmented into residential, and commercial. On the basis of equipment, the market is segmented into HVAC systems, lighting, walls and roofs, and others. This report comprises a detailed geographic distribution of the market across North America, Europe, APAC and Latin America, and the Middle East & Africa.
North America is further segmented into U.S., Canada, and Mexico. Europe is divided into Germany, the UK, Italy, France, and the Rest of Europe. Asia-Pacific is bifurcated into China, India, Japan, and the Rest of Asia-Pacific. North America accounted for the largest share in the global net-zero energy buildings market in 2020.
Competitive Landscape
The leading players in the market include Siemens AG, General Electric, Johnson Controls International plc, SunPower Corporation, Altura Associates, Inc., Sage Electrochromics, Inc., Daikin Industries Ltd., Schneider Electric, Kingspan Group plc, and Integrated Environmental Solutions (IES) Limited among others.
These leading players in the market are introducing innovative products in the market to cater to the consumers. Global players are entering new markets in developing regions to expand their customer base and strengthen their market presence.