The global non-human primate pre-clinical studies at contract research organizations market was valued at USD 39,546.55 Thousand in 2022 and is expected to grow at a CAGR of 11.0% during the forecast period. Global Non-human primates are considered to be the closest animal models to humans with regards to a host of parameters including behavior, genetics, and physiology. Due to this fact, NHPs have become a critical component in research projects pertaining to vaccines, devices and such other interventions aimed at curing, preventing, or ameliorating diseases in humans. Other animal models are often used with NHPs for the establishment of potential efficacy of a vaccine or a pharmaceutical product before going forward to human clinical trials thus underlining the importance of NHPs. Such trends have benefitted the market growth in the recent past.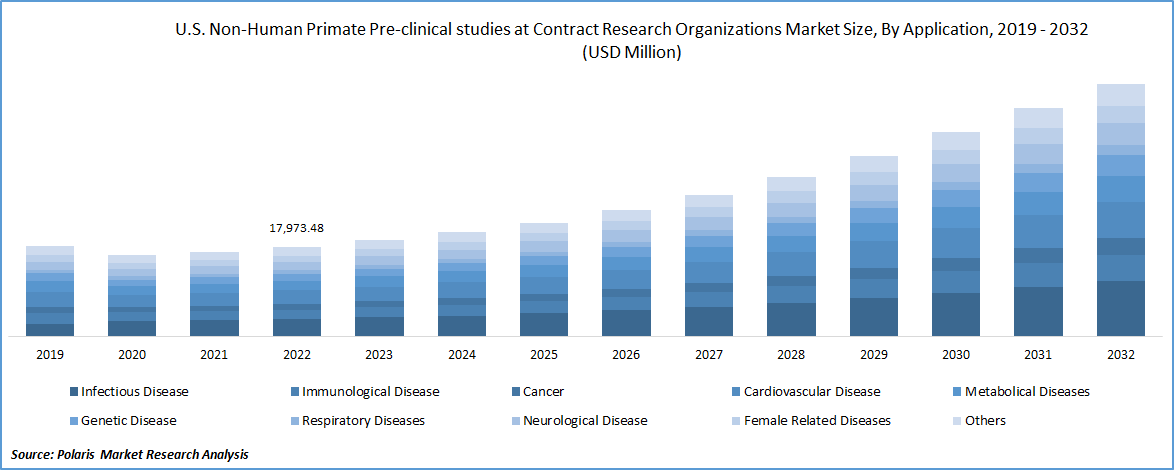 To Understand More About this Research: Request a Free Sample Report
The growing prevalence of diseases such as cancer, diabetes, cardiovascular diseases, and infectious diseases is expected to serve this market as a high impact rendering driver over the next eight years. The high presence of unmet medical needs pertaining to various fatal diseases and the subsequent rise observe in patient awareness levels in this region is expected to boost the demand for preclinical trials.
The emergence of the Covid-19 pandemic has severely impacted the Non-Human Primate Pre-clinical studies at Contract Research Organizations market. The deadly disease outbreak disrupted the supply of critical materials as well as NHP transportation. Owing to the worldwide lockdown and stringent rules and regulations by several economies, the manufacturers were compelled to shut down their facilities in order to curb the spread of the disease.
Contract research organizations that had made significant strides in preclinical trials also shifted their focus and allocated their resources to develop Covid-19 vaccines and drugs by pulling them from other areas. Such trends are anticipated to have unexpected impact as well as consequences on securing future funding. Many of the advancements made in the research need to secure long-term investments both at government as well as private level in order to achieve desired results as well as to achieve commercialization. The advent of the pandemic however has disrupted such prospects.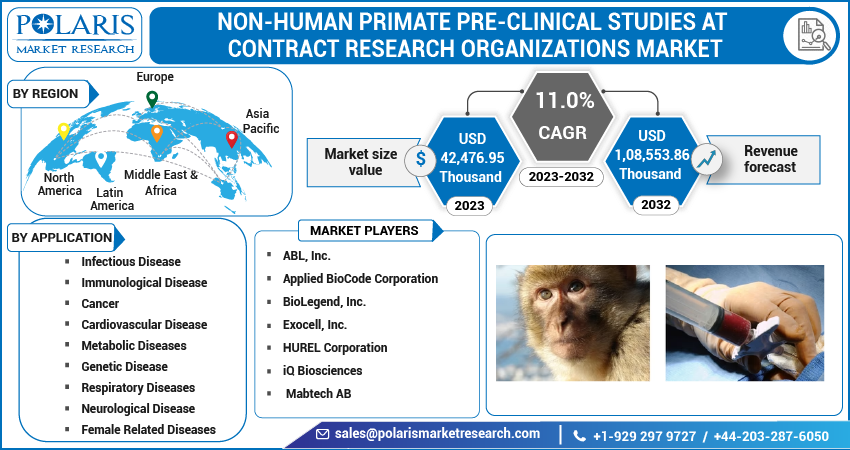 For Specific Research Requirements, Request for a Customized Report
Industry Dynamics
Growth Drivers
CRISPR has proven to be a versatile tool especially for genome engineering and is posed to completely revolutionize biotechnology field thus positively impacting the overall medicine industry. There have been several advancements pertaining to unique CRISPR system identification as well as pertaining to the reengineering of the protein for advanced and expanded functions thus enabling rapid diversification of CRISPR genome engineering toolbox.
Innovations achieved in the last few years pertaining to the market are making it possible to treat a variety of diseases such as viral infections and congenital disorders. The CRISPR/Cas9 technology that won the Chemistry Nobel prize for 2020, holds great prospects with regards to treatment of these diseases through the correction of disease-specific genomic sequences. The prospects of this technology has garnered a lot of attention in the recent past due to its ability to target genomic sequences with a high precision and considerably low levels of undesired off-target gene editing.
Continuous research and development activities have led scientists to achieve innovations pertaining to Dead-Cas9 system, Base editing system, Cas9 variant system, RNA editing system, and Prime editing system. The development of Prime editing system was achieved in the recent past and this system enables mediate target insertions as well as deletions and enables base substitution without donor DNA templates and double strand breaks. The overall system results in improved efficiency, accuracy, and expansion of the scope of genome editing, thus broadening the application portfolio in therapeutic and biological research. Such innovations are resulting in rapid rise in market growth.
Recent advents in CRIPRS technology has made it possible for the technology to be deployed in functional genomic screening. Efficiency of the technology enables researchers and academicians to edit multiple targets in parallel setup, thus allowing to assess the relationship between genotypes and phenotypes. Moreover, the recent advancements in the technology has resulted it in acquiring high transfection efficiency, reduced off-target effects, and improved, accurate, and high data reproducibility.
CRISPR-Cas systems have resulted in generation of sally modified animal models in an efficient manner. These animal models are proving to be crucial tools for the overall study of gene function and pathogenesis study of human diseases as well as development of novel drugs. Such trends are expected to increase its adoption in NHP preclinical trials over the forecast period.
Report Segmentation
The market is primarily segmented based on form, Application, End-Use and region.
By Application

By Region

Infectious Disease

Immunological Disease

Cancer

Cardiovascular Disease

Metabolic Diseases

Genetic Disease

Respiratory Diseases

Neurological Disease

Female Related Diseases

Others

North America (U.S., Canada)

Europe (France, Germany, UK, Italy, Netherlands, Spain, Austria)

Asia Pacific (Japan, China, India, South Korea)

Latin America (Brazil, Mexico)

Middle East & Africa (Saudi Arabia, UAE)
To Understand the Scope of this Report: Speak to Analyst
In 2022, infectious disease segment dominated the market
Based on application, in 2022, Infectious diseases is expected to grow at the highest CAGR over the forecast period. The recent advent of the covid-19 pandemic underlined a rising need for proper vaccinations in order to curb infectious diseases. This resulted in a rising interest towards NHP based preclinical trials for research and this factor is greatly benefiting the segment growth. The segment also witnessed the highest penetration across the globe in 2022.
The demand in Asia-Pacific is expected to witness significant growth
Asia Pacific is estimated to rise at the highest CAGR in the global Non-Human Primate Pre-clinical studies at Contract Research Organizations market. It is anticipated that factors like increasing R&D activities in countries such as India and China will further propel the market growth in the near future. North America witnessed the highest penetration in 2022 owing to proper healthcare infrastructure, presence of major market participants, well established pharmaceutical and medical sector, among other factors.
Competitive Insight
Some of the major players operating in the global market include ABL, Inc., Applied BioCode Corporation, BioLegend, Inc., Exocell, Inc., HUREL Corporation, iQ Biosciences, and Mabtech AB, among others.
Recent Developments
In March 2022 Applied BioCode announced an agreement with Hardy Diagnostics, a leader in manufactured and distributed microbiology products in the United States, for the distribution of the MDx-3000 System and its comprehensive menu for the diagnosis of upper respiratory infections, gastrointestinal infections as well as a suite of Analyte Specific Reagents (ASRs) which can be used by high-complexity laboratories to develop their own laboratory developed tests (LDTs)

In June 2020 Just – Evotec Biologics, Inc. announced to have entered into an agreement with Advanced BioScience Laboratories, Inc. ("ABL"), to the U.S. Government and biopharmaceutical industry.
Global Non-Human Primate Pre-clinical studies at Contract Research Organizations Market Report Scope
| | |
| --- | --- |
| Report Attributes | Details |
| Market size value in 2023 | USD 42,476.95 Thousand |
| Revenue forecast in 2032 | USD 1,08,553.86 Thousand |
| CAGR | 11.0% from 2023 - 2032 |
| Base year | 2022 |
| Historical data | 2019 - 2021 |
| Forecast period | 2023 - 2032 |
| Quantitative units | Revenue in USD Thousand and CAGR from 2023 to 2032 |
| Segments covered | By Application, By Region |
| Regional scope | North America, Europe, Asia Pacific, Latin America; Middle East & Africa |
| Key companies | ABL, Inc., Applied BioCode Corporation, BioLegend, Inc., Exocell, Inc., HUREL Corporation, iQ Biosciences, and Mabtech AB, among others. |