The global diabetes drug market was valued at USD 58.41 billion in 2022 and is expected to grow at a CAGR of 5.9% during the forecast period. The globally rising diabetic population and increasing research and development in diabetes therapies by numerous pharmaceutical companies are anticipated to be the major driving factors for the diabetes drug market.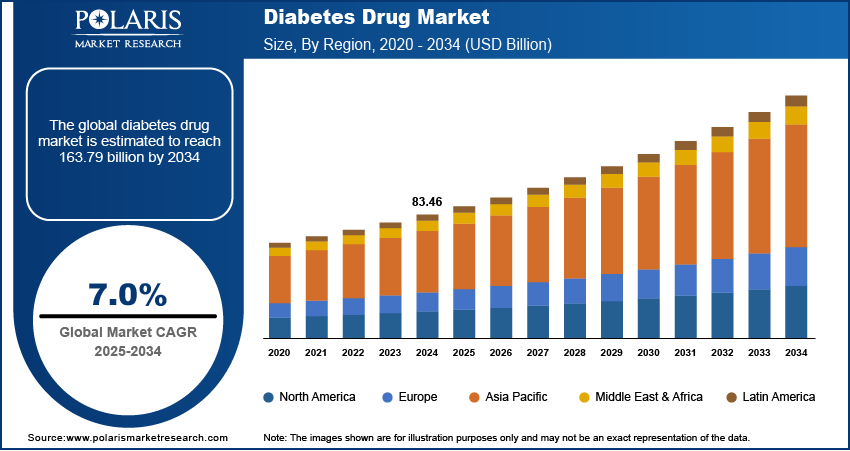 Know more about this report: Request for sample pages
Diabetes drugs are primarily used to control the blood sugar level among patients. Type 1 diabetic patients are mostly recommended to take insulin to maintain their blood sugar levels. Other different classes of drugs are also being researched and produced for type 2 diabetic patients by various market players. For instance, Dapagliflozin and canagliflozin are the first two sodium-glucose co-transporter 2 (SGLT2) inhibitors approved by Europe and U.S.A. to improve glycemic control with type 2 diabetes patients by decreasing the plasma glucose levels by lowering renal glucose reabsorption and increases the urinary glucose excretion.
Diabetes mellitus is a chronic metabolic disorder that occurs when the body cannot use the insulin hormone effectively or does not produce enough insulin to control the sugar/glucose level in the blood. According to the World health organization, about 422 billion people globally who suffering from diabetes disorder. Most people having diabetes are from low and middle-income countries, and around 1.5 billion deaths reported every year are directly attributed to diabetes.
The disease diabetes is further bifurcated into two sub-segments – Type 1 and Type 2. A person with Type 1 diabetes is characterized by low insulin production by the pancreas, and the blood sugar is not getting into the cells and builds up in the bloodstream. Until now, no certain medications have been developed to cure type 1 diabetes, and medical practitioners suggest administering insulin.
Type 2 diabetes is caused when the cells don't respond to the insulin hormone produced by the pancreas, and the sugar level rises in the blood. Type 2 diabetes disorders are commonly observed among patients contributing to more than 95% of total diabetic patients, as per WHO. Heart strokes, nerve damage, blindness, and kidney failure are some of the adverse health impacts seen in the case of diabetes patients.
The growing investments in research and development by government organizations and various private market players have launched a wide price range of drugs in the market. For instance, Glenmark, an Indian pharmaceutical company, is the first to launch a fixed-dose combination for type 2 diabetic patients at a very affordable rate. The Fixed Dose Combination (F.D.C.) comes under the brand Remozen MV and Remo MV at Rs. 33 per day cost of therapy and Rs. 16.5 per tab, respectively. These drugs are more than 53% more affordable than available DPP4 & SGLT2 combination brands administered along with Metformin which further captures the lower-income group patients in India.
Further, the launch of generic insulin in the market supplements the body's natural insulin intending to achieve normal blood sugar levels in mostly type 1 diabetic patients. The increasing number of type 1 diabetic patients globally fuels the demand for insulin provided by market players such as Eli Lilly, Sanofi, and Novo Nordisk. Novo Nordisk, a Denmark-based pharmaceutical company, introduced various innovative insulin injection pens, such as disposable pre-filled pens, smart connected pens, and durable pens with replaceable insulin cartridges, which can be used easily. The increasing affordability and easy-to-administer insulin products in the market have tapped various new consumers in the last decade.
High manufacturing costs of drugs and insulin devices, the timeline for a cure to get approved, and lack of public awareness are some significant restraining factors inhibiting the growth of the market.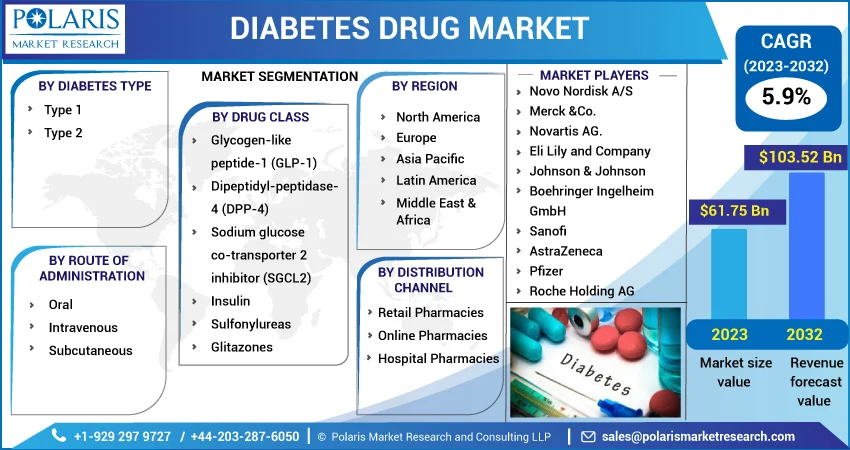 Know more about this report: Request for sample pages
Growth Drivers
Industry Dynamics
The increasingly sedentary lifestyle among urban peoples and unhealthy eating habits makes a person more prone to being overweight and obese condition. Being overweight or obese essentially increases the chance of getting affected by type 2 diabetes as the muscle cells in the obese state are more resistant to the insulin secreted by the pancreas. A report by Public Health England suggests that obese and overweight people are seven times and three times more prone to diabetes than a healthy-weight person. Additionally, World Health Organization estimated the global obese population to be 1 billion and is still increasing faster. Further, the increasing geriatric population has increased the diabetic population and hence requires diabetic drugs and insulin to manage the blood sugar level.
The rising investments in R&D for new drug approvals and commercialization by private players have increased the affordability and availability of drugs among various segments of patients. For instance, Johnson & Johnson's pharmaceutical division Janssen Pharmaceuticals, Inc., has launched an oral medication, "INVOKANA," in India for type 2 diabetic patients with an affordable rate of Rs. 51 per dose. Further, the INVOKANA drug was also approved by U.S. F.D.A. in 2013 and is available in the United States. Increasing drug approvals and intense competition among drug players have resulted in effective and affordable drugs and insulin in the market, which increases the growth outlook in the coming years.
Report Segmentation
The market is primarily segmented based on drug class, route of administration, diabetes type, distribution channel and region.
By Drug Class

By Route of Administration

By Diabetes Type

By Distribution Channel

By Region

Glycogen-like peptide-1 (GLP-1)

Dipeptidyl-peptidase-4 (DPP-4)

Sodium glucose co-transporter 2 inhibitor (SGCL2)

Insulin

Sulfonylureas

Glitazones

Others

Oral

Intravenous

Subcutaneous

Retail Pharmacies

Online Pharmacies

Hospital Pharmacies

North America (U.S., Canada)

Europe (France, Germany, UK, Italy, Netherlands, Spain, Russia)

Asia Pacific (Japan, China, India, Malaysia, Indonesia. South Korea)

Latin America (Brazil, Mexico, Argentina)

Middle East & Africa (Saudi Arabia, UAE, Israel, South Africa)
Know more about this report: Request for sample pages
The Insulin segment is expected to dominate the Diabetes drug market in 2022
The primary factor driving insulin in the diabetes drug market is the higher dependency on insulin by type 1 diabetic patients. Although the proportion of type 1 diabetic patients constitutes only 10% of total diabetic patients, the increase in type 1 patients and the availability of low-cost insulin treatment have increased the demand for insulin drugs over the last few years. Further, few type 2 diabetic patients depend on type insulin drugs, increasing investment in insulin therapies, and the rising geriatric and obese population are other factors fueling the insulin segment over the forecast period.
The Type 2 diabetes segment is projected to dominate the targeted market in 2022
The type 2 diabetes segment is expected to dominate the market as of the total global diabetic patients, more than 90% constitute type 2 diabetic patients. Sedentary lifestyles, unhealthy eating habits, and improper exercise lead to an obese and overweight population. Obese and overweight people are more prone to type 2 diabetes disorder, increasing the demand for type 2 diabetic drugs in the market.
The North America region is projected to dominate the market in 2022
Major factors driving the segment include of higher prevalence of diabetes due to a rising sedentary lifestyle and reduced physical activity. Favorable government expenditure towards R&D and increasing awareness of various drugs fuel the demand further. Research also shows that U.S.A. and Canada are in the top 10 countries having the highest share of type 1 Diabetic population. Further, innovative drug approvals from major players such as Eli Lilly and Company in the U.S.A increase the availability of more effective drugs against diabetes disorder. For instance, FDA approved Eli Lilly's Mounjaro (tirzepatide) injection in 2022, the first GIP and GLP-1 receptor agonist for treating adult type 2 diabetes patients.
Asia Pacific region is projected to witness the highest growth rate in the diabetes drugs market. The major factors driving the segment in the Asia Pacific region can be attributed to the highest number of diabetic patients in China and India. More than 140 billion and 75 billion populations in China and India are suffering from diabetes primarily drives the demand for drugs in this region. The large population and high sugar diets among the people are the primary reasons for such a vast number of diabetic patients in China and India.
Competitive Insight
Some major global players include Novo Nordisk A/S, Merck &Co., Novartis AG., Eli Lily and Company, Johnson & Johnson, Boehringer Ingelheim GmbH, Sanofi, AstraZeneca, Pfizer, Roche Holding AG.
Recent Developments
In November 2022, the Central drugs standard control organization (CDSCO) of India approved to market of AstraZeneca's anti-diabetes medication Dapagliflozin for diabetes patients with chronic kidney disease.

In January 2020, Novo Nordisk announced that its first meal-time injection, Fiasp, has been approved by U.S. Food and Drug Administration (F.D.A.) for use in children and adults in three different dosing options.
Diabetes Drugs Market Report Scope
| | |
| --- | --- |
| Report Attributes | Details |
| Market size value in 2023 | USD 61.75 billion |
| Revenue forecast in 2032 | USD 103.52 billion |
| CAGR | 5.9% from 2023 - 2032 |
| Base year | 2022 |
| Historical data | 2019 - 2021 |
| Forecast period | 2023 - 2032 |
| Quantitative units | Revenue in USD billion and CAGR from 2023 to 2032 |
| Segments covered | By Drug class, By route of administration, By diabetes type, By distribution channel |
| Regional scope | North America, Europe, Asia Pacific, Latin America; Middle East & Africa |
| Key companies | Novo Nordisk A/S, Merck &Co., Novartis AG., Eli Lily and Company, Johnson & Johnson, Boehringer Ingelheim GmbH, Sanofi, AstraZeneca, Pfizer, Roche Holding AG |