The global nutrition consulting services market was valued at USD 7.58 billion in 2022 and is expected to grow at a CAGR of 3.7% during the forecast period.
A growing attitude toward healthy lifestyles helps the increasing demand for nutrition consulting services is the primary factor boosting the market growth over the forecast period. People are becoming more aware of holistic well-being. Therefore, the need for customized medicines and supplements has significantly grown.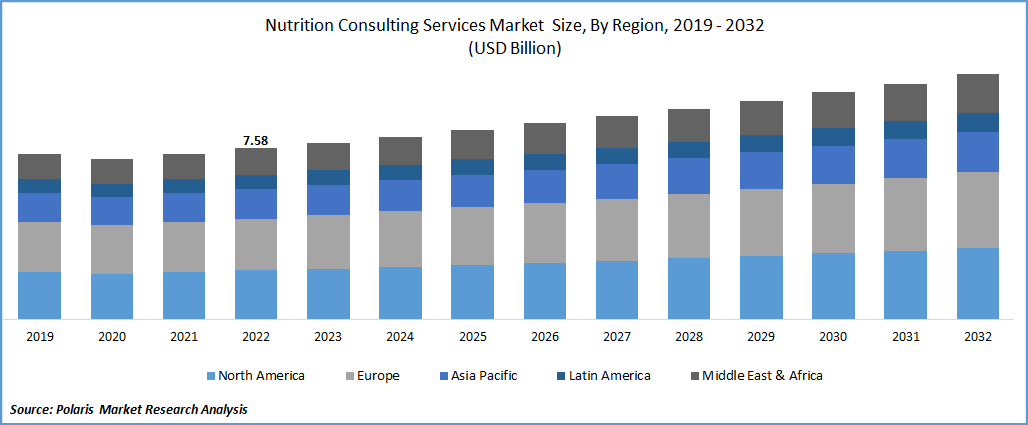 Know more about this report: Request for sample pages
There are more lifestyle issues due to the rise in diabetes, heart disease, and other chronic diseases, which also helps the market expand. The rising need for nutritionists and dieticians also contributes to the market's expansion. High demand for personally tailored diets has resulted from shifting customer preferences for health and wellness products.
Adopting a genetically based, tailored diet is becoming more popular as consumers become more nutrient-specific. With the increasing demanding and hectic lives among working people, healthy food is rarely included in diet plans, which is a primary driving reason for the market. The market for nutrition consulting services is expanding due to the number of seniors and people's focus on preventive health care. Consumers are increasingly seeking personalization in their daily experiences and moving away from the "one-size-fits-all" approach due to changing preferences brought on by additional health awareness.
Further, there is a huge need for nutrition consulting services as people of all ages convert to innovative and healthy workout practices. Consumers may further customize their meal plans by tracking their activity levels and nutritional intake using technologies like wellness-focused wearables from companies like Fitbit and Apple. With the help of particular technology, people can measure their blood pressure, which enables them to give doctors correct dietary information. More people are turning to dieticians and nutritionists to obtain individualized diet regimens to shed pounds and maintain their fitness.
Clinical nutrition aims to provide essential nutrients such as vitamins, minerals, and protein while assisting patients in maintaining a healthy metabolism. Clinical nutrition has many advantages, including supporting people to lead healthier lifestyles at any stage and its effectiveness in managing diabetes. Clinical nutrition supplements are provided to people who have trouble digesting or swallowing food. The availability of nutrition consulting services is aided by changes in lifestyle, rising disposable income, and increased public knowledge of the benefits of nutrition planning.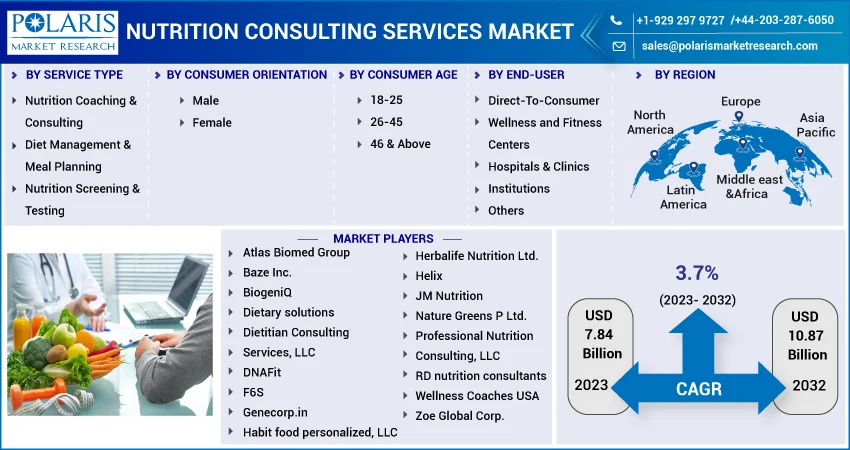 Know more about this report: Request for sample pages
Industry Dynamics
Growth Drivers
The requirement for nutrition consulting services is anticipated to increase as chronic diseases, including diabetes, heart attacks, high cholesterol, and others, become more prevalent. Long-lasting diseases like chronic ailments hurt patients' health, which increases the need for nutrition advisors who can provide dietary programs and prompt health assessments.
According to an Organization Study, the primary causes of premature death and disabilities among India's geriatric population are infectious conditions. In India, at least one chronic illness is claimed to affect about 21% of the older population. In rural areas, 17% of older people and 29% in urban areas have chronic illnesses. Diabetes and hypertension make up around 68% of all chronic disorders.
Additionally, a significant increase in the global obesity rate is anticipated to increase the demand for nutrition consulting services. As per the National Institute of Health, around 30.7% of people are overweight, 42.4% obesity and 9.2% have severe obesity in the world. Due to the rising incidence of several chronic illnesses, such as diabetes and cardiovascular diseases, people are encouraged to use nutrition consulting services.
Report Segmentation
The market is primarily segmented based on service type, end-user, consumer age, consumer orientation, and region.
By Service Type

By Consumer Orientation

By Consumer Age

By End-User

By Region

Nutrition Coaching & Consulting

Diet Management & Meal Planning

Nutrition Screening & Testing

Direct-To-Consumer

Wellness and Fitness Centers

Hospitals & Clinics

Institutions

Others

North America (U.S., Canada)

Europe (France, Germany, UK, Italy, Netherlands, Spain, Russia)

Asia Pacific (Japan, China, India, Malaysia, Indonesia. South Korea)

Latin America (Brazil, Mexico, Argentina)

Middle East & Africa (Saudi Arabia, UAE, Israel, South Africa)
Know more about this report: Request for sample pages
The nutrition coaching and the consulting segment is expected to witness the fastest growth
Discussing and assessing clients' eating patterns, educating them about nutritious foods, tracking unique nutritional needs using health histories, and designing a meal plan for each person are all part of nutrition coaching and consulting. The market for nutrition coaching & advising is expected to increase over the forecast period due to people's growing health awareness. Ultimately, it aids in creating dietary regimens that support a healthy autoimmune reaction, metabolic, and ideal body weight.
46 & above age segment industry accounted for the highest market share in 2022
Diet is essential to preserve health and delay aging in the senior population. Malnutrition is more prevalent in this population and is associated with a loss in functional status, compromised muscular function, decreased bone mass, immunological dysfunction, impaired cognition, etc. It is anticipated that there will be a significant increase in demand for nutrition consulting businesses due to the expanding senior population worldwide.
The World Health Organization predicts that the number of older adults worldwide will nearly double between 2015 (12%) and 2050 (22%). A nutrition consultant evaluates and identifies the risks to older people's health, advises nutrient-rich diets, and reviews the overall effect of nutrients on a health condition. This effectively lowers the health hazards brought on by aging.
The demand in North America is expected to witness significant growth
There is a strong demand for nutrition consulting services in the United States due to the rise in metabolic and chronic disease prevalence and the adoption of bad eating habits. According to the Centers for Disease Control and Prevention, almost six out of ten persons in the United States are diagnosed with a chronic illness of some type, including diabetes, cancer, heart disease, and others.
The prevalence of severe health problems among the populace has led to a significant increase in the nation's awareness of healthy eating practices. Customers are choosing nutrition advisors who can monitor diet regimens and provide counseling and coaching about good eating habits.
Furthermore, the rising elderly population in China, one of the world's leading economies, is increasing the demand for nutrition specialists. As per the WHO, about 28% of the population in China over 60 needs nutrition tailored to their advancing age, which is expected to reach 28% by 2040.
Chronic diseases are more common in the elders, which requires wholesome nourishment for the body. A nutritionist keeps track of an older population's health and recommends a nutritious diet to lessen age-related health issues.
Competitive Insight
Some of the major players operating in the global market include Atlas Biomed Group, Baze, BiogeniQ, Dietary solutions, Dietitian Consulting Services, DNAFit, F6S, Genecorp.in, Habit food personalized, Herbalife Nutrition, Helix, JM Nutrition, Nature Greens, Professional Nutrition Consulting, RD Nutrition Consultants, Wellness Coaches, and Zoe Global Corp.
Recent Developments
In April 2019, DNA Fit, a market leader in customized health & wellness, unveiled the "Health Fit" DNA test, which tracks numerous genetic markers associated with a person's well-being and provides individualized dietary advice.
Nutrition Consulting Services Market Report Scope
| | |
| --- | --- |
| Report Attributes | Details |
| Market size value in 2023 | USD 7.84 billion |
| Revenue forecast in 2032 | USD 10.87 billion |
| CAGR | 3.7% from 2023 – 2032 |
| Base year | 2022 |
| Historical data | 2019 – 2021 |
| Forecast period | 2023 - 2032 |
| Quantitative units | Revenue in USD billion and CAGR from 2023 to 2032 |
| Segments Covered | By Service Type, By Consumer Orientation, By Consumer Age, By End-User, By Region |
| Regional scope | North America, Europe, Asia Pacific, Latin America; Middle East & Africa |
| Key Companies | Atlas Biomed Group, Baze Inc., BiogeniQ, Dietary solutions, Dietitian Consulting Services, LLC, DNAFit, F6S, Genecorp.in, Habit food personalized, LLC, Herbalife Nutrition Ltd., Helix, JM Nutrition, Nature Greens P Ltd., Professional Nutrition Consulting, LLC, RD nutrition consultants, Wellness Coaches USA, and Zoe Global Corp. |