The global ocean power market was estimated at USD 670.5 million in 2021 and is projected to grow at a CAGR of 21.2% during the forecast period.
The increased contribution of renewable energy to the overall energy mix allows ocean energy to reduce inefficiencies. As a result of the depletion of non-renewable energy resources, environmental concerns, surging energy needs, and a shift towards renewable energy production, the global market is expected to grow over the forecast period. It is the primary technology for producing 1,000–10,000 GW of renewable energy and will continue to be relevant as demand and wave power grow.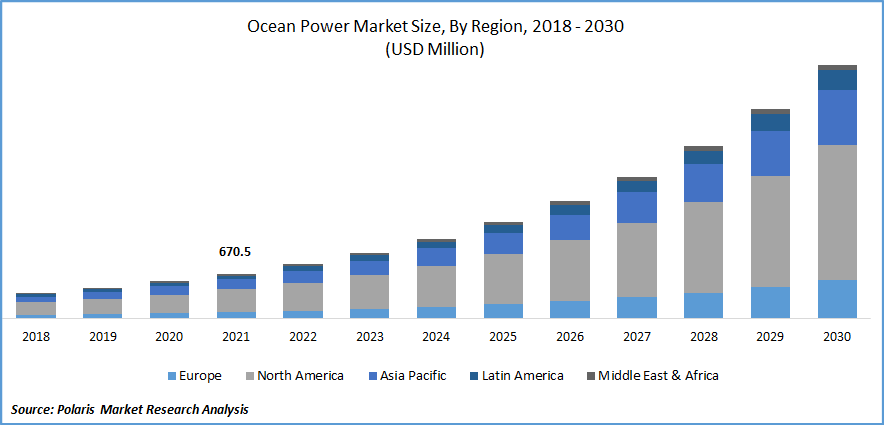 Know more about this report: Request for sample pages
Ocean energy, also referred to as ocean power, marine power, and marine renewable energy, is energy derived from the ocean, tidal streams, tide ranges, ocean currents, salinity gradients, and temperature gradients without emitting harmful greenhouse gases. An enormous amount of kinetic energy, or energy in motion, is generated by water movement in the world's oceans. This energy can be converted into electricity, powering homes, transportation, and industry. The term "ocean energy" encompasses surface ocean power and tidal power, which are derived from the kinetic energy of massive amounts of flowing water.
Clean energy sources will become increasingly important as power plants proliferate under the decentralized system. In this regard, ocean energy helps to reduce inefficiencies, which is critical given the increased contribution of renewable energy to the overall energy mix. The industry is also expected to benefit from technology's innovative architecture, efficient monitoring, and smart tracking. Due to its high dependability & predictability index, the technology is expected to gain traction faster than its traditional competitors.
The ongoing COVID-19 outbreak has severely damaged the market for ocean power. COVID-19 has caused global disruption in the energy sector due to slower transportation and economic activity. Although the global economy suffered during the pandemic, renewable energy continued to grow. The growing use of renewable energy has demonstrated the resilience of renewable energy. It will also be a driving factor in the demand for these technologies in the coming years. For example, a revamped Atlantic action plan for maritime has been developed by the Atlantic Strategy Committee (ASC). As a result, the naval strategy was strengthened, and the European Green Deal was advanced. However, as the global situation has stabilized, the global market for ocean power has begun to recover at a rapid pace.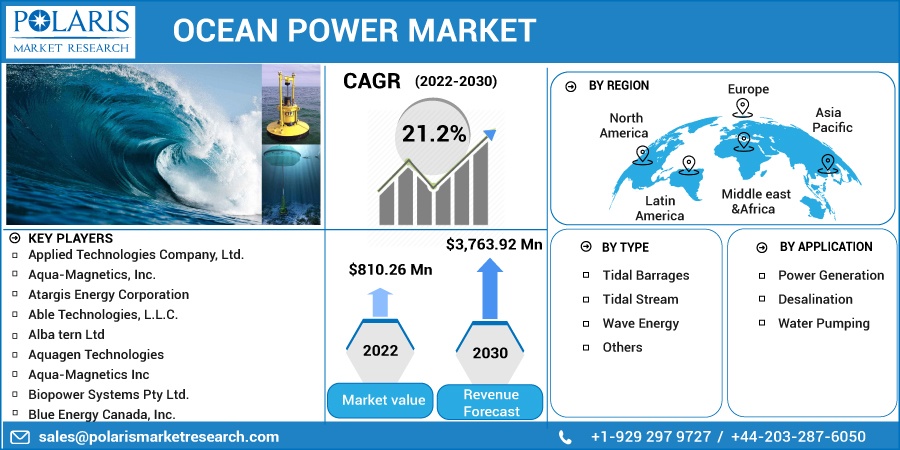 Know more about this report: Request for sample pages
Industry Dynamics
Growth Drivers
Increasing demand for renewable energy sources and environmental pollution worldwide is expected to drive the global market size to expand over the forecast timeframe. Continuous government support for renewable energies, such as wave and tidal power, is expected to drive the ocean energy market value in the coming decades. Furthermore, rising pollution levels have significantly impacted the health of living beings and the environment. This has increased investment in sustainable energy grids, influencing ocean energy market trends.
Demand for such energy resources has increased significantly due to increased awareness, promoting industry expansion. According to the world energy outlook, electricity generation from marine technologies has increased by an estimated 400 GWh in the past two years, significantly exceeding previous three-year levels, owing primarily to capacity additions of 200 MW from Denmark.
Nonetheless, this technology must be deployed much faster if zero emissions are achieved, by 2050. In 2030, this scenario predicts 27 TWh of electricity generation. In the Net Zero Emissions by 2050 Scenario, power generation through oceans grows by 33% annually between 2020 and 2030, corresponding to 1 GigaWatt of the average annual capacity. Policies encouraging R&D are required to achieve further cost savings and large-scale development.
Report Segmentation
The market is primarily segmented based on type, application, and region.
By Type

By Application

By Region

Tidal Barrages
Tidal Stream
Wave Energy
Others

Power Generation
Desalination
Water Pumping

North America (U.S., Canada)
Europe (France, Germany, UK, Italy, Netherlands, Spain, Russia)
Asia Pacific (Japan, China, India, Malaysia, Indonesia. South Korea)
Latin America (Brazil, Mexico, Argentina)
Middle East & Africa (Saudi Arabia, U.A.E., Israel, South Africa)
Know more about this report: Request for sample pages
The wave energy segment is expected to witness the fastest growth.
In 2021, the wave energy sub-part was anticipated to increase throughout the projected period. This is due to improved wave energy infrastructure and demand for wave energy-producing components. There are several ways to use wave energy, including pumping water, desalinating water, and generating electricity. The most renewable energy is generated by wave and tidal energy of any green technology. The oceans provide an endless supply of clean energy. The most sustainable energy source is the ocean's tide and wave power—best practices for producing electricity from marine renewables. Furthermore, rapid development in the renewable energy sector and increased demand for electricity from the marine industry are key factors driving the market's growth during the forecast period.
Power Generation is expected to hold the largest market share in 2021
It is anticipated that power generation will hold the largest market share and is expected to maintain its domination during the forecast period. Because of the rapid consumption of electrical power around the world and technological advancement, the power generation segment controls a sizable portion of the market. As a result, increasing power generation capacity to meet global demand is necessary. Compared to conventional renewable resources, producing electrical power from the ocean is gaining popularity due to its prospects, predictability, and availability.
This expansion can be attributed to increased global renewable energy sector investment. Furthermore, the growing demand for power from the marine industry propels the global wave energy market forward. Furthermore, the increased demand for electricity from coastal communities is expected to fuel global market growth in the coming years.
The demand in Europe is expected to witness significant growth
Throughout the projected period, the global market in Europe dominates the global market in terms of market share. Governments across the region have made substantial efforts to aid the conversion to a low-carbon economy, as well as significant gains made by the region's energy industry, which are driving regional growth. In Europe, renewable energy is gaining market share and will boost regional industries. A European Marine Energy Center has been established in the United Kingdom, which appears to have an extensive background application for this concept. As well as housing many ocean energy developers nearing commercialization, the European Marine Energy Institute is a major hub for wave technology activities.
During the forecast period, the Asia-Pacific market is expected to witness significant growth. The region's spread of marine energy technology is expected to be aided by public funding schemes, environmental restrictions, government measures, and competition. Manufacturers have developed innovative designs and processes to meet the increased demand for renewable energy. Asia-Pacific is one of the most essential and profitable regions for global markets. Economic growth, public awareness, resource availability, and advancements in open test sites are expected to expand the market during the projection period.
Competitive Insight
There are various significant players in the global market, such as Applied Technologies, Aqua-Magnetics, Atargis Energy Corporation, Able Technologies, Alba tern, Aquagen Technologies, Biopower Systems, Blue Energy Canada, Carnegie Clean Energy, Minesto, Nova Innovation, Mocean Energy, Ocean Power Technologies, OceanEnergy, Andritz Hydro Hammerfest, Ocean Renewable Power, and Tenax Energy.
Recent Developments
In January 2022, Ocean Power Technologies announced a partnership with Eco Wave Power to collaborate on its key projects. Furthermore, solutions will produce by combining each company's offshore & onshore technologies with the OPT's off-shore engineering & robot skills.
In August 2021, Mocean Energy tested its Blue X wave energy product at the European Marine Energy Centre (EMEC). This machine has started trials at its site to understand its applicability.
Ocean Power Market Report Scope
| | |
| --- | --- |
| Report Attributes | Details |
| Market size value in 2022 | USD 810.26 million |
| Revenue forecast in 2030 | USD 3,763.92 million |
| CAGR | 21.2% from 2022 – 2030 |
| Base year | 2021 |
| Historical data | 2018 – 2020 |
| Forecast period | 2022 – 2030 |
| Quantitative units | Revenue in USD million and CAGR from 2022 to 2030 |
| Segments Covered | By Type, By Application, and By Region |
| Regional scope | North America, Europe, Asia Pacific, Latin America; Middle East & Africa |
| Key Companies | Applied Technologies Company, Ltd., Aqua-Magnetics, Inc., Atargis Energy Corporation, Able Technologies, L.L.C., Alba tern Ltd, Aquagen Technologies, Aqua-Magnetics Inc, Biopower Systems Pty Ltd., Blue Energy Canada, Inc., Carnegie Clean Energy Limited, Minesto AB, Nova Innovation Ltd., Mocean Energy, Ocean Power Technologies, Inc., OceanEnergy, Andritz Hydro Hammerfest, Ocean Renewable Power Company LLC, Tenax Energy, and others. |