The global oxygen scavengers market was valued at USD 2.26 billion in 2021 and is expected to grow at a CAGR of 6.0% during the forecast period. The growth in the market is being driven by the rising market demand for fresh and quality packaged food.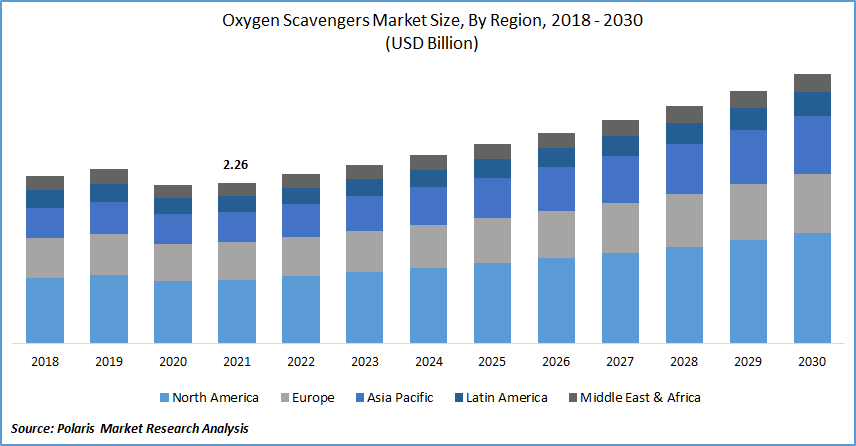 Know more about this report: Request for sample pages
Oxygen scavenger absorb trapped air inside sealed packaging. These are typically employed during packaging to avoid spoilage, mold development, color change, rancidity, nutritional value loss, and overall product quality loss. These scavengers keep the original food quality and increase the product's shelf life.
The oxidation of vitamins A, C, and E, the development of aerobic pathogens and food spoilage organisms, the rancidification of polyunsaturated fats and oils, and the non-enzymatic browning of fruits and vegetables are all prevented by oxygen scavengers. The use of oxygen scavengers improves the health of goods. These elements are hence fueling the market's expansion.
Fresh food products may now be wrapped more flexibly because of new packaging technologies, including active packaging, intelligent packaging, and engineering science that have developed throughout time. To make ecologically friendly packaging, businesses employ biodegradable packaging components that may be recycled, revitalized, and reused. Additionally, fresh food packaging offers security, safety, and resistance to pathogens and microorganisms.
However, they effectively stop corrosion of pricey boiler equipment in many different sectors. Sulfites and bi-sulfites are the most often used in water treatment applications. These scavengers change the conductivity of the water by introducing dissolved particles. One of the key factors constraining the growth of the oxygen scavengers market is the requirement to remove this contamination from the system via blowdown to maintain proper boiler water chemistry.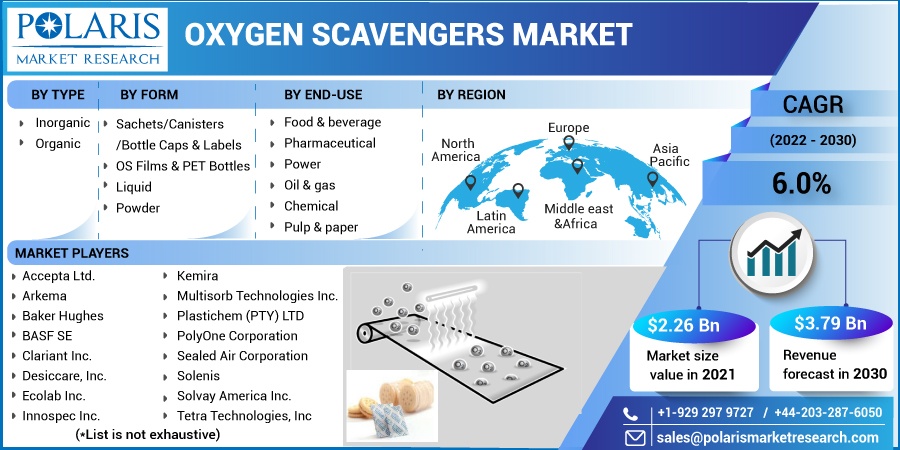 Know more about this report: Request for sample pages
Industry Dynamics
Growth Drivers
In the last few decades, the oxygen scavengers market has observed extensive developments supported by various factors, such as the rising market demand for packaged food and growing disposable incomes in emerging economies. Oxygen scavengers are commonly used in food and beverage packaging and pharmaceutical packaging to lower oxygen levels.
Oxygen scavengers prolong the shelf life of freshly manufactured foods while preserving their tastes, colors, smells, and nutritional content. Because of changing lifestyles, rising disposable incomes, and the convenience of packaged goods in general, consumers are choosing to buy more packaged food.
Additionally, IBEF claims that the direct cash transfer program has increased rural India's disposable income. By Fiscal Year 2021, total revenue in rural regions is projected to increase from around USD 572 billion to USD 1.8 trillion. India's rural disposable income is anticipated to rise by 4.4 percent to USD 631 per person by 2020.
Midland high-income customers in metropolitan areas have moved their purchasing habits from essential to premium products as their disposable incomes have increased. Premium brands are producing smaller packets of premium products. Dove soap, for example, comes in a 50g package.
Additionally, factors such as an increase in the working population, professionals remaining away from home, work-from-home efforts, and a rise in nuclear families are driving up packaged food demand, which in turn is driving up market demand for these scavengers.
Report Segmentation
The market is primarily segmented based on type, form, end-use, and region.
By Type

By Form

By End-Use

By Region

Sachets/Canisters/Bottle Caps & Labels
OS Films & PET Bottles
Liquid
Powder

Food & beverage
Pharmaceutical
Power
Oil & gas
Chemical
Pulp & paper
Others

North America (U.S., Canada)
Europe (France, Germany, UK, Italy, Spain, Netherlands, Austria)
Asia Pacific (Japan, China, India, Malaysia, Indonesia. South Korea)
Latin America (Brazil, Mexico, Argentina)
Middle East & Africa (Saudi Arabia, UAE, Israel, South Africa)
Know more about this report: Request for sample pages
Insight by End-Use
Based on the end-use segment, the food and beverage segment is expected to be the most significant revenue contributor in the global oxygen scavengers market in 2021 and is expected to retain its dominance in the foreseen period due to the increasing market demand for higher-quality packaged goods grows, as does the need for convenient meals, the reduction of food waste, and the urbanization of emerging nations.
Food items containing oxygen scavengers maintain their natural effectiveness and have a longer shelf life. They safeguard food safety, increase shelf life, increase customer acceptance, and shield food products from oxygen degradation. Consumers will receive products of greater quality with less need for preservatives due to using oxygen scavengers in packaging. Additionally, as economic levels rise and the middle-class demographic expands, the food & beverage sector is observing an upsurge in oxygen scavengers.
Geographic Overview
In terms of geography, North America had the largest share in 2021. The market for the North American region is anticipated to grow significantly due to the presence of significant players, and oxygen scavenger improves the product's durability.
For instance, In May 2021, Avient developed a new non-nylon scavenger that permits up to 100 percent recycled PET (rPET) content to be used. ColorMatrixAmosorb 4020R is the latest addition to the ColorMatrix additive range, which has been designed to assist plastic packaging recycling. This additive is also suitable with various rPET grades, allowing brand owners to meet their sustainability goals. Thus, the region's major players' presence and strategies drive industry growth during the forecast period.
Additionally, Asia Pacific is anticipated to see a significant CAGR throughout the projected timeframe. The expanding market demand for these scavengers from nations like China and India is responsible for this growth. The demand for packaged and simple-to-prepare meals is consistently increasing in the region's developing economies, including India, China, Indonesia, Malaysia, Singapore, Vietnam, and Thailand. Additionally, both scavenger usage and the desire for high-quality processed meals are fueled by expanding urbanization and population growth rates.
Competitive Insight
Some of the major players operating in the global market include Accepta Ltd., Angus Chemical Company, Arkema, Baker Hughes, BASF SE, Clariant Inc., Desiccare, Inc., Eastman Chemical Company, Ecolab Inc., Henkel AG & Co. KGaA, Innospec Inc., Kemira, Multisorb Technologies Inc., Plastichem (PTY) LTD, PolyOne Corporation, Sealed Air Corporation, Solenis, Solvay America Inc., SUEZ Water Technologies & Solutions, and Tetra Technologies, Inc.
Oxygen Scavengers Market Report Scope
| | |
| --- | --- |
| Report Attributes | Details |
| Market size value in 2021 | USD 2.26 billion |
| Revenue forecast in 2030 | USD 3.79 billion |
| CAGR | 6.0% from 2022 - 2030 |
| Base year | 2021 |
| Historical data | 2018 - 2020 |
| Forecast period | 2022 - 2030 |
| Quantitative units | Revenue in USD billion and CAGR from 2022 to 2030 |
| Segments covered | By Type, By Form, By End-Use, By Region |
| Regional scope | North America, Europe, Asia Pacific, Latin America, Middle East & Africa |
| Key Companies | Accepta Ltd., Angus Chemical Company, Arkema, Baker Hughes, BASF SE, Clariant Inc., Desiccare, Inc., Eastman Chemical Company, Ecolab Inc., Henkel AG & Co. KGaA, Innospec Inc., Kemira, Multisorb Technologies Inc., Plastichem (PTY) LTD, PolyOne Corporation, Sealed Air Corporation, Solenis, Solvay America Inc., SUEZ Water Technologies & Solutions, and Tetra Technologies, Inc. |