The global pancreatic cancer market was valued at USD 2.32 billion in 2021 and is expected to grow at a CAGR of 13.8% during the forecast period. The market is projected to develop as tobacco consumption and the number of smokers rises. Additionally, factors such as rising alcohol consumption, increasing rates of obesity, and a rise in awareness of the many treatment choices available are forecasting market expansion on a global scale.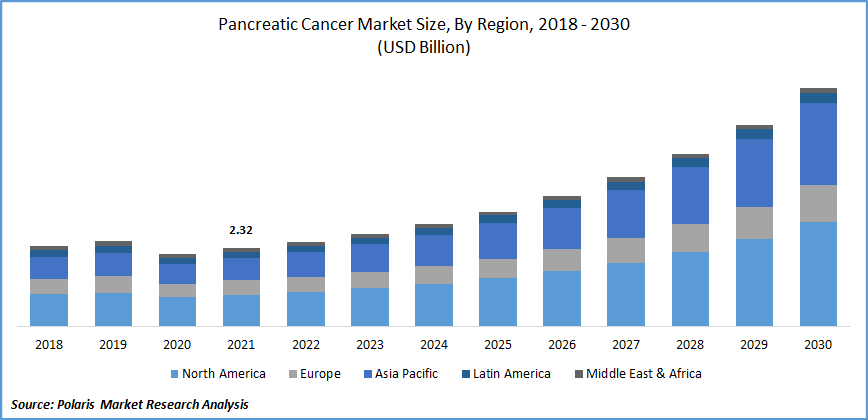 Know more about this report: Request for sample pages
Pancreatic cells start when aberrant cells in the pancreas proliferate and divide uncontrollably to create a tumor. The pancreas cannot function normally when malignancies are present. Men are more likely than women to develop this type of cancer and die from it. When cells grow abnormally, this cancer develops and causes symptoms, including abdominal pain, weight loss, diarrhea, jaundice, blood clots, etc. Smoking is the primary risk factor for pancreatic cancer. Pancreatitis, obesity, a family history of pancreatic cancer, and advanced age are other risk factors. The course of treatment varies on cancer's stage and location, as well as the patient's general health and preferences. Surgery, radiation, chemotherapy, or a mixture of these may be used as treatments. The doctor prescribes symptom alleviation when this cancer progresses, and these treatments are unlikely to be beneficial.
An important factor influencing the growth rate of the pancreatic cancer market is the rise in healthcare spending, which aids in developing the sector's infrastructure. According to the World Bank, the healthcare expenditure in North America in 2018 was 16.4%. According to the World Economic Forum, North America is one of the most vital regions that comprises around 28% of the world economy, which is one of the factors affecting the healthcare market. The US spends about 17.2% of its GDP on healthcare expenditure, and Canada spends around 10.6% of its GDP on healthcare. The market drivers will be further impacted by government organizations' efforts to strengthen the healthcare infrastructure by boosting funding.
The market's rise is anticipated to be aided by the growing geriatric population. The World Health Organization (WHO) projects that by 2050, there will be approximately 2 billion geriatric people globally, up from an estimated 524 million in 2010. Geriatrics are more likely to need pancreatic cancer therapy because of their weakened immune systems, which is also predicted to accelerate market expansion. Additionally, the market will grow due to increased attempts by public and private groups to raise awareness and developments in molecular biology.
The COVID-19 outbreak has hampered medical procedures all across the world. Numerous industries, including many areas of healthcare, have been forced to close their doors due to the sickness temporarily. As the current emphasis is on treating COVID-19 patients, pancreatic cancer treatment is one of the issues. The COVID-19 virus has hurt this market. Suppose the COVID-19 crisis continues to take up the lion's share of clinical time and resources: it is anticipated that there will be a large number of cancer patients who will experience disease progression. The decision to treat COVID-19 patients who are critically ill or patients who could undergo elective surgery for operable pancreatic cancer presents one of the biggest problems for medical practitioners.
Industry Dynamics
Growth Drivers
Consumption of red meat, processed meat, and meals high in saturated fats, alcohol, and fructose-containing foods and drinks may raise the chance of developing pancreatic cancer. Alcohol consumption is linked to an increased risk of acquiring serious noncommunicable diseases, including liver cirrhosis, several malignancies, and cardiovascular diseases as well as psychological and cognitive disorders, including excessive drinking. As per the WHO, Alcohol abuse causes 3 million deaths worldwide each year. 5.3% of all deaths were caused by this. Almost 13.5% of all adult deaths between the ages of 20 and 39 are related to drinking.
The market for pancreatic cancer will also develop due to rising tobacco use and smoking addiction. One of the biggest risk factors for this cancer is smoking. Smokers have a roughly doubled chance of developing pancreatic cancer compared to non-smokers. Smoking cigarettes is the root cause of about 25% of pancreatic cancers. The danger is also increased by using smokeless tobacco products and cigars. Thus, bad habits among people are the primary factor for pancreatic cancer, which has led to an increase in the demand for treatment bolstering the market growth over the forecast period.
Report Segmentation
The market is primarily segmented based on treatment type, diagnosis, cancer type, end-users, and region.
By Treatment Type

By Cancer Type

By Diagnosis

By End-Users

By Region

Chemotherapy
Targeted Therapy
Immunotherapy
Hormone Therapy
Others

Exocrine Cancer
Endocrine Cancer

Blood Test
Biopsy
Imaging Tests
Ultrasound
Computerized tomography (CT) scans
Magnetic resonance imaging (MRI)
Positron emission tomography (PET) scans
Others

Hospitals
Specialty Clinics
Homecare
Others

North America (U.S., Canada)
Europe (France, Germany, UK, Italy, Netherlands, Spain, Russia)
Asia Pacific (Japan, China, India, Malaysia, Indonesia. South Korea)
Latin America (Brazil, Mexico, Argentina)
Middle East & Africa (Saudi Arabia, UAE, Israel, South Africa)
Know more about this report: Request for sample pages
The chemotherapy segment is expected to witness the fastest growth
One of the main cancer therapies, chemotherapy, stops cancer cells from multiplying and developing, killing the cancer cells. These medications are systemic treatments that harm cancer cells all over the body by permeating the bloodstream. Unfortunately, chemotherapy can have negative side effects and harm some healthy cells. Pancreatic tumors may become smaller or even stop growing if chemotherapy is used. Gemcitabine (Gemzar), Oxaliplatin (Eloxatin), Capecitabine (Xeloda), Paclitaxel (Taxol), Docetaxel (Taxotere), Irinotecan liposome, and others are among the chemotherapy medications that treat pancreas.
In recent years, the chemotherapeutic medicines capecitabine and gemcitabine have occasionally been combined. Additionally, chemotherapy can be used alone or with surgery, radiation, targeted therapy, and/or immunotherapy. A modest dose of chemotherapy is often administered when combined with radiation. Fluorouracil (5-FU) and gemcitabine are the chemotherapeutic medicines most frequently used in combination with radiation therapy. Since there are fewer adverse effects and greater experience with 5-FU in combination with radiation, it is most frequently employed.
CT Scans segment industry accounted for the highest market share in 2021
The CT scan creates precise cross-sectional images of each body part. Because they can reasonably accurately depict the pancreas, CT scans are frequently used to diagnose pancreatic cancer. Additionally, they can assist in determining whether cancer has spread to nearby organs, lymph nodes, and distant organs. A CT scan can be used to assess if surgery might be a practical course of treatment. Additionally, a biopsy needle can be guided into a possible pancreatic tumor using CT imaging. However, if a needle biopsy is required, most medical professionals favor using endoscopic ultrasound to direct the needle into place.
The demand in North America is expected to witness significant growth
The North American region is dominating the market growth over the forecast period. Because of its high healthcare spending, favorable reimbursement policies, and increasing pancreatic cancer incidence, the United States is predicted to maintain a substantial market share. The market is driven by rising R&D in Cancer, a growing pool of geriatric population, and the high prevalence of this cancer across the region. According to Research America.Org, from 2017 to 2018, medical and health research & development (R&D) spending grew by 6.4%, reaching USD 194.2 billion.
The major factors driving the North American market include rising healthcare spending and the growing prevalence of pancreatic cancer across the region. For instance, as per the American Cancer Society, in the US, 62,210 individuals—32,970 men and 29,240 women—will receive a pancreatic cancer diagnosis. A total of 25,970 men and 23,860 women will pass away from this cancer in 2019. The changing lifestyle, such as the consumption of alcohol and tobacco, is a significant factor that increases the possibility of diseases such as cancer. Thereby resulting in driving the market for pancreatic cancer across the region.
Competitive Insight
Some of the major players operating in the global market include Amgen Incorporation, Bayer AG, Celgene Corporation, Clovis Oncology Incorporation, Eli Lilly and Company, F. Hoffmann-La Roche AG, GlaxoSmithKline plc, Midatech Pharma PLC, Novartis AG, OncoGenex Pharmaceuticals Inc., Oncolytics Biotech Incorporation, Polaris Pharmaceuticals, Inc., Pharmacyte Biotech Inc., Sun BioPharma, Inc., and Teva Pharmaceutical Industries Ltd.
Recent Developments
In November 2020, a new website dedicated to raising awareness of pancreatic cancer was launched, according to Olympus Corporation of the Americas. It contains data on signs and symptoms, risk factors, the value of testing for high-risk individuals, survivor testimonies, and a searchable data system of screening centers.
In December 2020, the drug Lynparza (Olaparib), produced by AstraZeneca and MSD, received approval in Japan for the therapy of advanced pancreatic, prostate, and ovarian malignancies.
Pancreatic Cancer Market Report Scope
| | |
| --- | --- |
| Report Attributes | Details |
| The market size value in 2021 | USD 2.32 billion |
| Revenue forecast in 2030 | USD 7.05 billion |
| CAGR | 13.8% from 2022 - 2030 |
| Base year | 2021 |
| Historical data | 2018 - 2020 |
| Forecast period | 2022 - 2030 |
| Quantitative units | Revenue in USD billion and CAGR from 2022 to 2030 |
| Segments Covered | By Treatment Type, By Diagnosis, By Cancer Type, By End-Users, By Region |
| Regional scope | North America, Europe, Asia Pacific, Latin America; Middle East & Africa |
| Key Companies | Amgen Incorporation, Bayer AG, Celgene Corporation, Clovis Oncology Incorporation, Eli Lilly and Company, F. Hoffmann-La Roche AG, GlaxoSmithKline plc, Midatech Pharma PLC, Novartis AG, OncoGenex Pharmaceuticals Inc., Oncolytics Biotech Incorporation, Polaris Pharmaceuticals, Inc., Pharmacyte Biotech Inc., Sun BioPharma, Inc., and Teva Pharmaceutical Industries Ltd. |