The global passenger information system market was valued at USD 23.88 billion in 2021 and is expected to grow at a CAGR of 11.90% during the forecast period.
The benefits of the passenger information system across transportation boost market growth over the forecast period. The customer experience while using public transportation services is significantly improved by using passenger information systems. It is primarily used to convey travel information, route information, entertainment, and emergency information to the passengers on board and in the station. To lessen the carbon footprint caused by using private transportation, government agencies worldwide are pushing the use of public transit. This has encouraged using cutting-edge technology in general information systems to enhance the traveling experience.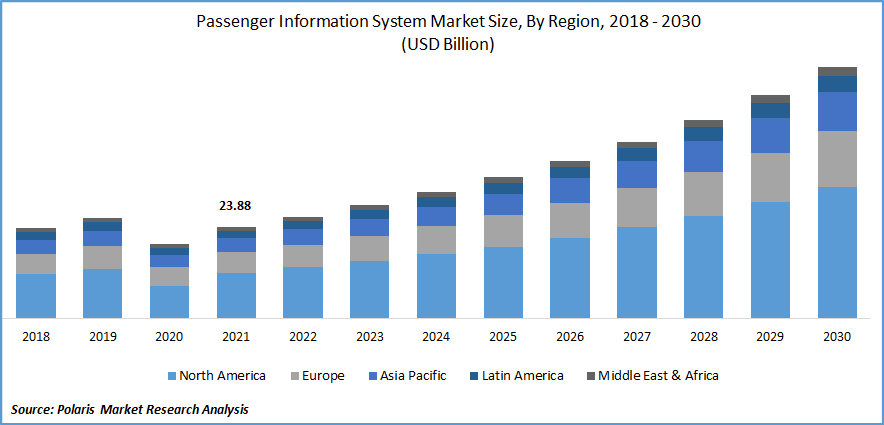 Know more about this report: Request for sample pages
A transport agency and passengers can communicate using a PIS. Additionally, it enables the delivery of information about timely announcements, trip schedules, and real-time vehicle position and status updates. The market is expected to grow due to improvements in the telecommunications industry that enable faster data transfer capabilities, rising IoT adoption in the transportation sector, rising urbanization coupled with increasing traffic in public transit, and rising demand for intelligent transportation systems. Managing passenger information, high implementation costs, and technical limitations are some challenges limiting market expansion.
Moreover, the passenger information system industry is increasing as a result of the rising demand for transit agencies to provide accurate and reliable real-time transit information to passengers. A spike in IoT usage in the transportation industry, faster data transfer capabilities enabled by improvements in the telecommunications sector, and rising demand for intelligent transportation systems are the main drivers of the market's expansion.
The operations in the transportation industry have been considerably hampered by the COVID-19 epidemic, although the government, IT, and telecom sectors have only been mildly affected. Lockdowns have been imposed in numerous areas since the covid-19 pandemic broke out. There was a sharp decline in the number of passengers on public transportation. Innumerable airports, shopping centers, and venues for general entertainment were closed. The sporting events, concerts, and expos were postponed or canceled. Public transportation only operated at less than 50% of its capacity when lockdown measures were first specified since it was necessary to practice physical distance. An economic catastrophe is developing as the government tries to control the COVID-19 outbreak. The final economic revival will depend on the restart of the aviation industry and the opening of borders. Since the pandemic outbreak, the use of public transportation has almost always ceased, which has caused the market to contract.
Know more about this report: Request for sample pages
Industry Dynamics
Growth Drivers
Security issues in public transportation systems are rising continuously, making it vital for security authorities to manage and control people in public transportation. Avoid dangerous circumstances in congested locations; this has increased the adoption of PIS, driving the market's expansion. Additionally, this system includes counter plans to determine whether the permitted number of passengers or travelers has been surpassed and assists in estimating the number of persons passing through that region. These systems also have a wide range of potential uses in video analytics and monitoring for public transportation buses, trains, and airports.
The upper amount or capacity of each vehicle is specified by laws adopted by governments of various nations. However, to verify that the rules are being obeyed, the deployment of PIS is necessary to avoid infringing the law. Additionally, it can swiftly and precisely pinpoint the position of vehicles in emergencies like bomb threats, hijackings, and attacks. Because customer display systems are an essential component of passenger information systems, the need for passenger information systems is being driven by the rise in security concerns in public transit mediums.
Report Segmentation
The market is primarily segmented based on component, location, transportation, functional mode, and region.
By Component

By Location

By Transportation Mode

By Functional Mode

By Region

Solution

Display Systems
Announcement Systems
Emergency Communication Systems
Mobile Applications
Infotainment Systems
Others

Services

Consulting
Deployment and Integration
Support and Maintainance

Railways
Roadways
Airway
Waterways

Multimedia Displays
Audio Systems
Computing Systems
Networking and Communication Devices
Video Surveillance
Content Management Systems
Other Functional Mode

North America (U.S., Canada)
Europe (France, Germany, UK, Italy, Netherlands, Spain, Russia)
Asia Pacific (Japan, China, India, Malaysia, Indonesia, South Korea)
Latin America (Brazil, Mexico, Argentina)
Middle East & Africa (Saudi Arabia, UAE, Israel, South Africa)
Know more about this report: Request for sample pages
The solution segment is expected to witness the fastest growth.
Equipment like entertainment, communication, connectivity, sensors, and routers are included in the solution sector. The systems allow users to directly or remotely access information inside a moving vehicle via web browsers or mobile applications. The PIS system uses a variety of audio and visual elements and wireless connections, including Wi-Fi/LTE, to gather and distribute updated real-time information. These gadgets are compelling and strong enough to survive harsh circumstances.
In Station segment is anticipated to grow significantly over the forecast period.
This segment is gaining more traction due to the growing need to display real-time information across stations and airports. PIS is used to display the relevant information for passengers. Many PIS vendors are trying to improve their products to fulfill passengers' requests. They offer content like news & entertainment with safety & emergency announcements.
The Airway segment is expected to hold a significant revenue share.
Adopting the newest and most sophisticated passenger information increasing availability enables airports and airlines to improve operational efficiency and smooth customer experiences when digital flight information displays are continuously updated and functioning. The demand for passenger information systems has been driven by factors including more excellent promotion of tourism, an increase in per capita income, and the advent of new airline business models. All system-integrated display units in airports are supervised by an intelligent passenger and freight display system.
In addition, there are market opportunities presented by newly emerging trends of targeted marketing through the presentation of content on infotainment systems, such as information on store locations and discounts on airports, which increases non-aeronautical profits for airports.
The demand in North America is expected to witness significant growth.
The construction of new railroad projects using cutting-edge transportation systems and increased demand for real-time vehicle tracking information drive North America's market growth. Additionally, the expansion of the railway transit sector has been aided by end users' growing understanding of the advantages of sophisticated passenger display information systems over older systems.
This increased awareness is projected to fuel the growth of the passenger information system market. Due to the region's robust network connectivity, the large-scale adoption of passenger information display systems and services in the transportation sector supports market expansion. Numerous causes, including increased domestic travel by Americans, foreign visitors arriving by plane, and a steady rise in government support for the transportation industry, are anticipated to propel the market's growth.
Europe is the second largest region. Mass transit is increasingly necessary for Europe due to the European Commission's strong encouragement of using it as a variety of means of transportation. Additionally, the increase in air travelers in Europe is increasing demand for passenger display systems, driving the market's expansion.
The Asia-Pacific area is anticipated to grow due to population growth, urbanization, and economic progress. Additionally, a rise in the demand to escape traffic congestion and a rise in connectivity penetration contribute to the market growth in the area. Furthermore, due to the implementation of the most recent technological advancements for providing simple and convenient transportation for passengers, new emerging railway construction in Japan, India, and China are boosting the growth of this industry.
Competitive Insight
Some of the major players operating in the global market include Advantech, Alstom Corp., Cubic Plc, Cisco Systems, Dysten Corp., Eke-Electronics Inc., Hitachi Limited, Huawei Technology, Icon Multimedia, Lunetta Software Ltd., Lot Group, Mitsubishi Electric, Medna Servo Drives, Passio Technologies, Quester Tangent., Siemens AG, ST Engineering, Thales Group, Teleste Corp., and Televic Inc.
Recent Developments
In June 2021, Urban Rail Light Cloud, 5th generation LTE-R, and 5G enabled "Digital Indoor System (DIS)" solutions were introduced by Huawei Technologies. These technologies provide broadband connectivity and connected railways, enabling rail operators to create smarter, safer, and more effective rail transportation networks.
Passenger Information System Market Report Scope
| | |
| --- | --- |
| Report Attributes | Details |
| Market size value in 2022 | USD 26.52 billion |
| Revenue forecast in 2030 | USD 65.21 billion |
| CAGR | 11.90% from 2022 - 2030 |
| Base year | 2021 |
| Historical data | 2018 - 2020 |
| Forecast period | 2022 - 2030 |
| Quantitative units | Revenue in USD billion and CAGR from 2022 to 2030 |
| Segments Covered | By Component, By Location, By Transportation Mode, By Functional Mode, By Region |
| Regional scope | North America, Europe, Asia Pacific, Latin America; Middle East & Africa |
| Key Companies | Advantech Inc., Alstom Corp., Cubic Plc, Cisco Systems Incorporation, Dysten Corp., Efftronics Incorporation, Eke-Electronics Inc., Hitachi Limited, Huawei Technology Company Limited, Icon Multimedia, Lunetta Software Pvt. Ltd. Lot Group, Mitsubishi Electric Ltd., Medna Servo Drives Corp., Passio Technologies Inc., Quester Tangent Incorp., Siemens AG, ST Engineering Inc., Thales Group PLC, Teleste Corp., and Televic Inc. |