The global pea starch market size was valued at USD 87.6 million in 2020 and is expected to grow at a CAGR of 7.2% during the forecast period. The significant rise in demand for convenience food across the globe is expected to fuel the growth of this market. Pea Starch is also increasingly being used in pet food and animal feed owing to its health benefits.
Growth in disposable income coupled with increasing middle-class aspirational spending has increased the demand for cosmetics, especially in emerging economies, fueling the market growth for pea starch. The increasing population, sedentary lifestyle of consumers and rising application in the textile industry further drive the market growth for pea starch.
Consumption of food products with a large number of carbohydrates including sugars and starches contributes significantly to health problems such as diabetes and cardiovascular diseases. Increasing awareness regarding healthy living has encouraged consumers to shift towards nutritional and plant-based products, thereby increasing the market demand for pea starch.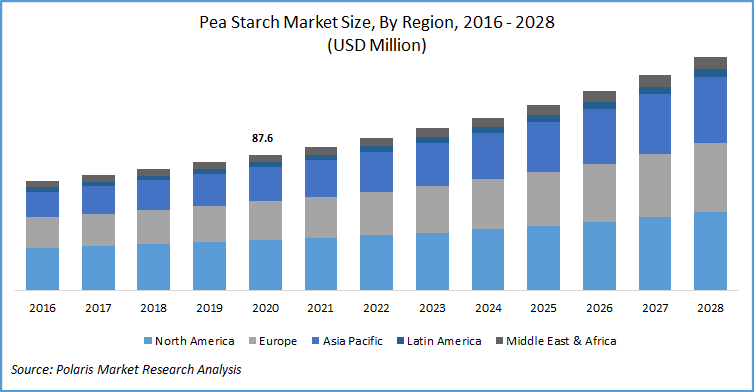 Know more about this report: Request for sample pages
Industry Dynamics
Growth Drivers
Market players are introducing food products with lower calories and additional health benefits to cater to the growing consumer demands. Pea starch is also used in meat products containing poultry, ham, and pork for improved texture and tenderness. It forms a major component in canned goods and a wide range of bakery products. Pea starch acts as a thickener in soups and sauces and provides gelling properties in dairy products such as custard and mousse.
Some other applications of pea starch include sports nutrition and shakes, clean labeling in the food industry, gluten-free food, and use as raw material in biodegradable packaging. Pea starch is taste-neutral and offers high resistance to acid and heat treatment. Market players are introducing pea starch-based products for consumers involved in sports and active lifestyles. In December 2019, Roquette Frères introduced Roquette pea starch LN 30, which is available in powder shake and snack bar options to cater to active nutrition applications.
There has been an increasing demand for pea starch for the production of ethanol. Ethanol production using pea starch results in reduced environmental footprint and greenhouse gas emissions. Peas do not require nitrogen fertilizers leading to a significant decrease in carbon emissions, acidification, and eutrophication. Additionally, products from pea starch-based ethanol production can be used as animal feed.
The rising demand from the animal feed industry and growing demand from emerging economies such as China, Japan, and India also drive the growth of this market. New product launches and acquisitions by leading players in the market coupled with technological advancements are expected to offer numerous growth opportunities during the forecast period.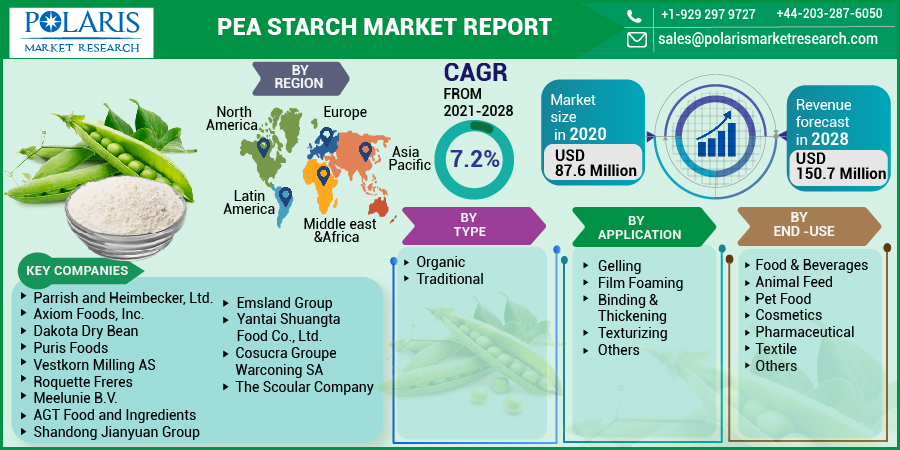 Know more about this report: Request for sample pages
Pea Starch Market Report Scope
The market is primarily segmented on the basis of type, application, end-use, and region.
By Type

By Application

By End-Use

By Region

Gelling
Film Foaming
Binding & Thickening
Texturizing
Others

Food & Beverages
Animal Feed
Pet Food
Cosmetics
Pharmaceutical
Textile
Others

North America (U.S., Canada)
Europe (Germany, UK, France, Italy, Spain, RoE)
Asia Pacific (China, India, Japan, South Korea, RoAPAC)
Latin America (Brazil, Mexico, Columbia, RoLATAM)
Middle East & Africa (Saudi Arabia, South Africa, Israel, UAE, RoMEA)
Know more about this report: request for sample pages
Type Outlook
On the basis of type, the market is segmented into organic and traditional. The demand for organic pea starch is expected to increase during the forecast period owing to increasing consumer concerns regarding chemicals, pesticides, hormones, or genetically modified products. Organic pea starch, free from artificial food additives such as preservatives, artificial flavors, sweeteners, and colors, is being offered by market players to cater to growing consumer demand.
Application Outlook
On the basis of application, the market is segmented into gelling, film foaming, binding and thickening, texturizing, and others. In 2020, the gelling segment accounted for the highest market share. Pea starch is used as a gelling agent in a wide range of products such as desserts, puddings, and syrups.
Pea starch is capable of forming a gel in water owing to its high amylose content, increasing its demand in the production of food products requiring elastic texture. Pea starch also exhibits greater stability at high temperatures and under various pH levels.
End-Use Outlook
The end-use segment has been bifurcated into food and beverages, animal feed, pet food, cosmetics, pharmaceutical, textile, and others. The demand from the food & beverages segments is expected to increase during the forecast period. Increasing use in meat products for enhanced texture and feel along with growing application in soups and sauces as a thickener supports the growth of this segment.
The sedentary lifestyle of consumers is encouraging them to consume convenience food and meal replacements, thereby boosting the market growth. Increasing disposable incomes in developing countries, and rising awareness associated with the health benefits of pea starch further foster the market growth.
Geographic Overview
North America dominated the global pea starch market in 2020. Increasing urbanization, growing consumption of convenience food, shifting trends towards nutrition and wellness, and increasing demand for plant-based ingredients are some factors attributing to the growth of this regional segment.
With the growing geriatric population and increase in child obesity, the demand for plant-based food products has increased significantly. Companies operating in the region are developing customized nutrition products for specific demographics such as children and the aging population. The high disposable income of consumers and increasing application in pet food also drive the market growth in this region.
Competitive Landscape
The leading players in the Pea Starch market include Parrish and Heimbecker, Ltd., Axiom Foods, Inc., Dakota Dry Bean, Puris Foods, Vestkorn Milling AS, Roquette Freres, Meelunie B.V., AGT Food and Ingredients, Shandong Jianyuan Group, Emsland Group, Yantai Shuangta Food Co., Ltd., Cosucra Groupe Warconing SA, Felleskjøpet Rogaland Agder, and The Scoular Company.
These players are expanding their presence across various geographies and entering new markets in developing regions to expand their customer base and strengthen placement in the market. The companies are also introducing new innovative products in the market to cater to the growing consumer demands.