The global personal protective equipment market was valued at USD 77.24 billion in 2020 and is expected to grow at a CAGR of 6.2% during the forecast period. Growing awareness regarding safety hygiene to avoid transmission of diseases in the healthcare sector is predicted to drive the market demand for personal protective equipment (PPE).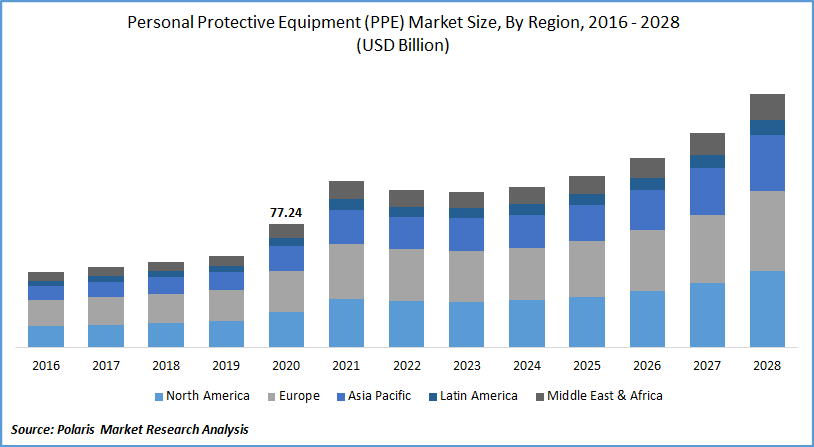 Know more about this report: request for sample pages
Personal protective equipment (PPE) helps in protection from injuries and infections. It also aids in protection from several hazards including electrical, chemicals, airborne particulate matter, physical, heat, and biohazards. Personal protective equipment includes gloves, coat, helmet, goggle, and any other protecting clothing designed to forbid the contact of an on-site worker with any hazardous element.
Due to the COVID-19 pandemic, the World Health Organization (WHO) has suggested numerous governments and personal protective equipment (PPE) manufacturers double their production and prioritizing their orders to countries with a high demand supply gap.
Various countries implemented stringent acts due to the Covid-19 pandemic, such as the Families First Coronavirus Response Act by the U.S. for protecting public health workers, providing paid leaves, establishing free testing, and important benefits to children and families, in 2020 to control the spread.
The companies in Asian countries which are operating in textile market have shifted their clothing manufacturing plants to personal protective equipment manufacturing plants after the outbreak of the COVID-19 to reduce the demand-supply gap. China is the largest exporter of personal protective equipment, such as goggles, masks, gloves, and gowns.
The lack of awareness among the consumers about workplace hazards along with the sale of substandard, inexpensive, and low-grade products is projected to hamper the market growth for personal protective equipment. Besides this, the threat from inferior quality, duplicate, and substitute products may also hinder the growth in the forecast period.
Positive directives and guidelines issued by WHO and FDA regarding product manufacturing, processing, packaging, and handling should upsurge the personal protective equipment market value in pharmaceutical applications. Additionally, increasing research and development to develop vaccines and medicines in the pharmaceutical sector will expect to drive personal protective equipment demand.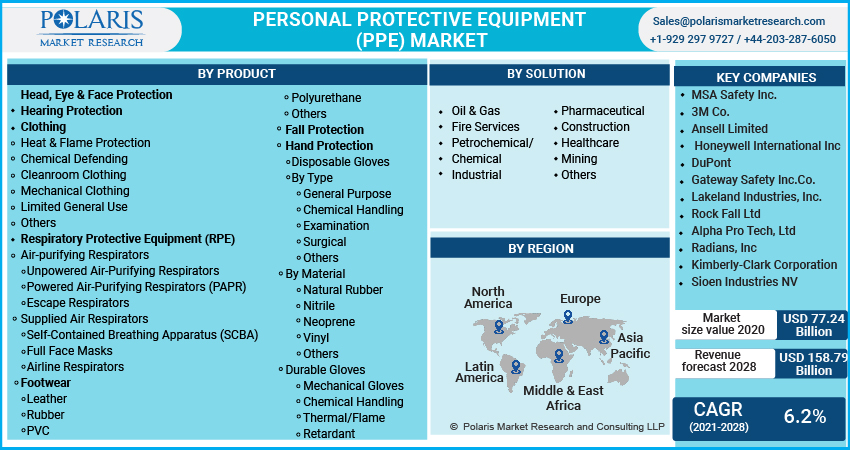 Know more about this report: request for sample pages
Personal Protective Equipment (PPE) Market Report Scope
The global personal protective equipment market can be segmented on the basis of product, end-use, and region.
By Product

By End-Use

By Region

Head, Eye & Face Protection
Hearing Protection
Clothing

Heat & Flame Protection
Chemical Defending
Cleanroom Clothing
Mechanical Clothing
Limited General Use
Others

Respiratory Protective Equipment (RPE)

Air-purifying Respirators

Unpowered Air-Purifying Respirators
Powered Air-Purifying Respirators (PAPR)
Escape Respirators

Supplied Air Respirators

Self-Contained Breathing Apparatus (SCBA)
Full Face Masks
Airline Respirators

Footwear

Leather
Rubber
PVC
Polyurethane
Others

Fall Protection
Hand Protection

Disposable Gloves

By Type

General Purpose
Chemical Handling
Examination
Surgical
Others

By Material

Natural Rubber
Nitrile
Neoprene
Vinyl
Others

Durable Gloves

Mechanical Gloves
Chemical Handling
Thermal/Flame Retardant
Others

Others

Oil & Gas
Fire Services
Petrochemical/Chemical
Industrial
Pharmaceutical
Construction
Healthcare
Mining
Others

North America (U.S., Canada)
Europe (France, Germany, UK, Italy, Spain, Russia)
Asia Pacific (China, India, Indonesia, Australia, South Korea, Thailand, Malaysia)
Middle East & Africa (South Africa, UAE, Saudi Arabia, Israel)
Latin America (Brazil, Argentina, Mexico)
Know more about this report: request for sample pages
Insights by Product
Based on product the personal protective equipment market is further divided into head protection, eye & face protection, clothing, hearing protection, respiratory protection, hand protection, footwear, fall protection, and others.
The hand protection product segment in the personal protective equipment (PPE) industry is expected to hold the largest market share during the projected period. Risks related to holding warm objects and corrosive chemicals are expected to fuel the demand for gloves in healthcare, food processing, construction, oil & gas, and metal manufacturing industries.
Clothing, including mechanical clothing, heat and flame protection, and chemical defending is expected to be the second-largest product segment during the forecast period owing to the high-performance elements of these products that will drive their market demand in various end-use industries.
The RPE defends employees against hazardous chemical agents, gases, vapors, and, biological contaminants. Growing demand for respirators, primarily from the healthcare, mining, petrochemical, cement, oil & gas, construction, and coal sectors, is projected to drive the market segment growth over the forecast period.
Insights by End-Use
Based on end-users the personal protective equipment market is segmented into construction, manufacturing, chemical, oil & gas, transportation, food, pharmaceutical, and others. The healthcare user segment is expected to dominate the segment over the forecast period due to the rapid spread of coronavirus.
The rising petrochemical and oil & gas industry in India, China, Saudi Arabia, and UAE is projected to drive product demand in this segment. Various processes in the industry, such as cutting, weighing, mixing, cleaning, warehousing, and dispensing can pose serious risks which drive the market demand in the sector.
Insights by Region
Based on region, the market is divided into North America, Asia Pacific, Europe, Middle East & Africa, and Latin America. North America is expected to dominate the market during the forecast period due to the strict regulatory framework in the region which helps to increase demand for personal protective equipment from all the industries.
The Asia Pacific is predicted to be the fastest-growing market over the forecast period. Countries like India, Indonesia, and China are the leading manufacturing center and many other countries are approaching these countries to fill their production needs.
The stable progress of the chemical industry in Malaysia and the growing penetration of personal protective equipment in this industry owing to the growing awareness about employee safety is anticipated to drive the market during the forecast period.
Competitive Insights
Key market players operating in the personal protective equipment industry include MSA Safety Inc., 3M Co., Ansell Limited, Honeywell International Inc., DuPont, Gateway Safety Inc., Co., Lakeland Industries, Inc., Rock Fall Ltd, Alpha Pro Tech, Ltd., Radians, Inc, Kimberly-Clark Corporation, and Sioen Industries NV, among others.