The global popcorn market was estimated at USD 6.17 billion in 2022 and is projected to grow at a CAGR of 11.0% during the forecast period.
The availability of a broad variety of inventive flavors and the rising knowledge of immunity enhancement are two factors that are anticipated to affect the global market positively. Over the past few years, customers have been encouraged to purchase food goods due to changing lifestyles. There is a growing trend toward the combination of morsels and caramel candy on the market. Businesses are reportedly selling small packs of caramel-coated popcorn under the deceptive name of "sweet snack." Companies are now clinging to high-quality requirements by including ingredients and packaging formats due to the growing market trend of ingredient clarity and traceability.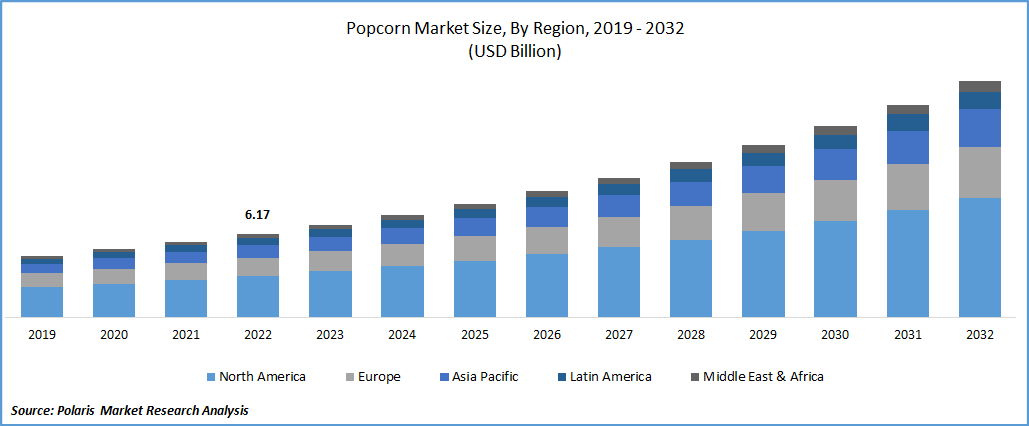 Know more about this report: Request for sample pages
The most common foods eaten around the world in movie theatres, carnivals, & stadiums are popcorn. It is simple to prepare and can be eaten as a ready-made snack or made at home. Popcorn is a preferred household food because it has a rich supply of nutrients such as proteins, antioxidants, fiber, & vitamin B complex. It is also a preferred alternative to breakfast and dinner.
Popcorn is a type of corn (maize) whose kernels expand into big, fluffy heaps when heated or microwaved. Roughly 25 different forms of Zea mays can be used to make popping corn. The two most conventional varieties are rice popcorn and pearl popcorn. Rice popcorn has grains pointed at the base and the apex, while pearl popcorn has rounded and compact grains. An exceptionally thick hull and dense outer endosperm surround a mound of moist, starchy, white endosperm in a popcorn kernel, and 13.5% of the moisture is optimum.
The lockdown situation caused by the COVID-19 pandemic has increased the consumption of popcorn at home as a snack and party food. During the lockdown, citizens were encouraged to consume healthier food products, including popcorn, as a healthy snack. It is increasingly served during home celebrations such as birthdays and family reunions.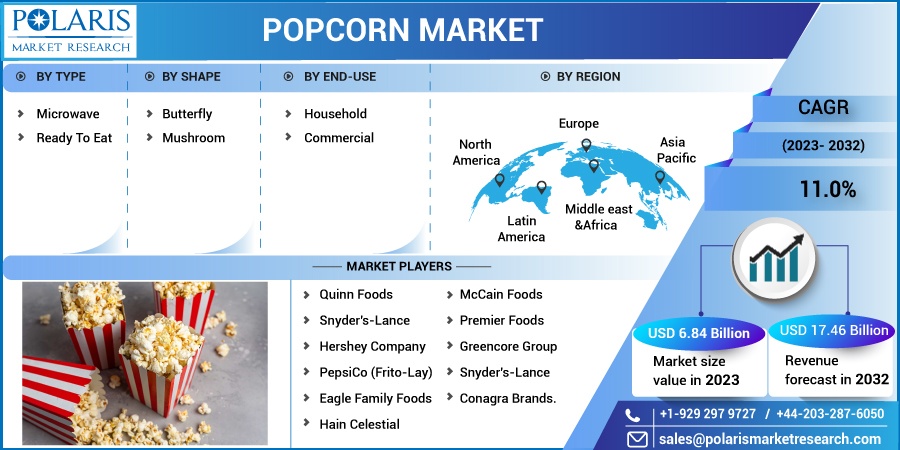 Know more about this report: Request for sample pages
Industry Dynamics
Growth Drivers
People are more likely to choose quick and ready-to-eat convenience foods than traditional meals due to their hectic lifestyles. Additionally, as people's awareness of health issues grows, it has dramatically altered their eating patterns and forced them to eat more healthfully. Popcorn fits the bill for instant, practical, and healthy foods in addition to being a well-liked snack.
The corn kernels are heated in a kettle, saucepan, or stove while mixed with butter or vegetable oil. It is well-liked in homes as a wholesome substitute for breakfast and meals. The development of microwave popcorn is mostly driving the demand for microwaveable popcorn. Additional factors contributing to the popcorn sector's expansion include rising disposable income, the desire to live a normal life, and lifestyle changes.
AMC, in November 2021 that it would launch five popcorn shops, counters, or kiosks in American shopping centers in the first half of 2022. This comprises the kiosks in a few chosen retail spaces throughout the country's malls. During the first half of 2022, the movie theatre chain plans to open five AMC Theatres, Perfectly Popcorn shops, counters, and kiosks in malls. By 2023, it also intends to launch 15 retail locations. AMC also intends to provide microwaveable, packed, and ready-to-pop popcorn to supermarkets and convenience stores nationwide.
Report Segmentation
The market is primarily segmented based on type, shape, end-user, and region.
By Type

By Shape

By End-User

By Region

North America (U.S., Canada)
Europe (France, Germany, UK, Italy, Netherlands, Spain, Russia)
Asia Pacific (Japan, China, India, Malaysia, Indonesia. South Korea)
Latin America (Brazil, Mexico, Argentina)
Middle East & Africa (Saudi Arabia, U.A.E., Israel, South Africa)
Know more about this report: Request for sample pages
The Ready To Eat segment is expected to witness the largest growth.
In 2022, the ready-to-eat segment was anticipated to increase throughout the projected period. The segment with the largest market share is predicted to dominate during the projection period: ready-to-eat popcorn. The popcorn market for ready-to-eat popcorn is being driven by consumers who value convenience over price due to rising disposable income.
The increasing demand for ready-to-eat popcorn is linked to consistent product innovation and development, which draws customers. For instance, the popularity of the sea salt flavor is growing, and PepsiCo, Inc. is capitalizing on this trend by selling Smartfood Delight Sea Salt Popcorn. Expanding commercial spaces like stadiums, theatres, and multiplexes in developed and developing regions also helps fuel the need for ready-to-eat popcorn.
Butterfly accounted for the significant market share in 2022
The Butterfly segment accounted will be the most critical market in 2022. This was attributable to the expansion of butterfly popcorn production and consumption worldwide. Popcorn with a butterfly shape is widely available in commercial settings, which leads to widespread consumption. This is explained by the fact that butterfly popcorn is now more widely available and consumed. Popcorn with a butterfly shape is more common in commercial settings and is also quite popular worldwide. They are well-known for their airy, light texture and capacity to retain flavors and toppings.
The Commercial segment is expected to witness the fastest growth
In 2022, commercial segment dominated the market and was projected to maintain throughout the forecast period due to the rising commercial locations such as theatres, multiplexes, and stadiums. In addition, it is anticipated that the commercial popcorn industry will expand due to the rising demand for popcorn as an on-the-go snack & its availability in several flavors. Due to the numerous advantages of the products, people are choosing relatively healthy snacks like popcorn more and more, which will lead to market growth in the upcoming years.
The demand in North America is expected to witness significant growth
During the forecast period, North America holds the global market share due to the presence of the world's greatest corn market in the region. Consumer awareness regarding healthy snacking & rapidly growing ready-to-eat food industry. Increased popcorn consumption at multiplexes is one of the elements propelling growth in the region.
This is a result of the increased popcorn consumption brought on by the health benefits of microwave popcorn. Additionally, advances are producing goods that are more practical for people due to devices like popcorn makers. Manufacturers are reviving their product portfolios by offering a clean-label ingredient version of the product range through existing brands or new releases to capture a larger portion of the market.
However, the Asia Pacific is the largest revenue share market primarily due to the region's expanding industrial base. Additionally, increased disposable income and the growing popularity of eating snacks like popcorn in theatres, public spaces, and during events will likely encourage the region's growth. This is another element driving future market expansion for popcorn.
Competitive Insight
Global players include Quinn Foods, Snyder's-Lance, Hershey Company, PepsiCo (Frito-Lay), Eagle Family Foods, Hain Celestial, McCain Foods, Premier Foods, Greencore Group, Snyder's-Lance, Conagra Brands, and others.
Recent Developments
In June 2022, introduced a limited-edition Opopop Pickle Monster taste is distinct and powerful, with the right amount of dill, spice, and saltiness. The limited-edition Pickle Monster flavor from "Opopop" has the appropriate balance of saltiness, acidity, and dill. These 320 g bags of Pickle Monster will yield roughly 4 servings of popcorn.
In January 2021, PepsiCo's Frito-Lay introduced a gourmet popcorn snack with Cheetos "Cheetle" spice. For a suggested retail price of USD 3.9, the ready-to-eat popcorn is offered in Cheddar & Flamin' Hot flavors.
Popcorn Market Report Scope
| | |
| --- | --- |
| Report Attributes | Details |
| Market size value in 2023 | USD 6.84 billion |
| Revenue forecast in 2032 | USD 17.46 billion |
| CAGR | 11.0% from 2023 – 2032 |
| Base year | 2022 |
| Historical data | 2019 – 2021 |
| Forecast period | 2023 – 2032 |
| Quantitative units | Revenue in USD billion and CAGR from 2023 to 2032 |
| Segments Covered | By Type, By Shape, By End Use, and By Region |
| Regional scope | North America, Europe, Asia Pacific, Latin America; Middle East & Africa |
| Key Companies | Quinn Foods, Snyder's-Lance, Hershey Company, PepsiCo (Frito-Lay), Eagle Family Foods, Hain Celestial, McCain Foods, Premier Foods, Greencore Group, Snyder's-Lance, Conagra Brands. |