The protein expression market was valued at USD 2.69 billion in 2021 and is expected to grow at a CAGR of 13.1% during the forecast period. The development of the life science and biopharmaceutical industries, a rise in the emphasis on recombinant-based protein expression, and the availability of investment for protein research are some significant factors that have contributed to the market's progress.

Know more about this report: Request for sample pages
Microfluidics technology measures protein expression in cells, optimizing the output to produce data on protein expression. Microfluidic technology advancements have offered reliable approaches for analyzing and assessing both tumorous and non-tumorous cells. This technology has anticipated offering considerable growth opportunities for market participants during the forecast period.
The growing use of biologicals and genetic engineering, rising opportunities in proteomics, and increasing R&D intensity of protein research in the modern medicine industry create lucrative opportunities for this market.
However, equipment built on protein expression methods is similarly pricey. This is a significant barrier to using protein expression systems and tools in industrial and scientific applications. Also, some stringent regulatory approvals are the major obstacles to the protein expression market.
Covid-19 has positively influenced the protein expression market. The healthcare sector saw a considerable transformation during the pandemic. The pharmaceutical, biotechnology, and medical device industries saw both the good and bad effects of the pandemic. Scientists were utilizing synthetic biology to create new diagnostics, vaccines, and treatments for COVID-19 patients as the world continued to suffer from its impacts, focusing primarily on protein expression systems.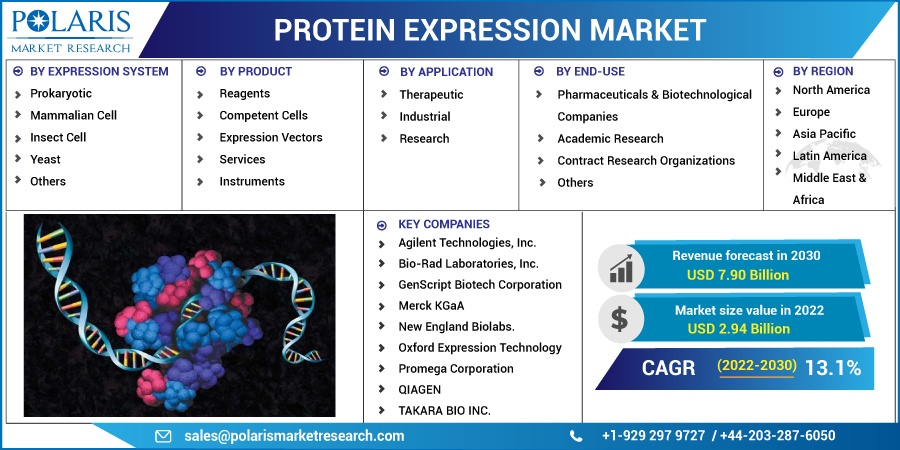 Know more about this report: Request for sample pages
Industry Dynamics
Growth Drivers
The increasing prevalence of chronic disorders such as cancer, heart stroke, diabetes, arthritis, and others has driven the protein expression market growth. These diseases are treated with biologics which include vaccines, blood components, and therapeutic proteins. Thus, rising demand for protein biologics is driving the market growth.
Additionally, growing research activity in the field of proteomics and biotechnology helps to expand the market. Rising initiatives by academic institutions for innovative development in protein therapeutics have offered lucrative growth opportunities to the Asia Pacific market throughout the forecast period.
Biotechnology offers molecular diagnostic tests and imaging agents for identifying various health issues, from high LDL cholesterol to drug-resistant HIV strains. The growing demand for protein biologics is increasing the use of protein expression products and services, which is anticipated to drive the market's growth.
Recombinant proteins are developed for a variety of uses in both industrial and laboratory applications. Among them, therapeutic applications have grown and developed into a mature field in recent years, changing the face of modern medical treatment. This, in turn, has increased the demand for novel technologies for the description, expression, and purification of recombinant protein, resulting in growth in the life science and biopharmaceutical industries, which is expected to accelerate the market's growth.
Report Segmentation
The market is primarily segmented based on, expression system, product, application, end-use, and region.
By Expression System

By Product

By Application

By End-Use

By Region

Prokaryotic
Mammalian Cell
Insect Cell
Yeast
Others

Reagents
Competent Cells
Expression Vectors
Services
Instruments

Therapeutic
Industrial
Research

Pharmaceuticals & Biotechnological Companies
Academic Research
Contract Research Organizations
Others

North America (U.S., Canada)
Europe (France, Germany, UK, Italy, Netherlands, Spain, Russia)
Asia Pacific (Japan, China, India, Malaysia, Indonesia, South Korea)
Latin America (Brazil, Mexico, Argentina)
Middle East & Africa (Saudi Arabia, UAE, Israel, South Africa)
Know more about this report: Request for sample pages
Prokaryotic expression system dominates the market
The prokaryotic expression system leads the market amongst other expression systems. It offers large-scale recombinant protein production in a short time and at a lower cost. It is easier to handle and fulfill the major purpose of research.
The mammalian cell expression system is expected to grow fastest over the forecast period as these cells can express large and complex recombinant proteins. Many companies work with mammalian cell expression systems to develop and produce proteins transiently.
Reagents segment is expected to hold the largest market share in 2021
The reagents segment is supposed to account for the largest market share in 2021 as, to meet the unique requirements of transfection and enhance cell culture conditions, companies provide a wide selection of transfection reagents. For instance, Merck offers a ProteoJuice protein transfection reagent for the transfection of intact functional proteins and peptides into mammalian cells with minimal toxicity and broad cell specificity.
The service segment is expected to grow fastest during the forecast period as several providers offer protein expression and production choices. By outsourcing this application, researchers can save time and effort and access technical expertise and tools for creating and manufacturing numerous useful proteins. Such services can provide researchers with the benefits of a complete workflow that starts with a specific gene and ends with the purified protein, in addition to various protein expression system alternatives.
For instance, Sino Biological provides complete services from gene cloning and synthesis to protein characterization. Similarly, Sino Biological offers Baculovirus-Insect Cell Expression service with various applications, including less expensive, easily scalable, useful for large protein targets, and suitable for challenging targets such as kinases and toxic proteins.
Therapeutic segment dominates the market
The therapeutics segment leads the market due to its several benefits over alternative medicines. Therapeutic proteins are used for treating diseases in millions of individuals. Protein therapeutics are customizable, resulting in a more effective line of treatment and a low probability of side effects. Recombinant proteins used as therapeutics, vaccines, and diagnostic tools are now possible due to recent advancements in recombinant DNA technologies.
The industrial synthesis of recombinant proteins essential for therapeutic and preventative purposes depends on developing effective bioprocessing techniques. Recent developments in the numerous domains of bioprocessing are being used to provide efficient methods for creating recombinant proteins.
Therapeutic protein-induced antidrug antibodies can change drug pharmacodynamics and pharmacokinetics, resulting in decreased efficacy and, in exceptional cases, major safety concerns. A recent study described a method to reduce this risk by evaluating the therapeutic protein immunogenicity risk, emphasizing assays and in vivo models.
Pharmaceuticals and biotechnological companies account largest market revenue
Pharmaceuticals and biotechnological companies acquired the largest market share in 2021 due to the widespread utilization of cultured cells in manufacturing therapeutics and customized medications. The segment's expansion is attributed to the rising need for therapeutic proteins, such as hormones, enzymes, and anticoagulants, and the increasing costs of developing new drugs.
Increased advancements in genomics, cloning, and numerous molecular biology techniques, as well as increased utilization of tools and reagents for research, contribute to the segment's growth.
North America dominated the regional market
North America dominates the regional market due to the growing demand for protein biologics and the increased prevalence of chronic diseases. In addition, strong pipelines of biosimilars and high spending on R&D with the presence of major key players contributed to regional growth.
The region is witnessing a growth in research on stem cells and cancer, along with an increase in chronic ailments, such as cardiovascular and blood diseases. Many biopharmaceutical companies are developing stem cell research as one of the most promising treatments for various disorders using advanced protein expression tools.
Competitive Insight
Some of the major players operating in the global market include Agilent Technologies, Inc., Bio-Rad Laboratories, Inc., GenScript Biotech Corporation, Life Technologies Corporation (Thermo Fisher Scientific, Inc.), Merck KGaA, New England Biolabs., Oxford Expression Technology, Promega Corporation., QIAGEN, TAKARA BIO INC.
Recent developments
In February 2022, Thermo Fisher Scientific expanded its bioprocessing manufacturing site facility in Millersburg, Penn, for manufacturing critical materials used in developing new and existing biologics and vaccines, including for COVID-19.
Protein Expression Market Report Scope
| | |
| --- | --- |
| Report Attributes | Details |
| Market size value in 2022 | USD 2.94 billion |
| Revenue forecast in 2030 | USD 7.90 billion |
| CAGR | 13.1% from 2022 - 2030 |
| Base year | 2021 |
| Historical data | 2018 - 2020 |
| Forecast period | 2022 - 2030 |
| Quantitative units | Revenue in USD billion and CAGR from 2022 to 2030 |
| Segments Covered | By Expression System, By Product, By Application, By End-Use, By Region |
| Regional scope | North America, Europe, Asia Pacific, Latin America; Middle East & Africa |
| Key Companies | Agilent Technologies, Inc., Bio-Rad Laboratories, Inc., GenScript Biotech Corporation, Life Technologies Corporation (Thermo Fisher Scientific, Inc.), Merck KGaA, New England Biolabs., Oxford Expression Technology, Promega Corporation., QIAGEN, TAKARA BIO INC. |