The global proteinase K market was valued at USD 61.2 million in 2019 and is expected to grow at a CAGR of 7.5% during the forecast period. Proteinase K also known as protease K (endo-peptidase) is a serine protease used widely in molecular biology applications. The enzyme can digest keratin present in hair, and its broad specificity makes it useful in nucleic acid separation or cell lyse.
The application of proteinase K in the extraction of DNA and RNA for in-vitro diagnostics is the key factor responsible for market growth. Proteinase K also finds application in diagnostics market such as removal of endo-toxins from ribonuclease A, cationic proteins, and lysozymes; prion research with respect to transmissible spongiform encephalopathies; protein digestion in tissue samples; protease foot printing; isolating mitochondria from cells; analyzing enzyme localization on tissue membranes; antibody labelling; removal of nuclease in the in-situ hybridization process; and polymerase chain reaction purification purposes. Proteinase K is used to differentiate in between prion and protease resistant protein as well.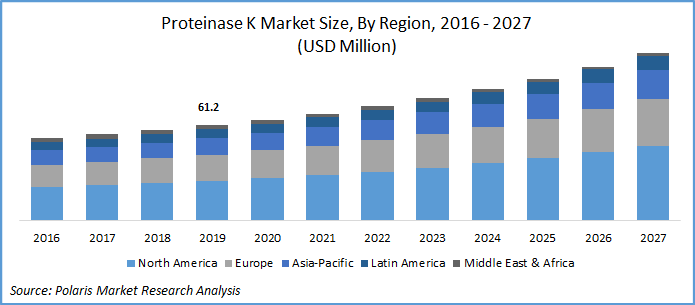 Know more about this report: request for sample pages
However, the substitutes in the market in the form of biocatalyst developed scientifically by the companies is restricting proteinase K market growth. For instance, Biocatalysts Ltd, the UK-based company, in collaboration with Brain AG introduced Proteocut K, a subtilisin type serine protease with higher specificity to hydrolyze proteins, being marketed as an alternative to the liquid form Proteinase K.
Proteocut K and the Proteinase K performance was assessed in an independent lab. Apart from typical nucleic acid separations, Proteocut K was also useful in plasmid DNA extraction, and the de-activation of restriction enzymes. Moreover, Proteocut K has much more resistance to additives and detergents with higher in-activation temperature of 80°C. Although, the launched substitute provides biotechnology, research & development organizations an alternative choice, to source their key raw material for the day-to-day applications across the market.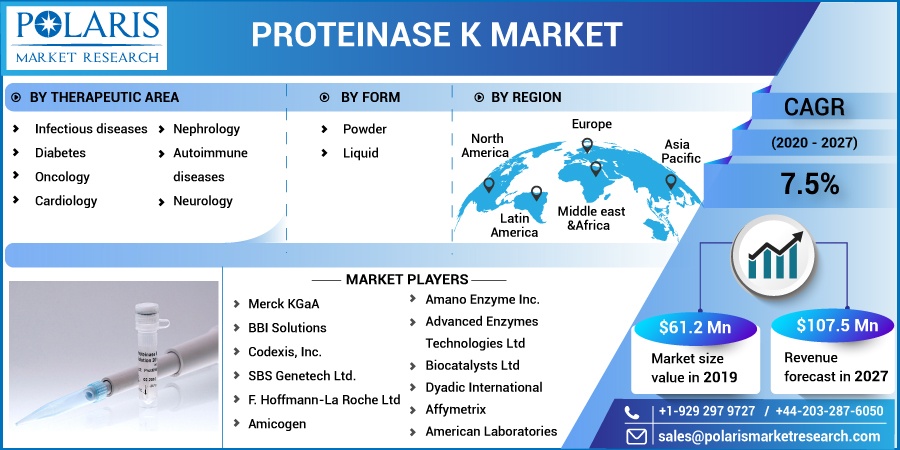 Know more about this report: request for sample pages
Industry Dynamics
Growth Drivers
The application of Proteinase K in the detection procedure of COVID-19 is projected to provide new growth avenues for the global market. The detection through the use of RT-qPCR has gained momentum to control the spread of COVID-19 pandemic. PCR is also considered as gold standard in the detection of infectious diseases, which is likely to drive proteinase K demand.
However, this has certain limitations, to scale up COVID-19 tests in the resource limited settings, where there is shortage of trained professionals with limited market funding. Thus, professionals seeking desired protocols, which enhances the accuracy of the test results apart from assistance in expansion of COVID-19 testing facilities.
According to the study in May 2020, in Brazil, protocol was designed to detect COVID-19 infections without extracting RNA, with the use of samples pre-treated with proteinase K. With this study, it was concluded that, the use of proteinase K, serves the purpose and it is one of the efficient techniques in the diagnosis of COVID-19, without performing time consuming standard protocols. Moreover, the procedure has an efficiency rate of over 90%.
Proteinase K Market Report Scope
The market is primarily segmented on the basis of therapeutic area, form, and region.
By Therapeutic Area

By Form

By Region

Infectious diseases
Diabetes
Oncology
Cardiology
Nephrology
Autoimmune diseases
Neurology
Others

North America (U.S., Canada)
Europe (France, Germany, UK, Spain, Netherlands, Austria)
Asia Pacific (Japan, China, India, Malaysia, Indonesia. South Korea)
Latin America (Brazil, Mexico, Argentina)
MEA (Saudi Arabia, UAE, Israel, South Africa)
Know more about this report: request for sample pages
Insight by Therapeutic Area
Based on the therapeutic area, the global proteinase K market is categorized into infectious diseases, diabetes, oncology, cardiology, nephrology, autoimmune diseases, neurology, and others. In 2019, infectious diseases segment accounted for the largest share in the global market and is projected to remain dominant. The high revenue share for this segment is attributed to the applicability of proteinase K in diagnosis of most of the infectious strains and its usage in isolation of nucleic acids.
Numerous research studies have shown extraction of DNA from Hepatitis B virus with proteinase K, results in better isolation of Hepatitis viral genome, which in turn, serves as an efficient procedure in isolating DNA in aqueous phase. Neurology segment is expected to exhibit the fastest growth rate over the forecast period. This high growth is due to its application in prion diagnosis. Proteinase K is currently being served as a substituent to trypsin for the cross-linking studies. The enzyme is also used for sample treatment in the Enzyme-linked Immuno-spot assay to detect prions.
Insight by Form
Based on the form, the global market is bifurcated as powder, and liquid. In 2019, the powered formulation accounted for the largest market share in terms of revenue. The preparation of stock solutions based on protocol requirements for the future purpose is key factor of its high usage. These kinds of enzymes available in the market are subject to denaturation, oxidation, and autolytic degradation processes, which are often supported with water softening substances.
Moreover, powdered form overcame several challenges such as physical separation of enzymes and also have longer shelf life. Physical isolation of enzymes is difficult in liquid form as it is vulnerable to the detrimental effects of any solvent or any other detrimental impact. For example, combination of calcium chloride and carboxylic acid salts protects proteinase K against any degradation.
Geographic Overview
In 2019, the North America accounted for the largest revenue share in the market. The regional factors responsible for the growth include the increased use of next generation sequencing (NGS), polymerase chain reactions, and other sequencing techniques. Being the important constituent in these applications, the uptake of proteinase K and other reagents is bound to increase in the market. Government sponsored initiatives such as Newborn Sequencing in Genomic Medicine and Public Health (NSIGHT) program by National Human Genome Research Institute, introduced a central U.S. government funded project to screen infants with genetic disorders also facilitates the bulk use of NGS grade proteinase K.
The recent spike in COVID-19 in the U.S. market also complemented consumption of proteinase K. In line with this, in August 2020, the researchers at the Yale School of Public, received emergency use authorization by the U.S. FDA, an in-expensive USD 10 saliva-based COVID-19 test SalivaDirect for large asymptomatic U.S. population. This test uses proteinase K to detect the presence of SARS-CoV-2 virus particles in the sample.
Asia Pacific market is projected to register a highest growth rate, owing to surge in target disorders, with high population base. Moreover, the rapid surge in COVID-19 cases in the region also complemented the demand for proteinase K. As of September, 2020, the Asia Pacific market accounted for over 30% of the COVID-19 cases. This has anticipated the use of Proteinase K for the analysis of COVID-19 and cancer specimens.
Competitive Insight
The prominent players operating in the market are Merck KGaA, BBI Solutions, Codexis, Inc., SBS Genetech Ltd. F. Hoffmann-La Roche Ltd, Amicogen, Amano Enzyme Inc., Advanced Enzymes Technologies Ltd, Biocatalysts Ltd, Dyadic International, Affymetrix, and American Laboratories.