Global rapid oral fluid screening device market was valued at USD 5.38 billion in 2019 and is expected to grow at a CAGR of 20.7% during the forecast period. The lucrative growth of the market can be attributed to the increasing alcohol & drug consumption. Additionally, stringent regulations imposed by government cross the regions pertaining to consumption of illegal narcotics is driving the demand for rapid oral fluid screening devices over the forecast period.
The factors for growth of global rapid oral fluid screening device market include increasing alcohol & drug consumption. For instance, as per the, the National Survey on Drug Use and Health (NSDUH) report in 2018, 14.4 million adults have alcohol addiction in U.S. With the rising number of addicts, the requirement for drug and alcohol testing is growing, thus creating ample opportunities for device manufacturers.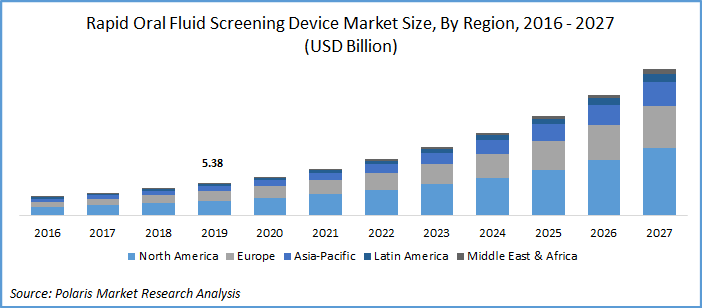 Know more about this report: request for sample pages
Industry Dynamics
Growth Drivers
The market is drive by rising consumption of drugs and alcohol among youths and adults. Alcohol and drug abuse are rising at a rapid rate in across the nations worldwide which result into adoption of more drug and alcohol testing and hence creating endless opportunities in the market. The product is recognized as trustworthy medium for detecting the harmful effects of drugs. These samples are feasible with respect to collection and have less or no risk of adulteration, thereby propelling the growth in the global market. Moreover, increasing research & development activities to develop oral fluid screening devices and rising product launches is expected to fuel market growth.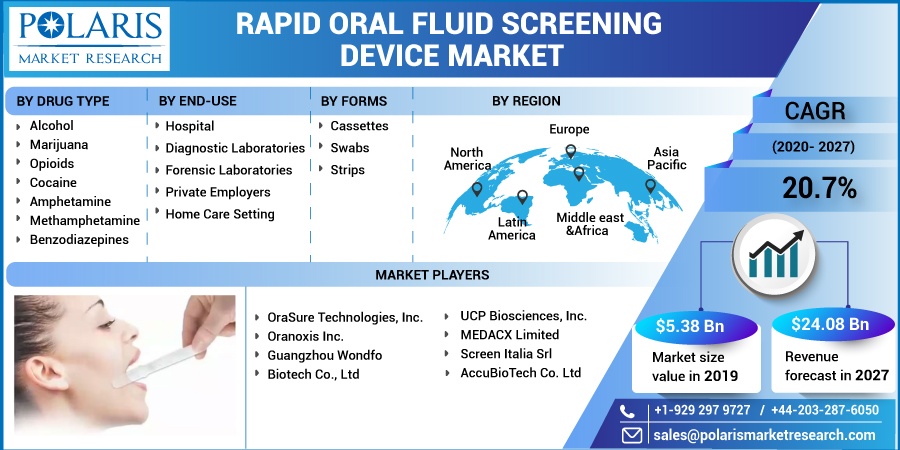 Know more about this report: request for sample pages
For instance, in September 2018, Premier Biotech, Inc., a player in the market received FDA approval for two additional fluid assays OralTox, named Methadone and Oxycodone which helps in reducing the symptoms caused by stopping the consumption of drugs and alcohol.
Rapid Oral Fluid Screening Device Market Report Scope
The rapid oral fluid screening device market is primarily segmented on the basis of drug type, forms, end-use, and region.
By Drug Type

By End-Use

By Forms

By Region

Alcohol
Marijuana
Opioids
Cocaine
Amphetamine
Methamphetamine
Benzodiazepines
Others

Hospital
Diagnostic Laboratories
Forensic Laboratories
Private Employers
Home Care Setting

North America (U.S., Canada)
Europe (France, Germany, UK, Italy, Spain, Netherlands, Austria)
Asia Pacific (Japan, China, India, Malaysia, Indonesia. South Korea)
Latin America (Brazil, Mexico, Argentina)
Middle East & Africa (Saudi Arabia, UAE, Israel, South Africa)
Know more about this report: request for sample pages
Insight by Drug Type
On basis of drug type, the rapid oral fluid screening device market is divided into alcohol, marijuana, opioids, cocaine, amphetamine, methamphetamine, benzodiazepines, and others. Alcohol segment accounted for the highest revenue share in 2019. This growth is due to easy availability of alcohol worldwide and is cost effective. Moreover, some people consume it as medicine due to its associated benefits including relief in severe cold.
Insight by Form
Based on form, the rapid oral fluid screening device market is bifurcated into cassettes, strips, and swabs. Among these three, the strips segment dominated the market in 2019, globally. Some of the advantages are, portability, with the maximum convenience involved, this makes strip a viable option as comparing with other forms. Moreover, strips are witnessed to be highly cost-effective as comparing with swabs and cassettes, which renders them favorable to use.
Insight by End-Use
The end-use segment is divided into hospital, diagnostic laboratories, forensic laboratories, private employers, and home care setting. Hospitals segment is estimated for the highest global revenue share in 2019 owing to the increasing drug addiction cases and rising dependency on hospitals and rehabilitation centers for the treatment of alcohol or drug addiction. Increasing authenticity of hospitals and government legal support to the hospitals increases their demand and efficacy in the global market. Moreover, increasing infrastructure facilities in hospitals makes them leading segment as compared to other end-use segments.
Geographic Overview
North America is predicted to hold dominant share during the forecast period. The market growth can be attributed to factors such as increasing prevalence of drug abuse and rigid regulations and mandates for drug and alcohol testing by the regulatory authorities. For instance, as per the National Institute on Drug Abuse, in 2018, 21% to 29% of patients were prescribed opioids for chronic pain, and in same year, 46,802 Americans demised due to opioid overdose. Such statistical data prove that there is an extreme need for the screening of drug abuse mainly in-home care settings, roadside testing, and workplaces.
Moreover, after North America, Europe and Asia Pacific hold a significant portion in the global market and is expected to grow at an effective rate throughout the forecast period. This growth is attributed to rising alcohol and drugs consumption and increasing healthcare awareness amongst the population. Moreover, increasing new product innovations by the key market players and government support surges the market growth in the region. Additionally, in June 2020, as per the Times of India, India will roll out its action plan to set up fight against drug abuse and alcohol consumption in the year 2020-21. This action plan will focus on developing the treatment and de-addiction facilities in several vulnerable districts.
Competitive Insights
Some of the major market players in the global market include OraSure Technologies, Inc., Oranoxis Inc., Guangzhou Wondfo Biotech Co., Ltd, UCP Biosciences, Inc., MEDACX Limited, Screen Italia Srl, and AccuBioTech Co. Ltd., among others.