The global rheumatoid arthritis market was valued at USD 22.77 billion in 2021 and is expected to grow at a CAGR of 4.5% during the forecast period. The primary reasons driving the market growth include the rise in rheumatoid arthritis incidence, rise in demand for rheumatoid arthritis medications, rise in acceptance of traditional DMARDs, and government innovations to spread awareness of rheumatoid arthritis symptoms.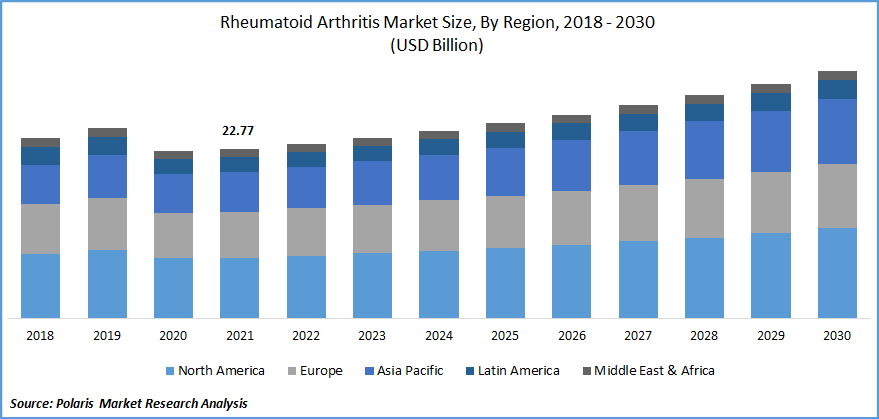 Know more about this report: Request for sample pages
The immune system is involved in rheumatoid arthritis, which leads to inflammation in the body's bones. As the condition worsens, the disease also impacts the tendons, soft tissues, bones, and fibrous tissues. The performance of daily duties, such as housework and employment, is affected by rheumatoid arthritis, which also increases mortality. People who smoke frequently are at a higher risk of developing rheumatoid arthritis.
According to Our World in Data, smoking causes an estimated 8 million premature deaths annually. Smoking is one of the significant risk factors for early mortality. This indicates that smoking accounts for 15% or so of all fatalities worldwide. More than one in five deaths occur in some nations. Thus, the rising smoking has also led to an increase in RA prevalence, boosting the market growth.
Other elements influencing market expansion include favorable reimbursement policies and rising healthcare costs. It is projected that expanding government attempts to provide high-quality, affordable healthcare will support market growth in India. Additionally, India is one of the countries with the highest rates of infections in the globe, which raises the need for rheumatoid arthritis therapy across the nation.
Interest in biopharmaceuticals is also fueled by a growing patient pool brought on by population growth, lifestyle changes, and the advent of new diseases. Additionally, Indian producers anticipate growing their companies through mergers and acquisitions with various corporations.
In April 2019, Cipla Ltd. purchased a 30% stake in the South African company Branded. With this acquisition, Cipla Medpro's portfolio will be strengthened by combining the company's advantages with Brandmed's cutting-edge, patient-centered approach to healthcare.
The frightening SARS-CoV-2 illness outbreak that spread throughout the globe was acknowledged to have had a moderate impact on the market as a whole. Due to a lack of raw materials and disruptions in the supply chain, the development of RA therapeutics, including pharmaceutical drugs, has decreased.
These factors, along with a decline in demand for treatments in the hospitals because of concerns about contracting an infection, have harmed the market share. However, a rise in the internet sales of analgesics or medicines for rheumatoid arthritis has led to a modest increase in industry growth.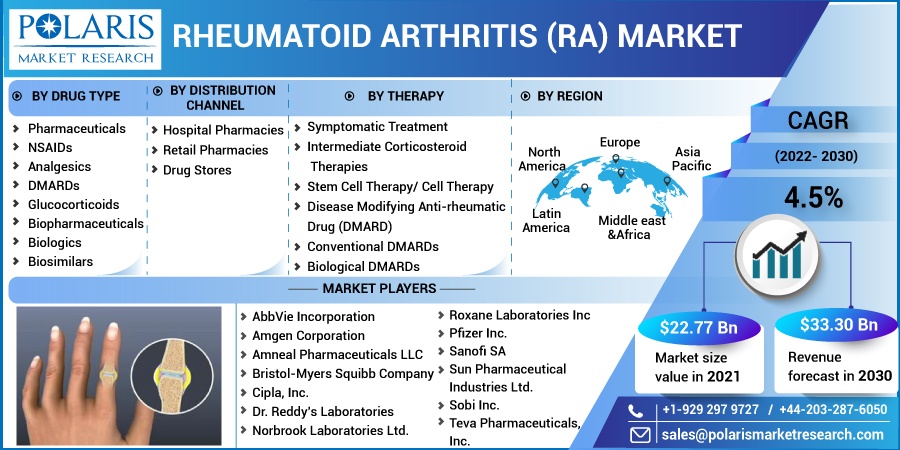 Know more about this report: Request for sample pages
Industry Dynamics
Growth Drivers
Rising FDA approvals for the treatment of rheumatoid arthritis are the primary factor boosting the market growth over the forecast period. For instance, in August 2019, the AbbVie company announced that it had received FDA approval for the RINVOQ (upadacitinib), an Oral JAK Inhibitor for the treatment of mild to severe rheumatoid arthritis.
Complete control of joint inflammation and degeneration is anticipated to be possible with various biological treatment combinations for rheumatoid arthritis. Even though the initial study on combination therapy with anakinra and abatacept showed that it increased the risk of infection, TNF inhibitors and interleukin-17 inhibitors like secukinumab appear to be a more promising option.
According to recent preclinical studies, the joint pathology in the murine experimental arthritis model can be significantly reduced by the combination. TNF inhibitors and an anti-IL-17 antibody may therefore be combined in the future. Additionally, a new era of bi-specific antibodies is anticipated to drive market expansion during the expected time frame.
For instance, in July 2020, Mylan stated that the FDA had authorized Hulio, a biosimilar to Humira. It is a TNF inhibitor used to treat people with rheumatoid arthritis, juvenile degenerative arthritis, psoriatic arthritis, reactive arthritis spondylitis, adult Crohn's disease, gastrointestinal disorders, and psoriatic arthritis, among other conditions. The successful introduction of these combinations would propel the rheumatoid arthritis market on a global scale. The market for combination treatments is anticipated to grow as technology advances.
Report Segmentation
The market is primarily segmented based on drug type, distribution channel, therapy, and region.
By Drug Type

By Distribution Channel

By Therapy

By Region

Pharmaceuticals
NSAIDs
Analgesics
DMARDs
Glucocorticoids
Biopharmaceuticals
Biologics
Biosimilars

Hospital Pharmacies
Retail Pharmacies
Drug Stores

Symptomatic Treatment
Intermediate Corticosteroid Therapies
Stem Cell Therapy/ Cell Therapy
Disease Modifying Anti-rheumatic Drug (DMARD)
Conventional DMARDs
Biological DMARDs

North America (U.S., Canada)
Europe (France, Germany, UK, Italy, Netherlands, Spain, Russia)
Asia Pacific (Japan, China, India, Malaysia, Indonesia. South Korea)
Latin America (Brazil, Mexico, Argentina)
Middle East & Africa (Saudi Arabia, UAE, Israel, South Africa)
Know more about this report: Request for sample pages
Disease Modifying Anti-rheumatic Drug (DMARD) segment is expected to witness fastest growth
Through the predicted period, disease-modifying antirheumatic medicines (DMARDs) will continue to hold the largest share of all therapy. In all regions, DMARDs are seen as the most successful kind of treatment. The prevalence of rheumatoid arthritis, the development of overweight and obese people around the world, and the rising usage of DMARDs as the first-choice treatment for rheumatoid arthritis are the main factors driving a rise in the price of DMARDs. These drugs are highly adopted in the U.S. for the treatment and therapies of RA.
The global infusion of new biopharmaceuticals and rising patient knowledge of rheumatic illnesses are expected to accelerate the uptake of Rheumatoid Arthritis (RA) therapies. Due to the inadequate therapeutic advantages of Disease-Modifying Antirheumatic Drugs (DMARDs), most patients who have received treatment still don't feel pleased.
Combining biologics and DMARDs is anticipated to provide more significant therapeutic benefits for this patient population. As a result, the industry is moving toward combination medicines that give patients better outcomes. Increased DMARD and biologic combo use will increase market profitability in the upcoming years.
Biopharmaceuticals segment industry accounted for the highest market share in 2021
The initial line of treatment for this disease is typically pharmaceutical. However, because of biopharmaceuticals' higher therapeutic output and condition remission action, their consumption is lower than that of pharmaceuticals. Biologic pharmaceuticals are anticipated to hold the most significant sales share in developed economies during the projected period. However, biologics are so expensive these medications face fierce competition from pharmaceutical generics and biosimilars in developing nations like Brazil, Mexico, and South Africa.
On the other hand, it is anticipated that demand for biosimilars will increase exponentially in the years to come. Increased accessibility, promising outcomes, and competitive pricing support the segment's growth. Although they are in high demand in developing economies, they are also slowly gaining ground there due to the introduction of more advanced, efficient products. Rituximab, Adalimumab, and Infliximab biosimilars have previously been given regulatory approval in various nations.
The demand in North America is expected to witness significant growth
The U.S. is expected to continue to be one of the most alluring countries during the forecast period. One of the key elements promoting market expansion is the high healthcare spending in the nation. Because of enthusiastic support from both the commercial and public sectors, technical improvements, an increase in R&D activities, and rapidly expanding awareness of rheumatoid arthritis, the U.S. is predicted to experience rapid development during the estimated period. Additionally, a key factor in the growth of the market in the nation will be the expansion and enhancement of the nation's well-developed healthcare infrastructure.
The infrastructure of the British healthcare system is highly developed and heavily subsidized by the government. It has the potential to be the world's best healthcare system. The UK has the highest amount of expenditure in Europe, which is not surprising. Additionally, growing research activities, the existence of multiple large firms, and an increase in pipeline medications are creating several opportunities for stakeholders in the nation's rheumatoid arthritis therapy business.
In addition, the rising geriatric population and increased demand for DMARDs also contribute to market expansion. The market for rheumatoid arthritis medications is also anticipated to rise in the region due to the increased focus of major manufacturers on growing their geographic presence in emerging Asia Pacific nations.
Competitive Insight
Some of the major players operating in the global market include AbbVie Incorporation, Amgen Corporation, Amneal Pharmaceuticals LLC, Bristol-Myers Squibb Company, Cipla, Inc., Dr. Reddy's Laboratories, Norbrook Laboratories Ltd., Roxane Laboratories Inc, Pfizer Inc., Sanofi SA, Sun Pharmaceutical Industries Ltd., Sobi Inc., Teva Pharmaceuticals, Inc.
Recent Developments
In July 2022, Hikma and Celltrion partnered to promote YUFLYMA (CT-P17) across North Africa and the Middle East. Rheumatoid arthritis, ankylosing spondylitis, and Crohn's disease are just a few of the illnesses that can be treated with the help of CT-P17, a biosimilar of adalimumab that is high concentration, reduced size, and citrate-free. When injected, CT-P17 is less painful and has properties that reduce discomfort.
In February 2021, Pfizer and Imcyse declared that they had collaborated on research and had a license agreement for Imcyse's RA program, which is based on their Imotope technology, to potentially treat rheumatoid arthritis (RA).
Rheumatoid Arthritis Market Report Scope
| | |
| --- | --- |
| Report Attributes | Details |
| Market size value in 2021 | USD 22.77 billion |
| Revenue forecast in 2030 | USD 33.30 billion |
| CAGR | 4.5% from 2022 - 2030 |
| Base year | 2021 |
| Historical data | 2018 - 2020 |
| Forecast period | 2022 - 2030 |
| Quantitative units | Revenue in USD billion and CAGR from 2022 to 2030 |
| Segments Covered | By Drug Type, By Distribution Channel, By Therapy, By Region |
| Regional scope | North America, Europe, Asia Pacific, Latin America; Middle East & Africa |
| Key Companies | AbbVie Incorporation, Amgen Corporation, Amneal Pharmaceuticals LLC, Bristol-Myers Squibb Company, Cipla, Inc., Dr. Reddy's Laboratories, Norbrook Laboratories Ltd., Roxane Laboratories Inc, Pfizer Inc., Sanofi SA, Sun Pharmaceutical Industries Ltd., Sobi Inc., and Teva Pharmaceuticals, Inc. |