The global rhinoplasty market was valued at USD 6.26 billion in 2020 and is expected to grow at a CAGR of 6.4% during the forecast period. Rhinoplasty is a nose reshaping procedure. It is used to help people with breathing problems that have arisen as a result of birth defects or injuries. Changes in the form of the nose are often made for cosmetic purposes.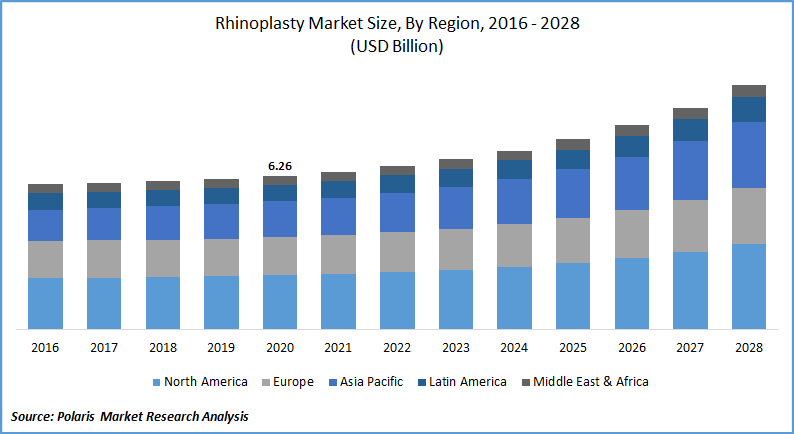 Know more about this report: request for sample pages
The market is anticipated to increase owing to an increased understanding of beauty and physical grooming. Rhinoplasty has become increasingly common after the advent of technically advanced therapeutic approaches such as 3D computer-assisted techniques.
Industry Dynamics
Growth Drivers
Rhinoplasty was among the top 5 cosmetic surgery globally in 2018, according to the Plastic Surgery Market Fact Sheet 2018. According to the American Society of Plastic Surgeons, a nose job is by far the most difficult facial procedure, with a 15% revision average.
Brazil has one of the highest rates of rhinoplasty procedures. As per the International Society of Aesthetic Plastic Surgery, nearly 85,000 rhinoplasty procedures were conducted worldwide in 2018. The country is backed by professional and qualified surgeons who have cost-effective cosmetic procedures, making it an affordable choice for those seeking cosmetic surgery at a lower cost.
The COVID-19 outbreak had a huge influence on the industry. At first, there were serious concerns, particularly among rhinoplasty surgeons, because the virus resides in the nasal cavity and therefore has a high risk of transmission. Surgeons interact with their patients through telemedicine. Only emergency procedures are carried out, and strict protocols must be followed.
On the other hand, cosmetic procedures clinics in countries like the United States, Japan, South Korea, and Australia are seeing a growth in the number of people are opting for cosmetic surgeries like rhinoplasty so they can heal at home and wear a mask outdoors.

Know more about this report: request for sample pages
Rhinoplasty Market Report Scope
The market is primarily segmented based on treatment type, technique, and region.
By Treatment Type

By Technique

By Region

Augmentation
Reduction
Post-traumatic
Reconstructive
Revision
Filler
Others (Ethnic Rhinoplasty, Refinement Rhinoplasty)

North America (U.S., Canada)
Europe (France, Germany, UK, Italy, Spain, Netherlands, Austria)
Asia Pacific (Japan, China, India, Malaysia, Indonesia, South Korea)
Latin America (Brazil, Mexico, Argentina)
Middle East & Africa (Saudi Arabia, UAE, Israel, South Africa)
Know more about this report: request for sample pages
Insight by Treatment Type
In 2020, the augmentation market segment dominated the market, accounting for the majority of sales. This is beneficial to improve the nose's shape and composition. Patients are having secondary rhinoplasty to correct the deformations caused by primary rhinoplasty due to the rising incidence of rhinoplasty procedure failures. As a result, the number of revision rhinoplasty procedures is on the rise all over the world. As per the AAFPRS, in 2018, around 94.0% of doctors conducted a revision rhinoplasty.
Insight by Technique
In 2020, the open rhinoplasty market segment had the highest revenue share. Because of its ability to perform comprehensive and complex nasal surgery, the market segment is expected to remain dominant and develop at the fastest market growth rate over the forecast period. People preferred closed rhinoplasty when only slight changes to the nose are necessary.
To prevent complications, both procedures necessitate the use of a highly qualified surgeon. Open rhinoplasty is not used only as a cosmetic procedure to enhance a person's appearance, as well as to enhance the nose's functionality.
An open rhinoplasty will boost the function of the nose and thus free the airflow ventilation because of the improved visibility and exposure to the operating area. Closed rhinoplasty, on the other hand, is less painful and leaves fewer wounds after surgery.
Geographic Overview
In 2020, North America market had the highest revenue share of the global market. North America's market growth has been fueled by a well-developed healthcare system and the presence of board-certified and professional cosmetic surgeons. According to the International Society of Aesthetic Plastic Surgery (ISAPS), the United States leads the list of countries with the most cosmetic surgeons in the world, with over 7,000 surgeons, in 2018.
During the forecast period, the Asia Pacific market is expected to expand at the fastest pace across the global market. This expansion can be attributed to increasing income levels, a massive rise in physical attributes, and medical tourism, which is common due to its low cost of treatments and the region's improving better healthcare.
As per the International Society of Aesthetic Plastic Surgery, China is in top three countries, accounting for about 6.5% of all cosmetic surgeons. Over the forecast period, Middle East & Africa is expected to expand at a healthy market growth rate. Rhinoplasty is among the most frequently performed procedures of all cosmetic surgeries in the Middle East, according to a research paper published in Plastic and Reconstructive Surgery, in 2018.
Competitive Insight
Key players in the rhinoplasty market are concentrating their energies on strategic acquisitions to boost their research and development capabilities, which will help them provide creative solutions to users and gain a competitive edge.
Market participants such as Allergan, Sientra, Inc, Johnson & Johnson Services, Inc, Medartis, Implantech, TMJ Concepts, Nagor Ltd, KLS Martin LP, Spirox, Inc, Stryker, Surgiform Technologies LLC are some of the companies operating in the rhinoplasty market.