The global Riflescopes & Red Dot Sight Market size was valued at USD 7.1 billion in 2019 and is anticipated to grow at a CAGR of 4.8% during the forecast period. Efforts taken by governments across the globe pertaining to modernization of their armed forces, development of superior products by industry participants, rising need for advanced products to gain competitive edge particularly in areas such as asymmetric warfare, anti-terrorism activities among others are some of the factors favoring market growth.
Red-dot sight technology allows the shooter to focus on the target, with both eyes open. The brain of the shooter notices the target through the lens and thus can achieve target focusing without closing either eye. Riflescopes and red dot sight completely eliminate the need for centering the red dot on the target as long as you are zeroed on it, thus allowing for quick target acquisition. Thus, due to this speed and accuracy, there has been a rising demand for riflescopes and red-dot sights thus contributing to the overall market growth.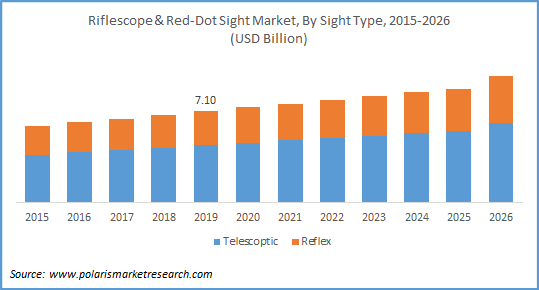 Know more about this report: request for sample pages
High penetration of gun manufacturers in North American region, comparatively simple gun laws, huge military budget especially of North American countries such as the U.S., and rapid modernization of military are some of the reasons that have contributed to North America being the biggest shareholder of the global riflescopes and red-dot sight market.
Red dot sights enjoy significant advantage over their counterparts such as iron sights and magnified scopes. For example, magnified scopes require the closing of one eye thus resulting in low situational awareness and hence making them a less suitable choice for activities requiring fast target acquisition. Iron sight requires alignment of the rear sight with the front sight which is time consuming. These factors have resulted in an increased preference for riflescope and red dot sight over their other counterparts thus booming the global market growth.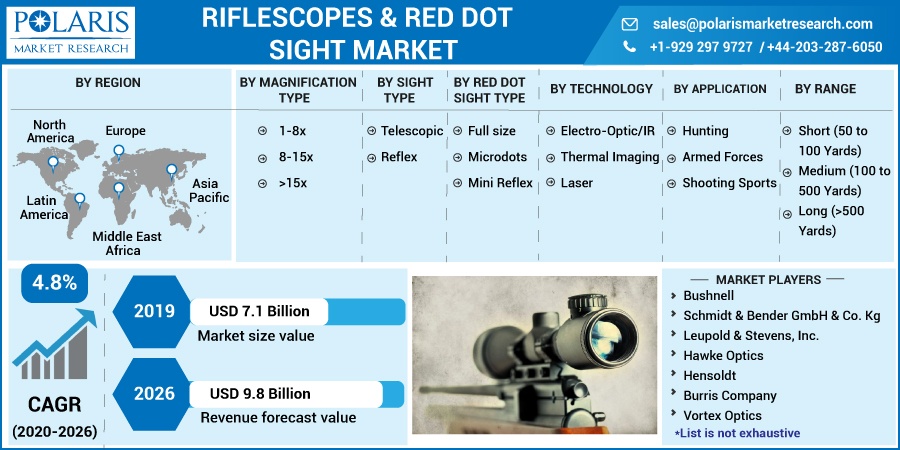 Know more about this report: request for sample pages
Riflescope & Red Dot Sight Market Report Scope
The market is primarily segmented on the basis of Magnification, Sight type, Red Dot Sight Type, By Technology, By Application, By Range and geographic region.
By Magnification Type

By Sight type

By Red Dot Sight Type

By Technology

By Application

By Range

By Region

Full size
Microdots
Mini Reflex

Electro-Optic/IR
Thermal Imaging
Laser

Hunting
Armed Forces
Shooting Sports

Short (50 to 100 Yards)
Medium (100 to 500 Yards)
Long (>500 Yards)

North America (U.S., Canada, Mexico)
Europe (France, Germany, UK, Italy, Spain, Netherlands)
Asia Pacific (Japan, China, India, Australia)
South America (Brazil, Chile)
MEA (Saudi Arabia, UAE, Qatar, Oman)
Know more about this report: request for sample pages
Magnification Type Outlook
On the basis of magnification type, the Riflescope industry has been segmented into 1-8x, 8-15x and >15x. 8-15x market segment is expected to witness significant growth during the forecast period. 8-15x magnification products have been developed that have brightness adjustments for day as well as night usage, and have superior resistance to fog, water and shock. All these factors coupled with cost effectiveness are some of the factors that are favoring the segment growth.
Products in the segment category >15x are slightly heavy than other counterparts. However, there has been novel product development in this category and now these scopes come with specifications such as professional magnification, mil-dot reticle, and sleek design that guarantee optimum performance. Clear glass, sufficient brightness, and high resistance to external factors up to maximum magnification are some of the factors that buyers consider while buying these scopes.
Sight Type Outlook
On the basis of sight type outlook, the market is categorized into reflex and telescopic. Reflex type is expected to witness a robust growth rate over the forecast period. Reflex sights are those sights that have functioning similar to that of a mirror. Essentially, the aiming point of the scope is projected forward on a lens. The reflection then received from the lens makes it possible to see the red dot. These are cheaper as compared to their other counterparts and guarantee excellent performance as they do not require eye relief thus proving beneficial especially in cases where fast moving targets are involved.
Telescopic segment emerged as the largest segment of the overall riflescope industry the segment is also expected to witness the highest growth rate over the next seven years. The telescopic segment is characterized by industry participants that are constantly engaged in novel product development such as lightweight, fast and improved target acquisition, and simple and sleek design. Wide usage of the product in wide range of activities such as small game, vermin hunting among others is also benefitting the segment growth.
Application Outlook
By application, the market has been segmented into hunting, armed forces and shooting. Armed forces emerged as the largest segment in 2019 and the segment is expected to witness the highest growth rate among all other market segments in the application category. Modernization efforts taken particularly by developing countries such as India is benefitting the market growth. India has announced its intention to indigenously produce AK-203 rifles to the tune of 650,000. Such trends are benefitting the growth of armed forces segment.
Riflescope Companies have developed riflescopes specific for hunting purposes. These features include target turrets, side parallax focus, better designs, multi-coats to provide good resistance are some of these features. Due to these features, more and more people are preferring riflescopes for hunting purposes.
Regional Outlook
North America dominated the global market in 2019 and is expected to do so over the forecast period. According to a survey conducted in the year 2019, it was revealed that more than 35% of the households in the U.S., possess firearms. In the U.S., firearms including rifles have become synonymous with the country's freedom and cultural values. All these trends have resulted in a rapid growth of the overall North American Riflescope & Red Dot Sight Market.
Asia Pacific riflescope market is poised to witness the highest growth rate over the forecast period. The primary reasons for the same are rapid modernization initiatives taken by two major armies of the globe mainly China and India. These two countries have a massive defense budget and their governments are leaving no stone unturned for better equipping their armed forces. Such trends are benefitting the riflescope demand in the Asia Pacific region.
Competitive Landscape
Riflescope Companies work closely with their clients for development of high precision products. These efforts form the basis of product development that is used by major clients such as the U.S. armed forces for next generation warfare. Application oriented product development is a key industry scenario. For example, companies have developed riflescopes which are sleek and light in weight for sniper applications.
The leading players in the Riflescope & Red Dot Sight Market include Bushnell, Schmidt & Bender GmbH & Co. Kg, Leupold & Stevens, Inc., Hawke Optics, Hensoldt, Burris Company, Vortex Optics, Aimpoint, Nightforce Optics, Inc., Nikon, BSA Optics, Flir Systems, Sig Sauer, Steiner, Leica Camera, Carl Zeiss AG, Trijicon, Inc., Eotech, U.S. Optics , and Primary Arms among others. These players are expanding their presence across various geographies and entering new markets such as China and India to increase their revenues. These riflescope market participants are also introducing new innovative products to suit the customized needs of their clients.