Report Summary
The global Robotic Process Automation in BFSI market size was valued at USD 279.4 million in 2018 and is anticipated to grow at a CAGR of 34.5% during the forecast period. Widespread and rapid adoption of virtual banking tools to enhance the overall user experience, ability of robotic process automation (RPA) to increase efficiency, accuracy, while still being cost effective, along with guaranteeing high security are some of the reasons driving the overall market growth.
Banking and other financial institutions have to deal with a variety of processes, documents and transactions at the same time and have to use sensitive information from multiple sources. Initially, the whole process had to be done manually thus requiring longer time resulting in a less positive customer experience. However, RPA, due to its inherent advantages is being used in these industries for a variety of purposes such as customer service, KYC verification, automation of reports, account closure, general ledger management, fraud and other discrepancy detection, compliance, collection, account receivables among others. The wide applicability of the process along with the global growth of the banking and finance industry is benefitting the overall Robotic Process Automation (RPA) in BFSI market growth.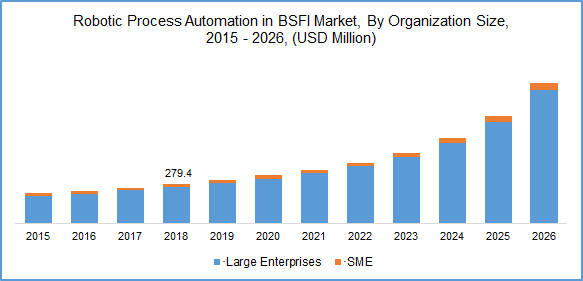 Know more about this report: request for sample pages
Ability to play a critical role and to completely revolutionize mundane tasks in finance as well as banking sector is benefitting the overall RPA in BFSI market growth. Ability to reduce clerical error rate, turnaround time and increase in the overall productivity has spurred a high rate of adoption of the technology, primarily in the banking sector. Employees, due to this RPA technology can thus utilize their saved time to other important tasks. Such trends are benefitting the overall market growth.
Employee productivity, processing time, overall operational cost and customer experience are the key areas of interest for banking as well as financial institutions. These institutes are trying to improve their performance on these aspects to ensure that they are ahead of their competition. High buying power is a primary reason for this scenario. Therefore, in order to sustain market competition as well as for customer attraction and retention, companies are turning towards RPA as they can save up to 50-60% of their time and resources due to its implementation.
The market is primarily segmented on the basis of Type, By Services, By Organization, By Form, By Application and geographic region.
Robotic Process Automation (RPA) in BFSI Market Report Scope
By Type

By Services

By Organization Size

By Application

By Region

Consulting
Implementation
Training

Banking
Financial Services and Insurance

North America (U.S., Canada)
Europe (France, Germany, UK)
Asia Pacific (Japan, South Korea, China, India)
Latin America (Brazil, Mexico)
Middle East & Africa
Know more about this report: request for sample pages
Type Outlook
On the basis of type, the market has been bifurcated into two types, namely, software as well as services. In 2018, RPA services emerged as the largest segment and is expected to continue its dominance till 2026. It is also expected to register a higher growth rate than software the segment. Service providers have integrated and optimized their overall value chains to offer a one-stop solution to all client requirements. Service providers are also taking concrete steps aimed at educating the end users regarding the benefits of RPA in order to gain untapped market revenue.
Identification of implementation areas in the overall banking and financial institution is another important task that service providers have to undertake. As service providers provide end to end solutions, companies usually prefer them to software providers as the former offers better customer support throughout the installation process and thereafter as well. Software providers usually thrive on the reseller orders received.
Services Outlook
Among the service segments, it is anticipated that training services is anticipated to register a higher growth rate than other service segments over the forecast period. In 2018, Consulting occupied a major market share and this trend is expected to continue over the next eight years. High demand from application industries such as banking to provide excellent customer service is primarily driving the consulting segment growth.
Efficient identification and management of operational risks, as well as cost reductions in the overall day to day operations is also contributing to the overall consulting segment market growth. Companies are offering training programs to make companies more efficient in RPA implementation. Numerous companies and entrepreneurs are now providing training solutions and this trend is forecasted to boost overall Robotic Process Automation in BFSI market growth.
Organization Size Outlook
Large enterprises occupied more than half of the overall market share and is likely to maintain its dominance over the next eight years. The expenses of RPA purchase, implementation and operations are suitable for large scale operations with a high revenue stream, thus resulting in large scale enterprises dominating the overall market.
There is a rising need from large scale enterprises for processes, software and or practices that will streamline and optimize their overall operations while still maintain high productivity at low costs. These all parameters can be achieved through RPA implementation. Such trends are benefitting the market growth. High cost of RPA, limited and less human resource of SME, and budget restrictions are some of the restraints faced by SME industries.
Regional Outlook
In 2018, North America emerged as the largest region and is expected to continue to maintain the same trend till 2026. Strong presence of banking, and other financial institutions, strong industry participant presence, high awareness regarding RPA need and usage, are some of the factors catering to the industry growth in the region. Rising complexity of regulatory scrutiny, KYC compliance, and fines combined with rising risk of security threat has prompted many banking institutions in the region to adopt RPA.
Among regions, Asia Pacific is forecasted to register the highest growth rate from 2019 to 2026. Companies are focusing on opportunities in countries such as China, South Korea, Singapore and Japan and are trying to improve their regional footprints in these parts. Industry participants are also providing customized solutions to banks which us further driving the regional growth. Usage of RPA for back office solutions is a key industry trend in the region.
Competitive Landscape
Companies are developing proprietary algorithms, and framework for RPA implementation. They are offering implementation programs that require less implementation time along with guaranteeing a quick and prompt ROI. Industry participants, in certain cases have to scale up their overall implementation, training and consultation services to match industry standards as well as the operation scale which differ from region to region.
Industry participants are taking concentrated efforts to increase the overall awareness of robotic process automation. Such efforts are visible in regions such as Asia Pacific. Some of the major industry participants include WorkFusion, Inc., UiPath, Thoughtonomy, Softomotive, Kryon Systems, Pegasystems Inc., NICE, Blue Prism, Kofax Inc. and Automation Anywhere Inc., among others.