The global sacha inchi protein market was valued at USD 105.42 million in 2022 and is expected to grow at a CAGR of 4.4% during the forecast period.
Sacha inchi is one of the primary sources of fatty acids and is like flaxseed oil. It contains some amount of linoleic acid, a form of omega-6 fatty acid, and alpha-linolenic acid (ALA), an omega-3 fatty acid that is present in plants. In general, these seeds are toasted by consumers before eating. The oils from the seeds can also be extracted and added to food products or used in cooking to enhance the nutritional value of food. Researchers are working on increasing production of Sacha Inchi plants to reduce supply chain disruptions in the market and fuel demand for the product in the future.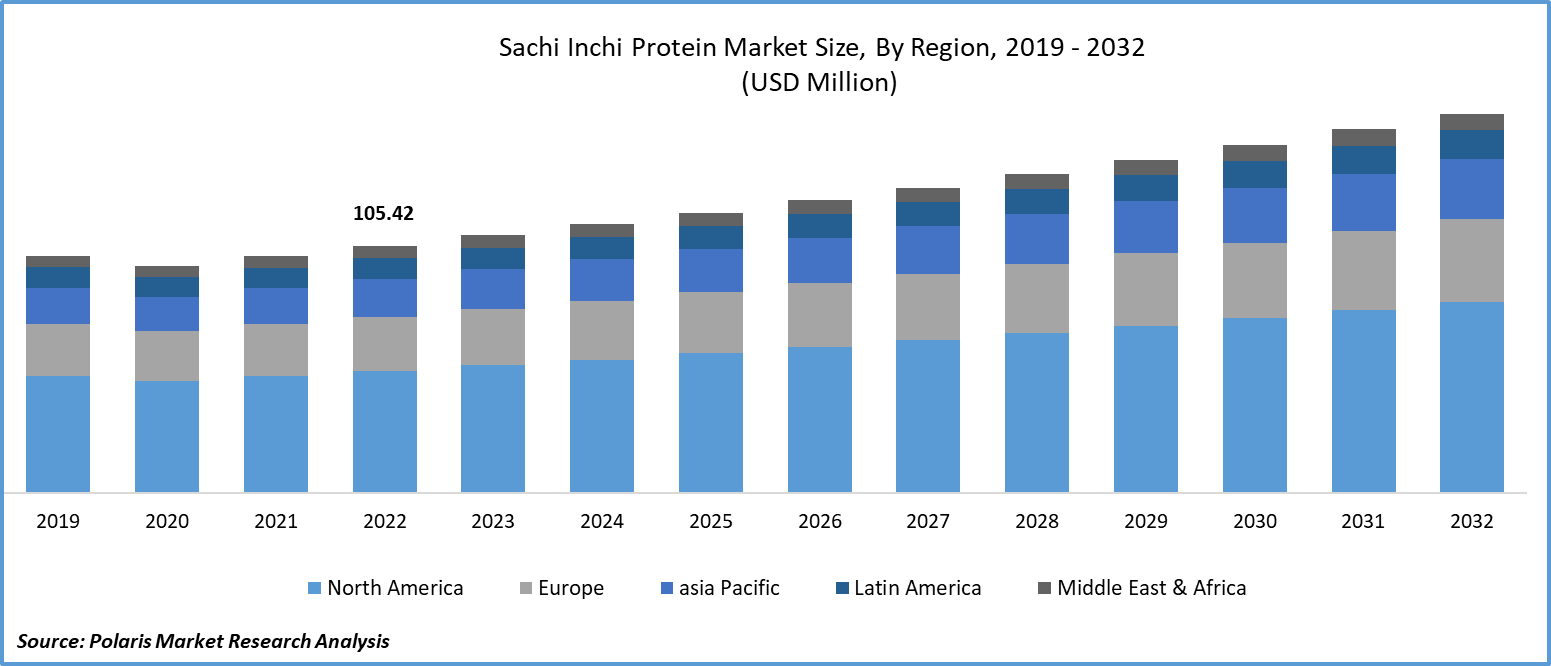 To Understand More About this Research: Request a Free Sample Report
For instance, in 2023, the study published in IOP Science focused on increasing and promoting the growth and production of the Sacha inchi plant. The soil medium treated with 99.92 g of biochar and 2.47 g of NPK fertilizer was found to be efficient
Moreover, Sacha Inchi, one of the best vegan protein sources available in plant protein supplements, is made up of 93.6% protein and contains all essential amino acids, making it a rich source of protein. The rise in health and wellness trends among the population is driven by COVID-19, which stimulates the demand for nutritional products like Sacha Inchi protein to improve body functioning and infection resistance.
However, lack of awareness about this product is impeding demand from consumers, as they are more familiar with traditional proteins like lentils, nuts, almonds, and others. Taste and texture of protein seeds are becoming the primary factors considered by consumers before purchase, hampering the demand for Sacha Inchi protein due to the availability of proteins with similar nutritional value and significant flavor, which is more appealing to children.
Growth Drivers
Researchers are revealing the potential applications of Sacha inchi protein, fuelling its use in various medical formulations.
Sacha inchi protein is widely consumed by people due to its nutritional profile, which is primarily driven by its antioxidants and fatty acids. According to the study published in PubMed Central, sacha inchi oil appears to have positive effects on the lipid profile of people with dyslipidemia. This signifies that sacha inchi protein has the potential to raise HDL cholesterol and lower total cholesterol when consumed orally. However, their effectiveness and safety should be assessed in randomized clinical trials. Furthermore, rising research activities are increasing demand for Sacha inchi proteins as study findings reveal new applications for the product. For instance, a study published in Rajamangala University of Technology Phra Nakhon indicates that sacha inchi has the potential to be used as an alternative to plant-based milk. Ongoing research activities are enhancing the demand for Sacha inchi protein throughout the study period.
Report Segmentation
The market is primarily segmented based on form, application and region.
By Form

By Application

By Region

Cosmetics

Pharmaceuticals

Food & Beverages

Dietary Supplements

North America (U.S., Canada)

Europe (France, Germany, UK, Italy, Netherlands, Spain, Russia)

Asia Pacific (Japan, China, India, Malaysia, Indonesia. South Korea)

Latin America (Brazil, Mexico, Argentina)

Middle East & Africa (Saudi Arabia, UAE, Israel, South Africa)
To Understand the Scope of this Report: Speak to Analyst
By Form Analysis
Powder segment is expected to witness the highest growth during the forecast period
The powder segment is projected to grow at a CAGR during the forecast period, mainly driven by its convenience in storage and transportation of products as it improves shelf life and increases the time to consume the protein while facilitating low logistics costs for companies specialised in producing products with Sacha Inchi protein. This form is suitable for application in the food industry, as it can be easily incorporated into smoothies, protein bars, and others.
The liquid segment witnessed a substantial revenue share in 2022, primarily driven by its perfection in the beverage industry. Companies in this sector are funding new product innovations to cater to changing consumer behaviors at the global level. The liquid form of Sacha Inchi protein is suitable for manufacturing protein shakes and energy drinks due to the growing demand for healthy drinks among the population soon.
By Application Analysis
Dietary supplements segment accounted for the largest market share in 2022
The dietary supplements segment witnessed the largest market share in 2022 and is expected to continue its sacha inchi protein market position during the study period. Sacha Inchi Protein is known to have a higher concentration of nutritional levels, driving its use in dietary supplements as consumers are showing profound interest in products with this protein, fueling demand for Sacha Inchi Protein in the coming years. The growing preference for vegan diets is creating new growth opportunities for Sacha Inchi protein, as it significantly drives the demand for dietary supplements with various components.
The food and beverages segment are projected to grow at the fastest rate over the coming years, mainly attributable to the growing demand for healthy food in restaurants and bakeries due to the lack of a balanced diet leading to the insufficient presence of essential nutrients required for better body functioning. Increasing working hours by individuals is creating a need for nutritious food to combat additional stress and time constraints to cook food at home.
Regional Insights
Asia Pacific region witnessed the global market in 2022
The Asia Pacific region registered the largest share in the global market in 2022 and is expected to continue its dominance over the forecast period. Rising concern for healthy food driven by growing health and wellness trends in the region is fueling the demand for dietary supplements to assist in the growth and function of the body, which in turn fuels the demand for Sacha Inchi protein due to its higher nutritional content. In today's fast-paced world, it can be difficult to meet all nutritional needs solely through diet.
As a result, there is an increase in demand for wellness supplements, which offer a practical way to fill nutritional gaps and boost general health. A study found that less than 50% of the necessary nutrients are consumed by pregnant women, and 80% of Indians are micronutrient deficient. About 37% of Indians consume supplements, and 23% of urban dwellers said they would benefit from professional advice in choosing the right ones. This demonstrates the significance and need for dietary supplements, as there will be a higher demand from this region, fueling the need for Sacha Inchi protein in the coming years.
The Europe region is projected to have the fastest growth with a healthy rate during the study period, owing to the growing imports of Sacha Inchi protein in the region. The use of Sacha Inchi oil for food items was authorized by the European Union in 2013. Sacha Inchi has been actively promoted in Europe by an increasing number of Peruvian businesses. Food industry demand for the oil has surpassed cosmetics industry demand due to rising demand for healthy food at restaurants. This will lead to increased demand for Sacha Inchi protein, along with rising demand for it from the cosmetics industry.
Key Market Players & Competitive Insights
The sacha inchi protein market is witnessing rapid technological advancements driven by rising research and development activities in line with collaboration with government organizations and key companies. Growing mergers and acquisitions in the marketplace are creating new opportunities for the key market players to gain a larger share of the global market due to their expansion.
Some of the major players operating in the global market include:
Axiom Foods

BIOGRUND

Flora Manufacturing & Distributing

Green Foods Corporation

Herbs America Company

HerboNutra

Imlak'Esh Organics

MaiSavanhLao

MG Natura Peru

Nature's Power Nutraceuticals

Nutraonly (Xi'an) Nutritions

Organic Technologies

Ouro Amarelo

Peruvian Nature

Plandaí Biotechnology

Sesajal S.A. de C.V.

Shaanxi Yuantai Biological Technology
Recent Developments
In May 2022, a study published in MDPI focused on examining the various protein isolates isolated from oil press cakes of Thai and Peruvian sacha inchi. The findings revealed differences in their physical and technological characteristics, and they have great potential for use as plant-based protein additions in upcoming non-animal-based protein-rich diets.
Sacha Inchi Protein Market Report Scope
| | |
| --- | --- |
| Report Attributes | Details |
| Market size value in 2023 | USD 109.94 million |
| Revenue forecast in 2032 | USD 164.84 million |
| CAGR | 4.4% from 2023 – 2032 |
| Base year | 2022 |
| Historical data | 2019 – 2021 |
| Forecast period | 2023 – 2032 |
| Quantitative units | Revenue in USD million and CAGR from 2023 to 2032 |
| Segments covered | By Form, By Application, By Region |
| Regional scope | North America, Europe, Asia Pacific, Latin America, Middle East & Africa |
| Customization | Report customization as per your requirements with respect to countries, region and segmentation. |