The global security paper market was valued at USD 14.32 billion in 2022 and is expected to grow at a CAGR of 5.4% during the forecast period. The rapidly growing adoption of the product worldwide has enabled companies, regulatory agencies, and individuals to restrict the misuse of essential documents effectively. Additionally, manufacturers can assist companies in developing customized papers, which are the primary influencing the global market growth. In addition, the extensive growth in the worldwide tourism sector, which has upsurged the demand for visas and passports, and the need to uphold the integrity of documents across a large number of business units coupled with significant technological developments and introduction to innovative features, are also likely to have a positive impact on the market.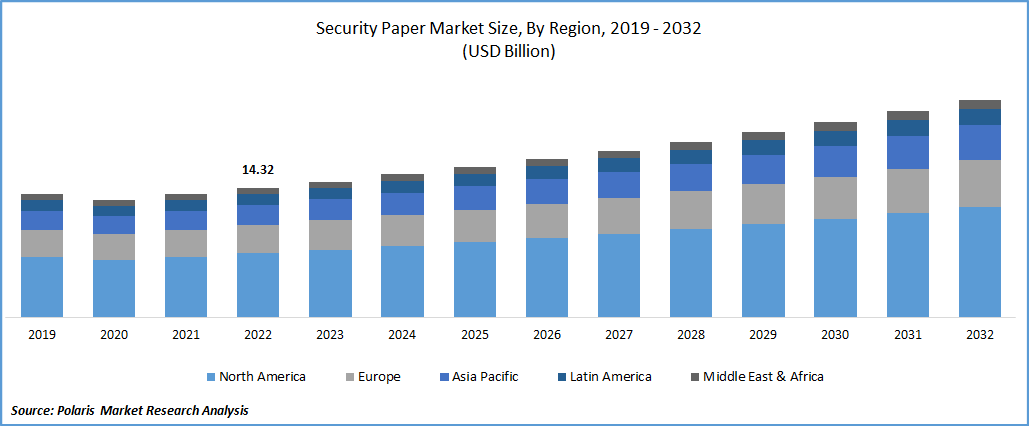 To Understand More About this Research: Request a Free Sample Report
The growing preference for using digital security features such as QR codes and NFC technology, which provide enhanced security and tracking capabilities and can be easily verified using smartphones and other mobile devices, is gaining traction. Besides this, key product manufacturers are increasingly using sustainable materials in their products, like recycled fibers and biodegradable materials, to meet the growing demand for environmentally friendly options.
The outbreak of the COVID-19 pandemic has significantly impacted the growth of the security paper market. The rapid spread of the pandemic has caused huge disruptions in the global supply chains, leading to delays and shortages in the production and delivery of raw materials and finished products, resulting in increased costs for security paper manufacturers and longer lead times for customers. It has further led to a shift towards digital payments, reducing the demand for physical banknotes and other secure documents in some countries that negatively influenced the market growth.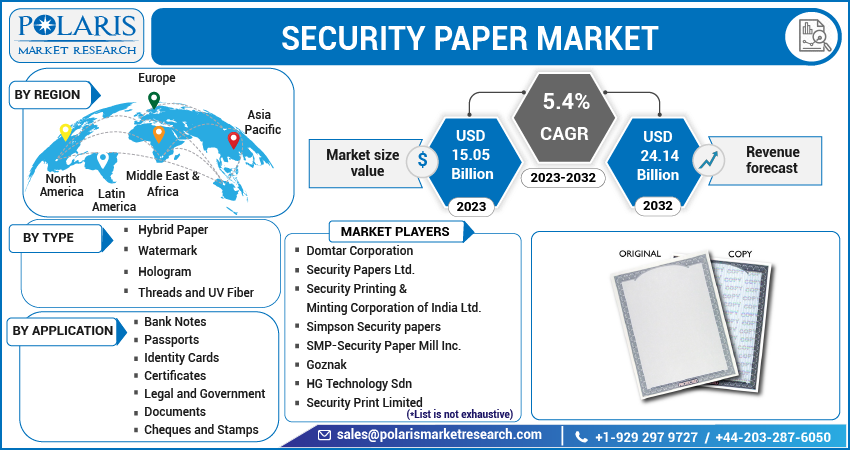 For Specific Research Requirements, Request for a Customized Report
Industry Dynamics
Growth Drivers
The constant rise in the number of incidents of fraud and counterfeiting, particularly in the financial, government, and healthcare sectors, has fueled the demand for security paper incorporated with several advanced features such as watermarks, holograms, and security threads that can help prevent counterfeiting and fraud coupled with the growing innovations and prevalence for advanced technologies like nano-technology based security features and invisible inks are major factors fueling the security paper market growth. Furthermore, the significant expansion of blockchain technology across the globe as a potential solution to combat counterfeiting and fraud, along with the rising prevalence among security paper manufacturers towards exploring the use of blockchain to create secure and transparent supply chains, is further anticipated to boost the global market demand and growth.
Report Segmentation
The market is primarily segmented based on form, product and region.
By Type

By Application

By Region

Hybrid Paper

Watermark

Hologram

Threads and UV Fiber

Others

Bank Notes

Passports

Identity Cards

Certificates

Legal and Government Documents

Cheques and Stamps

Others

North America (U.S., Canada)

Europe (France, Germany, UK, Italy, Netherlands, Spain, Russia)

Asia Pacific (Japan, China, India, Malaysia, Indonesia. South Korea)

Latin America (Brazil, Mexico, Argentina)

Middle East & Africa (Saudi Arabia, UAE, Israel, South Africa)
To Understand the Scope of this Report: Speak to Analyst
Hybrid paper segment accounted for the largest market share in 2022
The hybrid paper segment garnered the largest market share in 2022. The growth of the segment market can be highly accelerated to the rising penetration among consumers regarding the usage of hybrid papers due to its ability to provide a wide range of beneficial features coupled with strong security and technological advancements. The rapid development of new technologies and materials has enabled the creation of hybrid papers with increasingly sophisticated security features, such as invisible inks and nanotechnology-based security features, propelling the segment market growth rapidly.
The hologram segment is expected to exhibit at fastest growth rate during the anticipated period, which is mainly driven by its numerous beneficial features, including cost-effectiveness as compared to other security measures like RFID tags or microchips and the capabilities of holographic security features to protect the brand of businesses and organizations by providing a visual marker of authenticity. Moreover, these type of security papers can add an aesthetic element to documents which makes them more visually appealing and increase their perceived value, which is particularly important for documents such as certificates and diplomas.
Legal and government documents segment is expected to witness highest growth in projected period
The legal and government documents segment is projected to grow at the highest CAGR over the anticipated period on account of its rapid increase in the number of government initiatives and programs, especially in emerging economies like India and China, such as the Unique Identification Number initiative and Pradhan Mantri Jan Dhan Yojana among others. Additionally, the significant growth in the focus of major R&D institutes across the globe towards the development of financial inclusion and innovating highly developed features to protect large digital data effectively is also expected to fuel the segment market growth.
The banknotes segment held a significant market share in revenue in 2022, which is highly attributable to continuous growth in the global economy and a growing number of governments implementing several restrictions on designing and producing banknotes to maintain currency stability and counterfeiting effectively. The ability of security papers to make the banknotes more resistant to wear and tear and highly durable compared to regular paper is also resulting in huge market growth worldwide.
Asia Pacific region dominated the global market in 2022
APAC region dominated the global market in 2022, mainly due to the growing preferences for cash transactions, a rapid boost in the population, and a constant surge in government initiatives primarily aimed at expanding BFSI infrastructure. The exponential rise in the prevalence of digitalization in both government and private sectors and the high demand for security paper for various applications, including passports and visas, due to the rising number of people migrating to foreign countries has propelled regional market growth.
The Europe region is also expected to gain a significant growth rate during the forecast period, owing to increasingly stringent regulations imposed by the European governments on the production and circulation of currency, passports, visas, and other important documents and the huge demand for identification documents such as passports, national identity cards, and driver's licenses due to concerns over security and illegal immigration.
Several major countries across the region are increasingly focusing on sustainability, which drives demand for security paper made from environmentally friendly materials or with a lower carbon footprint. As a result, security paper manufacturers in Europe are developing new products made from recycled fibers and other sustainable materials that are likely to impact market growth over the coming years positively.
Competitive Insight
Some of the major players operating in the global market include Domtar Corporation, Security Papers, Security Printing & Minting, Simpson Security papers, SMP-Security Paper, Goznak, HG Technology, Security Print Limited, China Banknote Printing, Fedrigoni Group, Document Security Systems, Gemini Graphics, Pura Group, Shandong Hirun Paper, and Giesecke+Devrient.
Recent Developments
In February 2021, Pixelle Specialty Solutions announced that they had agreed to acquire the security paper business of Wisconsin-based Appvion Operations Inc. With this acquisition, the Carbonless rolls formerly manufactured by Appvion will now be manufactured by Pixelle, which will help the company strengthen and well-position the company product portfolio.

In November 2022, Genus Paper & Boards, a part of the Kailash Group of Companies, announced its plans for the transformation and expansion of its business and to become a one-stop shop for all packaging grades. The company has acquired the NS Papers, which will further help broaden its product portfolio and market reach.
Security Paper Market Report Scope
| | |
| --- | --- |
| Report Attributes | Details |
| Market size value in 2023 | USD 15.05 billion |
| Revenue forecast in 2032 | USD 24.14 billion |
| CAGR | 5.4% from 2023– 2032 |
| Base year | 2022 |
| Historical data | 2019– 2021 |
| Forecast period | 2023– 2032 |
| Quantitative units | Revenue in USD billion and CAGR from 2023 to 2032 |
| Segments covered | By Type, By Application, By Region |
| Regional scope | North America, Europe, Asia Pacific, Latin America; Middle East & Africa |
| Key companies | Domtar Corporation, Security Papers Ltd., Security Printing & Minting Corporation of India Ltd., Simpson Security papers, SMP-Security Paper Mill Inc., Goznak, HG Technology Sdn, Security Print Limited, China Banknote Printing and Minting Corporation, Real Casa de La Moneda, Fedrigoni Group, Document Security Systems Inc., Gemini Graphics Pvt Ltd., Pura Group, Shandong Hirun Paper Co. Ltd., and Giesecke+Devrient GmbH. |