The global smart shelves market was valued at USD 2.64 billion in 2021 and is expected to grow at a CAGR of 22.2% during the forecast period.
The worldwide market for smart shelves is expected to grow due to increasing demand for real-time stock information in retail, the increasing adoption of technologies such as IoT and RFID, and a growing interest in smart shelves and similar innovators.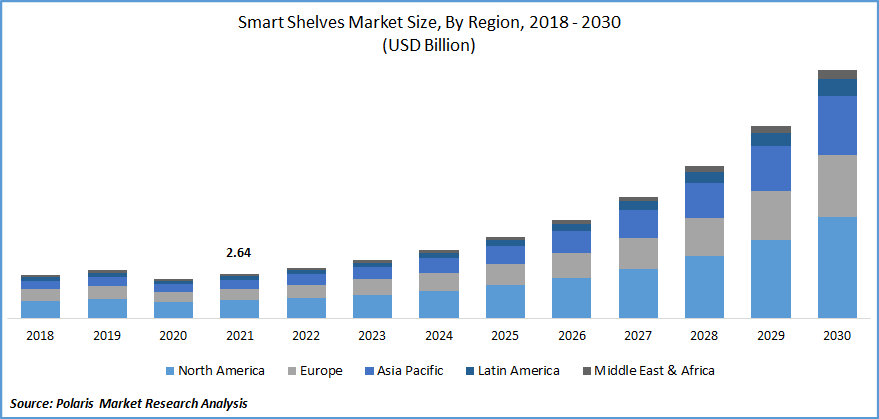 Know more about this report: Request for sample pages
For instance, to meet the rising demand for its label and packaging materials, Avery Dennison Corporation provided information about significant expenditures to increase its manufacturing capacity and boost plant efficiency in Europe in May 2022. In addition, the corporation disclosed a USD 45.19 million investment in developing its Champ-sur-Drac, France, facilities.
To monitor the inventory on the shelves, weight & proximity sensors, 3D cameras, RFID tags, NFC, LED sensors, optical & IoT sensors, etc., are installed over the shelves. When a customer selects an item from the shelf, electronic shelves alert staff members or store managers on their connected mobile devices, this alert is sent when inventory levels are low. The shopkeepers restock the inventory.
The management of retail stores is now possible with this cutting-edge technology. Instead of publishing product information and prices on paper, it shows real-time data using electronic/digital forms and displays. Thanks to a communication network, the price display can be manually adjusted or automated at the business's option. Infrared, radio, or even visible light are the bases for wireless communication.
The electronic shelf labels' QR codes connect offline and online goods through these connections. Retailers may run promotions quickly and engage with customers more frequently when used in conjunction with the shelf management solution. These characteristics will fuel the expansion of the market during the forecast period.
The COVID-19 pandemic has affected the ways businesses function. An economic slowdown brought on by rising COVID-19 cases worldwide is forcing millions of workers to work from home for the first time due to the pandemic. Retail and other customer-facing industries have been significantly affected by COVID-19. The supply, demand, and daily operations of the retail sector have all been impacted by COVID-19.
Overall, COVID-19 has a significant impact on retail. Retailers of clothing, furniture, and gadgets suffer severe losses, primarily due to customers' increased attention to stocking up on or purchasing food and home goods. Therefore, COVID-19 has a detrimental effect on the market for smart shelves. As a result, the market is expected to suffer.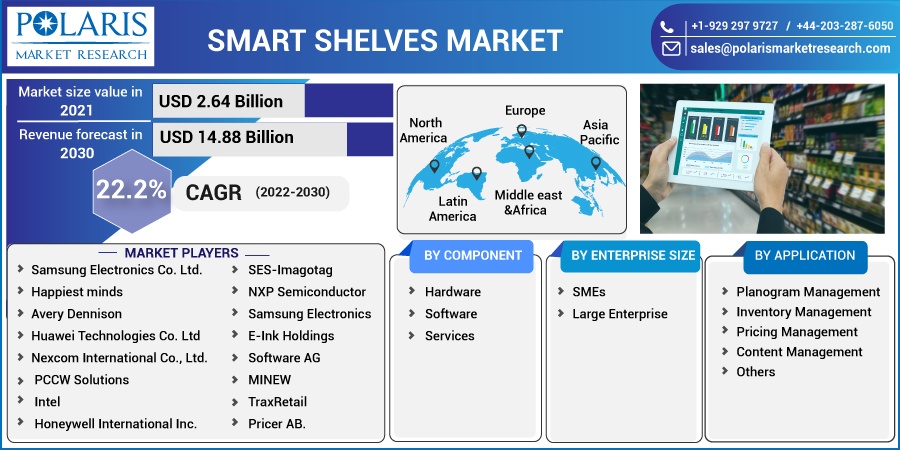 Know more about this report: Request for sample pages
Industry Dynamics
Growth Drivers
Adopting improved inventory management will allow better restocking decisions and real-time customer interaction. Improved inventory management and computerized shelves have given retailers more knowledge and power. For example, businesses can use smart shelves to monitor in-store inventory levels, which will help them manage inventory more successfully and make better restocking decisions.
According to Wiseshelf, the risk of missed purchases, which happen when buyers can't find the item they need, is reduced by smart shelf technology. As a result of automated stock availability tracking, smart shelves alert retail enterprises when supplies are running low or have been moved from their original locations. In addition, it reduces shrinkage and theft by warning employees when supplies are running low. When connected to the internet, smart shelves offer crucial information on customer behavior and suggestions for enhancing the in-store experience.
Report Segmentation
The market is primarily segmented based on component, enterprise size, application, and region.
By Component

By Enterprise Size

By Application

By Region

Hardware
Software
Services

Planogram Management
Inventory Management
Pricing Management
Content Management
Others

North America (U.S., Canada)
Europe (France, Germany, UK, Italy, Netherlands, Spain, Russia)
Asia Pacific (Japan, China, India, Malaysia, Indonesia, South Korea)
Latin America (Brazil, Mexico, Argentina)
Middle East & Africa (Saudi Arabia, U.A.E., Israel, South Africa)
Know more about this report: Request for sample pages
The Hardware segment is expected to witness the fastest growth in 2021
In 2021, the Hardware segment had the largest share. Hardware refers to a computer system's tangible, touchable, physical parts. The internal hardware components of a computer are referred to as components, while the external hardware devices are referred to as peripherals.
An optical scanner illuminates the printed image on paper using light-emitting elements. Depending on how much light is reflected, a light sensor will determine the location and shade (or colour) of the markings on the page. Postal agencies use specialized optical scanners to read and decipher handwritten postal codes. Scanning is done with a scanner and a personal computer.
Small and Medium Enterprises (SMEs) accounted for the second-largest market share in 2021
There are two market segments: SMEs and Large Enterprises. Due to their inherent flexibility and agility, small businesses are better equipped to react quickly than broader corporations. This can be a significant advantage in a market that is constantly changing.
Small enterprises can frequently launch innovative services more rapidly than large corporations, even while they can't always compete on pricing or product range. For example, significant firms may be stifled by corporate procedures and red tape, giving SMEs a window of opportunity. In many small businesses, the person in charge of making decisions also interacts directly with customers, benefiting from their expertise. They can provide both specialized services and services tailored to each client's individual demands. Increasingly, consumers want individualized care and a positive customer experience instead of one-size-fits-all services offered by national chains.
The Pricing Management segment is expected to witness the fastest growth
In 2021, pricing management had the largest share. The rise of hyper-connected consumers and intense competition are two factors that make price management necessary. First, consumers are connected to several distribution channels at once and constantly seek a fair price for a product rather than a low price. Because consumers always compare prices, merchants have adopted a similar pricing approach across all channels.
In response to increased demand for commodities, companies have developed always-on channels to satisfy consumers' needs while avoiding loss of opportunity. Intense competition in the retail sector has significantly impacted retailers' margins, and as more options for consumers have become available, these margins have continued to decline. Consequently, retailers must monitor competitive pricing displayed on shelves to allow consumers to make educated decisions when comparing prices due to price management.
The demand in Europe is expected to witness significant growth
The Europe region is dominating primarily because the retail industry is seeing an increase in demand for smart devices. In the future, smart devices are expected to track and identify items and control inventory operations. Moreover, manual errors could be minimized to a larger extent with these smart shelves, item theft, and easy and streamlined processes. The implementation of technology and automation in the smart shelves resulted in quicker turnaround times for shopping complexes, retail outlets, and malls.
Meanwhile, in September 2021, two of the biggest names in the retail sector, Opticon and Nowi, announced a partnership to develop innovative "Electronic Shelf Label" products as a sustainable replacement for conventional smart retail systems and to improve the in-store consumer experience. It can be made "Energy Autonomous" or self-powered by integrating Nowi's "Energy Harvesting Power Management IC (PMIC)", the NH2, with the PV cells on an Opticon Electronic Shelf Label powered by a battery.
Competitive Insight
Some of the major players operating in the global market include Samsung Electronics Co. Ltd., Happiest minds, Avery Dennison, Huawei Technologies Co. Ltd, Nexcom International Co., Ltd., PCCW Solutions, Intel, Honeywell International Inc., SES-Imagotag, NXP Semiconductor, Samsung Electronics, E-Ink Holdings, Software AG, MINEW, TraxRetail, Pricer AB, and others.
Recent Developments
In March 2022, In addition to the VUSION Operating System, the IoT sustainability programme was introduced by SES-imagotag. Through enhanced security, over-the-air updates, improved battery life, and optimized display management, this initiative extends the lifespan of connected devices used in stores while minimizing environmental effects. V: OS & VUSIONe extends the life of the hardware.
In February 2020, The leading developer of electronic ink technology, E Ink Holdings, unveiled the 4 color E-Ink SpectraTM 3100, for retail signage and electronic shelf labels (ESL).
Smart Shelves Market Report Scope
| | |
| --- | --- |
| Report Attributes | Details |
| Market size value in 2022 | USD 3.00 billion |
| Revenue forecast in 2030 | USD 14.88 billion |
| CAGR | 22.2% from 2022 – 2030 |
| Base year | 2021 |
| Historical data | 2018 – 2020 |
| Forecast period | 2022 – 2030 |
| Quantitative units | Revenue in USD billion and CAGR from 2022 to 2030 |
| Segments Covered | By Component, By Application, By Enterprise Size, By Region |
| Regional Scope | North America, Europe, Asia Pacific, Latin America; Middle East & Africa |
| Key Companies | Samsung Electronics Co. Ltd., Happiest minds, Avery Dennison, Huawei Technologies Co. Ltd, Nexcom International Co., Ltd., PCCW Solutions, Intel, Honeywell International Inc., SES-Imagotag, NXP Semiconductor, Samsung Electronics, E-Ink Holdings, Software AG, MINEW, TraxRetail, Pricer AB. |