The global snow scooter market was valued at USD 1,750.13 million in 2022 and is expected to grow at a CAGR of 4.5% during the forecast period.
During the winter, getting around in snowy areas might be difficult. Staying active in the winter might be difficult because the frigid weather tempts people to stay indoors. Both literally and symbolically, using a snow scooter makes moving around in the snow simple. Snow scooters are a great physical exercise that promotes mental strength. Even though riding a snowmobile involves sitting down, it's still a terrific exercise. Riding a snow scooter is distinct from other types of physical activity since it is a machine that moves ahead using an engine. However, The snow scooter user routinely performs arm, leg, and whole-body motions that call for muscular endurance and strength. These motions occur more frequently over tricky or mountainous terrain. Snow vehicle strengthens the core because it requires flexibility and strength to maneuver on the trails. Therefore, the rising benefits of health during snow activities and the fun involved in it are driving the market's growth over the forecast period.
To Understand More About this Research: Request a Free Sample Report
In addition, Winter weight gain and seasonal affective disorder (SAD), sometimes known as the winter blues, are exacerbated by a lack of sunlight. SAD is a type of depression in which individuals with year-round normal mental health only suffer depressive symptoms in the winter. The signs typically appear during the shorter days of autumn and winter and usually get better as spring approaches. For SAD sufferers in the US, January and February tend to be the most difficult months. The American Psychiatric Association estimates that 5% of adult Americans experience SAD, typically lasting about 40% of the year. It strikes more frequently in women than in men.
Further, many people utilize light therapy, which simulates natural outdoor light, to alleviate SAD. With light treatment, the individual body's natural melatonin production is suppressed, and their circadian rhythms are assumed to be altered, resulting in biochemical changes in people's brains that lessen SAD symptoms. Snowmobiling is a far more enjoyable and convenient approach to getting some exercise and natural light. People spend 90% of their time indoors on average, breathing filtered air and interacting with other people's germs. In the winter, there are even fewer people outside. Being active all year long strengthens their immune system and protects individuals from winter colds. Thus, these snow scooter helps in snow fun activities and reduce winter disorders because people are more engaged in snow fun.
The suspension of manufacturing and production activities progressively impacted the global market for snow scooters. Worldwide stress resulting from the COVID-19 virus' rapid spread prompted countries to enact extreme lockdown and social isolation regulations. During the shutdown, the manufacturing of snow scooters and snow shoes fell dramatically across all industries. The shutdown of tourist attractions and social distancing measures ultimately led to a decline in demand for snow scooters.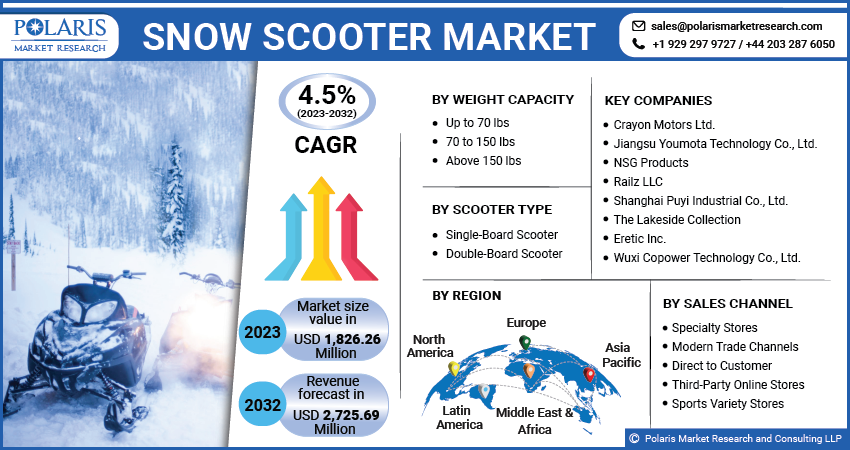 For Specific Research Requirements, Request for a Customized Report
Industry Dynamics
Growth Drivers
The market for snow scooters is growing due to the demand for convenient ways to commute in the snow. A snow scooter is an excellent combination of the standard scooter, a snowboard, a ski, and a sleigh. Kids are often drawn to snow scooters since they are simple and fun to ride, which has increased demand for snow scooters. Particularly in nations with colder climates, ice skating is a popular pastime. For leisurely recreational activities, snow scooters are used.
Additionally, important manufacturers mainly concentrate on the characteristics that guarantee a safe and comfortable trip. Snow scooter demand is primarily focused in the world's colder climates. For instance, in February 2022, the Low-speed electric scooter Snow+ was introduced by emerging electric two-wheeler manufacturer Crayon Motors, with prices starting at Rs 64,000. Snow+ has a top speed of 25 kmph and is intended for light mobility needs. Manufacturers' support for launches of advanced navigated snow scooters is the major factor creating opportunities for the market to grow rapidly.
Report Segmentation
The market is primarily segmented based on scooter type, weight capacity, sales channel, and region.
By Scooter Type

By Weight Capacity

By Sales Channel

By Region

Single-Board Scooter

Double-Board Scooter

Up to 70 lbs

70 to 150 lbs

Above 150 lbs

Specialty Stores

Modern Trade Channels

Direct to Customer

Third-Party Online Stores

Sports Variety Stores

North America (U.S., Canada)

Europe (France, Germany, UK, Italy, Netherlands, Spain, Russia)

Asia Pacific (Japan, China, India, Malaysia, Indonesia. South Korea)

Latin America (Brazil, Mexico, Argentina)

Middle East & Africa (Saudi Arabia, UAE, Israel, South Africa)
To Understand the Scope of this Report: Speak to Analyst
Specialty Stores segment is expected to witness the fastest growth during forecast period
The specialty stores segment is growing with the fastest CAGR due to its various benefits. The focus on a single class of products, such as snow scooters that a specialty store has is one of its main advantages. This offers business owners and staff the chance to gain knowledge and a reputation for selection and expertise within the store's designated specialty.
A specialty store for snow scooters can offer a wider selection of products in its niche, attracting customers who need help finding what they're looking for, specifically at a general retailer. In particular, if owners host special events and product demonstrations, specialty shops become hubs for enthusiasts. Different manufacturers have a dedicated showrooms with many of the newest scooter models. These are the major factors attracting the purchasing of snow scooters from specialty stores.
Single Board Scooters accounted for the second-largest market share in 2022
The segment is developing due to its various benefits, including rides faster and being suitable for a single person to drive. Many scooter manufacturers recommend against using an electric scooter in severe weather, such as deep snow, ice, sleet, rain, or hail. While most electric single-board scooters can navigate short distances through rain or light snow, there are some conditions where an individual will struggle. Ice, slick road surfaces, and puddles that are deeper than they appear to be are the main hazards. While some scooters are waterproof, very few are complete, so owners must take precautions to prevent water damage to all electrical parts, especially the motor and battery of single-board scooters.
The manufacturers are also developing lightweight scooters that are boosting segmental growth rapidly. In January 2020, A lightweight electric snow scooter called a Sniejik enabled riders to go around on snow and ice easily during the winter. In the summer, the scooter can easily replace the ski with a wheel to traverse sand, gravel, and marshes. A tiny group of businesspeople in Samara, Russia, produce Sniejik snow scooters. The Sniejik snow scooter works best when used within a 50-kilometer radius, in snow up to 30 centimeters (one foot) deep, and at minus 20 degrees Celsius.
The demand in North America is expected to witness significant growth during the forecast period
The market is expected to witness significant growth in North America due to Canada's highest demand for snow scooters. The snow scooter has a favorable market in Canada because it is closer to the North Pole and has a longer winter season. A favorable demand trend for snowboards has emerged due to favorable wintertime weather in various U.S. states, which augurs well for the wintertime sport.
The Snowmobiling Physical Activity Health Study, published by the Canadian Council of Snowmobile Organisations (CCSO), provides evidence of the advantages of snowmobiling for one's health. It also discovered that engaging in physical exercises, such as snowmobiling, may be useful for treating the signs of Seasonal Affective Disorder (SAD), most typically seen in the winter.
According to the CDC Guidelines, adults should engage in at least 150 minutes of moderate to vigorous physical exercise each week to reap the many health advantages. The risk of heart attack, stroke, cancer, type 2 diabetes, and osteoporosis can all be decreased with physical activity. Fitness, body composition, and mental wellness can all be enhanced by it. Regardless of age, gender, or racial or ethnic heritage, these health advantages can exist. Therefore, snowmobiling might be a means to adhere to these rules on its own or in conjunction with other physical activities.
Europe has dabbled in various leisure activities throughout the years, increasing demand for cutting-edge gear and equipment, including the snow scooter market. Due to the huge market potential and prominent manufacturers' concentration in developed economies, snow scooters are quite popular. Winter athletic culture is essentially nonexistent in the southernmost regions, such as Latin America, where winters are brief and exceedingly mild. Japan has a huge market need for snow scooters. The huge popularity of winter activities in Japan contributes to the demand for snow scooters.
Competitive Insight
Some of the major players operating in the global market include Crayon Motors, Jiangsu Youmota Technology, NSG Products, Railz, Shanghai Puyi Industrial, Lakeside Collection, Eretic Inc., and Wuxi Copower Technology
Recent Developments
In December 2022, the most recent software release from Rivian included 30+ updates and "Snow Mode." This week, Rivian introduced 30 updates to its vehicles, ranging from significant feature debuts to minor bug fixes.
Snow Scooter Market Report Scope
| | |
| --- | --- |
| Report Attributes | Details |
| Market size value in 2023 | USD 1,826.26 million |
| Revenue Forecast in 2032 | USD 2,725.69 million |
| CAGR | 4.5% from 2023 - 2032 |
| Base year | 2022 |
| Historical data | 2019 - 2021 |
| Forecast period | 2023 - 2032 |
| Quantitative units | Revenue in USD million and CAGR from 2023 to 2032 |
| Segments Covered | By Scooter Type, By Weight Capacity, By Sales Channel, By Region |
| Regional scope | North America, Europe, Asia Pacific, Latin America; Middle East & Africa |
| Key Companies | Crayon Motors Ltd., Jiangsu Youmota Technology Co., Ltd., NSG Products, Railz LLC, Shanghai Puyi Industrial Co., Ltd., The Lakeside Collection, Eretic Inc., and Wuxi Copower Technology Co., Ltd. |