The global solid oxide fuel cell market was valued at USD 339.43 million in 2021 and is expected to grow at a CAGR of 40.6% during the forecast period. The adoption of solid oxide fuel cells has increased on account of their superior efficiency and reduced environmental impact. These cells offer high performance with fuel to the electricity conversion efficiency of greater than 60%.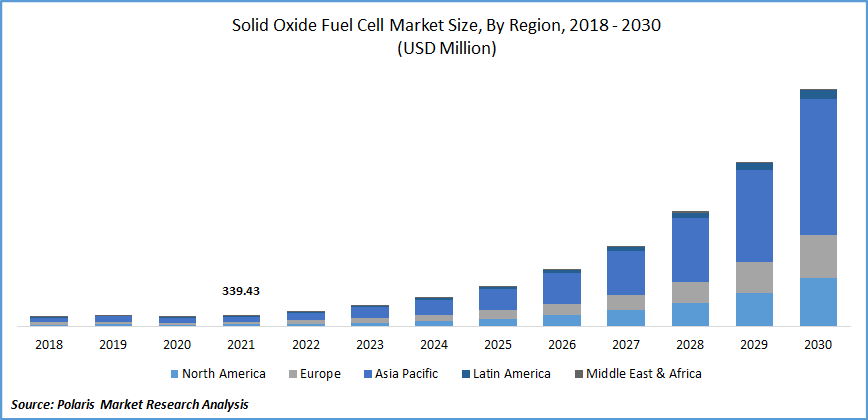 Know more about this report: Request for sample pages
It is used in several applications, such as power plants, data centers, automobiles, and residential spaces, owing to its high performance and fuel flexibility. These can operate on natural gas, hydrogen, or biogas, among others. These oxide fuel cells offer benefits such as reliability, reduced noise, scalability, compact size, and sustainability.
On-going research and advancements in technologies, chemicals, and materials enable industry players to leverage affordable raw materials and achieve low operating temperatures leading to durability and a longer lifetime of fuel cells. Efforts are being made to decrease manufacturing and operating costs in an attempt to deliver competitive pricing and benefit from the high energy conversion offered by solid oxide fuel cells.
They are being used in transportation, power generation, and heating applications. With growing environmental concerns and a greater inclination toward the use of renewable energy sources, the demand for the industry has increased in long-term energy storage and grid balancing.
They are being developed to be used across industries for the generation of on-site power. Increasing awareness and various programs implemented in North America and Europe for higher energy resiliency while reducing emissions support the adoption of these cells. Governments across the world are turning toward the adoption of sustainable technologies through regulations and supportive schemes, driving the growth of the industry.
The outbreak of the COVID-19 pandemic influenced the growth of the solid oxide fuel cell market. The global market was affected by supply chain disruptions and travel restrictions, leading to delays in project deployments. Lockdown enforced across various parts of the world caused workforce impairment and limited manufacturing activities.
The negative impact on industrial and commercial industries also led to reduced demand for the industry. However, some parts of the world experienced a rise in demand from the medical and healthcare sector. During the forecast period, factors such as supportive government regulations and the implementation of environmental protection policies are expected to accelerate the growth of the market.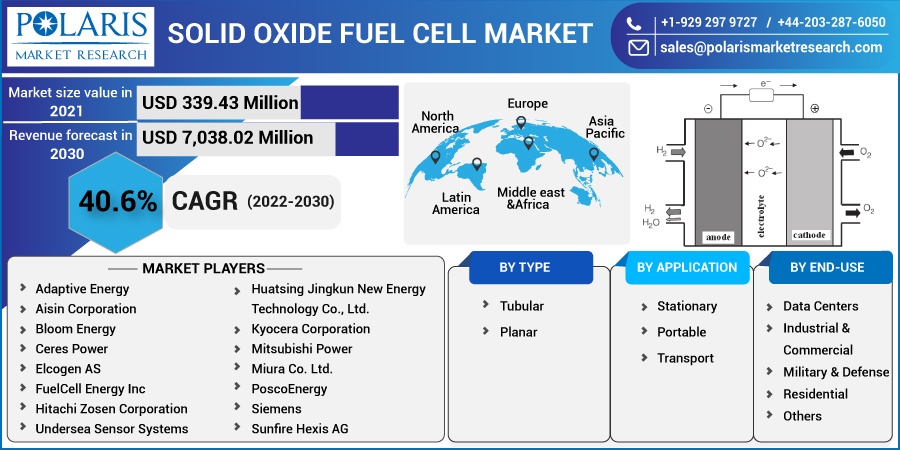 Know more about this report: Request for sample pages
Industry Dynamics
Growth Drivers
The increasing demand for greater energy efficiency associated with power generation has increased the adoption of solid oxide fuel cells in the past few years. An increase in environmental concerns, the introduction of stringent emission regulations across the world, and a rise in government support and initiatives drive the growth of the solid oxide fuel cell market.
Several governments offer subsidies for the purchase of new energy vehicles and the installation of fuel cells. The increasing global population and rise in energy demand have resulted in the adoption of clean energy sources. They are capable of offering clean, efficient, and reliable power generation to a range of devices.
Report Segmentation
The market is primarily segmented based on type, application, end-use, and region.
By Type

By Application

By End-Use

By Region

Stationary
Portable
Transport

Data Centers
Industrial & Commercial
Military & Defense
Residential
Others

North America (U.S., Canada)
Europe (France, Germany, UK, Italy, Netherlands, Spain, Russia)
Asia Pacific (Japan, China, India, Malaysia, Indonesia. South Korea)
Latin America (Brazil, Mexico, Argentina)
Middle East & Africa (Saudi Arabia, UAE, Israel, South Africa)
Know more about this report: Request for sample pages
Planar segment accounted for the largest market share
Based on type, the global solid oxide fuel cell market has been segmented into tubular and planar. The planar segment is expected to dominate the market. The planar design for solid oxide fuel cells is capable of attaining higher power volume density while minimizing reoxidation of the anode-supported cell.
The modules of fuel cells are positioned above each other, and the electrolyte is introduced between the electrodes. These solid oxide fuel cells are widely used owing to their ease of use and simple construction.
Stationary segment accounted for a significant share in 2021
By application, the global solid oxide fuel cell market has been segmented into stationary, portable, and transport. The stationary segment dominated the global market in 2021. The application of solid fuel oxide cells has increased in heat and electricity generation technologies.
These cells offer advantages such as high efficiency, greater performance, and improved durability. The use of these cells in backup power has increased the demand. Increasing government initiatives to adopt renewable energy sources are expected to boost the growth of this segment during the forecast period.
Industrial and commercial segment accounted for a major share
Based on end-user, the global solid oxide fuel cell market has been segmented into data centers, industrial & commercial, military & defense, residential, and others. The industrial and commercial sectors contributed a major share to the global market in 2021. Increasing energy demand from these sectors while reducing emissions drives the growth of this segment.
The growing inclination toward cleaner and quieter power solutions has increased the application of solid oxide fuel cells. In April 2022, Bosch launched its hydrogen-compatible stationary fuel cell system. The solid oxide fuel cell system is developed for industrial and commercial applications. The new product is capable of operating on hydrogen, natural gas, and biomethane to deliver overall efficiency of greater than 85%.
North America accounted for a major share in 2021
North America accounted for a significant share in the global market in 2021. The adoption of solid oxide fuel cells has increased in the region owing to rising applications in defense, data centers, and commercial sectors. Prominent companies in the region are investing in research and development to develop solutions to meet the high energy demand.
Asia-Pacific is expected to experience growth during the forecast period. Greater energy demand in the region and increased use in the automotive and transportation sector is expected to drive the market growth. The rise in environmental concerns and the introduction of environmental regulations further accelerate the adoption of solid oxide fuel cells.
Several market players have introduced new products to cater to the growing demand in the region. In June 2019, Ceres Power introduced its first fuel cell based on Ceres technology. The new product is a 4.2kW combined heat and power unit with a focus on Japan's commercial building sector to offer clean energy and hot water with greater efficiency and reduced carbon footprint. The new product launch enabled the company to strengthen its presence in Japan.
Competitive Insight
The major players in the market are Adaptive Energy, Aisin Corporation, Bloom Energy, Ceres Power, Elcogen AS, FuelCell Energy Inc, Hitachi Zosen Corporation, Huatsing Jingkun New Energy Technology Co., Ltd., Kyocera Corporation, Mitsubishi Power, Miura Co. Ltd., PoscoEnergy, Siemens, Sunfire Hexis AG, and Undersea Sensor Systems. The major players in the market are launching technologically advanced products to cater to the growing energy demand across the world. Significant investments in research and development and government support and initiatives would drive the market during the forecast period.
Recent Developments
In December 2021, Vertiv received funding from the Clean Hydrogen Partnership for development of low-carbon fuel cells to be used in data centres for educed carbon emissions. The EcoEdge PrimePower project is a proof-of-concept initiative for exhibiting application of low environmental impact fuel cells for data centers. Adoption of natural gas solid oxide fuel cells would offer greater efficiency and performance for backup and power systems.
In February 2021, TWI collaborated with Ceres Power Ltd and OpTek Systems Ltd for development of solid state fuel cell. The project called 'SOCRATES' involves development of 5kW Solid Oxide Fuel Cell stack design to cater to the demand of the automotive industry for green power generation. The project is partly funded through the Advanced Propulsion Centre UK.
In October, 2020, Mitsubishi Power signed a contract for supply of solid oxide fuel cell in Europe as a part of the research project KWK.NRW 4.0. The fuel cell was deployed at the Gas- und Wärme-Institut Essen e.V. in Essen. The project involved researching and examining flexible operation and proportional use of hydrogen as a fuel gas under real conditions.
Solid Oxide Fuel Cell Market Report Scope
| | |
| --- | --- |
| Report Attributes | Details |
| Market size value in 2021 | USD 339.43 million |
| Revenue forecast in 2030 | USD 7,038.02 million |
| CAGR | 40.6% from 2022 - 2030 |
| Base year | 2021 |
| Historical data | 2018 – 2020 |
| Forecast period | 2022 – 2030 |
| Quantitative units | Revenue in USD million and CAGR from 2022 to 2030 |
| Segments covered | By Type, By Application, By End-Use, By Region |
| Regional scope | North America, Europe, Asia Pacific, Latin America; Middle East & Africa |
| Key companies | Adaptive Energy, Aisin Corporation, Bloom Energy, Ceres Power, Elcogen AS, FuelCell Energy Inc, Hitachi Zosen Corporation, Huatsing Jingkun New Energy Technology Co., Ltd., Kyocera Corporation, Mitsubishi Power, Miura Co. Ltd., PoscoEnergy, Siemens, Sunfire Hexis AG, Undersea Sensor Systems |