The global sonar systems market was valued at USD 5,987.42 million in 2022 and is expected to grow at a CAGR of 2.8% during the forecast period.The market is being driven by two key factors: the increasing demand for sonobuoys for tactical defense operations and the growing use of sonar in aquaculture farms. Sonobuoys are sophisticated underwater acoustic research systems that are dropped or ejected by naval ships. They record and transmit underwater sounds using advanced transducers and radio transmitters, while also providing environmental information such as wave height and water temperature. The French Defense Procurement Agency awarded Thales Group a contract in March 2021 to develop the SonoFlash air-droppable sonobuoy, further boosting market expansion through its increased usage in military vessels.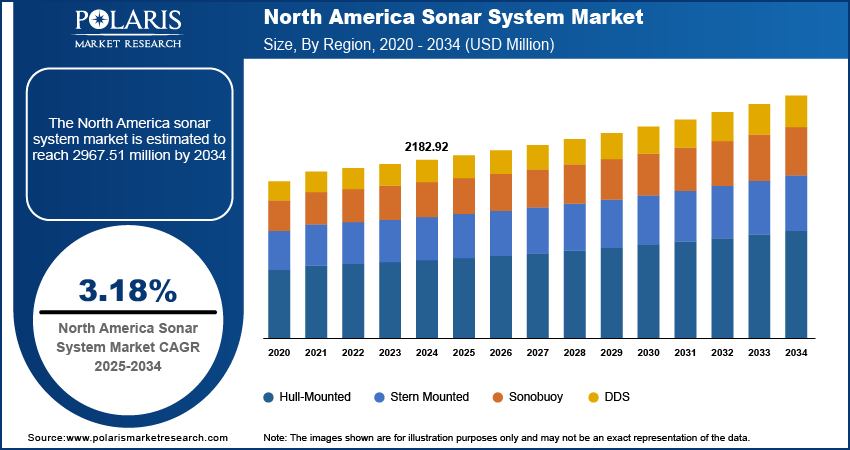 To Understand More About this Research: Request a Free Sample Report
Deep neural network sonars, comprising high-precision imaging sonar and underwater optical cameras, are another significant development in the market. These devices enable nocturnal monitoring and contribute to the development of more efficient fish farming practices. Notably, the SCAN-650 sector scanning sonar, developed by JW Fishers, is a widely used standard equipment worldwide. It employs an advanced underwater optical camera to acquire detailed images of the aquatic environment, regardless of water clarity.
However, the high cost of development poses a significant challenge to business expansion. Sonar systems market involve various components such as data recorders, electronics, inertial navigation systems, and Doppler velocity log systems, resulting in expensive installation and maintenance costs. This cost factor hampers the growth of the market.
Furthermore, the COVID-19 pandemic has had an adverse impact on the navy industry, leading to delays in naval vessel production due to reduced market demand and slower trade activities. This, in turn, has affected the supply chain, causing delays in ship components, parts, and systems for navy vessels, including sonar systems. As a result, the overall growth of the sonar systems market has been stifled by the pandemic's repercussions.
Industry Dynamics
Growth Drivers
According to Stockholm International Peace Research Institute, in 2021, global military expenditure increased by 0.7% higher than 2020 and 12% higher than 2012. Despite, severe economic downturns in the year 2020 on account of COVID-19 pandemic, military expenditure continued to rise with robust economic recovery by 2021.
Increasing military expenditure along with growing number of military vessels & equipment is expected to play vital role in driving the industry growth. Also, increasing sonar system installations along with high rate of retrofitting is further expected to drive product demand in the defense sector.
U.S. and China emerged as the largest countries with huge defense budget in 2021. Increasing defense budget along with growing number of combatant vessels is further projected to drive the sonar systems market growth.
Furthermore, in defense sector, sonar systems are essential for detecting target ships, underwater security, submarine navigation, mine countermeasures, underwater communications, etc. Thus, the aforementioned factors necessitate the implementation of sonar systems and plays vital role in influencing military decisions. Moreover, rising number of navy surface combatants such as assault ships, destroyers, corvettes, frigates, aircraft carriers and submarines in U.S. and Russia is further projected to increase sonar system installations and drive the market growth in the extended run.
Report Segmentation
The market is primarily segmented based on application, platform, type, installation, and region.
By Application

By Platform

By Type

By Installation

By Region

Anti-submarine Warfare

Port Security

Mine Detection & Countermeasure Systems

Search & Rescue

Navigation

Diver Detection

Seabed Terrain Investigation

Scientific

Others

Commercial Vessels

Defense Vessels

Unmanned Underwater Vehicles (UUVs)

Aircrafts

Ports

Hull-mounted

Stern-mounted

Dipping

Sonobuoy

North America (U.S., Canada)

Europe (France, Germany, UK, Italy, Netherlands, Spain, Russia)

Asia Pacific (Japan, China, India, Malaysia, Indonesia, South Korea)

Latin America (Brazil, Mexico, Argentina)

Middle East & Africa (Saudi Arabia, UAE, Israel, South Africa)
To Understand the Scope of this Report: Speak to Analyst
Anti-Submarine Warfare segment dominated the market in 2022
Anti-submarine warfare is experiencing significant growth and dominance. This growth is propelled by the demand for advanced and reliable technologies to safeguard naval vessels from submarine attacks.
The segment is driven by factors like increasing defense budgets, the need for advanced anti-submarine technologies, and escalating geopolitical tensions worldwide. Furthermore, the integration of artificial intelligence and machine learning algorithms in sonar technology is expected to further boost market growth. These advancements enhance target detection and classification accuracy and speed, granting naval forces a crucial edge in identifying and tracking underwater threats.
Anti-submarine warfare is thriving due to the rising demand for advanced technologies in naval operations. This growth is fueled by factors like defense budget expansions, the need for enhanced anti-submarine capabilities, and geopolitical tensions. Additionally, the integration of artificial intelligence and machine learning in sonar systems is set to drive further market growth, offering improved detection and tracking capabilities for underwater threats.
Defense Vessels segment is projected to grow at the fastest rate over the projected period
Sonar systems are integral to modern defense vessels, particularly those focused on anti-submarine warfare (ASW). The defense vessels segment is projected to grow rapidly as these vessels rely on sonar systems to detect, classify, and track underwater threats such as submarines, torpedoes, and mines. Various types of sonar systems are employed, including passive, active, and towed array sonar.
The Thales CAPTAS-4 compact sonar system is a prominent example used in defense vessels, capable of integration into multiple platforms. It utilizes both passive and active sonar to detect and track underwater targets in shallow and deep waters, ensuring national security and protecting naval assets.
Hull-mounted segment dominated the global market in 2022
The hull-mounted sonar segment dominated the global market. Hull-mounted sonar systems are fixed to the bottom of ships' hulls and provide high-performance active and passive sonar capabilities for detecting, classifying, localizing, and tracking underwater obstacles. Key players such as Ultra Group, Thales, and Lockheed Martin Corporation offer a range of hull-mounted sonar systems for anti-submarine warfare (ASW). For instance, Ultra Group's Sea Searcher provides active and passive surveillance, torpedo classification, underwater communications, and marine mammal detection. GeoSpectrum Technology Inc. offers the cost-effective and compact M670 HMS sonar, which is compatible with a sensor-agnostic RecView system and is suitable for naval ships requiring high-performance ASW capabilities.
North America dominated the global market in 2022
North America has gained a leading position due to an expansion in naval manufacturing in the U.S. For instance, the U.S. government announced a plan for shipbuilding in 2020 to add 82 new ships for up to USD 147 billion over five years, from 2022 to 2026. The US is expected to have the greatest market for underwater surveillance systems. It is participating in many SONAR system exports and imports worldwide, which has sparked market expansion for SONAR systems in the region
Adopting modern systems that combine more robust naval defense systems for the country's security with increased R&D for sonar system technical breakthroughs by major regional firms is fueling the region's economy. The United States Navy created the Sound Surveillance System (SOSUS), a passive sonar-based submarine detection system, to monitor Soviet submarines.
The "Sound Surveillance System" (SOSUS) is a permanent network of underwater hydrophones that the U.S. Navy installed on the ocean floor to monitor Soviet submarines as they moved between their bases and patrol zones in the Atlantic and Pacific Oceans. For instance, In April 2022, The U.S. Navy will no longer collaborate with Raytheon Technologies to create a sonar for littoral combat ships and frigates rather than purchase a sonar currently used by several navies worldwide.
In December 2021, Defense Research and Development Canada (DRDC) debuted a novel underwater listening device to locate submarines during the Arctic and Offshore Patrol Ship's (AOPS) recent involvement in Operation Nanook 2021 was part of its broader and continuing circumnavigation of North America.
Competitive Insight
Some of the major players operating in the global market include Atlas Elektronik, Furuno Electric Co, Japan Radio Company, KONGSBERG, L3Harris Technologies, Inc, Lockheed Martin Corporation, NAVICO Group, Raytheon Technologies Corporation, Sonardyne, Thales Group, Ultra Electronics, and Teledyne Technologies Inc.
Recent Developments
In September 2022, Furuno Electric Co., Ltd. launched a New FLEX Function Display SFD-1010/1012, which has 10" and 12" display and control units with a wide range of Furuno sensors from DRS4DL+ Radar to DFF-3D Multibeam Sonar or Fish Finders.

In April 2021, Lockheed Martin has closed negotiation with Thales for supply of 55 LFS (Airborne Low Frequency Sonar) anti-submarine warfare sonars to the U.S., Greek, Indian and Navy and Danish Navies.
Sonar Systems Market Report Scope
| | |
| --- | --- |
| Report Attributes | Details |
| Market size value in 2023 | USD 6,046.10 million |
| Revenue forecast in 2032 | USD 7,734.82 million |
| CAGR | 2.8% from 2023 – 2032 |
| Base year | 2022 |
| Historical data | 2019 – 2021 |
| Forecast period | 2023 – 2032 |
| Quantitative units | Revenue in USD million and CAGR from 2023 to 2032 |
| Segments Covered | By Application, By Platform, By Type, By Installation, By Region |
| Regional scope | North America, Europe, Asia Pacific, Latin America; Middle East & Africa |
| Key Companies | Atlas Elektronik, Furuno Electric Co, Japan Radio Company, KONGSBERG, L3Harris Technologies, Inc, Lockheed Martin Corporation, NAVICO Group, Raytheon Technologies Corporation, Sonardyne, Thales Group, Ultra Electronics, and Teledyne Technologies Inc. |