The global space propulsion market was valued at USD 6,170.55 million in 2021 and is expected to grow at a CAGR of 15.5% during the forecast period.
New space propulsion vehicles are increasing and diversifying quickly. This is because of having a history of successful flights. The market for new aircraft remains vibrant and ever-evolving. The latest aircraft is designed by keeping track of the history of space flights. This has increased safety and reduced the time and cost associated with new product development. Many advanced technologies and the use of composite materials in the manufacturing of components are driving the growth of the global market.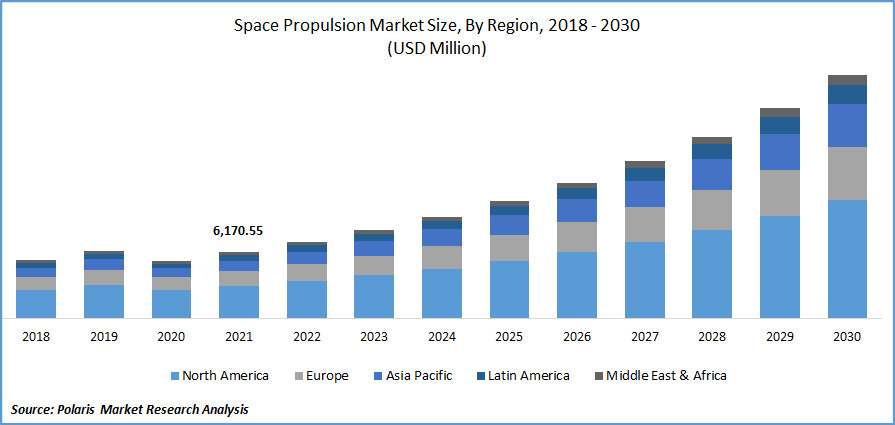 Know more about this report: Request for sample pages
The increasing investment, rise in conflicts on borders, keeping track of weather forecasting and natural calamities, and growth in space missions for exploring are propelling the space propulsion market's revenue growth. Rockets are employed as low Earth orbit (LEO) elevators, continued development of reusable rockets could stimulate market revenue growth.
The space propulsion system includes valves, fuel tanks, pressure regulators, propellant assembly, thrusters, etc. Many space propulsion systems are used by aeronautics and space agencies because of the presence of a wide range of satellites and space crafts. All the above factors fueled the growth of the global space propulsion market.
Covid-19 has a negative effect on the global market. Due to the worldwide lockdown imposed by the governments to stop the spreading of the virus, all the manufacturing companies have shut down their manufacturing. This has led to a reduction in the space launch vehicle's components and satellites. Due to delivery and production delays, many market players go through a significant decline in their revenue share during the time of the pandemic.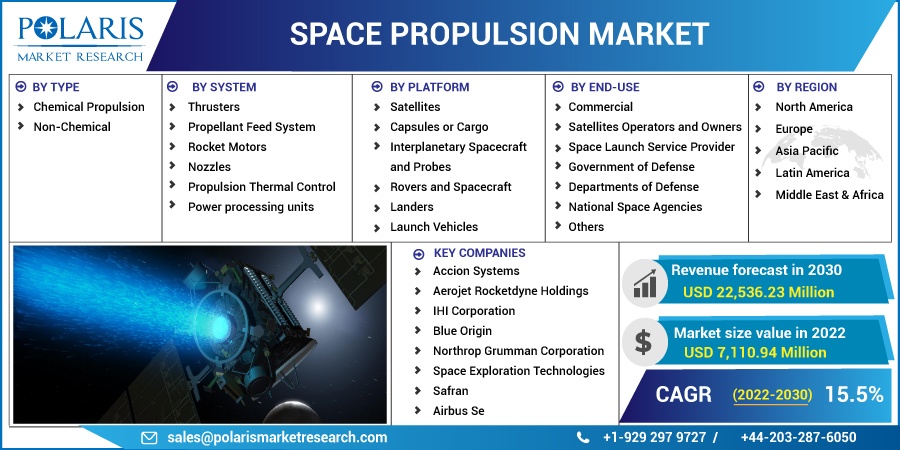 Know more about this report: Request for sample pages
Industry Dynamics
Growth Drivers
LEO satellite has many advantages like lower launch cost, cost effectivity, and availability of satellite parts, the emphasis has been led on its construction by major players. LEO satellites have high-power signals which produce a signal that is 1,000 times (30 dB) stronger than any GNSS signal. LEO satellites can receive signals from anywhere in the sky. LEO constellations have multiple satellites therefore they can provide 3-D location information along with exact timings. Some examples are Communication, Scientific missions, Logistics and geo-location, Earth observation, Signal monitoring, etc. The many advantages and properties of LEO spacecraft, have created a demand for the space propulsion system.
In Oct 2022, OneWeb successfully launched 36 new LEO (Low Earth Orbit) satellites into its constellation from India. This launching mission from India enhances global coverage and forms connectivity in India and South Asia. The increase in space exploration missions and a rise in the collaboration between government and private companies have increased in recent years. For instance, the executive chairman of Amazon, Jeff Bezos wants to colonize the moon in 2019. And in Feb.
Military forces and defense use remote sensing technology, communication systems, and GPS with the help of satellites. Through satellites, they get more accurate and precise information about enemies and targets and thus, reduce collateral damage and casualties of both civilians and military. During war when the ground communication system is often unavailable or unsecured, military satellites can overcome such limitations. Thus, increasing demand for such satellites or spacecraft for military purposes increases space propulsion.
Report Segmentation
The market is primarily segmented based on type, system, platform, end-use, and region.
By Type

By System

By Platform

By End-Use

By Region

Chemical Propulsion
Non-Chemical

Thrusters
Propellant Feed System
Rocket Motors
Nozzles
Propulsion Thermal Control
Power processing units

Satellites
Capsules or Cargo
Interplanetary Spacecraft and Probes
Rovers and Spacecraft Landers
Launch Vehicles

Commercial
Satellites Operators and Owners
Space Launch Service Provider
Government of Defense
Departments of Defense
National Space Agencies
Others

North America (U.S., Canada)
Europe (France, Germany, UK, Italy, Netherlands, Spain, Russia)
Asia Pacific (Japan, China, India, Malaysia, Indonesia, South Korea)
Latin America (Brazil, Mexico, Argentina)
Middle East & Africa (Saudi Arabia, UAE, Israel, South Africa)
Know more about this report: Request for sample pages
Non- Chemical propulsion type leads the market share during the forecast period
Solar propulsion is an advanced propulsion technology that is cost-saving and provides safety and superior propulsive power to support a variety of space exploration missions. This system uses solar cells to generate power. In a Laser propulsion system, a spaceship can get velocity using two ways. The first method, which is the basis for solar sails and laser sails, transfers momentum by the application of photon radiation pressure. The second technique makes use of the laser to assist in mass removal from the spaceship, much like a traditional rocket. The nuclear propulsion system is a system in which propulsion methods use some form of nuclear reaction as their primary power source.
The Thrusters segment is projected to have the highest market share
Thrusters are mainly used for maneuvering, orbital station-keeping, attitude control, or long-duration, low-thrust acceleration orbit control of satellites. Thus, it leads the space propulsion market during the forecast period. They can either be pressure supplied or pump-fed, in general. This pressure-supplied system is frequently employed in auxiliary propulsion and space propulsion applications that ask for low system pressures and sparse propellant supplies. In contrast, the high-pressure, high-performance application uses the pump-fed system.
The satellite segment holds the largest revenue share
The market for satellites is expanding more quickly due to many applications such as the launching of satellites and spacecraft in orbit, probes and interplanetary spacecraft, controlling automobiles that re-enter, automated resupply missions for the International Space Station, controlling and stabilization of ascent roll for light to heavy launch vehicles, control of the attitude, orbit, and roll of the launch vehicle's upper stage.
The market for launch vehicles is expected to expand significantly due to the high demand for space propulsions for numerous planned satellite launches by commercial market players, while the market for rovers and landers is expected to expand slowly but steadily because of their complex systems, high space budgets, and scarcity of manufacturers.
The Government and Defense segment register the highest growth rate during the forecast period.
Over the projection period, the government and defense industry is anticipated to experience quicker revenue growth. A military satellite is a spacecraft that has been launched into orbit to perform activities for the military on the surface of the Earth, including communications, navigation, and reconnaissance. Early notice supplied by military satellites regarding military developments and enemy force deployments on the ground would be crucial for the Indian armed forces. The tasks that military satellites can be used for reporting to the relevant agency all the intelligence information collected on adversary troops through signal and electronic intelligence, in the country's most remote and inaccessible places, including Jammu and Kashmir and the North East.
North America is expected to witness the highest growth in the forecast period
During the forecast period, the North American region is expected to grow at the highest rate of CAGR. The high space budget, the large number of commercial space organizations and market participants in this region, and the sizeable space industry are all credited with the expansion.
The market will experience impressive expansion in Asia-Pacific. Increasing government and commercial satellite launches due to increased space budgets in China, India, and Japan. The market is driven by defense utilities, rising demand for satellites over Asia, and other factors. Market expansion is driven by rising space investments and expanding military satellite programs from various APAC nations.
Competitive Insight
Some of the major players operating in the global market include Accion Systems, Aerojet Rocketdyne Holdings, IHI Corporation, Blue Origin, Northrop Grumman Corporation, Space Exploration Technologies, Safran, Airbus Se, and Thales Alenia Space.
Recent Developments
In Sept 2022, Contracts for satellite communications were signed by Airbus with the Dutch and Czech defense ministries. Airbus UHF (Ultra High Frequency) military communications hosted payload will be used by the armed services on 2 or 3 channels, and it will be launched as part of the EUTELSAT 36D communications satellite in 2024.
In Jan. 2022, before the launch of the 1st Galileo satellites, Safran aircraft engines will deliver the 1st PPF5000 thrusters to Alenia Space. These thrusters will be used for both commercial & military purposes and provide both defense & civil positioning services.
Space Propulsion Market Report Scope
| | |
| --- | --- |
| Report Attributes | Details |
| Market size value in 2022 | USD 7,110.94 million |
| Revenue forecast in 2030 | USD 22,536.23 million |
| CAGR | 15.5% from 2022 - 2030 |
| Base year | 2021 |
| Historical data | 2018 - 2020 |
| Forecast period | 2022 - 2030 |
| Quantitative units | Revenue in USD million and CAGR from 2022 to 2030 |
| Segments covered | By Type, By System, By Platform, By End Use, By Region |
| Regional scope | North America, Europe, Asia Pacific, Latin America; Middle East & Africa |
| Key companies | Accion Systems, Aerojet Rocketdyne Holdings, IHI Corporation, Blue Origin, Northrop Grumman Corporation, Space Exploration Technologies, Safran, Airbus Se, Thales Alenia Space. |