The global stacker crane market was estimated at USD 977.27 million in 2021 and is projected to grow at a CAGR of 6.6% during the forecast period.
Industries are expanding quickly, and automated stacker cranes are becoming more and more popular. As a result, it is projected that global sales of stacker cranes will grow significantly during the forecast period. There has been a substantial transformation in the supply chain in recent years. In the beginning, physical labor was frequently time-consuming and was used to fulfill most of the warehouse and storage facility tasks. But as automation proliferated and technology evolved, workers began to be replaced by machines.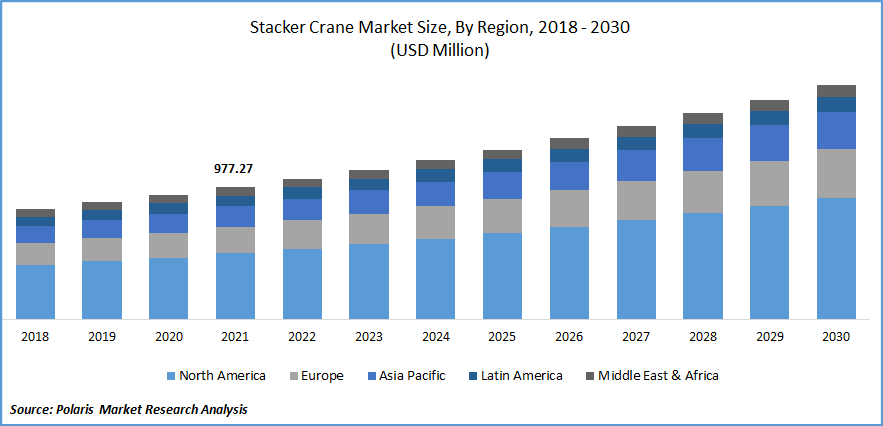 Know more about this report: Request for sample pages
In the forthcoming years, it is anticipated that these advantages will increase the market size for stacker cranes. Additionally, stacking advancements and innovations provide market participants with significant growth potential. But it's anticipated that the growing popularity of forklift utilization would restrain market expansion. The initial cost of building a stacker crane is high. This system must be set up precisely, so assistance from an expert is required.
COVID-19 is expected to increase demand for e-commerce platforms, causing retailers to invest in automation solutions to meet the burgeoning market. Automation solutions will increasingly be used by businesses looking to safeguard themselves against future supply chain disruptions. As a result, the need for automated storage and retrieval solutions from the e-commerce, retail, healthcare, and food & beverage industries is fueling the growth of this market.
Additionally, it's expected that the spread of COVID-19 will boost online shopping demand, prompting retailers to invest in automation solutions to handle the surge in demand. Companies aiming to defend themselves against supply chain disruptions in the future are likely to adopt automation solutions.
Moreover, although it is likely to stabilize over the next few years, the size of the machinery industry is declining. In addition, a drop in the demand for stacker cranes in 2020 was caused by the global halting or slowdown of output in manufacturing-based sectors such as the automotive, metals and heavy machinery, aviation, semiconductor, and electronics industries. After 2020, the market is anticipated to pick up steam due to the expanding retail and e-commerce sectors.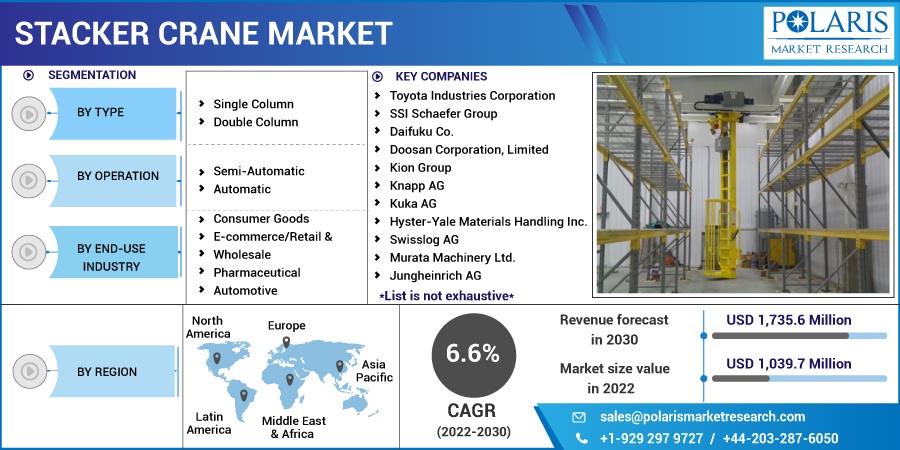 Know more about this report: Request for sample pages
Industry Dynamics
Growth Drivers
A crucial component of automated storage and retrieval systems is stacker cranes (ASRS). A simple activity like placing something in a predetermined area. ASRS makes it easy to retrieve objects, transfer them to designated processing or interface points, and more. As a result, the implementation of ASRS reduces labor expenses and improves space utilization. According to projections, declining warehouse availability and rising warehouse rents will be the primary drivers of using ASRS systems. Following the COVID-19 epidemic, there has been a remarkable rise in online shoppers, leading to a boom in the e-commerce industry.
Due to the introduction of social distance regulations, lockdowns, and other measures in response to the COVID-19 outbreak, consumers have shifted to online purchasing. This results from a rise in business-to-business (B2B) and business-to-consumer (B2C) e-commerce. The control system for the warehouse operates the automatic stacker cranes. The sensors are pre-programmed to detect products with the aid of an algorithm. Utilizing warehouse management systems and automated stacker cranes reduces downtime and pointless movements. As a result, the user can increase the warehouse's capacity and efficiency using the same floor area.
Report Segmentation
The market is primarily segmented based on type, operation, end-use industry, and region.
By Type

By Operation

By End-Use Industry

By Region

Single Column
Double Column

Consumer Goods
E-commerce/Retail & Wholesale
Pharmaceutical
Automotive
Others

North America (U.S., Canada)
Europe (France, Germany, UK, Italy, Netherlands, Spain, Russia)
Asia Pacific (Japan, China, India, Malaysia, Indonesia, South Korea)
Latin America (Brazil, Mexico, Argentina)
Middle East & Africa (Saudi Arabia, U.A.E., Israel, South Africa)
Know more about this report: Request for sample pages
The single column segment is expected to witness the fastest growth.
In 2021, the single-column segment sub-part was anticipated to increase throughout the projected period. The single-column segment is expected to be the most significant market. They have made it possible to respond promptly to orders requiring customization, which was previously time-consuming with traditional storage and retrieval systems. It is frequently used as an automated solution to expand warehouses' capacity and enhance items' flow and storage. Most equipment producers in the area are also working to increase their load capabilities to expand the use of single-column stacker cranes in heavy industries.
The primary and auxiliary-oriented wheels attach the stacking lifter to a vertical upright column. These wheels can move freely on the sliding rail from the top to the bottom of the central column. The stacking lifter has a forked device attached to the lifting platform. A fixed frame and an upper slide installed on the fixed frame make up this gadget. It is a valuable innovation because of its logical design, dependable performance, smooth operation, quick pick-up times, high efficiency, energy conservation, and ease of maintenance.
The automatic operation segment accounted for the largest market share in 2021
In 2021, automated systems were chosen because they include algorithms intended to boost productivity, decrease downtime, and eliminate pointless movements. The scarcity of competent labor is driving the need for automated stacker cranes to operate stacker cranes, as these require little human involvement. However, the automatic segment is expected to surpass the semi-autonomous one during the projection period due to the introduction of logistics 4.0, increasing automation penetration, and the quick expansion of the global market.
With their built-in sensors, automatic stacker cranes provide more accessible storage and retrieval of cargo with fewer commands. They considerably lower the possibility of errors and are quick and accurate. During the projection period, greater public awareness of the advantages of automatic cranes will fuel segment expansion.
The Automotive segment is expected to witness the fastest growth
Automated stacker cranes manage equipment that moves horizontally and vertically in the storage regions of a logistics facility. With their extended forks placed in the machine's cradle, they are tasked with placing, keeping, and removing goods from their positions in the racks. It is possible to carry out storage and extraction processes independently (simple cycle) or together (combined cycle). The basic cycle describes the natural action of a crane when storing a single item. During the combined cycle, this crane deposits one load & picks up another.
One of the critical advantages of automated stacker cranes is automation, which expands the market for stacker cranes like those seen in automobiles. Because these machines run continuously, more motions are made while fewer mistakes are made. They offer a high degree of output and effectiveness.
The demand in Asia-Pacific is expected to witness significant growth
The Asia-pacific region's dominance is primarily due to China and India's growing use of stacker cranes; Asia-pacific is anticipated to occupy the largest revenue share. In comparison, it is expected that other nations in the region, like Japan and South Korea, will increase their participation by upgrading and retrofitting their current stacker crane systems. Additionally, international stacker crane OEMs are moving their operations to the area. The expansion of local players brought about by the technology transfer is anticipated to lower the cost of stacker crane adaptation in the area. As a result, the region's share is expected to grow during the projection period.
One defining trait is the rise in the number of government activities in the region. For instance, the Indian government created Project Unnati, which improved key performance indicators for 12 relevant benchmarks. It was discovered that 116 projects at 12 major ports have the potential to boost productivity and create more than 100 MTPA of capacity. More than 80 MTPA capabilities have been made possible by 93 initiatives. Two incredibly crucial ports are being built to fill the capacity deficit and significantly increase demand. Greenfield ports are proposed in Paradip Outer Harbour, Vadhavan (both in Maharashtra), and Odisha.
The growth of end-use industries like consumer goods, e-commerce/retail, automotive, and pharmaceuticals; rising automation adoption; the presence of top stacker crane manufacturers; and technological advancements are all contributing to the U.S. stacker crane market's potential for significant revenue growth. The region continues to face significant challenges related to the capacity of existing ports and the desire for future port construction. Governments are constructing and upgrading ports and existing ports through various projects to meet demand.
Competitive Insight
Key players include Toyota Industries, SSI Schaefer, Daifuku Co., Doosan Corporation, Kion Group, Knapp, Kuka, Hyster-Yale Materials, Swisslog, Murata Machinery, Jungheinrich, Vanderlande Corporation, Mitsubishi Logisnext, and Murata Machinery.
Recent Developments
In June 2021, Toyota Motor & Swisslog partnered to implement an automation system, including Swisslog's Carry Pick storage & order picking service at its Kentucky facility.
Stacker Crane Market Report Scope
| | |
| --- | --- |
| Report Attributes | Details |
| Market size value in 2022 | USD 1,039.7 million |
| Revenue forecast in 2030 | USD 1,735.6 million |
| CAGR | 6.6% from 2022 – 2030 |
| Base year | 2021 |
| Historical data | 2018 – 2020 |
| Forecast period | 2022 – 2030 |
| Quantitative units | Revenue in USD million and CAGR from 2022 to 2030 |
| Segments Covered | By Type, By operation, By End-Use Industry, and By Region |
| Regional scope | North America, Europe, Asia Pacific, Latin America; Middle East & Africa |
| Key Companies | Toyota Industries Corporation, SSI Schaefer Group, Daifuku Co., Doosan Corporation, Limited, Kion Group, Knapp AG, Kuka AG, Hyster-Yale Materials Handling Inc., Swisslog AG, Murata Machinery Ltd., Jungheinrich AG, Vanderlande Corporation, Mitsubishi Logisnext Co., Ltd., and Murata Machinery Ltd. and others. |