The sulfuric acid market was valued at USD 13.37 billion in 2021 and is expected to grow at a CAGR of 10.0% during the forecast period. The growing demand for sulfuric acid is due to its increased utilization in the agriculture and automotive sectors. Sulfuric acid is called the king of acids due to its direct and indirect applications in manufacturing many chemicals, including fertilizers.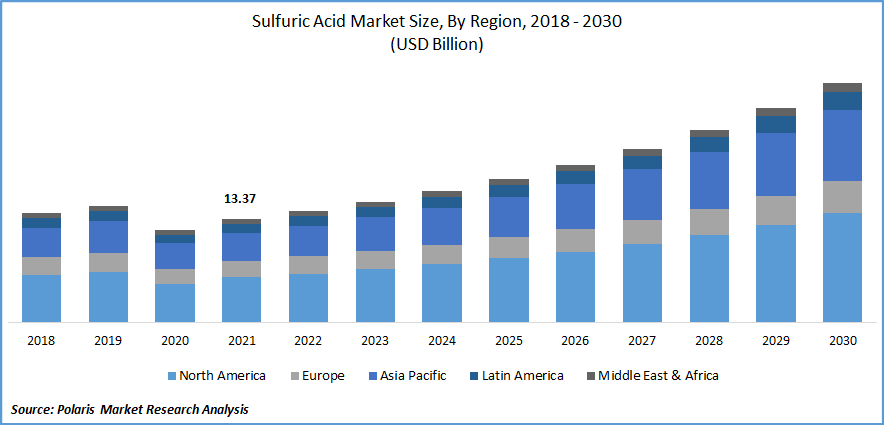 Know more about this report: Request for sample pages
Sulphuric acid is a mineral consisting of sulfur, hydrogen, and oxygen, with the molecular formula H?SO?. It is an odorless and colorless chemical that is soluble in water. With its strong acidic nature and dehydrating and oxidizing properties, it has various applications in agricultural, automotive & transportation, consumer goods, and other end-use industries.
It is obtained from sulfur-di-oxide, and some are made of ferrous sulfate waste solutions and is produced by two major processes called lean chamber and contact process.
The rise in stringent government rules and regulations for controlling emissions has increased the utilization of smelters to capture sulfur dioxide products, which has driven the market.
Growing product demand as a catalyst, dehydrating agent and reactant in fertilizers, paper & pulp, chemical manufacturing, metal processing, petroleum refinery, and others is expected to propel the market's growth over the forecast period.
Additionally, higher requirements for sulfate salts, nitric acid, hydrochloric acid, synthetic detergents, dyes & pigments, explosives, and other drugs have augmented the market growth.
The Covid-19 pandemic has negatively impacted the market, and the demand for the product decreased tremendously due to the disruption of supply chains and restrictions on transportation worldwide. Several companies operating in the automotive, paper & pulp, metal, petroleum, and other industries have incurred enormous losses, which led to a decline in the demand for the products manufactured using sulphuric acid.
Moreover, the governments are taking steps to relax taxes and fiscal deficits to minimize the impact that can stabilize the market situation and assist growth.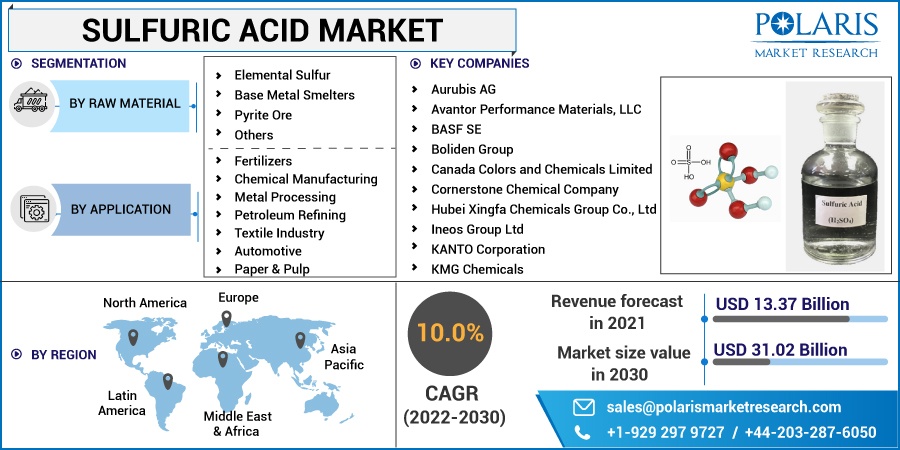 Know more about this report: Request for sample pages
Industry Dynamics
Growth Drivers
In agriculture, sulfuric acid creates inorganic phosphate fertilizers such as ammonium sulfate and superphosphate of lime. It is also used in the production of mono ammonium phosphate (MAP) and diammonium phosphate (DAP), which is used in the tilling process to increase the yield of crops. So, the growing demand for fertilizers in agriculture is boosting the market's growth.
Increased use of sulfuric acid in the automotive sector for vehicle batteries is anticipated to boost market growth. Car batteries consist of up to 28-32% of sulfuric acid, which generates an electrical current capable of reacting with lead.
In households, it is used as a liquid-form drain cleaner that unclogs drains. In lesser concentrations, it occurs in glass-cleaning etching compounds, rust and corrosion dissolvers, and some fabric cleaners. These daily applications of sulfuric acid are expected to propel the market.
Sulfuric acid is used to manufacture chemotherapy drugs as it damages the cancerous cell DNA. Various skin infections, such as canker sores triggered by stress, acidic foods, or minor trauma, can be treated with sulfuric acid as it is used as an ingredient in skin ointments. Such beneficial applications of sulfuric acid in the healthcare sector are supposed to influence the market's growth.
In modern industry, sulfuric acid is a necessary commodity chemical used primarily for producing phosphoric acid. It is also suitable for removing oxidation from iron and steel, so metal manufacturers use it in large quantities. Additionally, it is vital in treating wastewater, manufacturing lead acid batteries, manufacturing rayon, and harvesting potatoes as a desiccant. All these uses and factors are driving the market growth.
Report Segmentation
The market is primarily segmented based on raw material, application, and region.
By Raw Material

By Application

By Region

Elemental Sulfur
Base Metal Smelters
Pyrite Ore
Others

Fertilizers
Chemical Manufacturing
Metal Processing
Petroleum Refining
Textile Industry
Automotive
Paper & Pulp
Others

North America (U.S., Canada)
Europe (France, Germany, UK, Italy, Netherlands, Spain, Russia)
Asia Pacific (Japan, China, India, Malaysia, Indonesia, South Korea)
Latin America (Brazil, Mexico, Argentina)
Middle East & Africa (Saudi Arabia, UAE, Israel, South Africa)
Know more about this report: Request for sample pages
Elemental sulfur accounted the largest market share in 2021
Elemental sulfur accounted for the largest revenue share in 2021 as emission using elemental sulfur is less than pyrite ore or base metal smelters. Raw materials are readily available. The generation of sulphuric acid through sulfur is less polluting than base metal smelting and roasting pyrite ore, which require businesses/factories to undertake rigorous methods to clean the generated sulfur oxide gas before releasing them into the atmosphere.
Increasing developmental activities, such as enhancing companies' production capacities to propel the manufacturing of sulphuric acid products from elemental sulfur, are expected to trigger market growth. Additionally, elemental sulfur is used as an insecticide, rodenticide, repellent, and soil amendment to lower soil pH, which has led to the segment's growth.
Fertilizers is expected to hold the significant revenue
Based on applications, the fertilizer segment accounted for the largest market share as the increased population has led to a demand for superior-quality food crops.
Due to rapid industrialization and urbanization, there is a reduction of arable land, leading farmers to use fertilizers to increase crop yield. The rise in sulfuric acid utilization for producing quality fertilizers for agriculture is anticipated to augment fertilizer production, thereby complementing market's growth.
Chemical manufacturing segment is supposed to grow the fastest during the forecast period. The chemical refineries primarily involve contaminated sulfuric acid production, resulting in the regeneration of pure and concentrated H2SO4 products. The regenerated acids emit low emissions leading to reduced production costs, which makes them sustainable and environmentally friendly.
Growing investment in developmental activities related to chemical synthesis in China is anticipated to fuel the market growth over the forecast period. The rising production of industrial cleaning agents is expected to spur industry growth.
Asia Pacific is projected to grow at the highest CAGR during the forecast period
Rising sulfur production in China and Japan is projected to drive the product offering of sulfuric acid for the different application industries in the region. Increasing demand for H2SO4 in the Philippines and Indonesia has surged the exports from China, which is expected to propel the market. Thus, Asia Pacific accounts for the highest growth rate.
An increase in the cultivation of crops and higher crop yields due to rising demand from industrial and phosphoric acid sectors has triggered growth in China. Due to the growing demand for the product in the Asia Pacific, sulfuric acid prices are rising. The increasing need to expand the production of phosphate fertilizer due to the high demand in the agriculture sector and stringent environmental regulations concerning the manufacturing of environment-friendly products is likely to propel the market over the coming years.
The Middle East is expected to grow the fastest during the forecast period. The increasing supply of H2SO4 products from Saudi Arabia is expected to spur the market over the forecast period. The growing number of acid plants to meet growing consumer demand and the increasing supply of sulfur-burnt acids in the Middle East are anticipated to drive the market's growth.
Competitive Insight
Some of the major players operating in the global market include Asia Union Electronic Chemical Corporation (AUECC), Aurubis AG, Avantor Performance Materials, LLC, BASF SE,
Boliden Group, Canada Colors and Chemicals Limited, Cornerstone Chemical Company, Hubei Xingfa Chemicals Group Co., Ltd, Ineos Group Ltd, KANTO Corporation, KMG Chemicals, Linde Group, Ma'aden - Saudi Arabian Mining Company, Nouryon, PVS Chemicals Inc., Qingdao Hisea Chem Co.Ltd, Seastar Chemicals, Tata Chemicals, Trident Group, UBE INDUSTRIES, LTD., and Zhejiang Jiahua Energy Chemical Industry Co. Ltd.
Recent Developments
In July 2021, BASF, Zhejiang Jiahua Energy Chemical Industry Co. Ltd., and Zhejiang Jiafu New Material Technology Co. Ltd., collaborated to expand the electronic-grade sulfuric acid production capacity in China.
Sulfuric Acid Market Report Scope
| | |
| --- | --- |
| Report Attributes | Details |
| Market size value in 2022 | USD 14.42 billion |
| Revenue forecast in 2030 | USD 31.02 billion |
| CAGR | 10.0 % from 2022 – 2030 |
| Base year | 2021 |
| Historical data | 2018 – 2020 |
| Forecast period | 2022 – 2030 |
| Quantitative units | Revenue in USD billion and CAGR from 2022 to 2030 |
| Segments Covered | By Raw Material, By Application, By Region |
| Regional scope | North America, Europe, Asia Pacific, Latin America; Middle East & Africa |
| Key Companies | Asia Union Electronic Chemical Corporation (AUECC), Aurubis AG, Avantor Performance Materials, LLC, BASF SE, Boliden Group, Canada Colors and Chemicals Limited, Cornerstone Chemical Company, Hubei Xingfa Chemicals Group Co., Ltd, Ineos Group Ltd, KANTO Corporation, KMG Chemicals, Linde Group, Ma'aden - Saudi Arabian Mining Company, Nouryon, PVS Chemicals Inc., Qingdao Hisea Chem Co.Ltd, Seastar Chemicals, Tata Chemicals, Trident Group, UBE INDUSTRIES, LTD., Zhejiang Jiahua Energy Chemical Industry Co. Ltd. |