The global battery market was valued at USD 105.02 billion in 2022 and is expected to grow at a CAGR of 15.4% during the forecast period.
The battery market is poised for strong growth due to the robust demand in various industries such as household, automotive, industrial, medical, and military. The increasing use of batteries in energy storage systems, electrical devices, and electric transportation is driving technological advancements to enhance battery performance, durability, and safety. The growing popularity of electric vehicles is a major factor fueling the demand for batteries.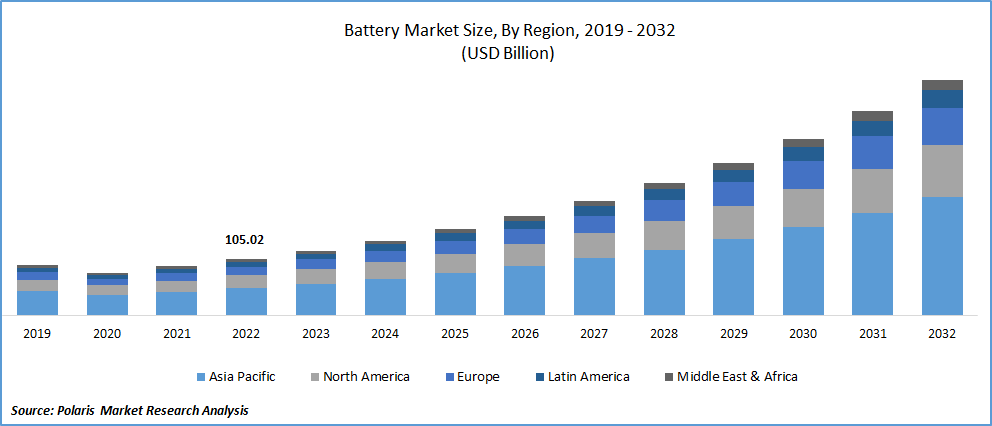 To Understand More About this Research: Request a Free Sample Report
Lithium-ion batteries have experienced remarkable growth, with demand rising from 0.5 gigawatt-hours in 2010 to approximately 526 gigawatts in 2020. These batteries are widely used in electric vehicles and portable devices.
However, the battery market faced challenges during the Covid-19 pandemic. The disruptions in the materials supply chain had a negative impact, especially in China, the largest producer and distributor of lithium-ion batteries. Manufacturing facilities were forced to shut down, leading to decreased battery production. Additionally, strict lockdown measures limited the movement of laborers, affecting manufacturing sites.
Moreover, the global lockdowns significantly declined consumer spending on electric vehicles, mobile phones, laptops, and other gadgets. This reduced demand directly affected the battery market.
Industry Dynamics
Growth Drivers
The global automotive industry is experiencing a significant surge in demand for electric vehicles (EVs) due to increasing environmental concerns and advancements in battery technology. EVs are a viable solution to reducing carbon emissions and dependence on fossil fuels. This growing demand for EVs directly impacts the battery market, as batteries are a crucial component of electric vehicles.
As a result, the battery market is witnessing exponential growth, with a focus on developing high-performance and cost-effective batteries with longer ranges and faster charging capabilities. Major players in the battery market are investing heavily in research and development to improve battery efficiency, energy density, and overall performance. The increasing demand for electric vehicles and advancements in battery technology are driving a transformative shift in the automotive industry, promoting sustainability and clean energy solutions.
Report Segmentation
The market is primarily segmented based on type, end-use, and region.
By Type

By End-Use

By Region

Lead-Acid

Lithium-Ion

Nickel Metal Hydride

Nickel Cadmium

Others

Automotive

Industrial

Consumer Goods

Others

North America (U.S., Canada)

Europe (France, Germany, UK, Italy, Netherlands, Spain, Russia)

Asia Pacific (Japan, China, India, Malaysia, Indonesia, South Korea)

Latin America (Brazil, Mexico, Argentina)

Middle East & Africa (Saudi Arabia, UAE, Israel, South Africa)
To Understand the Scope of this Report: Speak to Analyst
The lead-acid battery segment accounted for the largest market share in 2022.
The lead-acid battery segment is expected to account for the largest share owing to its utilization in non-portable applications such as vehicle ignition and lights, backup power, solar-panel energy storage, and load leveling in power generation. Due to their high reliability and cost-effectiveness, lead-acid batteries are used in several high-current applications, including powering automobile starter motors and storage in backup power supplies.
However, the lithium-ion market segment is expected to hold a significant share over the forecast period. This type of battery is commonly used in electric vehicles, digital cameras, portable gadgets, and appliances. Owing to its low energy density and lightweight nature, lithium-ion batteries are largely utilized by the aerospace and military sector, which is expected to propel the battery industry growth.
The automotive segment holds the major share over the forecast period.
The automotive segment is expected to hold the major share over the forecast period. The rising demand for vehicles globally is projected to fuel the growth of the battery industry. The increased need for Electric-Vehicle Batteries (EVB) in electronic vehicles will likely accelerate the battery industry demand shortly. EVs market is significantly growing worldwide owing to the several government policies and initiatives facilitating the sale of electric vehicles. For instance, governments across the globe spent USD 14 billion to support electric car sales.
Asia Pacific is expected to witness the highest growth over the forecast period.
Asia Pacific region is expected to witness the highest growth over the forecast period. The market is projected to grow in the region due to the contribution of the emerging market, particularly China and India. India has been in the automotive market, along with the largest manufacturer of commercial vehicles. A surge in vehicle demand has increased the demand for batteries nationwide.
China, the world's largest automotive manufacturing country, accounts for the increased sale of New Energy Vehicles (NEVs), including plug-in petrol-electric hybrids, battery-powered electric vehicles, and hydrogen fuel-cell vehicles every year. Batteries are widely used in producing these vehicles, which is likely to propel the market's growth in the near future.
The rising consumable income of consumers, along with the favorable government policies of several economies, is expected to drive the sale of vehicles in the region. The Indian government proposed a vehicle scrappage policy, investments in infrastructures, and change in basic customs duty rates of parts of the automotive industry which are expected to boost the demand for vehicles.
Competitive Insight
Some of the major players operating in the global market include A123 Systems LLC, BYD Company Ltd., Contemporary Amperex Technology Co., Duracell, Eveready Industries, GS Yuasa International Ltd., Hitachi Chemical Co., Ltd., Johnson Controls, LG Chem Ltd., NEC Corporation, Panasonic Corporation, Saft, Samsung SDI Co., Ltd., Sony Corporation, and Toshiba Corporation.
Recent Developments
In February 2021, Amara Raja opened the technology hub to develop lithium-ion cells at its Tirupati facility in Andhra Pradesh.

In August 2020, Amperex Technology Ltd announced its acquisition of 180-acre land in the Haryana district to set up a manufacturing unit to develop lithium-ion-polymer (LIP) batteries.
Battery Market Report Scope
| | |
| --- | --- |
| Report Attributes | Details |
| Market size value in 2023 | USD 120.74 Billion |
| Revenue forecast in 2032 | USD 437.20 Billion |
| CAGR | 15.4% from 2023 – 2032 |
| Base year | 2022 |
| Historical data | 2019 – 2021 |
| Forecast period | 2023 – 2032 |
| Quantitative units | Revenue in USD billion and CAGR from 2023 to 2032 |
| Segments Covered | By Type, By End-Use, By Region |
| Regional scope | North America, Europe, Asia Pacific, Latin America; Middle East & Africa |
| Key Companies | A123 Systems LLC, BYD Company Ltd., Contemporary Amperex Technology Co., Duracell, Eveready Industries, GS Yuasa International Ltd., Hitachi Chemical Co., Ltd., Johnson Controls, LG Chem Ltd., NEC Corporation, Panasonic Corporation, Saft, Samsung SDI Co., Ltd., Sony Corporation, and Toshiba Corporation. |