The global sweeteners market was valued at USD 94.48 billion in 2021 and is expected to grow at a CAGR of 6.4% during the forecast period. These are extracted from organic substances that are used as the best substitute for regular sugar, as it includes fewer calories. They can be found in various food ingredients such as candies, canned food, yogurt, ice-creams, daily products, and so on.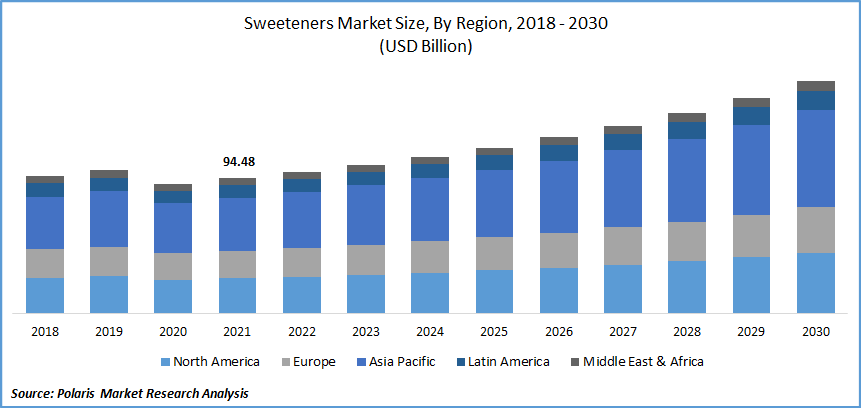 Know more about this report: Request for sample pages
Sweeteners are commonly marketed in the form of sugar-free products as well, as it incurs several health benefits due to fewer calories in comparison to sugar. They are widely used by people who are health conscious and diabetic patients.
Regular sugar increases the glucose level in diabetes patients; therefore, it is widely used by them, hereby, resulting in the rapid increase of the industry. Moreover, rising concern regarding obesity and other similar diseases related to regular sugar consumption is boosting the growth of the industry.
Moreover, based on a research study, it has been observed that around 60% of Americans have a preference for low-calorie foods and sugar, owing to the increase in adoption of sugar substitutes such as erythritol, mannitol, and xylitol in the U.S. and worldwide. Moreover, this transition is due to the rising change in consumer preferences for leading a healthy lifestyle, consumer awareness, and initiatives by governments across the globe to encourage the usage of natural sugar substitutes.
The outbreak of the COVID-19 pandemic has significantly impacted the growth of the sweeteners market. The lockdown has extremely impacted the supply chain of goods across the globe. This has also impacted the demand in the sweetener market. Additionally, the scarcity of laborers in the industrial unit has also highly influenced the production of the product.
In addition, enhanced focus on increasing health immunity led to the shift towards natural sweeteners such as honey and jaggery. Therefore, the industry for natural sweeteners sustained comparatively more share than artificial sweeteners in the sweetener market during the forecast period.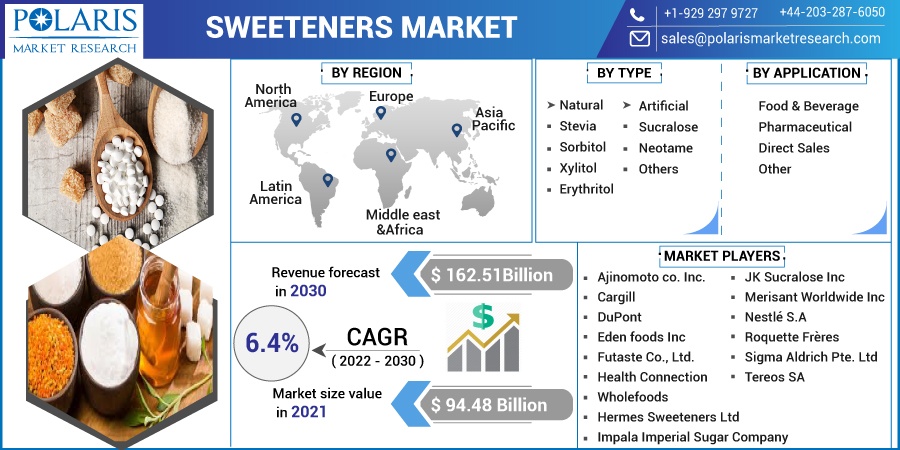 Know more about this report: Request for sample pages
Industry Dynamics
Growth Driver
The global sweetener market is driven by the increase in the consumption of organic sweeteners. The key players operating in the sweetener market are diversifying their product portfolio based on consumers changing preferences, which seek a shift from sugar to sweeteners such as organic honey, organic sugar, stevia, and so on.
These products help in lowering blood sugar levels. Also, based on a few studies, it has been observed that stevia has increased digestive tolerance with low content of carbohydrates. Therefore, the sweetener market brings prodigious prospects. Further, there is a huge demand for artificial sweeteners besides organic sweeteners.
For instance, aspartame and sucralose are common flavorings used for sweetening a large variety of food and beverage products. These non-sweetened products have zero calories and are usually consumed by health-conscious people. Moreover, due to increasing diseases such as obesity and diabetes across the world, there has been an increase in the demand for low-calorie sweeteners, which is boosting the natural market.
Report Segmentation
The market is primarily segmented based on type, application, and region.
By Type

By Application

By Region

Natural

Stevia
Sorbitol
Xylitol
Erythritol

Artificial

Food & Beverage
Pharmaceutical
Direct Sales
Others

North America (U.S., Canada)
Europe (France, Germany, UK, Italy, Netherlands, Spain, Russia)
Asia Pacific (Japan, China, India, Malaysia, Indonesia. South Korea)
Latin America (Brazil, Mexico, Argentina)
Middle East & Africa (Saudi Arabia, UAE, Israel, South Africa)
Know more about this report: Request for sample pages
Natural sweeteners accounted for the largest market share in 2021
On the basis of type, the sweeteners market is categorized into stevia, xylitol, and erythritol. The rising awareness involving nutritious and well-being food items and increased adoption of health-conscious items among consumers acts as a driving force to the growth of the industry.
In recent times, due to the introduction of numerous healthy alternative food products, and increasing adoption of such items by the customers, there has been a transition shift towards healthier choices with respect to the consumption of various food & beverage products. Also, looking at the consumer trends involvement in increased demand for low-calorie, less or sugar-free, and all organic ingredient-based products, prevailing to health benefits offered and increasing occurrences of chronic diseases globally.
Moreover, diabetes is among the foremost disease that witnesses an increase and is similarly chronic to human beings. This is due to the excessive usage of sugar, which involves a large number of calories, further leading to obesity. For instance, based on a recent study in 2020 by National Diabetes Statistics Report issued by the US. Department of Health & Human Services, the number of people having diabetes in the U.S. was 10.5% in 2018. Likewise, the occurrence of obesity accounted to be 40.0% among young adults aged 20 to 39 years.
Due to the soaring occurrence of diabetes, and obesity among consumers worldwide, the demand for low-calorie, fewer sugar sweeteners, is increasing to help consumers maintain a healthy diet. Therefore, the adoption of natural sugar substitutes has increased, as the majority of the health-conscious consumers are choosing products comprising natural sugar substitutes due to the involvement of lesser calories with that of conventional sugar and also is less prone to side effects on human health as compared to artificial sugar substitute.
Additionally, natural sugar substitute provides numerous health benefits for customers opting for a healthier lifestyle, as it helps in the weight control process and is a perfect fit for people having diabetes. Moreover, the natural sugar substitute does not contain carbohydrates and therefore, generally does not raise blood sugar levels.
Food & Beverage is expected to hold the significant revenue share
On the basis of application, the market has been segmented into food and beverage, pharmaceutical, direct sales, and others. The food and beverage segment accounted for the largest market share in 2021. It is also estimated to be the fastest-growing segment during the forecast period. This is due to the increased usage of sugar substitutes by consumers, along with other grocery items, therefore, resulting in the increased demand for products.
The consumption of high sugar intake products globally is a result of its usage over a wide range of food and beverage products. Sugar plays a vital role in sweetening the taste of F&B products. Hence, the intake of natural sugar substitute is observed in the food and beverage industry as well, which are continuously inventing and creating newer products including several organic sugar substitutes along with other products, to satisfy the increasing demand for new products.
The F&B industry is estimated to observe major investment developments globally from key players in the coming years. Thus, natural sugar substitute companies are focusing mainly on this sector to make full use of demand and investment opportunities.
Asia Pacific is projected to grow at the highest growth rate during the forecast period
The market in the Asia Pacific is estimated to increase at the fastest rate in the sweeteners market during the forecast period. This is due to the changes in lifestyle and rise in health consciousness among customers, which is contributing to the growth of the industry. The Asia Pacific region is extremely vibrant due to rapid urbanization, liberal trade policies in the food sector, and diet diversification.
Moreover, an increasing purchasing power due to a rise in per capita income is the key factor offering growth prospects for manufacturers of sweeteners market in the Asia Pacific region. For instance, countries such as China and India are seeking a rise in urbanization, increasing household incomes, and lifestyle and dietary changes among consumers. Therefore, resulting in the increased demand for the industry in the coming years.
Competitive Insight
Some of the major players operating in the global market include Ajinomoto co. Inc., Cargill, DuPont, Eden foods Inc, Futaste Co., Ltd., Health Connection Wholefoods, Hermes Sweeteners Ltd, Impala Imperial Sugar Company, JK Sucralose Inc, Merisant Worldwide Inc, Nestlé S.A, Roquette Frères, Sigma Aldrich Pte. Ltd, and Tereos SA.
Recent Developments
In July 2019, Nestle launched a new product with 70% dark chocolate and natural added sweeteners equal to 40% less sugar.
In March 2018, Nestle Ireland and UK unveiled a new product under their product offering i.e. Milkybar Wowsomes. This item as stated then would be the first chocolate bar with no artificial sweeteners, preservatives, colors, or flavorings.
Further, in July 2018, Aston Foods, and ADM entered a joint venture for starches and sweeteners in Russia. This joint venture helped the companies to expand their market prevalence in the Russian sweeteners market.
Sweeteners Market Report Scope
| | |
| --- | --- |
| Report Attributes | Details |
| Market size value in 2021 | USD 94.48 billion |
| Revenue forecast in 2030 | USD 162.51 billion |
| CAGR | 6.4% from 2022 - 2030 |
| Base year | 2021 |
| Historical data | 2018 - 2020 |
| Forecast period | 2022 - 2030 |
| Quantitative units | Revenue in USD billion and CAGR from 2022 to 2030 |
| Segments covered | By Type, By Application, By Region |
| Regional scope | North America, Europe, Asia Pacific, Latin America; Middle East & Africa |
| Key companies | Ajinomoto co. Inc., Cargill, DuPont, Eden foods Inc, Futaste Co., Ltd., Health Connection Wholefoods, Hermes Sweeteners Ltd, Impala Imperial Sugar Company, JK Sucralose Inc, Merisant Worldwide Inc, Nestlé S.A, Roquette Frères, Sigma Aldrich Pte. Ltd, Tereos SA |