The global third-party risk management market was valued at USD 4.45 billion in 2021 and is expected to grow at a CAGR of 14.8% during the forecast period. The pervasiveness of diabetes among the populace drives the third-party threat management industry. To direct the glucose levels, insulin treatment is given to the person, which will mirror the physiological insulin emission.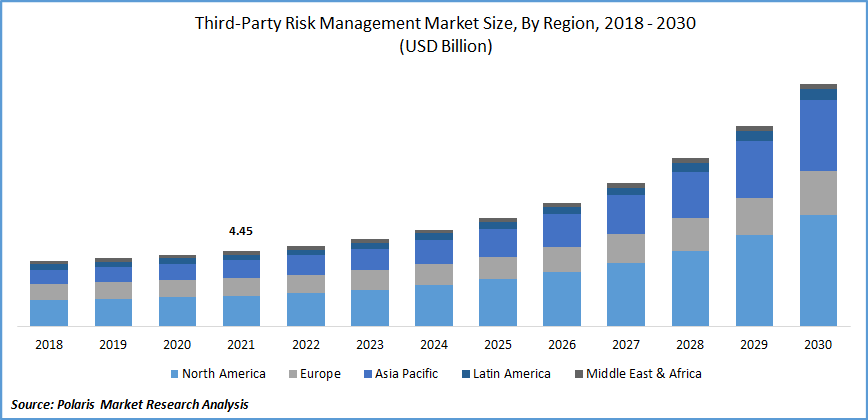 Know more about this report: Request for sample pages
Third-party threat control is normally required one time per day, and it goes on all day long. In the near future, the third-party risk management market is anticipated to grow as a result of factors including the increasingly strict compliance mandates to address third-party threats, the lack of internal competencies in the organization across numerous verticals, and the rise in cyberattacks.
The adoption of new generation technologies by businesses and the fiercely shifting market competitiveness are influencing market trends for third-party threat control. Companies are being forced to employ cutting-edge technology like third-party threat control systems in order to strengthen their security as a result of an increase in cyberattacks, data theft, and sophisticated data warfare.
Less hassle in managing the company's operations is the main motivating element. Artificial intelligence, machine learning, and the internet of things (IoT), among other cutting-edge technologies, assist third-party threat control software in foreseeing potential dangers. This eliminates the danger of data theft and compliance for enterprises.
Additionally, it analyzes the threat type and removes or resolves it prior to it having an impact on the entire firm. The demand for third-party threat control is being driven by the competitive advantage, shorter time to market, lower costs, and increased probability.
These integration platforms integrate with third-party threat control programs to turn most firms become one-stop shops, improving user experience and boosting output. The operational threat, financial threat, transaction threat, information security threat, and strategic threat are all part of managing compliance across numerous enterprises.
The outbreak of the COVID-19 pandemic has significantly impacted the growth of the third-party risk management market. As a result, COVID had a beneficial effect on the market. Because of the market limitations and logistics bans imposed by countries all over the world, Covid-19 has damaged numerous worldwide markets by disrupting supply chains, according to a third-party threat control study. A small number of markets did, however, profit from the pandemic's effects.
Third-party threat control solutions are becoming more popular as a result of greater risk potential combined with new mobile working practices like BYOD and remote work. The corporate closure has led to the introduction of work-from-home policies by businesses. This caused the brands to ignore their chances for security and compliance, putting the market's newest technology to the test.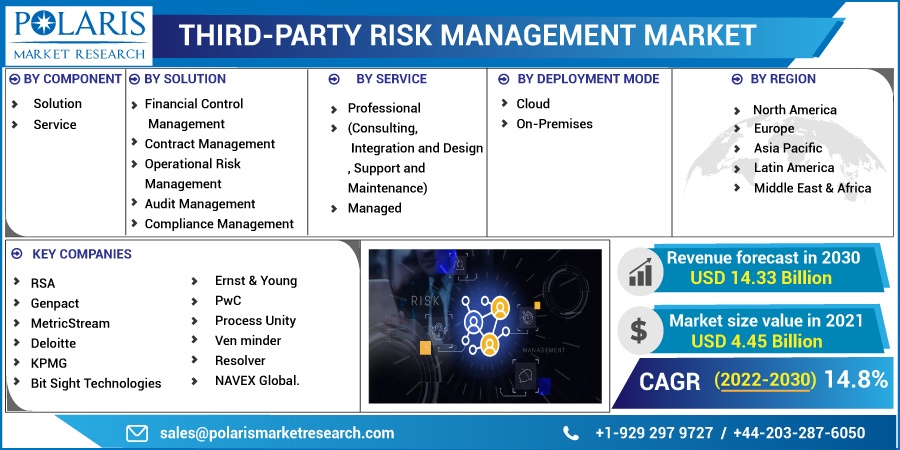 Know more about this report: Request for sample pages
Industry Dynamics
Growth Drivers
The sales of third-party threat control software are being driven by an increase in cyberattacks, data theft, and policy-driven compliance, as well as by cyber monitoring and better security management. Companies experience an increasing number of cyberattacks every day as the level of competitiveness rises. Governments, through their limitation rules, enable businesses to concentrate on their core skills while preventing sophisticated cyberattacks. Along with huge corporations, small and medium-sized businesses endeavor to increase the security of the company's data management.
Operational risks, financial risks, transaction risks, information security risks, and strategic risks are all part of managing compliance across numerous enterprises. It recognizes, evaluates, and manages these risks as well as the effects they may have on the company's systems.
This entails understanding and relying on third-party threat control software, vendor identification, and information security. It influences the company's tactical choices, global reach, and technological advancements while producing more efficient and secure software that ensures the safety of the systems. This software support is being adopted by numerous SMEs and major businesses so that the business can concentrate more on its core skills.
Report Segmentation
The market is primarily segmented based on component, solution, service, deployment mode, and region.
By Component

By Solution

By Service

By Deployment Mode

By Region

Financial Control Management
Contract Management
Operational Risk Management
Audit Management
Compliance Management
Others (Quality Assurance Management, Information, and Relationship Management)

Professional (Consulting, Integration and Design, Support and Maintenance)
Managed

North America (U.S., Canada)
Europe (France, Germany, UK, Italy, Netherlands, Spain, Austria)
Asia Pacific (Japan, China, India, Malaysia, Indonesia, South Korea)
Latin America (Brazil, Mexico, Argentina)
Middle East & Africa (Saudi Arabia, UAE, Israel, South Africa)
Know more about this report: Request for sample pages
Solution segment is expected to witness the fastest growth
The solutions and services make up the majority of the component section. The risks that come up when outsourcing a few tasks or entire operations are identified and reduced using TPRM solutions.
In order to reduce the risks related to the management of vendors, numerous organizations operating in various industries have been exploring the installation of efficient solutions to manage their partner ecosystem. Organizations are also utilizing TPRM solutions to automate, improve, and manage the entire risk assessment process for bettering transparency and measuring uncertainty.
Compliance Management accounted for the largest market share in 2021
The growing need to comply with regulatory and reporting standards is driving up demand for compliance management systems. Lack of financial transparency may result in hefty fines and penalties as well as significant financial losses. Therefore, organizations concentrate on implementing a system that aids them in managing these standards and guarantees that duties related to compliance are finished.
The third-party risk management market offers solutions for compliance management that aid businesses in managing various risks and compliance requirements while also assisting them in understanding the sorts of rules, policies, and obligations that apply to them both locally and globally.
Professional Services is expected to hold the significant revenue share
The professional sector is the largest category in terms of services and will account for the highest share of the market during the projection period. According to the report, the solution type is expected to grow at a significant CAGR during the projection period. The simplicity of implementation, aggressive price points, robust security measures, and new integrated technologies are the driving forces behind the expansion of this market.
Cloud segment accounted for the largest market share in 2021
The cloud category's largest segment by deployment, the cloud, will continue to dominate during the projected period. Its CAGR from 2022 to 2030 is 12.4%, up from its previous CAGR of 14.2% between 2015 and 2021. High-speed, secure transfers and multi-layered software that boosts productivity and analyzes potential threats are the driving forces behind the expansion of huge businesses.
The demand in North America is expected to witness significant growth
The Middle East and Africa (MEA), North America, Latin America, Asia Pacific, and Europe make up the regions that make up the third-party risk management market. North America is the largest regional market. The growth in this sector is being fueled by quick digitization, increasing integration of cutting-edge technology, and rising cyberattacks with sophisticated data breaches.
Competitive Insight
Some of the major players operating in the global market include RSA, Genpact, MetricStream, Deloitte, KPMG, Bit Sight Technologies, Ernst & Young, PwC, Process Unity, Ven minder, Resolver, NAVEX Global.
Recent Developments
In order to focus on fusing the company's digital business platform, Genpact Cora, with Business-to-Business (B2B) network technology, Genpact teamed with Trade shift in October 2019. Customers who want to connect their procurement activities to a global network of buyers and sellers should use the combined solution.
Bit Sight Technologies and ServiceNow teamed up to offer Bit Sight for Vendor Risk Management and Bit Sight for Security Incident Response, two new certified ServiceNow applications, in September 2019.
The US Patent for a system to track and report third-party vulnerabilities was granted to KPMG in July 2019. In comparison to its rivals in the TPRM, this would give its third-party intelligence offerings, which track and spot threats to third-party networks in real time—a superior competitive advantage.
EY purchased Thomson Reuters' Pangea3 Legal Managed Services (LMS) division in June 2019. The capabilities of Pangea3 LMS would be improved in the areas of contract life cycle management, regulatory risk and compliance, and investigations as a result of this acquisition.
RSA Archer, its integrated third-party threat control platform, received new upgrades in March 2019. Customers' ability to rapidly and effectively identify, analyze, and handle key components of digital risk is extended by product upgrades, including automated risk identification and assessment, contemporary analytical and evaluation platforms, and wide-ranging integrations.
Third-Party Risk Management Market Report Scope
| | |
| --- | --- |
| Report Attributes | Details |
| Market size value in 2021 | USD 4.45 billion |
| Revenue forecast in 2030 | USD 14.33 billion |
| CAGR | 14.8% from 2022 - 2030 |
| Base year | 2021 |
| Historical data | 2019 - 2021 |
| Forecast period | 2022 - 2030 |
| Quantitative units | Revenue in USD million/billion and CAGR from 2022 to 2030 |
| Segments covered | By Component, By Solution, By Service, Deployment Mode, By Region |
| Regional scope | North America, Europe, Asia-Pacific, Latin America; Middle East & Africa |
| Key companies | RSA, Genpact, MetricStream, Deloitte, KPMG, Bit Sight Technologies, Ernst & Young, PwC, Process Unity, Ven minder, Resolver, NAVEX Global. |