The global tile adhesive market was valued at USD 2.52 billion in 2022 and is expected to grow at a CAGR of 7.4% during the forecast period.
The trend of renovation and remodeling activities fuels the growth of the global market. The rise in urbanization prompts existing urban dwellings to undergo renovation and remodeling activities to meet modern standards. Many homeowners and businesses opt to upgrade their spaces by replacing or installing new tiles.
For instance, according to the National Association of Home Builders, remodeling activity experienced a 13 percent increase from 2020 to 2021 and is expected to continue growing at a solid pace in 2022.
This trend contributes to the increased demand for tile adhesives as these renovation projects require proper adhesive materials. Tile adhesives are essential for securely bonding tiles to various surfaces, thereby driving the market growth.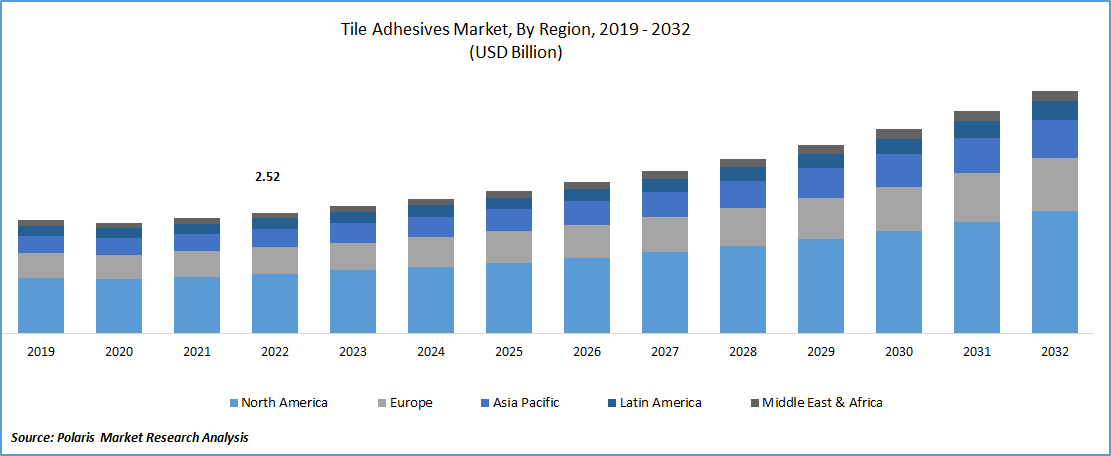 To Understand More About this Research : Request a Free Sample Report
Tile adhesives have become essential in the construction industry due to the evolution of tile materials and installation techniques. In the past, tiles were traditionally installed using a mixture of cement, sand, and water. However, the emergence of larger, heavier, and vitrified tiles with unique properties necessitates the use of tile adhesives. Tiles are widely favored for their aesthetic appeal, durability, and ease of maintenance. As the preference for tiles in residential and commercial settings grows, so does the demand for tile adhesives. The versatility of tiles in various applications such as flooring, walls, and backsplashes drives the market growth. The use of high-quality tile adhesive offers numerous advantages, including strong bonding and suitability for both horizontal and vertical tile applications. They ensure a secure and long-lasting bond between the tile and the surface, accommodating the weight, potential bending, and non-absorbent nature of modern tiles.
Industry Dynamics
Growth Drivers
Increasing demand for tile installations across various sectors
The main factor driving the demand for tile adhesive is the increasing demand for tile installations across various sectors, including residential, commercial, and infrastructure projects. Tiles are widely used for flooring, wall coverings, and other applications due to their aesthetic appeal, durability, and ease of maintenance. As the preference for tiles continues to grow, there is a corresponding need for high-quality tile adhesive to ensure secure and long-lasting installations. The demand for tile adhesive is directly linked to the expanding market for tiles, as more customers seek to enhance the visual appeal and functionality of their spaces. Additionally, advancements in tile adhesive technology, such as improved bonding strength, flexibility, and water resistance, further contribute to the growing demand. With increasing construction activities, renovation projects, and a shift towards eco-friendly and sustainable building materials, the demand for tile adhesive is expected to remain robust in the foreseeable future.
Report Segmentation
The market is primarily segmented based on type, application, end use and region.
By Type

By Application

By End Use

By Region

Cementitious

Dispersion

Reaction Resin

Wall

Floor

Ceiling

Others

Residential

Commercial

Industrial and Institutional

North America (U.S., Canada)

Europe (France, Germany, UK, Italy, Netherlands, Spain, Russia)

Asia Pacific (Japan, China, India, Malaysia, Indonesia. South Korea)

Latin America (Brazil, Mexico, Argentina)

Middle East & Africa (Saudi Arabia, UAE, Israel, South Africa)
To Understand the Scope of this Report : Speak to Analyst
By Type Analysis
Cementitious segment is expected to witness fastest growth during forecast period
Cementitious segment is expected to have faster growth for the market. Cementitious adhesives are easy to handle and apply. They are available in premixed paste or powder form, requiring simple mixing with water before application. This user-friendly characteristic appeals to both professional contractors and do-it-yourself enthusiasts, further driving market demand. They provide reliable bonding strength and long-term durability. They form a strong bond between tiles and the substrate, ensuring that the tiles remain securely in place over time.
This durability factor contributes to their popularity in various applications, including high-traffic areas. These adhesives also have a certain degree of flexibility, allowing them to accommodate minor movements or vibrations that occur in tiled surfaces. This characteristic makes them suitable for both interior and exterior installations where temperature changes and substrate shifts may occur.
By Application Analysis
Floor segment accounted for the largest market share in 2022
Floor segment holds the largest market share for the market in the study period. Floor installations represent a substantial portion of the overall tile market. The demand for tile adhesive in flooring applications is consistently high, driven by various sectors including residential, commercial, and industrial projects. As a result, the floor application segment contributes significantly to the growth of the tile adhesive market. Floors typically have a larger surface area compared to walls or ceilings. This means that more tile adhesive is required for floor installations, leading to increased consumption and demand for tile adhesive products.
The extensive coverage area of floors translates to higher sales volume, driving market growth. Floors experience high foot traffic and are subjected to greater stresses, impacts, and abrasion compared to vertical surfaces. Tile adhesives used in flooring applications must provide strong adhesion and exceptional durability to withstand the constant load and wear. This requirement for robust bonding and long-lasting performance fuels the demand for reliable tile adhesives, contributing to the growth of the market.
By End-Use Analysis
Commercial segment is expected to hold the larger revenue share in 2022
Commercial segment is projected to witness a larger revenue share in the coming years. Commercial spaces such as offices, hotels, shopping malls, hospitals, and public buildings often require extensive tile installations. These projects involve covering large surface areas with floor and wall tiles, resulting in a substantial demand for tile adhesive products. The sheer scale of commercial projects contributes to the growth of the tile adhesive market. Commercial environments prioritize aesthetics and design elements to create appealing spaces for customers, employees, or visitors. Tile installations are commonly used in commercial settings to enhance the visual appeal, create distinctive patterns, and provide a professional ambiance. The tile adhesive market benefits from the demand for reliable adhesives that securely bond tiles and contribute to the overall aesthetic quality of commercial spaces.
Regional Insights
APAC is projected to experience higher growth in the study period
APAC registered with the higher growth rate in 2022. Growing real estate sector in developing countries like India is fuelling the tile adhesive market. With increasing urbanization, a growing middle class, and a substantial shortage of affordable housing, the real estate sector is expected to reach a significant milestone of $1 trillion by the year 2030. The growth of the real estate sector in India has resulted in an increased demand for modern and aesthetically pleasing interiors. Tiles are widely used in residential and commercial spaces for flooring, walls, and other applications. The need for high-quality tile installations boosts the demand for tile adhesives in the market.
Europe is expected to witness a larger revenue share for the market. Growing construction activities in the region is creating new growth potential for tile adhesive. Tiles are commonly used in construction projects for their aesthetic appeal, durability, and ease of maintenance. They are installed in various areas such as bathrooms, kitchens, living spaces, and commercial buildings. Tile adhesive is necessary to ensure a strong and long-lasting bond between the tiles and the substrate. In February, the S&P Global/CIPS UK construction purchasing managers' index recorded a significant increase from the previous month, rising to 54.6 from 48.4. This indicates a positive growth trend in the overall industry activity within the UK's construction sector. This will fuel the demand for the product in the region.
Key Market Players & Competitive Insights
The tile adhesives market is fragmented and is anticipated to witness competition due to several players' presence. Major service providers in the market are constantly upgrading their products to stay ahead of the competition. These players focus on partnership, product upgrades, and collaboration to gain a competitive edge over their peers and capture a significant market share.
Some of the major players operating in the global market include:
Ardex

Bostik

Ceresit

H.B. Fuller

Henkel Corporation

Mapei

Laticrete

Saint-Gobain Weber.

Sika

Weber
Recent Developments
In June 2023, Pidilite launched a television commercial (TVC) as part of their marketing campaign to promote their tile adhesive brand, Roff.

In January 2023, Fosroc India unveiled a range of premium tiling products that bring notable advancements to the Indian market. The campaign kick-started with the introduction of the Nitotile range in three significant locations - Bangalore, Hyderabad, and Chennai.
Tile Adhesive Market Report Scope
| | |
| --- | --- |
| Report Attributes | Details |
| Market size value in 2023 | USD 2.65 billion |
| Revenue forecast in 2032 | USD 5.04 billion |
| CAGR | 7.4% from 2023 - 2032 |
| Base year | 2022 |
| Historical data | 2019 - 2021 |
| Forecast period | 2023 - 2032 |
| Quantitative units | Revenue in USD billion and CAGR from 2023 to 2032 |
| Segments covered | By Type, By Application, By End-User, By Region |
| Regional scope | North America, Europe, Asia Pacific, Latin America, Middle East & Africa |
| Key companies | Mapei, Laticrete, Ardex, Bostik, Sika, Ceresit, Weber, Henkel Corporation, H.B. Fuller & Saint-Gobain Weber. |