The global true wireless earbuds market size was valued at USD 5.58 billion in 2020 and is expected to grow at a CAGR of 14.4% during the forecast period. True wireless earbuds are Bluetooth-enabled devices with no attached wires between the earbuds. These earbuds are specially designed for access to audio data without the restriction of cables for connectivity.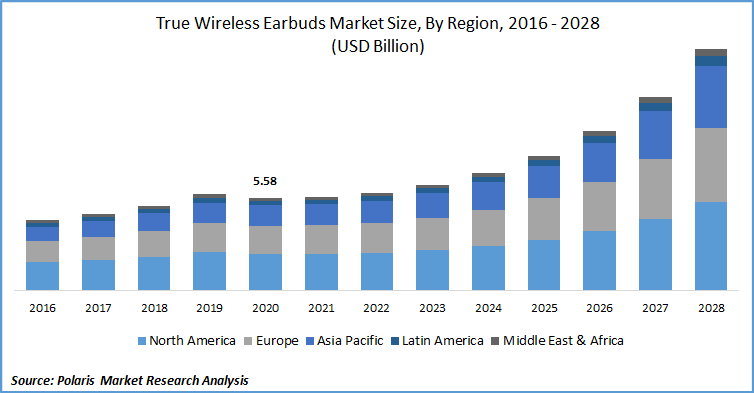 Know more about this report: request for sample pages
The demand for true wireless earbuds has increased owing to features such as portability, convenience, high-resolution audio, ease of use, and compatibility with other electronic devices. Some true wireless earbuds also offer features such as touch controls, noise cancellation technology, built-in artificial intelligence for voice control, real-time language translation, and heart rate monitoring. The growing adoption of smartphones and other mobile devices coupled with the rise in internet penetration and market growth in popularity of social networking sites boosts the market for true wireless earbuds.
Increasing disposable income and enhanced lifestyle and standards of living of consumers drive the growth of the market for true wireless earbuds. The rise in the number of streaming services such as Spotify, Pandora, and Deezer enhances the music experience for consumers, thereby supporting the market growth for true wireless earbuds. These streaming services provide features such as compatibility with major entertainment device brands, cloud storage options, and others.
The adoption of true wireless earbuds has increased in the commercial sectors such as tourism, education, entertainment, and other industries. These earbuds are increasingly being popularized across various industries for special events, programs, auctions, theatres, music venues, film studios, corporate events, schools, and others.
New product launches and acquisitions by leading players in the market coupled with increasing demand from emerging economies have increased the demand for true wireless earbuds. In July 2019, Sony introduced its new truly wireless headphones, WF-1000XM3.
The true wireless earbuds are small, light, and equipped with an HD noise-canceling processor QN1e chip and dual noise sensor technology for enhanced noise-canceling performance. The earbuds have a newly developed Bluetooth chip, which enables L/R simultaneous Bluetooth transmission. The optimized antenna structure of the earphones offers a stable wireless connection, along with low power consumption and long battery life.
True wireless earbuds are being designed to enhance voice communications through the integration of AI voice assistants. These earphones are equipped with microphones, sensors, and microchips for motion detection, voice recognition, and monitoring of noise levels. Increasing adoption of devices in the market such as vehicle infotainment systems, digital TVs, and digital music systems among others has increased the demand for true wireless earbuds across the globe.
Market players of the true wireless earbuds are also developing advanced earbuds with a special focus on fitness-conscious consumers and athletes. These earphones are convenient, waterproof, and durable with emphasis on exercise-friendly designs. The earphones can also be synced with fitness apps and heart rate monitors to enhance the exercising experience.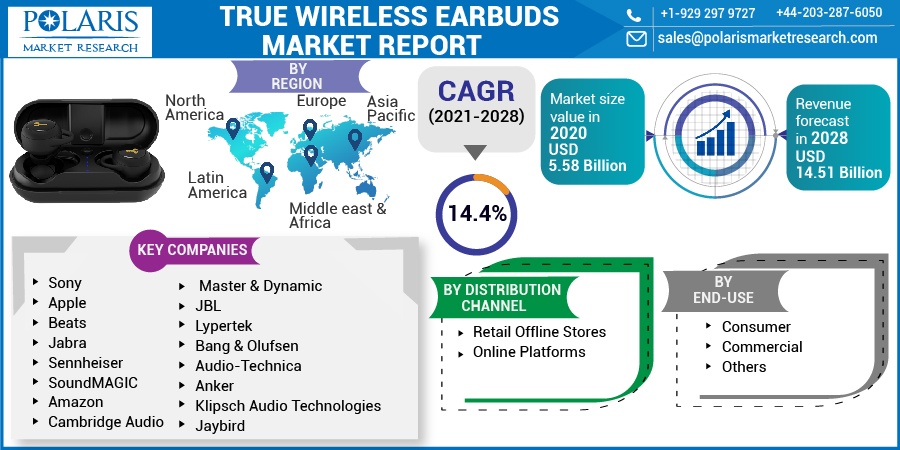 Know more about this report: Request for sample pages
True Wireless Earbuds Market Report Scope
The market is primarily segmented on the basis of distribution channel, end-use, and region.
Distribution Channel

By End-Use

By Region

Retail Offline Stores
Online Platforms

Consumer
Commercial
Others

North America (U.S., Canada)
Europe (Germany, UK, France, Italy, Spain, RoE)
Asia Pacific (China, India, Japan, South Korea, RoAPAC)
Latin America (Brazil, Mexico, Colombia, RoLATAM)
MEA (Saudi Arabia, South Africa, Israel, UAE, RoMEA)
Know more about this report: request for sample pages
Distribution Channel Outlook
On the basis of distribution channel, the market for true wireless earbuds is segmented into retail offline stores and online platforms. In 2020, the retail offline stores segment accounted for a significant share. This segment includes physical stores where retailers sell products through a storefront location. Retail shops, supermarkets, hypermarkets, pop shops, and others are all part of offline stores.
Lucrative offers and policies offered by prominent market players favoring both consumers as well as retail stores are expected to boost sales through this channel. These stores play a crucial role in understanding customer demand and product feedback for the development of better products. In addition, the promotion of products by retailers can influence the purchasing decision of buyers.
End-Use Outlook
On the basis of end-use, the market is segmented into consumer, commercial, and others. In 2020, the consumer segment accounted for a significant share owing to the increasing penetration of mobile and infotainment devices such as mobile phones, laptops, tablets, and in-vehicle infotainment devices, among others.
The market demand from the consumer sector is high owing to features offered by true wireless earbuds such as convenience, portability, and high-resolution sound quality. Increasing disposable income of consumers, changing lifestyle, and launch of affordable and technologically advanced earphones further boost the growth of this segment.
Geographic Overview
North America dominated the global true wireless earbuds market in 2020. North American market occupies a large share of the global market owing to technological innovation, high consumer purchasing power, and rising use in the commercial sector.
The increasing population, high penetration of mobile devices, and introduction of music streaming platforms further supplement the growth. True wireless earbuds are also being used by athletes and fitness-conscious consumers for an enhanced exercising experience.
Competitive Landscape
The leading players in the true wireless earbuds market include Sony, Apple, Beats, Jabra, Sennheiser, SoundMAGIC, Amazon, Cambridge Audio, Master & Dynamic, JBL, Lypertek, Bang & Olufsen, Audio-Technica, Anker, Klipsch Audio Technologies, and Jaybird.