The global ultraviolet disinfection equipment market was valued at USD 2.54 billion in 2020 and is expected to grow at a CAGR of 12.5% during the forecast period. UV disinfection equipment is widely used in health centers to disinfect the medical environment. The increasing prevalence of Healthcare-Acquired Infections (HAIs) is one of the key factors driving the market's growth.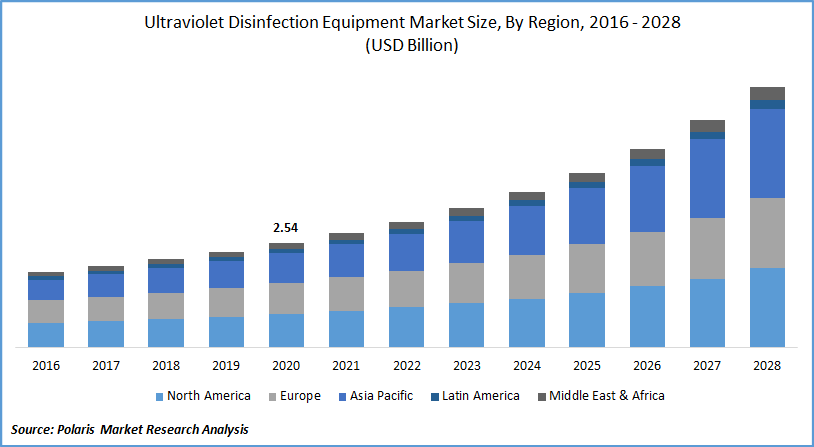 Know more about this report: request for sample pages
Manufacturers' high research and development investments to improve the efficiency of ultraviolet disinfection in high volume users such as municipal and industrial process water treatment are anticipated to drive the market. The increased market demand for safe and clean drinking water due to the population boom and shortage of freshwater resources is expected to benefit the industry.
Industry Dynamics
Growth Drivers
The equipment market is mainly driven by the factors such as increased adoption in water treatment and rising cases of Hospital Acquired Infections (HAIs) across the globe. The emergence of COVID-19 is further expected to accelerate the growth of the UV disinfection equipment market during the forecast period.
Ultraviolet disinfection equipment is mainly used in water treatment in industrial wastewater treatment and municipal drinking water treatment. Chemicals such as ozone and chlorine are used in water treatment. Still, the water used in pharmaceutical companies and healthcare needs free of any chemicals, and hence ultraviolet treatment is an ideal way of disinfecting water in these places.
Ultraviolet disinfection equipment helps produce sterile water for cosmetics, increasing the quality and shelf life of the product. Environmental Protection Agency (EPA) has approved UV-based disinfection for public water systems in the U.S. which will expect to boost the growth of the UV disinfection equipment market.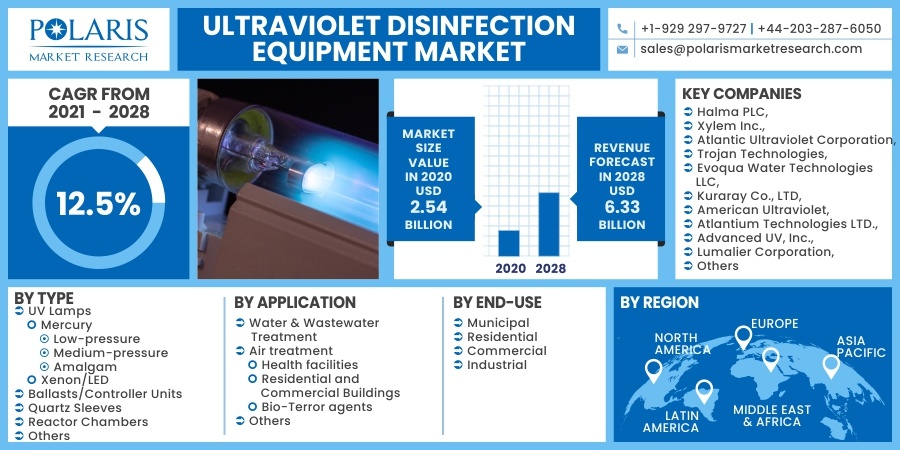 Know more about this report: request for sample pages
Hospital Acquired Infections (HAIs) are the major cause of worry across the globe. It affects 10% of people in developing countries and 7% in developed countries who have undergone hospitalization. In the U.S. alone, more than 1.7 million people are affected HAIs every year. Hence keeping proper sanitation in hospital rooms and floors is very important. This increase in HAIs will significantly contribute to the growth of the global UV disinfection equipment market.
COVID-19 pandemic has rattled the global economy and healthcare infrastructure. There are more than 155 million corona cases detected across the globe, and one of the important ways to control the pandemic is to maintain proper sanitization. Some forms of ultraviolet rays, such as UVC light has the ability to kill viruses and bacteria. Hence, ultraviolet disinfection is being adopted to sanitize hospitals, hotels, and other commercial spaces.
The emergence of the COVID-19 pandemic and other factors have increased the demand for the ultraviolet disinfection equipment market. Many new products have been introduced in the market in recent times. For instance, in December 2020, South Korean company LG introduced an autonomous robot that disinfects surfaces using ultraviolet light.
Ibis Medical Equipment and Systems Pvt Ltd, based out of India, introduced RazeCoV Ultraviolet-C Disinfection Equipment in 2020. It is an indigenously developed system that has the ability to deactivate bacteria and viruses in environments such as airport lounges, offices, hotels, and commercial spaces.
Ultraviolet Disinfection Equipment Market Report Scope
The market is primarily segmented on the basis of type, application, end-use, and region.
By Type

By Application

By End-Use

By Region

UV Lamps

Mercury

Low-pressure
Medium-pressure
Amalgam

Xenon/LED

Ballasts/Controller Units
Quartz Sleeves
Reactor Chambers
Others

Water & Wastewater Treatment
Air treatment

Health facilities
Residential and Commercial Buildings
Bio-Terror agents

Others

Municipal
Residential
Commercial
Industrial

North America (U.S., Canada)
Europe (Austria, France, Germany, Italy, Netherlands, Spain, UK)
Asia Pacific (China, India, Indonesia, Japan, Malaysia, South Korea)
Latin America (Argentina, Brazil, Mexico)
Middle East & Africa (Israel, Saudi Arabia, South Africa, UAE)
Know more about this report: request for sample pages
Insight by Type
The UV lamps dominated the market and generated the highest revenue in 2020, owing to the greater market demand in wastewater and water treatment plants. The market demand is likely to be driven by the growing popularity of suitable disinfectant technologies and the increasing concern about hygiene and safety, particularly in the food and beverage and healthcare industries.
The repair and maintenance costs of lamps, sleeves, ballasts and other staffing requirements determine the yearly operating costs for this equipment. The price for the device has come down significantly in recent years as lamp and device designs have improved, resulting in surged competition between manufacturers.
Mercury ultraviolet lamps are expected to expand at the fastest rate, owing to their wastewater treatment plants. These bulbs are typically having low flow rates and longer exposure times. Amalgam lamps are often used in industrial settings since they effectively handle microbiological pollution.
Insight by End-Use
The municipal segment dominates the market and is expected to maintain its position during the forecast period due to the growing technology penetration in drinking water and sewage water treatment plants in developed economies. Municipal treatment plants have increased their preference for ultraviolet disinfectant equipment over traditional technologies because they are more efficient, cost-effective, and environmentally friendly.
The technique only adds ultraviolet light and thus has no effect on the oxygen levels in the water and requires a short contact time. The market demand for the product is also expected to increase in the disinfection of sewage water for reuse through numerous applications in the commercial, municipal, and industrial sectors.
Several pharmaceutical companies rely on ultraviolet water disinfection equipment because the water used in pharmaceutical and healthcare products must be free from chemicals such as ozone, bacteria, and chlorine. Furthermore, the process is used in the cosmetics industry due to the increased market demand for clean water to ensure the shelf life and consistency of cosmetic products.
Geographic Overview
The Asia Pacific UV disinfection equipment market is expected to be the biggest region for the global industry during the forecast period due to improved healthcare infrastructure, pandemic emergence, and extensive water treatment use. Countries in this region, such as India and other Southeast Asian countries, have huge populations and face a mammoth challenge in sanitizing places during pandemic times. Hence, ultraviolet disinfection equipment is increasingly adopted. Water-borne diseases are also common in this region, and therefore there is more focus on developing effective disinfection equipment.
North America will also significantly contribute to the growth of the UV disinfection equipment market owing to increased HAIs, and the need for proper sanitization during the pandemic. EPA has also favorable in adopting ultraviolet disinfection equipment in drinking water plants which will give a significant thrust for the growth of the market in the region.
Competitive Landscape
Companies and governments across the globe are investing heavily on developing new ultraviolet disinfection equipment due to the huge market demand because of COVID-19 pandemic. Emerging economies are looking to develop ultraviolet disinfection equipment indigenously by providing funds to the institutes and companies in their country.
Some of the major players operating in the ultraviolet disinfection equipment market include, Halma PLC, Xylem Inc., Atlantic Ultraviolet Corporation, Trojan Technologies, Evoqua Water Technologies LLC, Kuraray Co., LTD, American Ultraviolet, Atlantium Technologies LTD., Advanced UV, Inc., Lumalier Corporation, Xenex, Hoenle AG, Siemens Water Technologies, and ITT Wedeco.
Report Scope
| | |
| --- | --- |
| Report Attributes | Details |
| Market size value in 2020 | USD 2.54 billion |
| Revenue forecast in 2028 | USD 6.33 billion |
| CAGR | 12.5% from 2021 - 2028 |
| Base year | 2020 |
| Historical data | 2016 - 2019 |
| Forecast period | 2021 - 2028 |
| Quantitative units | Revenue in USD million/billion and CAGR from 2021 to 2028 |
| Segments covered | By Type, By Application, By End-Use, By Region |
| Regional scope | North America Europe Asia Pacific Latin America; Middle East & Africa |
| Key Companies | Halma PLC, Xylem Inc., Atlantic Ultraviolet Corporation, Trojan Technologies, Evoqua Water Technologies LLC, Kuraray Co., LTD, American Ultraviolet, Atlantium Technologies LTD., Advanced UV, Inc., Lumalier Corporation, Xenex, Hoenle AG, Siemens Water Technologies, and ITT Wedeco. |