The global vascular grafts market is valued at USD 1.71 billion in 2021 and is projected to grow at a CAGR of 6.9% during the forecast period. A vascular graft is a tube that is applied to refill choked or damaged blood vessels. Instead, vascular graft is a surgical treatment process operated to divert blood flow from a damaged part to the healthy region by recombining blood vessels.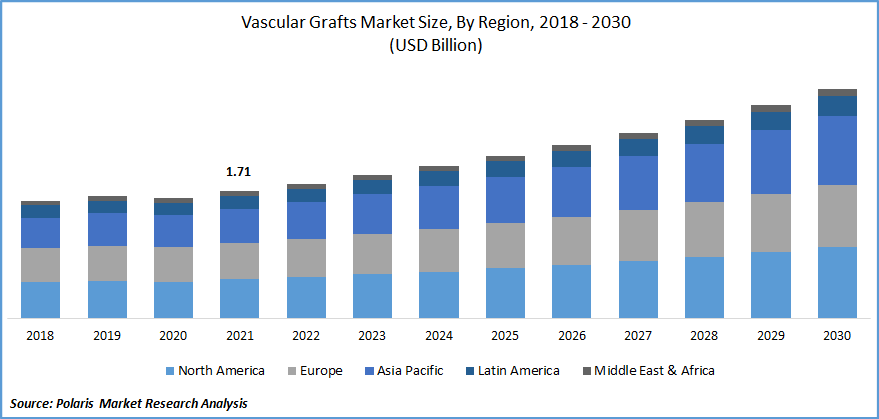 Know more about this report: Request for sample pages
Growth drivers to the vascular graft market incorporate an old age populace, increasing diabetes even in the young generation, end-stage renal disease, an enlarging frequency of heart attacks, and vascular obstacles. The global vascular grafts market is anteceded by a desk-bound lifestyle coupled with unhealthy/junk food eating habits encouraging the market unquestionably over the projection period.
Government funding in healthcare services infrastructures and mergers & accusations of major market participants lining up with booming markets have lifted the markets to boundless growth. Diabetes cases meet exponential growth even in minors as well, also unhealthy lifestyles like access to the use of cooking oil & unwanted sugar intake are factors that contribute to propelling the vascular graft market.
Injurious alcohol drinking habits, soft drinks, fast food culture, and the use of preservatives in packaged food cause kidney problems which induce a big number of hemodialysis processes. Hemodialysis engrosses vascular access for the successful application of dialysis procedures, are a vital aspect to develop the demand across the globe.
Emerging economies anticipate abundant opportunities for the companies functioning in the vascular graft industry, on account of expanding private and public healthcare infrastructure, health insurance plans across the tier-2 and tier-3 cities as well, and the surge in prevalence of chronic diseases in growing nations.
As per a study in 2015 publicized by the Journal of Vascular Medicine & Surgery, vascular graft contamination is less during surgery in comparison with conventional surgeries, which can bring about a risk of high bleeding and toxemia which will further generate big opportunities for the dominant market players in the growing countries. Also, instability in the cost of grafts provided by individual companies coupled with growing issues of sample delivery will function as a market restraining factor for the vascular graft during the forecast phase.
The outspread of the COVID-19 pandemic across the world has influenced the major healthcare sector antithetically. Major organizations observed a drop ranging from 10% to 25% in the selling of vascular graft products as a consequence of the COVID-19 epidemic.
This is chalked up to the bursting cases of corona virus infections accompanying time ahead reschedule of the low preference for surgical and chronic procedures. Additionally, various nations universally remodeled the healthcare infrastructure and realign surgical procedures.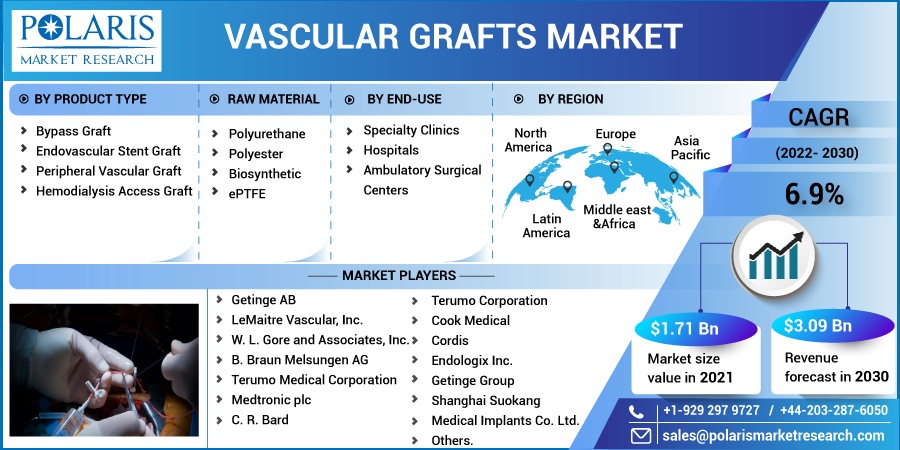 Know more about this report: Request for sample pages
Industry Dynamics
Growth Drivers
The enlarging instances of persistent kidney injuries and painful dialysis process have accompanied the development of the industry although millions of persons are engaged in therapy for dialysis across the globe is growth drivers for the global vascular grafts market. A surge in renal diseases, cardiovascular, and diabetes is driving the market for vascular grafts.
Around the world, numerous deaths happen because of heart attacks, kidney, failures, lack of cardiovascular facilities, and others. The obtainability of reimbursement schemes, growing expenditure on health & physical fitness, and surge in demand for modern products are contributing to vital opportunities for the growth of the market, the application of the latest tissue-engineered vascular grafts is also boosting the market globally.
Report Segmentation
The market is primarily segmented based on by product type, raw material, end-use, and regions.
By Product Type

Raw Material

End-Use

By Region

Bypass Graft
Endovascular Stent Graft
Peripheral Vascular Graft
Hemodialysis Access Graft

Polyurethane
Polyester
Biosynthetic
ePTFE

Specialty Clinics
Hospitals
Ambulatory Surgical Centers

North America (U.S., Canada)
Europe (France, Germany, UK, Italy, Netherlands, Spain, Russia)
Asia Pacific (Japan, China, India, Malaysia, Indonesia. South Korea)
Latin America (Brazil, Mexico, Argentina)
Middle East & Africa (Saudi Arabia, UAE, Israel, South Africa)
Know more about this report: Request for sample pages
Endovascular Stent Graft segment hold the significant market share in 2021
The revive espousal of endovascular stent-grafts to cure aneurysms involving thoracic aortic aneurysms is the determinant factor give rise to the market magnification. Although, these endovascular stents grafts are particularly employ for the aid of abdominal aortic aneurysm which further boost the market expansion.
In addition, the mycotic aneurysm can be cured by endovascular stent grafts in union with an anesthesia dose. Furthermore, a surge in inclination toward endovascular aneurysm repair (EVAR) is preferred over traditional open thoracic aorta surgeries (OAS) and tech advancement in the endovascular application is anticipatory to increase the global demand for endovascular stent grafts.
Also, the endovascular grafts support to get well fast pace and are little nosogenic when in contrast to open surgeries aspects results in fewer days hospital stays, thus raising its acceptance of endovascular stent-grafts which boost the market proportionally over the forecast period.
Polyurethane in raw material section dominate the market share XX% in 2021
The polyurethane fragment covers the significant market revenue share in 2021 due to its benefits likely high-pressure forbearance, high perceptibility rates, etc. Additionally, it links with the veins tissue and is easy to deploy on any human body. So, these raw materials are exclusively utilized for peripheral bypass methods and extra-anatomical procedures. Besides, scientific refinements namely PTFE prepared with argon plasma for the progress of avant-garde products are anticipated to uplift the fragmented growth.
The polyester vascular graft category is expected to witness tremendous growth due to the ease in obtainability of required materials and multiple benefits like strength and longevity. For example, LeMaitre offered AbloGraft and Polyester Vascular Graft are coalesced and interlace grafts that are used for intense perforation of bovine skin cartilage and are prepared with modern sealant techniques.
In addition, with the increment in the cases of victims with vascular heart illness, the need for functional polyester vascular grafts with short diameters has immensely swelled, hence conclusively influencing the sector growth during the anticipation period.
North America govern the global vascular grafts market in 2021
North America holds the lion's share in 2021 for vascular grafts owing to rising health-related consciousness, healthcare infrastructure development across the regions, and accessibility of significant healthcare services for the well functioning of cardiovascular issues in this proximity has contributed to the development of the market.
Also, the inclusion of newfangled equipment and the subservience of health insurance policies have provoked growth in the global vascular grafts market. Mass level R&D activities for the penetration of biomaterial grafts bestow a substantial business opportunity for the growth of the industry.
However, the APAC region is anticipated to witness a rapid growth rate during the projection phase. The region is massively overwhelmed by the expanding cases of patients having cardiovascular problems. Additionally, the elderly people from the total population encountering atrocious kidney issues, diabetes, end-stage heart-related problems, etc. are expected to propel the vascular graft market growth in the region. Moreover, cardiac diseases causing untimely deaths are projected to boost market growth during the forecast period.
Competitive Insight
Some of the key players operating in the global vascular grafts market include Getinge AB, LeMaitre Vascular, Inc., W. L. Gore and Associates, Inc., B. Braun Melsungen AG, Terumo Medical Corporation, Medtronic plc, C. R. Bard, Terumo Corporation, Cook Medical, Cordis, Endologix Inc., Getinge Group, Shanghai Suokang Medical Implants Co. Ltd., and Others.
Recent Developments
In March 2021, Cook Medical gets the Food and Drug Administration rift equipment nomination for Zenith AAA endovascular graft. This device supports a much more efficient diagnosis of fatal or incurable health issues. This generalship is anticipated to affix appreciation to its present profile together with generating higher profit from the market.
In March 2020, CryoLife, endure the CE sign for E vita NEO, a stent graft method for the surgery of aortic arch. This process authorizes the organization to exceed pioneer economies, so which reinforces its market dominance.
In October 2021, Terumo Aortic gets authorization from FDA for the Terumo abdominal aortic stent grafts. This Japan-prepared apparatus will assist in the diagnostics of abdominal aortic aneurysms.
Vascular Grafts Report Scope
| | |
| --- | --- |
| Report Attributes | Details |
| Market size value in 2021 | USD 1.71 billion |
| Revenue forecast in 2030 | USD 3.09 billion |
| CAGR | 6.9% from 2022 - 2030 |
| Base year | 2021 |
| Historical data | 2018 - 2020 |
| Forecast period | 2022 - 2030 |
| Quantitative units | Revenue in USD million/billion and CAGR from 2022 to 2030 |
| Segments covered | By Product Type, By Raw Material, By End-Use, By Region |
| Regional scope | North America, Europe, Asia Pacific, Latin America; Middle East & Africa |
| Key companies | Getinge AB, LeMaitre Vascular, Inc., W. L. Gore and Associates, Inc., B. Braun Melsungen AG, Terumo Medical Corporation, Medtronic plc, C. R. Bard, Terumo Corporation, Cook Medical, Cordis, Endologix Inc., Getinge Group, Shanghai Suokang Medical Implants Co. Ltd., and Others. |