The veterinary diagnostics market was valued at USD 2,260.6 million in 2021 and is expected to grow at a CAGR of 8.7% during the forecast period. Increased spending on animal health, an increase in the prevalence of zoonotic diseases and the number of veterinarians, improvements in point-of-care diagnostic technology, and rising levels of disposable income in developing countries are all factors that have contributed to the growth of the veterinary diagnostic market.

Know more about this report: Request for sample pages
Veterinary diagnostics involves identifying and measuring chemicals in non-human animal source materials. Veterinary diagnostics must include a clinical evaluation. It gives the veterinarian the knowledge necessary to pinpoint the disease or conditions producing the clinical abnormalities.
Additionally, the clinical examination results should assist the veterinarian in judging the pathophysiological processes' seriousness. Veterinarians use different veterinary technologies to identify diseases, track disease development or treatment response, and check for underlying problems in animals that appear to be in good health.
The demand for veterinary diagnostics is further expected to increase due to the rising prevalence of infectious animal diseases. Additionally, improvements in diagnostics and an increasing adoption of novel procedures in most laboratories fuel market expansion.
The Covid-19 pandemic has negatively hampered the veterinary diagnostics market as there was a spike in the development of veterinary diagnostics products for protection and animal diagnosis. In numerous countries, the virus has infected a limited number of pet cats and dogs. SARS-CoV-2 infections have been discovered in a small number of animals around the world, primarily in animals close to a Covid-19 patient.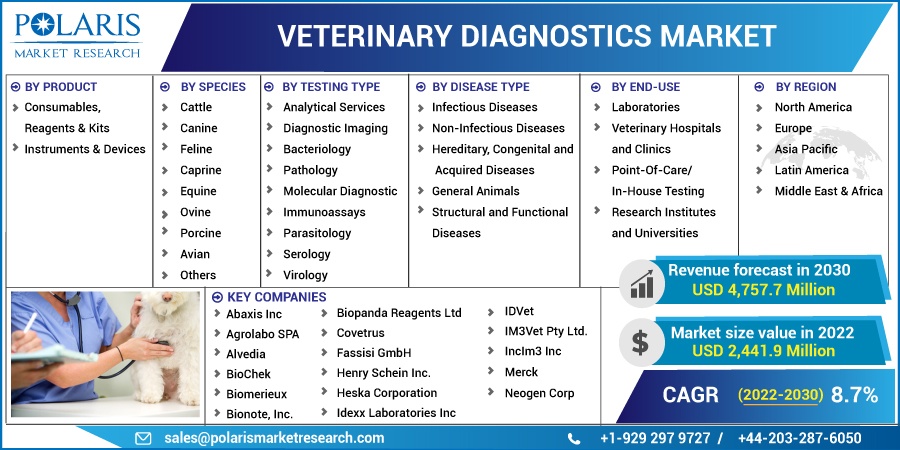 Know more about this report: Request for sample pages
Industry Dynamics
Growth Drivers
Rising pet adoption and rising disposable income, which is heavily invested in pet healthcare, are expected to support market growth. The adoption of pets has increased steadily during the past few years. For instance, the number of cats, dogs, and horses adopted nationwide went from 172.5 million in 2011–2012 to 191.5 million in 2017–2018, according to the American Pet Products Association (APPA).
Additionally, pet adoption is becoming increasingly popular among the general public due to the increasing use of animals in commercials and films. There has been a shift from pet owners to pet parents, showing that today's society views pets as family members. In industrialized countries like the U.S. and Europe, older people commonly adopt pets as companion animals.
Furthermore, as adult pets don't require special feeding or care, they are considered the ideal companion for older people. Adopting a pet is thought to reduce blood pressure, loneliness, and depression.
The market is primarily influenced by the approval of new products used to cure ailments in animals. The Indian Prime Minister inaugurated a livestock vaccination program in September 2019 with INR 13,343 crore to eradicate livestock diseases, particularly foot and mouth disease (FMD) and brucellosis. Additionally, an Indian pet care firm, Wiggles, introduced online veterinary consultations for animals all over India in March 2020.
Report Segmentation
The market is primarily segmented based on product, species, testing type, disease type, end-use, and region.
By Product

By Species

By Testing Type

By Disease Type

By End-Use

By Region

Consumables, Reagents & Kits
Instruments & Devices

Cattle
Canine
Feline
Caprine
Equine
Ovine
Porcine
Avian
Others

Analytical Services
Diagnostic Imaging
Bacteriology
Pathology
Molecular Diagnostic
Immunoassays
Parasitology
Serology
Virology

Infectious Diseases
Non-Infectious Diseases
Hereditary, Congenital and Acquired Diseases
General Animals
Structural and Functional Diseases

Laboratories
Veterinary Hospitals and Clinics
Point-Of-Care/In-House Testing
Research Institutes and Universities

North America (U.S., Canada)
Europe (France, Germany, UK, Italy, Netherlands, Spain, Russia)
Asia Pacific (Japan, China, India, Malaysia, Indonesia, South Korea)
Latin America (Brazil, Mexico, Argentina)
Middle East & Africa (Saudi Arabia, UAE, Israel, South Africa)
Know more about this report: Request for sample pages
Consumables, reagents & kits to account for the largest market share in 2021
The consumables, reagents & kits segment acquired the most considerable market share in 2021 due to the increasing number of infectious diseases, such as SAR-CoV-2 viral infections worldwide, and increasing demand for rapid diagnostics in the animal.
The whole market is ascertained by carefully analyzing the demand for these products from veterinary clinics, hospitals, and labs. Additionally, pet owners are demanding point-of-care diagnostics at a higher rate.
Furthermore, blood glucose meters, pregnancy kits, urinalysis strips, and other point-of-care diagnostics are frequently utilized in companion animals. However, due to the stringent standards for sensitivity and efficacy in disease testing for livestock, the tests are primarily restricted to laboratories. Veterinary diagnostics has increased the pace at which consumables and reagents are used in diagnosis. This can be ascribed to rising zoonotic disease awareness, increased pet adoptions, and growing pet health awareness.
Canine accounted for a significant market share in 2021
Canine species accounted for the largest market share during the forecast period due to spending on veterinary care for animals has increased, especially in developed regions. One of the key factors influencing the market is the rising prevalence of severe disorders, including obesity, diabetes, cancer, and others.
For instance, around 57% of dogs in the United States were found to be obese, according to an APOP survey from 2019. The risk of joint problems, diabetes, cancer, and other chronic illnesses is significantly increased by obesity.
Moreover, the porcine species maintained a sizeable proportion of the market in 2021 due to the rising demand for better diagnostic techniques and the expanding consumption of pigs. MatMaCorp launched MYRTA, a hand-held real-time polymerase chain reaction device, in March 2021 to identify the virus causing pig reproductive and respiratory disease. MYRTA is a point-of-care and over-the-counter molecular diagnostics solution for human and animal health.
Pathology testing type captured a significant market share in 2021
Pathology testing type obtained considerable market revenue in 2021 due to its broad range of service offerings, which include numerous lab tests, imaging, and specialized tests. Additionally, the cells are from animal biopsy samples, which are processed and given to pathologists for the additional assessment using different and specialized staining named Hematoxylin, and Eosin (H&Es) with cutting-edge tools. In small and large animals, such as humans, BVD and IBR viruses, and other viruses, immunohistochemistry provides markers for neoplastic and infectious disorders which drives the market during the forecast period.
Non-infectious disease type dominated the market
Non-infectious disease type obtained the most significant market revenue during the forecast period. The number of diagnostics using cutting-edge technologies to find animal ailments has increased. For instance, body fluids, including urine, blood, and milk, can be examined for electrolytic imbalance using Lab on Chip technology.
The hereditary, congenital, and acquired disease type is supposed to increase at the quickest rate during the forecast period. Since the genetic condition is initially invisible, it is difficult to detect. For such circumstances, molecular screening is advised. Animal infectious diseases pose a serious threat to both the health and population of humans and other animals globally. To stop outbreaks and the transfer of infections from animals to animals or from animals to humans, these diseases should be successfully controlled.
Laboratories accounted for a significant market share in 2021
The laboratories segment is projected to account largest market revenue in 2021. Only a few big reference labs worldwide undertake intricate and highly specialized diagnostic procedures. Reference labs offer a broad range of testing services that may not be available in clinics and hospitals, giving them the highest market share in the veterinary diagnostic sector.
The second-largest end-use segment was veterinary hospitals and clinics, which can offer a wide range of diagnostic choices. Additionally, the market is being driven by the increased use of sophisticated analyzers for diagnostic reasons in veterinary hospitals.
North America dominated the regional market
North America dominated the veterinary diagnostics regional market due to the cost of veterinary treatment that has significantly increased in the region. Additionally, it is projected that the presence of healthcare programs and the development in the number of efforts to enhance animal health would boost this region's growth potential. For instance, the North American Pet Health Insurance Association is working to raise public awareness of pet health insurance.
Moreover, the Asia Pacific regional market is expected to develop fastest. Increasing numbers of middle-class families, more disposable money, adoption of pets, and a strong need for animal proteins are just a few of the major drivers anticipated to propel regional market expansion.
Competitive Insight
Some of the major players operating in the global market include Abaxis Inc, Agrolabo SPA, Alvedia, BioChek, Biomerieux, Bionote, Inc., Biopanda Reagents Ltd, Covetrus, Fassisi GmbH, Henry Schein Inc., Heska Corporation, Idexx Laboratories Inc, IDVet, IM3Vet Pty Ltd., IncIm3 Inc, INDICAL BIOSCIENCE GmbH, Merck, Neogen Corp, Precision Biosensor, Inc., Qiagen N.V, Randox Laboratories Ltd., Shenzhen Bioeasy Biotechnology Co., Ltd, SKYER, Inc., Thermo Fisher Scientific Inc, VCA Antech, Virbac Corp, and Zoetis.
Recent developments
In September 2021, Heska Corporation acquired Biotech Laboratories to expand its line-up of point-of-care fast test diagnostics.
In June 2021, IDEXX Laboratories, Inc., acquired ezyVet, for expanding its world-class software offering that supports customers to raise the standard of care and improve practice efficiency, enabling more effective communication with pet owners.
Veterinary Diagnostics Market Report Scope
| | |
| --- | --- |
| Report Attributes | Details |
| Market size value in 2022 | USD 2,441.9 million |
| Revenue forecast in 2030 | USD 4,757.7 million |
| CAGR | 8.7% from 2022 - 2030 |
| Base year | 2021 |
| Historical data | 2018 - 2020 |
| Forecast period | 2022 - 2030 |
| Quantitative units | Revenue in USD million and CAGR from 2022 to 2030 |
| Segments covered | By Product, By Species, By Testing Type, By Disease Type, By End-Use, By Region |
| Regional scope | North America, Europe, Asia Pacific, Latin America; Middle East & Africa |
| Key companies | Abaxis Inc, Agrolabo SPA, Alvedia, BioChek, Biomerieux, Bionote, Inc., Biopanda Reagents Ltd, Covetrus, Fassisi GmbH, Henry Schein Inc., Heska Corporation, Idexx Laboratories Inc, IDVet, IM3Vet Pty Ltd., IncIm3 Inc, INDICAL BIOSCIENCE GmbH, Merck, Neogen Corp, Precision Biosensor, Inc., Qiagen N.V, Randox Laboratories Ltd., Shenzhen Bioeasy Biotechnology Co., Ltd, SKYER, Inc., Thermo Fisher Scientific Inc, VCA Antech, Virbac Corp, and Zoetis. |